Buy Mode

>

>

Plants, sculptures, wall hangings & paintings, mirrors, curtains, and miscellaneous.
Windowsill with Flowers - Fixed 07 August - REDOWNLOAD!
MTS has all free content, all the time. Find out how YOU can help to keep it running.
Tell me how...
4,005

Downloads
1,018

Thanks Thanks
55

Favourited
74,399

Views
Featured Upload! This is a featured upload! It showcases the best talent and creativity available on MTS and in the community.

Personal Picked Upload!
This is a personal favourite of the creator!


Uploaded: 15th Jul 2006 at 10:32 AM
Updated: 6th Jun 2009 at 4:08 PM - Fixed images' url
WINDOWSILL WITH FLOWERS
It works IN ANY GAME CONFIGURATION (base-game alone or with any EP)
UPDATE 07 August 2006 BUGFIX - Please REDOWNLOAD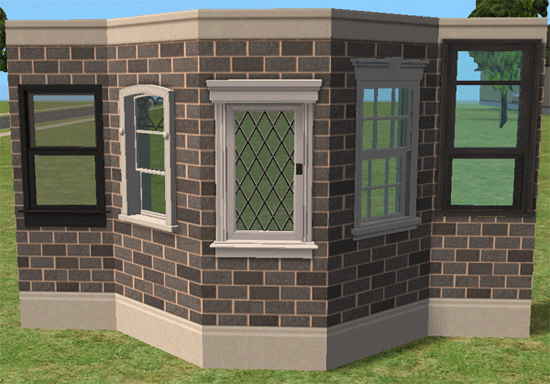 07 August 2006 BUGFIX
I've fixed a bug with the texture in the
*MaryLou_Windowsill_Recolor-Brown-Orange.package*
; you can either download the fixed version alone (
MaryLou_Windowsill_Recolor-Brown-Orange.rar
) or redownload the whole set, that contains the fixed version, as well.
--------------------------------------------------------------------------
(Original post)
First, let me thanks
Numenor
for his advice and suggestions.

His help was very precious for me. Thanks, thanks, thanks again

If you like to make your houses more beautiful with "realistic" flowers on windowsills, now you can !!!
As you have noted, in the game, Maxis' windows aren't at the same height on the wall. So, it's difficult to put objects in front of them, even using the cheat, while assuring a consistent look.
The windowsill I made, as you can see in the screenshots, can be applied to all those windows whose height-position allow to have it.
It would be meaningless on small and too much high-positioned windows on the wall, or on windows as tall as a wall.
INSTALLATION AND USAGE
The windowsill, 4 meshes, is provided in two sizes: one tile, and two tiles.
And it's in two version: with or without vase & flowers.
You can put it on diagonal wall without any cheat!
You can put it on different floors of the house. And you can see it, even if small, in the neighborhood view
It is all recolorable, in 2 different subset: "flowers" and "davanzale" (windowsill + vase), so you can choose your favourite colors.
ATTENTION, PLEASE !
You can choose to install only some elements of this set, but in any case
YOU MUST INSTALL
the
MaryLou_Windowsill_Mesh_Vase.package
, contained in the archive
ML_Windosills_MESHES.rar
, because it's the
"Repository"
for all the recolors of the entire set. If you don't install it, or delete it from the Downloads, expect a lot of flashing blue windowsills!
In the archive
ML_Windowsills_MESHES.rar
you'll find all the meshes. There are 8 (4 straights and 4 diagonals), though in the catalog you'll see only the 4 straights,
the diagonals show up when you put the windowsill on a diagonal wall.
- MaryLou_Windowsill_Mesh.package
- MaryLou_Windowsill_Mesh_Diagonal.package
- MaryLou_Windowsill_Mesh_Double.package
- MaryLou_Windowsill_Mesh_Double_Diagonal.package
- MaryLou_Windowsill_Mesh_Vase.package
- MaryLou_Windowsill_Mesh_Vase_Diagonal.package
- MaryLou_Windowsill_Mesh_Vase_Double.package
- MaryLou_Windowsill_Mesh_Vase_Double_Diagonal.package
In the archive
ML_Windowsills_RECOLORS.rar
you'll find 5 custom recolors, as shown in the screenshots.
- MaryLou_Windowsill_Recolor-Biscuit-Pink.package
- MaryLou_Windowsill_Recolor-Brown-Orange.package
- MaryLou_Windowsill_Recolor-Gray-Misc.package
- MaryLou_Windowsill_Recolor-Pink-Blue.package
- MaryLou_Windowsill_Recolor-Pink-White.package
Extract the packages from the
rar
archives and put them in the Downloads folder (use an archive program, or the
Q-Xpress
auto-installer)
In the game, you can find the windowsills in
Buy Mode catalog -> Decorative -> Miscellaneous
.
RECOLORS
You must recolor
only
the file
MaryLou_Windowsill_Mesh_Vase.package.
Open the file with Object Workshop in
SimPE
and select the subset "davanzale" and/or "flowers".
The recolors will apply automatically on all the models.You can follow this
tutorial
.
It's really easy to make custom recolors for the windowsill using my default textures as a template.
POLY COUNT
The elements have different number of vertices and faces.
- windowsill and windowsill double: vert. 228 - faces 124
- windowsill with vase an flowers : vert. 2211 - faces 1518
- windowsill double with vases and flowers: vert. 4194 - faces 2912
Sorry, flowers and foliages need more vertices.
CREDITS
All the meshes, the textures and the UVmaps are made by me.
LICENCE AGREEMENT
DO NOT CLONE - DO NOT REPOST ANYWHERE
The Windowsills can be included in lots posted on
free sites
(NOT EXCHANGE!!!) no paysite, as long as credits are given to
MaryLou
and a link to this page is provided.
If anyone is interested in creating recolours, they can be posted anywhere (even paysites) but NOT INCLUDING the meshes: on the contrary, a link to the meshes on this page must be provided.
Hope you like!
P.S.
In a screenshot you can see the windowsills on the fances. This is a work in progress. Coming soon.
Currently you can apply the windowsills on some Maxis' fances using the cheat Move_Object on.
Sorry, again, for my bad english :P
Policy and License Agreement
This policy applies to ALL my creations, unless otherwise stated on the download thread.

It's FORBIDDEN: to repost my stuff anywhere.
It's FORBIDDEN: to clone my creations.
It's ALLOWED: to create recolours for my objects (and post them on any site, including paysites), BUT you can't include the mesh in your recolour: you must give credits to me for the mesh, and provide a link to the mesh download thread.
It's ALLOWED: to include my creations in your lots, BUT the lots must be uploaded on 100% free sites (except the Exchange), and you must provide credits and a link to the download thread.