~~ NuRey v3 ~ Luscious ~~ XmSims Flora #95
143,692

Downloads
449

Thanks Thanks
80

Favourited
83,241

Views

Uploaded: 12th Mar 2011 at 6:33 AM
Updated: 2nd Nov 2012 at 2:59 AM
~~ NuRey v3 ~ Luscious ~~ XmSims Flora #95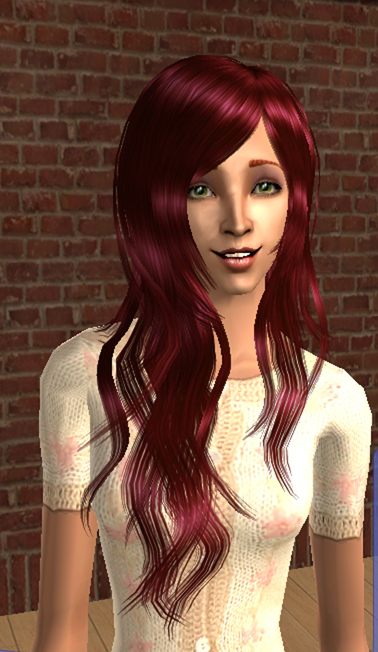 Thank you to XmSims for giving permission to retexture and recolour your beautiful meshes for free.The mesh file does NOT come with this download, you can download the mesh free from XmSims here:
http://www.xmsims.com/sims2/ehtm/hair/hair71.htm
Here are 16 retextures/recolours of this hairstyle in natural colours, featuring my updated NuRey v3 recolour set. I have expanded my favourite NuRey v3 set to add 4 new delicious colours of each natural colour - treacle, mocha, coffee and plum. I hope you like the new colours.
UPDATED! ~
I have zipped all 16 recolours into ONE
WinRAR
folder at your requests.... lol, I'm working on the other recolours I need to lump together in single folders. Will keep you all posted as they happen.

Naturals:
Black
- Licorice, Olive, Cola, Treacle
Brown
- Chocolate, Caramel, Cinnamon, Mocha
Blonde
- Honey, Lemon, Vanilla, Coffee
Red
- RedBerry, Apricot, Peach, Plum
Another old favourite, I really like this elegant, feminine hairstyle for pretty sims in-game and it seems to work with all types of different female sims from teen to adult. It's a shame really that it doesn't come in preschooler/child or elder versions. I know this one has been recoloured in the past as well but I wanted to try my new colours on a beautiful hairstyle and this is one I quite often use and thought to share. It's so versatile and practical for the every-day wear type sim as well as bold and femme for the more fashion-conscious sim.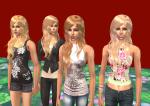 Thanks so much to CatOfEvilGenius for creating the new hair binning tool i have used this tool to bin all of these recolours. All the recolours in this set are colour binned/familied for your female sims from teen to young adult, to adult. This mesh was not made for all other ages, sorry this means no greys for elders.
PLEASE NOTE:
I have chosen the decustomized option for binning the hair colours so this means you will find each recolour in the same area as your Maxis base game hair colours, without the little star in the thumbnails like custom colours usually have. I have had a few people comment on my other recolour sets that I have binned with this tool. My bad, sorry folks, I guess it helps to mention this so you know where to find them.
All recolours are base-game compatible, no EPs required.
All sims modelling the hair-styles in these pictures are in clothing that can be downloaded free at:
http://www.lianasims2.net/
and
http://www.annamariasims2.com/
**All of the cosmetics and genetics used in these pictures are NOT included with the hair recolours, you must visit the artist pages to download them.** - Please see credits below for links.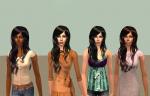 I have again rendered each hair colour to it's own .rar folder so you can pick and choose which colours you want to download. enjoy!
Additional Credits:
Credit for the hair mesh used in this recolour set belongs to xmsims.com. I am NOT the creator of this hair mesh - I am merely the texturist/colourist of this recolour set. For further information about XmSims property rights policy, please visit their policy page here:
http://www.xmsims.com/sims2/ehtm/main/help.htm
Credit and thanks belong to these awesome MTS artists for the use of their skintones, eyes and makeup in these pictures:
-Shady -
- Sparkling Eyes - (Default Replacements)
http://www.modthesims.info/download.php?t=306892
astiees
- Naturally Idealized Skins
http://www.modthesims.info/d/367002
Bruno
- Makeup
http://www.modthesims.info/member.php?u=11431
http://www.modthesims.info/d/345230
- false eyelashes
Thanks so much to you all for such great custom genetics and makeups for my sims. Astiees, I use your skintones as defaults, they're rockin' and I love how beautifully contoured the skin appears in rounded areas. -Shady- ~ also using your sparkling eye-set as defaults in my game, the base game ones just look wrong now after so long using your pretty ones! Bruno, what can I say, your makeup is just outstanding... all of my sim ladies wear your glosses and false eyelashes. I've also thrown in some pretty lip glosses in these pictures from Lianasims.net as well as I love using those in my game too.
Thanks and credit also belong to
CatOfEvilGenius
here at MTS -
http://www.modthesims.info/member.php?u=685127
for the hair binning tool -
http://www.modthesims.info/d/434016
All of these textures and recolours are copyright to me. NO uploading to anywhere else online as your own work, please link back to this page and let me know if you wish to use these in your creations. Free for use in your games, pictures, galleries.
Śądí Şĭмś 2 Ćŗėąŧϊοήś
I AM NOT A MESH CREATOR... PLEASE STOP SENDING ME REQUESTS TO MAKE OR FIX YOUR WORK.

IF YOU DO NOT KNOW WHAT YOU'RE DOING, GO TO THE FORUMS.

Please do *NOT* ask me to make conversions for or create for Sims 3. Thanks.

MY DOWNLOADS POLICY/TERMS OF USE AGREEMENT:

* Use my creations freely in your games
* Recommend my creations to friends to download
* Use my creations in your Sims movies and/or neighbourhood stories

*** DO NOT!!! ~ Upload my work anywhere else as your own or take credit for my creations. ***

Pretty simple really... enjoy the free stuff - as it was intended to be a gift - and respect the hard work that went into it.

* * * D E C U S T O M I Z E !!! * * *

Remember ~ look for my sims 2 hair recolours in your BASE GAME hair area.

E N J O Y :)