Sims

>

>

Zmobies, they like cheese/They smell like peppermints too/And they eat brians.
Mr Skeleto *BIG update: Body stays on when nude, can wear hats
MTS has all free content, all the time. Find out how YOU can help to keep it running.
Tell me how...
16,237

Downloads
194

Thanks Thanks
87

Favourited
42,769

Views
Personal Picked Upload!
This is a personal favourite of the creator!

Uploaded: 25th Nov 2014 at 5:25 PM
Updated: 22nd Jun 2018 at 4:40 PM - Updated for Seasons
UPDATE JUNE 22 2018: Added new .zip file which enables the Skeleto parts for the Seasons patch's 'Cold Weather' and 'Hot Weather' categories. If you are installing this sim for the first time, please also download the 'Mr Skeleto - Updated for Seasons' .zip file and let the three enclosed package files overwrite the three old ones that were in the original
zip
file. If you already have this sim, then just download the Updated
zip
and let the three packages inside it overwrite your old ones. Then go into Full Body outfits in the Cold and Hot Weather categories and click on the Mr Skeleto Null Body to make sure it's enabled, or if you decided to use the optional suit, click on that if you want to use it for one of the Seasons categories.
UPDATE NOVEMBER 2017:
Still OK with this month's patch (for Cats & Dogs) which apparently messed up the arms on many custom clothing meshes/body meshes. This item is still working as normal.
UPDATE April 20 2016:
Added a suave suit that Mr Skels can wear on his bony little body. A modified version of the Business suit, I removed the human hands and neck, widened the legs so that his bony knees don't stick out through the fabric, and tweaked it so that it doesn't morph with the sliders. See the instructions added to the main text below (and please also note my warning there on the trade-off for using this outfit), and I updated one of the below pics to show how it looks in game. Goes nicely with the oversized fedora hat in my Sept 28 2015 update! Check the Files tab for MrSkeletoSuit.zip.
MAJOR UPDATE MARCH 14 2016:
I've made a huge overhaul to this sim - Mr Skels now retains his body when Nude, and now has hatchops so that he can wear hats. I made the first version of this sim back in the very early days of TS4 and at that time, with both the tools and the game still being pretty primitive, my old version of this sim lost its body in the bath and didn't have hatchops. This turned out to be a problem when the game automatically switched the sim into a hat for a career or whatever, because the sim would change to a human head and sometimes a human body as well. This version fixes that. I've added an explanatory composite pic (the 4th pic below) to show the new features.
You can still use the oversized fedora hat mentioned in the below September update, on his regular oversized head - it looks/fits better than the small hatchops version.
UPDATE Sept 28 2015:
I've fashioned a nice oversized Fedora hat big enough for Mr Skel to wear, which looks quite dashing on him. It's an enlarged version of the Fedora that comes with the game, with 7 recolours including a couple of party-type multicolours. Check the updated second pic below to see it, and the
zip
file on the Files tab to download it. The hat is categorised as Earrings. Note: Because his custom head is unclickable in CAS (if you click it, nothing happens), you need to click on the 'human' part of his head underneath the 'skull' head, around his human eyes, in order to get the Head Accessories selections to appear.
~ ~ ~ ~ ~ ~ ~ ~ ~ ~ ~ ~ ~ ~ ~ ~ ~ ~ ~ ~ ~ ~ ~ ~ ~ ~
Here's a TS4 conversion of my TS3 comedy horror sim, Mr Skeleto. This cute little bony big-headed guy was one of my own fave sims to play with in TS3 and I hope you'll find him fun in TS4 too.
TRAITS:
Painter Extraordinaire/Muser, Music Lover, Snob, Evil
He's a suave and debonair skeleton-about-town, a talented artist who enjoys painting his gorgeous surroundings in Oasis Springs.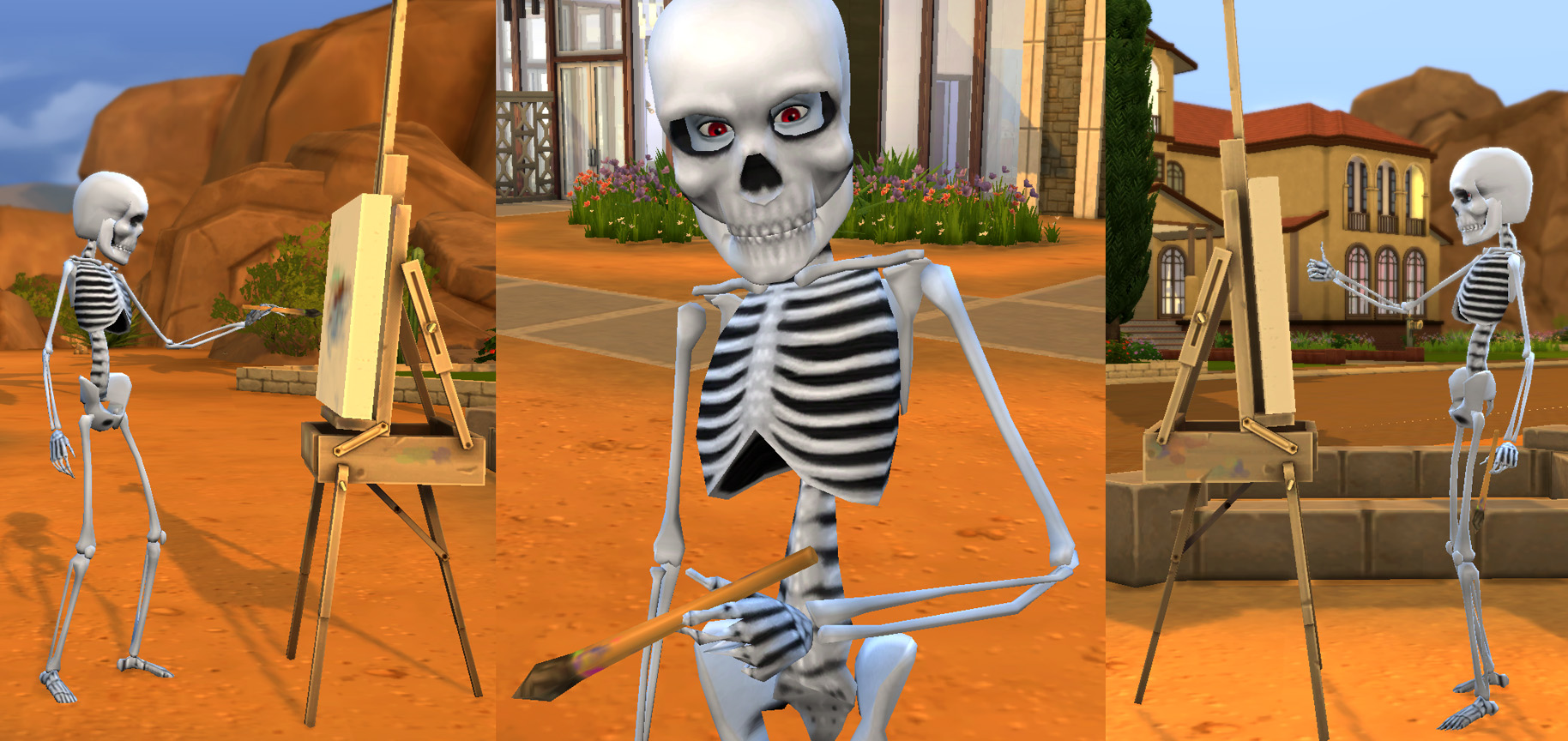 A Music Lover as well as a Painter Extraordinaire, other sims gather around to watch him play his haunting tunes. And as mentioned in the above April 20 2016 update, he now has a new suit he can wear, to befit his suave image. (Looks especially snazzy with the oversized Fedora hat of my Sept 28 2015 update.)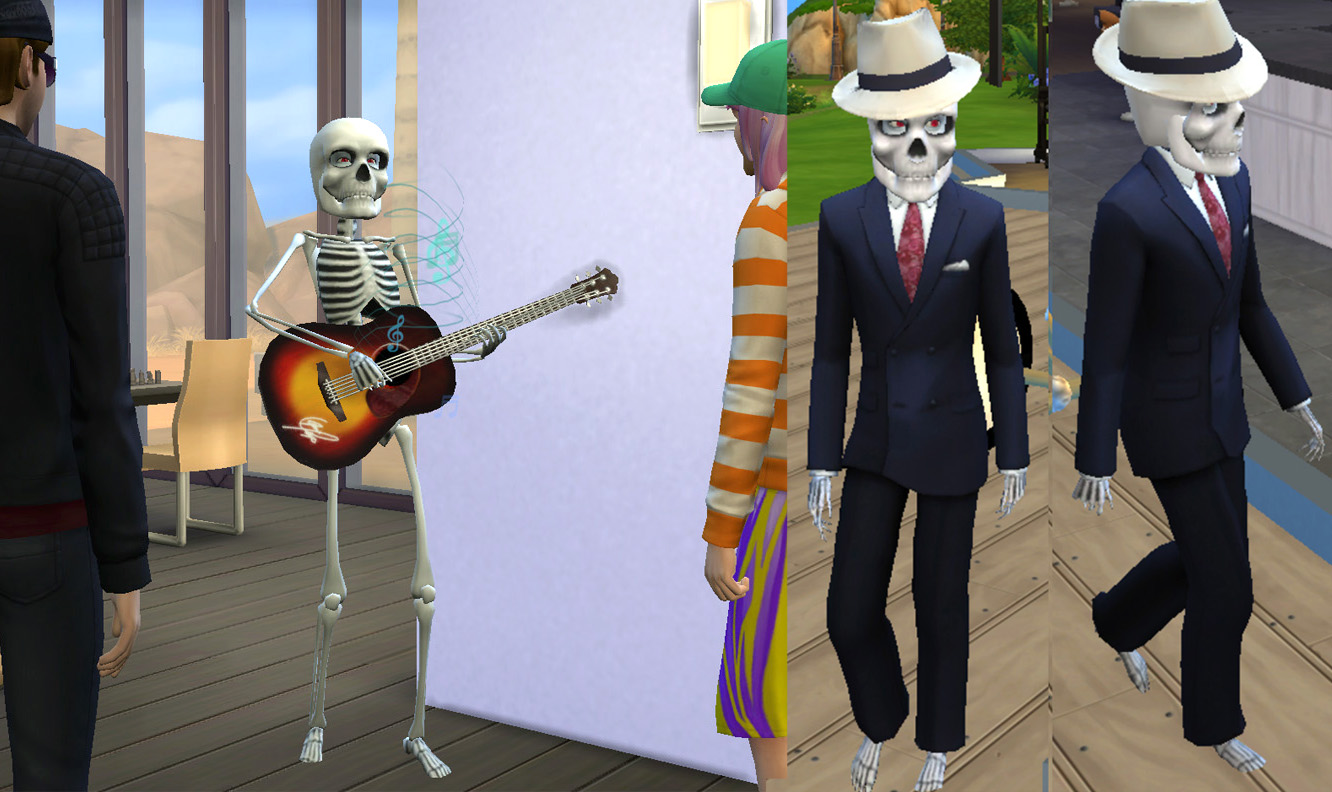 He also has a snobbish side, and a liking for causing mischief. Below, he pontificates about his world views to one of his roomies, then follows him into the bathroom to scare him (which doesn't look like it had much effect). Finally, after his busy day, Mr S sits down to a nice meal of Fish Tacos.
He should appear in CAS looking as he does here, but if not: The 'head' and 'body' are one combined mesh categorised as hair, in the Hair section in CAS. This way, the whole mesh stays on when the sim is nude, because custom hair stays on whereas custom clothing doesn't. He also needs to wear a Null Body to cancel out the human body, and this is in Full Outfits in CAS. He uses a custom blue/grey skin overlay, in the Skin Details section, and custom red eyes found in the Eyes section. Underneath the skin overlay he has the game's default blue skin, so that's what he'll add to the genetic pool if he reproduces.
He can now wear hats, as depicted below.
Please note that making hat chops from this oddly-shaped head mesh gives a less than perfect result appearance-wise. In particular, tilted-back hats make the forehead glitchy, so I recommend only tilted-forward hats unless you don't mind the imperfections.
Note that
you need to click on the 'human' part of his head underneath the 'skull' head, around his human eyes, in CAS in order to get the Hats menu to appear
- clicking his custom head has no effect.
One minor issue:
Unfortunately I was unable to come up with a satisfactory solution for those hats that 'take over' a sim's head, where it cancels out the sim's hair. In those cases, the sim will revert to human and become either an ugly floating head or an ugly head + body wearing the underlying skin, depending on whether the game changes its outfit as well. (See bottom-right of below pic.) If that happens, you might want to use a clothes-changing mod or send the sim to the mirror to Change Appearance.
- - - - - - - - - - - - - - - - - - - - - - - - - - - - - - - - - - - - - - - - - - - - - - - - - - - - - - - - - - - - - - - - - - - - - - - - -
How to use the new suit, per the April 20 2016 update:
If you want to add the suit, you need to remove the original MrSkeletoHead+Body package from your Mods folder and replace it with the new MrSkeletoHead+Body_FullBodyAllowed package found in the MrSkeletoSuit.zip file. The original version excludes fullbody outfits from being worn, the new version allows them. The new version is the same CASPart as the original one, so he should still automatically be wearing his custom head and body in game without you having to do anything.
In game, take him to the mirror and Change Appearance. In CAS, click on the area around his eyes on his human head behind the skeleton head, and the Head Accessories menu will appear. Scroll down to the dogtags (under Necklaces) and click to have him wear the dogtags. THEN, click on the dogtags that he's wearing, and that will make the Outfits menu appear. Now you can access the different outfit categories and dress him in the suit for Formal and/or Party, or whatever category you wish, instead of the Null Body outfit he normally wears. Then remove the dogtags, save and come out of CAS and back to the game.
HOWEVER, PLEASE NOTE that there is a trade-off when using the 'FullBodyAllowed' Head+Body mesh instead of the original one: he will become subject to the game auto-switching him to a default human outfit should the game decide to do so for some reason. For instance, in the Spa he will change to a human body when the game auto-switches him to the bathrobe or towel outfits.
The original Head+Body mesh blocks him from changing outfits in the Spa and he retains his usual skeleton body. So be warned that if you use the suit and FullBodyAllowed, you also have the possibility of some less than ideal outfit auto-switches by the game.
- - - - - - - - - - - - - - - - - - - - - - - - - - - - - - - - - - - - - - - - - - - - - - - - - - - - - - - - - - - - - - - - - - - - - - - - -
All of his parts are disabled for Random, so you shouldn't have townies turning up in skeleton bits or missing bodies.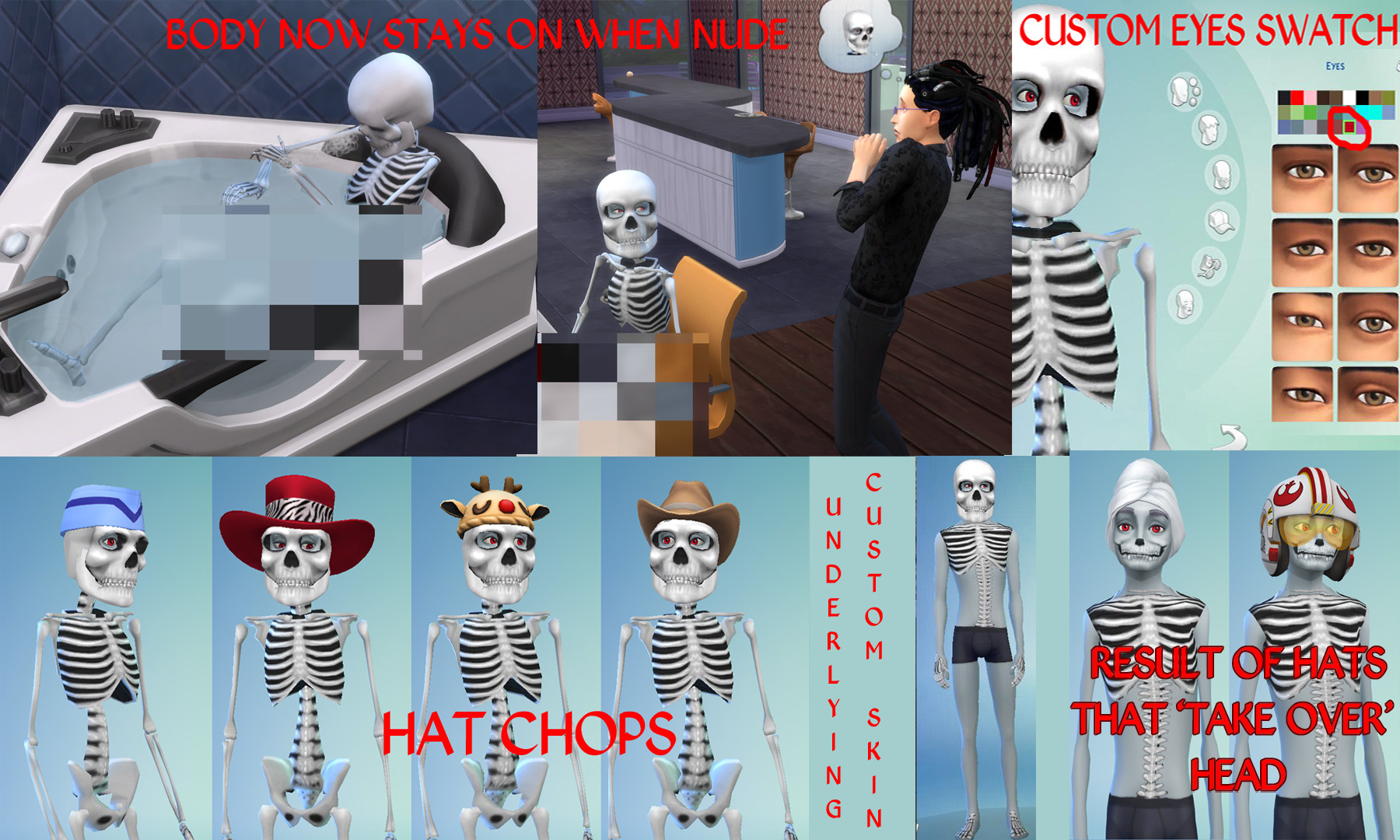 Thank you for looking, hope you'll have fun with him!
Sims 3 version here:
http://www.modthesims.info/download.php?t=395831
INSTALL INSTRUCTIONS:
Download the
zip
file and unzip it. Move the .package files (which contain the head, body, custom eyes and bath skin) to your Documents\Electronic Arts\The Sims 4\Mods folder. Then copy the five files inside the folder called 'Mr Skeleto tray' (which contains the sim) to your Documents\Electronic Arts\The Sims 4\Tray folder.
Custom Content by Me:
Mr Skeleto's big bony head + bony little body combined mesh (4162 polys)
Custom skin overlay 0 polys
Red eyes 0 polys
Additional Credits:
THANK YOU to Notegain for the solution as to why I was initially experiencing problems with weird shadows on these meshes.
Also thank you to plasticbox, Snaitf and melbrewer367 in the Creation Forum for their help in testing the first version of these meshes.
Meshes converted with CmarNYC's S4 CAS Tools, textures made with Sims 4 Studio, unwanted body parts excluded with s4pe.
Skeleton head and body meshes originally by Maxis (TS2 base game items)
About Me
~Retired Creator~
Retired to move to Fallout 4 creation but I'll still check here for questions, comments or PMs. Thank you to those who liked my Sims stuff, love all of you. Most of my Fallout stuff is on Nexus
https://www.nexusmods.com/fallout4/...?tab=user+files
and there are some more of my Fallout creations and Sims creations at
https://colorfulcommonwealth.proboards.com/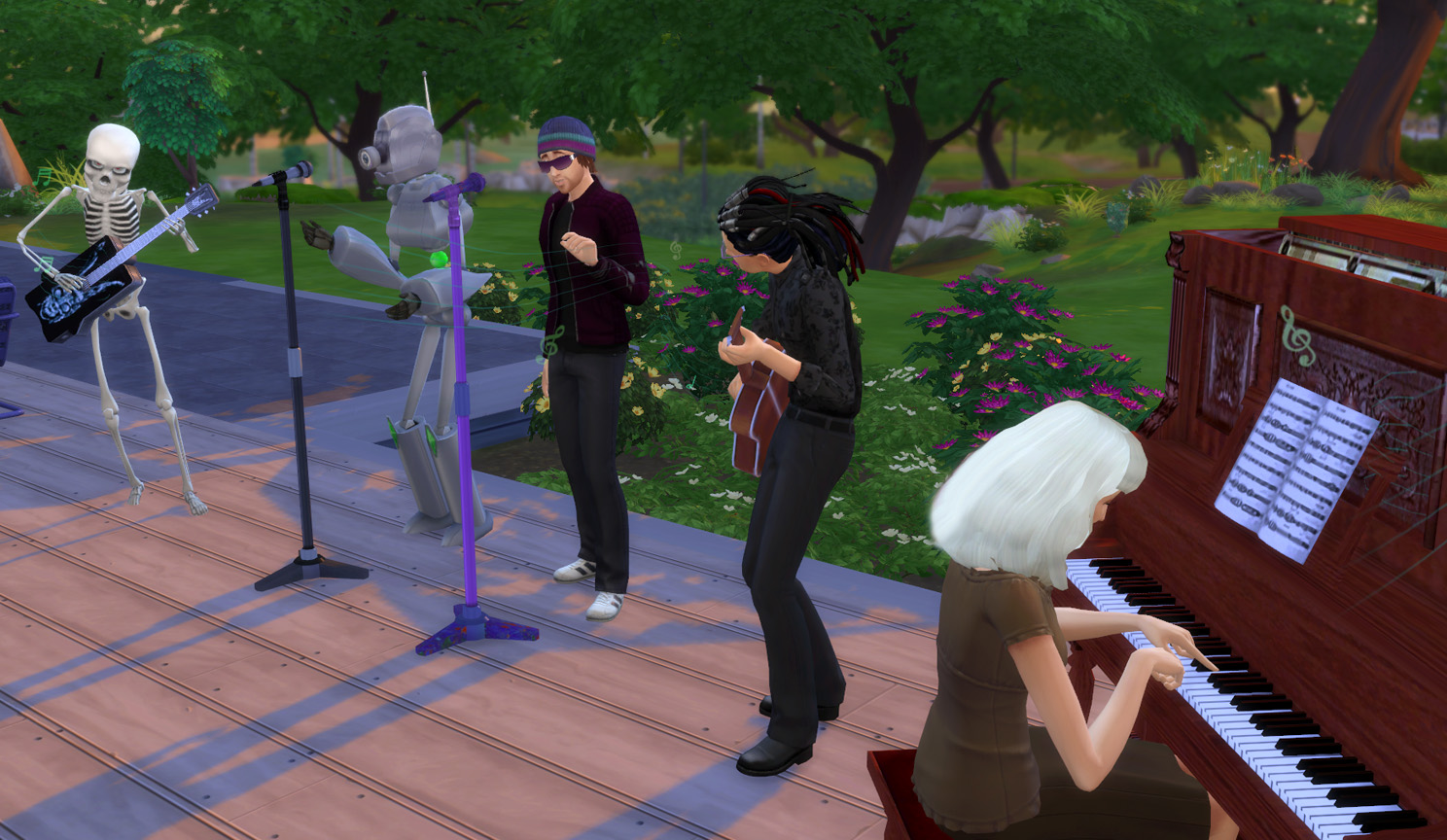 MY POLICY:
I'm pretty easygoing, please just don't steal or copy my work.
You may recolour my meshes, just please credit me and give a link back here to the item(s).
You may include my creations with your sims, lots, storytelling, etc - just please credit me and give a link back here to my item(s).
Don't claim my creations to be your own work.
Don't re-upload my stuff to The Gallery, paysites, adfly sites, or any other commercial sites.