Super Keener Trait
MTS has all free content, all the time. Find out how YOU can help to keep it running.
Tell me how...
45,178

Downloads
483

Thanks Thanks
156

Favourited
77,470

Views

Uploaded: 23rd Jan 2016 at 9:21 PM
Updated: 28th Jun 2022 at 7:05 PM - Adding Seasons Update version
Hi Everyone! I have finished updating this trait for the Seasons patch, and it is MUCH BETTER than previous versions. Get to Work EP is useful for certain new skill modifiers to work in your game, but not required. :D
UPDATE JUN2022:
Now being maintained offsite. See comments for link to current mod. Thank you!
UPDATE APR2022:
Have updated a little bit of broken tuning due to recent patches. No changes to actual mod function. Please re-download so as not to throw exceptions.

UPDATE MAR2021: This update has broken many mods. Please be patient with creators while we fix them. Thank you! 

The only thing missing is any skills/whims that come with Seasons and Get Famous, which I didn't have at the time of the recreation.
I haven't really seen much that would cause me to revamp this trait again anyway

Comments, queries, and suggestions are always welcome!

Let me share with you the new and improved version.

It was made with doctors, scientists, and detectives in mind, giving intelligence and leadership qualities
and is in the Emotional category.
Feel free to use for any of your Sims, though!
I hope you will find it very satisfying.
Your Sim will be super smart, super focused, and super outgoing using the Super Keener Trait.
You can start your Sim, even from childhood, on their way to becoming detectives, doctors, scientists,
or any other career that requires supreme focusing capabilities, high intelligence, charisma,
and problem solving skills using this trait.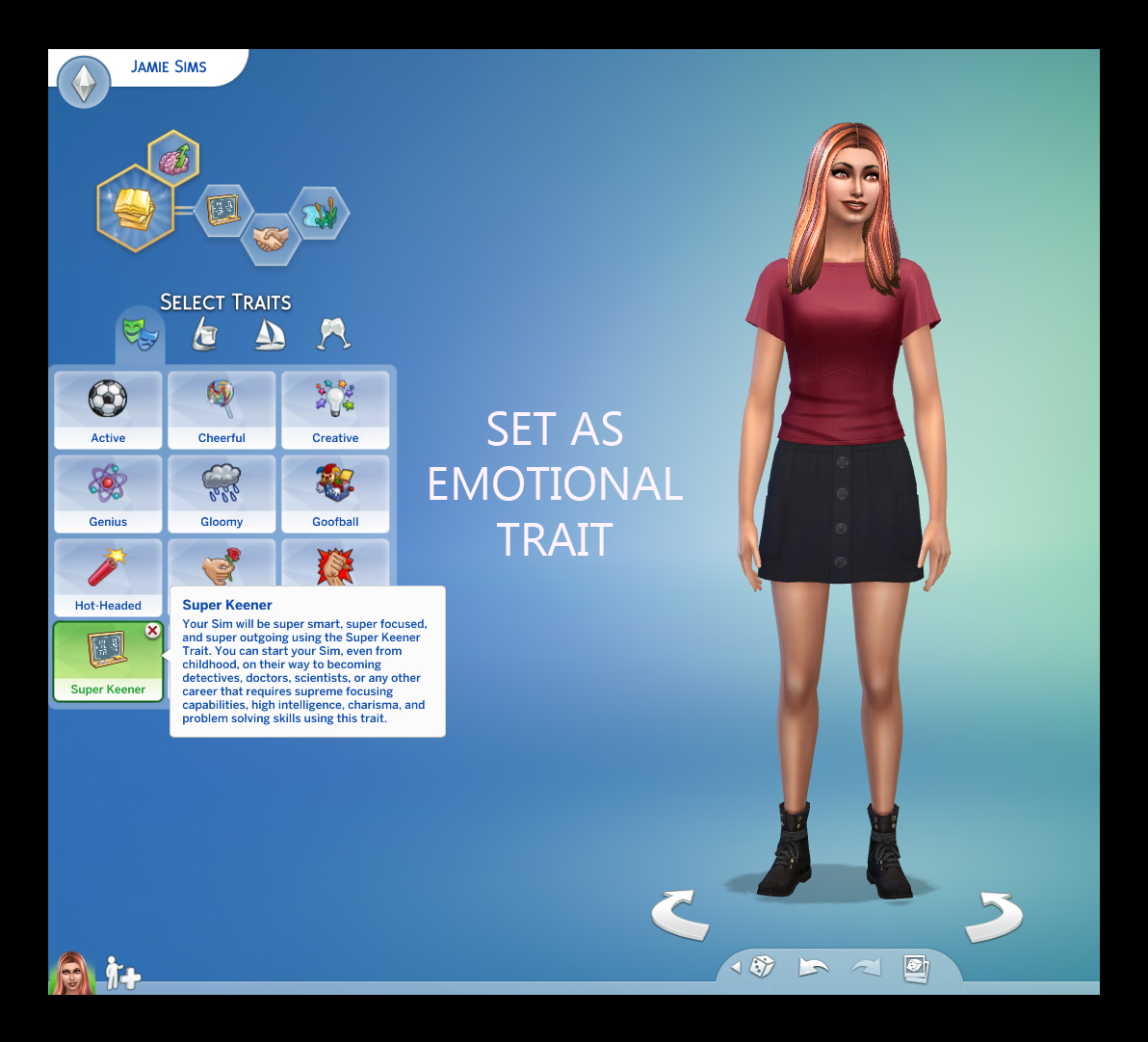 [/center]
ACTIVE BUFFS:
These are buffs received while the specified actions are taking place, and stop
when the actions are stopped.
FOCUSED +1
"IN THE ZONE" - SUPER KEENER'S FOCUS KICKING IN!
-CLUB INTERACTION - MEDITATE - MEDITATE USING MEDITATION STOOL
-CLUB INTERACTION - USE SCIENCE OBJECTS - ALL
-DO HOMEWORK - ALL
-HACK - ALL
-PLAY CHESS - ALL
-PLAY VIDEO GAMES - ALL
-PROGRAMMING - ALL
-READ - ALL
-ROCKET SCIENCE - ALL
-USE SCIENCE TABLE - ALL
-USE TELESCOPE - OBSERVE THE SKY, SEARCH FOR THE TRUTH, STARGAZE, TRACK SATELLITE
HAPPY +1
"IN THE RIGHT HEAD SPACE" - SUPER KEENERS ARE HAPPIEST WHEN USING CERTAIN SKILLS
SKILLS IN USE
- CHILD: MENTAL, SOCIAL
-TEEN-ELDER: CHARISMA, LOGIC, PROGRAMMING, ROCKET SCIENCE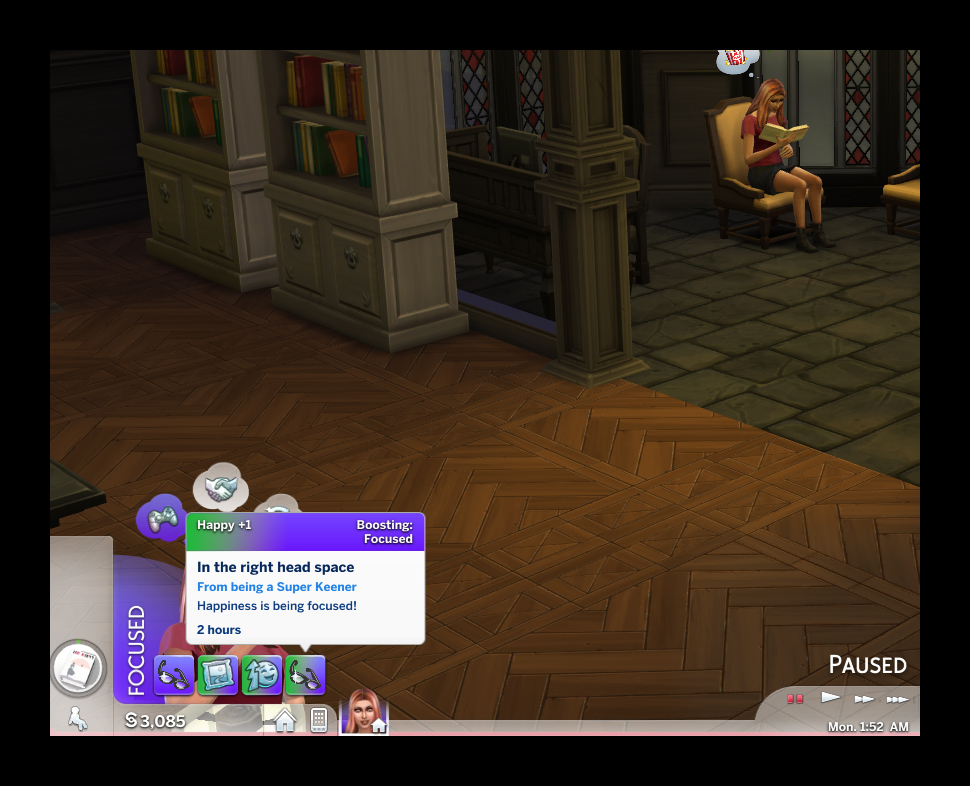 TIMED BUFFS:
This buff occurs at the onset of the mood, lasts for 2 sim hours, and
refreshes every hour the focused mood is held.
HAPPY +1
"IN THE RIGHT HEAD SPACE" - HAPPINESS IS BEING FOCUSED
- FOCUSED MOOD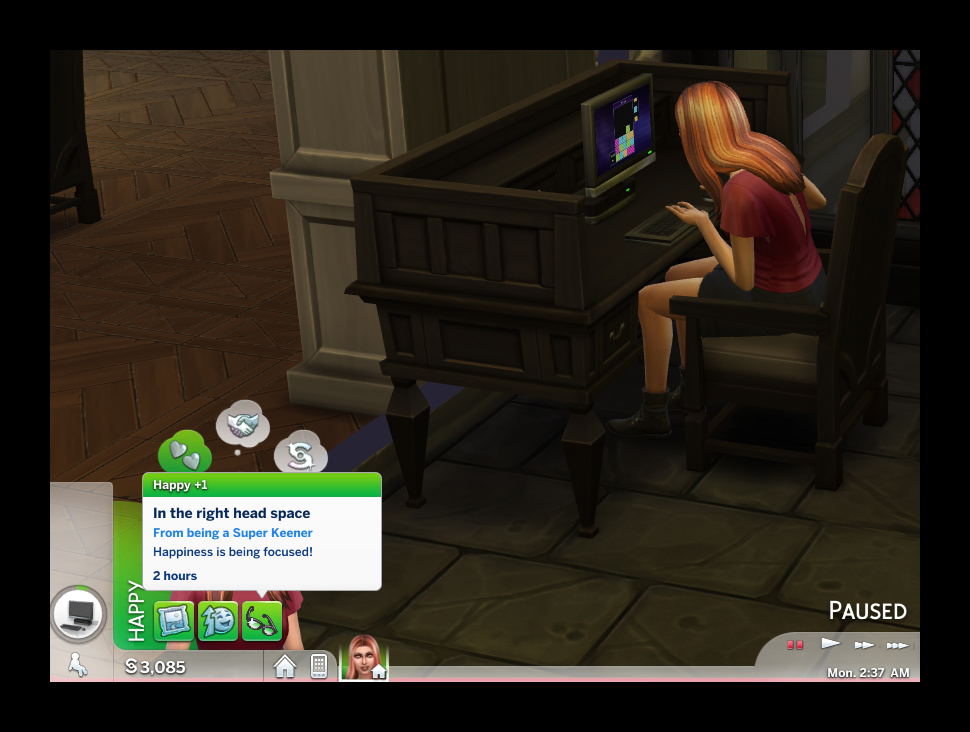 MODIFIERS:
All increase by values shown.
SKILL AND STATISTIC MULTIPLIERS:
-CHILD: MENTAL +2, SOCIAL +1.5
-TEEN-ELDER: CHARISMA +1.5, LOGIC +2, PROGRAMMING +2, ROCKET SCIENCE +2, VIDEO GAMING +2
RELATIONSHIP MULTIPLIERS:
-FRIENDSHIP +1.25
AUTONOMY AND COMMODITIES (THINGS YOUR SIM WILL BE AUTONOMOUSLY PUSHED TO DO):
Basically, Sims with the Super Keener trait will be pushed to do things that relate to the following EA skills, objects, or traits.
CHILD:
-LIFESKILLS - AUTONOMY - CONFLICT RESOLUTION, EMOTIONAL CONTROL, EMPATHY, MANNERS, RESPONSIBILITY ALL POSITIVE
-OBJECT_SCHOOL PROJECT - PROGRESS AND QUALITY
TEEN-ELDER:
-TRAIT - AUTONOMY BOOKWORM
-TRAIT - AUTONOMY GENIUS MENTAL STIMULATION
-TRAIT - AUTONOMY OUTGOING
-PROGRAMMING SKILLS - ALL
WHIMS:
Your Sim will receive Whims based on the following skill sets.
CHILD:
-ALL MENTAL, SOCIAL
CHILD AND TEEN:
-ALL HOMEWORK
TEEN TO ELDER:
-CHARISMA: COMPLIMENT SOMEONE, FLATTER SOMEONE, LEVEL UP IN CHARISMA SKILL, PRACTICE SPEAKING IN THE MIRROR
-BOOKWORM: ANALYZE A BOOK, BUY A BOOKSHELF, FINISH READING A BOOK, READ A BOOK AT THE LIBRARY
-PROGRAMMING: BECOME FOCUSED, BUY A NEW COMPUTER, CREATE A COMPUTER VIRUS, CREATE A MOBILE APP, CREATE A PLUGIN,
PRACTICE PROGRAMMING, HACK SOMETHING SUCCESSFULLY, TRY TO HACK SOMETHING
-LOGIC: LEVEL UP IN LOGIC SKILL
------------------------------------------------------------------
OLDER VERSIONS
All increases
Skill modifiers:
Programming x4
Logic x4
Rocket Science x4
Video Gaming x4
Charisma x4
Autonomy modifiers:
Programming x1.75
Handiness x1.15
Logic x1.75
Rocket Science x1.75
Video Gaming x1.75
Charisma x1.75
Career Performance:
Detective x1.6
Doctor x1.9
Scientist x2
Astronaut x1.3
Business x1.15
Criminal x1.15
High School x1.3
Secret Agent x1.3
Tech Guru x2
Additional Credits:
Zerbu Tabek for the Sims 4 Buff and Trait Factory available here:
Sims 4 Buff and Trait Factory
SimsVip for procedure to make Custom Traits compatible with Cats and Dogs UPDATE - EP NOT REQUIRED
Welcome to my world!
***THANKS TO EVERYONE WHO HAS DOWNLOADED ANY OF MY CREATIONS! YOU HAVE HELPED ME REACH 3,000,000 DOWNLOADS! MUCH LOVE***
16AUG2022:
It has come to my attention that it's difficult to navigate my mods on other sites, and I agree. I have a listing with links on my Tumblr directly to my content, so feel free to check that out :)
CLICK HERE
21JUN2022:
There are no hats allowed for random in the new Werewolves GP :)
SPECIAL NOTE:
You may have noticed I'm linking some of my mods to my Patreon. This is because it's a lot of work maintaining mods across multiple platforms. I truly appreciate all the MTS members who have supported me over the years, and I hope it isn't too much trouble for you to find me there (link also at the bottom of this profile blurb). Any game mods that have recently been updated have a link in the comments to the mod's page on my Patreon, including careers. Everything is still FREE! Not to worry :)
Feel free to use my stuff in your pictures and whatnot. I don't need a link back for stuff like that, but it's always a nice gesture :)
Please always link back to the download page of anything you might use as part of a creation, though. For example, makeup on a Sim you're uploading, or a recolour as part of a lot, etc.
You MAY NOT upload my creations anywhere else unless you link back to the original post for download. You MAY ONLY provide direct links to my uploads on other sites that
do not
require a paid membership. My content is free. Access to my content should also be free. Please respect this.
Please, please, please leave any feedback in the comments section of a particular upload. I do my best to stay on top of my mods, but if for some reason I've missed something I rely on all of you to let me know, and it's greatly appreciated, along with your continued support!
CC SIMS R US ON FACEBOOK
Simmiller on Patreon - All FREE content!
**Neia's Create-a-Career Tutorial** by Simmiller