Vintage Lace and Rubies: Cornelia's Wedding Dress
3,611

Downloads
167

Thanks Thanks
31

Favourited
17,429

Views
Uploaded: 14th Mar 2016 at 4:53 PM
Updated: 18th Mar 2016 at 4:15 AM - Update
Hello y'all, today I'm presenting everyone with a project I've waited years to contribute.
Six years ago the death of my long-running neighborhood led to a do-over, and it was then that I chose to do a "Through the Decades" theme. Along with searching for historical and vintage cc already in existence, I figured it was high time to start making some myself. So it was one night, while looking at dresses from the 40's, I first found the wedding dress that instantly said "Cornelia". While I did find a mesh with the right sleeves initially, the shoes were wrong, but because of a mesh edit done by Cynnix, I am finally able to bring you this dress!
This gown is, like Agnes' gown, also based on one from Antiquedress.com, and is a beautiful creation of lace, satin, and silk. Done in the pale pink-white color hand-chosen by the bride, the dress consists of a silk-lined satin sweetheart under-dress and full lace overdress, the hem falling gently in large, soft scallops. The back features delicate satin-covered buttons and ties that have been dyed a deeper shade of pink, to reflect the bride's non-traditional tastes. There is a filmy chiffon short train at back, and the outfit is complete with soft, decadent gold-and-white brocade slippers.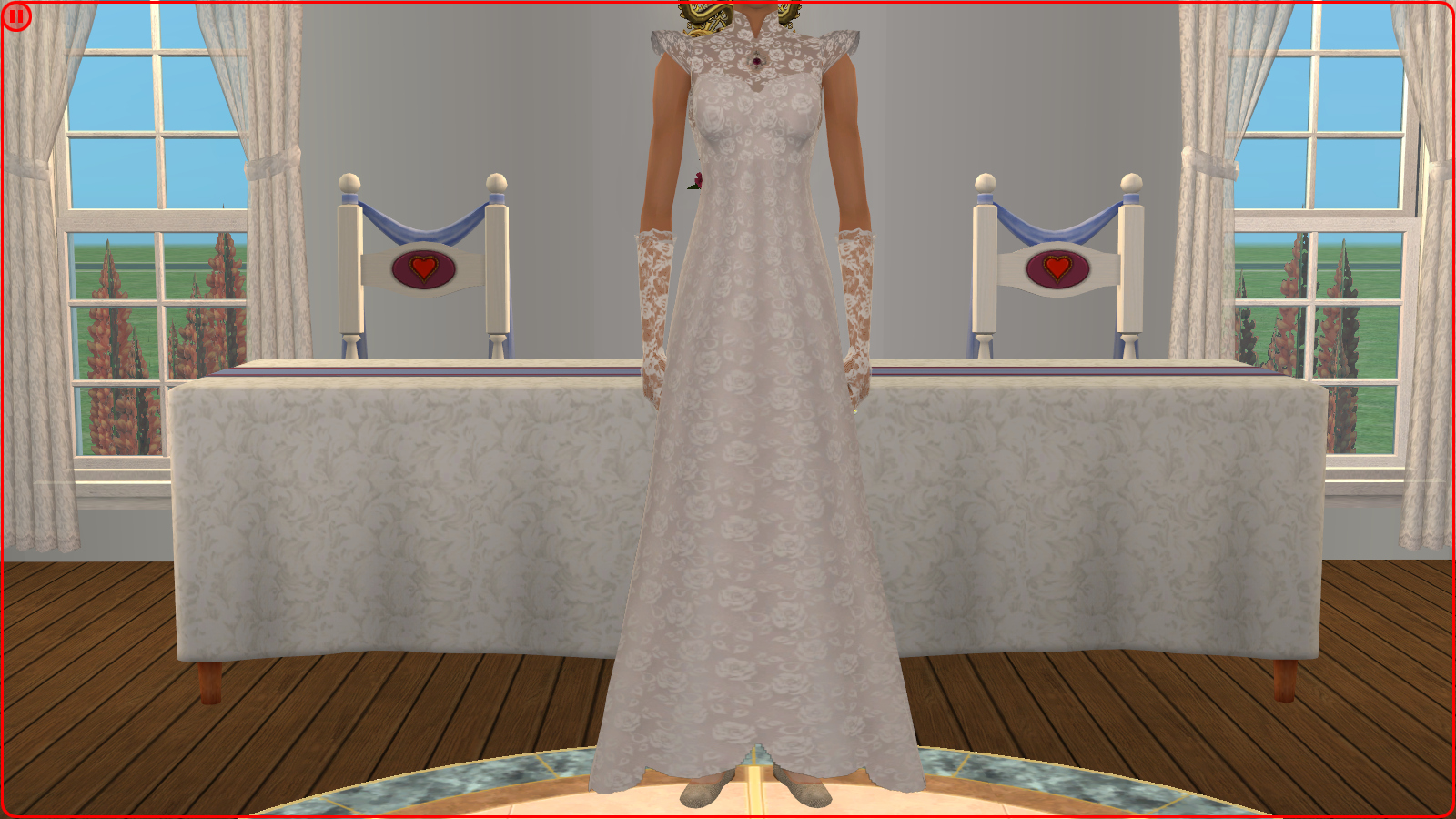 If one should happen to catch a peek by way of the wind, one may also see the soft pink stockings underneath!
Cornelia's dress also features a large gold, diamond, and ruby brooch, the "something old" her mother wore on her own wedding day (and which will be present on Pru's gown, when I get around to it!) Originally a gift from her father to her mother, the brooch is a reminder of undying true love.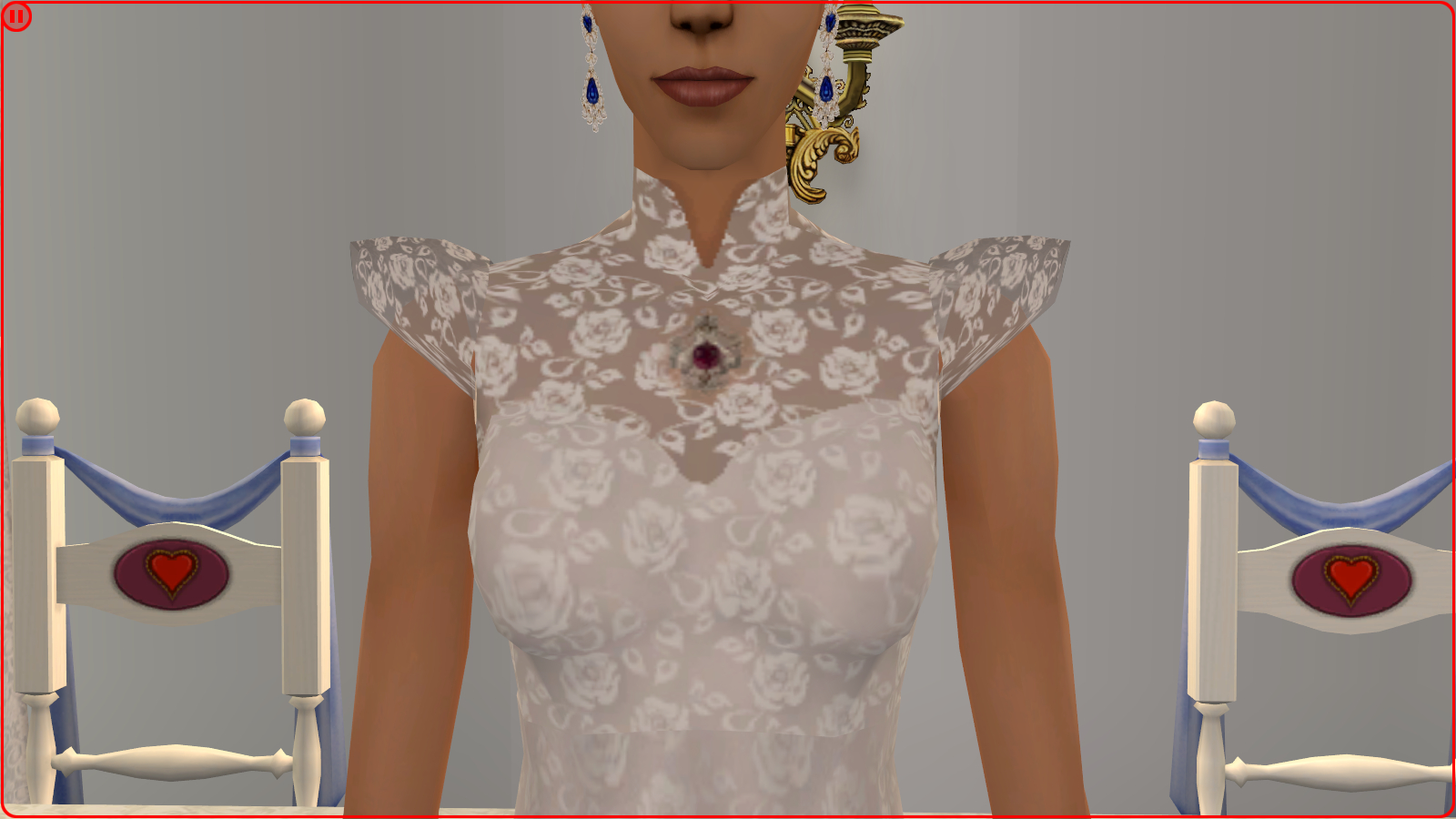 Mesh Requirement
UPDATE: Since some people were reporting problems with the download button not working for the mesh, and thanks to Cynnix's generous TOU, I have included said mesh in the RAR.
Known Issues
Very slight, but with the way that the mesh is made, there is some small gapping around where the sleeves join the bodice, and is something I myself cannot fix.
Blooper: During the photoshoot Pastor Bronson threw a fit, and refused to wear the vicar uniform, so perhaps it's time I made him his own robe XD
Content List from the Pictures
Hair (Cornelia) by MaximusPM
http://www.modthesims.info/download.php?t=227244
Hair (Agnes) 3t2 conversion by Bunhead
http://www.digitalperversion.net/ga...69255#msg669255
Hair (Frida) is the Medium Ponytail TSM to TS2 by Trapping
http://m22cdb.livejournal.com/2856.html
Hair (Prudence) Newsea's Agnes by Nymphy
http://thebigtradeoff.livejournal.c...l?thread=516069
Gloves by BlooM
http://www.insimenator.org/index.php/topic,81152.0.html
Eye Love by Yumedust, defaults by Redsimmies
http://www.modthesims.info/download.php?t=266483
Light Skin Coverup by sleepallday partyallnight
Sclera Correctors by szielins
http://www.modthesims.info/download.php?t=253167
Posebox and bouquets by decorgal
http://www.modthesims.info/download.php?t=351524
Arm Overlay posebox by Dee Dee
http://deedee-sims.tumblr.com/tagged/dl-posebox
Pink bridesmaids' dresses are a yet-to-be-released creation of mine
Stereo is stereo006 by Avenida
Wall sconce in the church is 007 by Avenida
Maxis-Match curtains by komasutra
Altar and standing banner are from Christian set 1 from Retail sims (standing banner recolor by me)
http://www.retailsims.com/Religio/C.../xtianSet1.html
Wall Cross by worship4ever0227
http://www.modthesims.info/download.php?t=206134
Celtic Scripture Cross by Kevinshope
http://www.modthesims.info/download.php?t=238400
"Fancy Fairy" tapestry recolor by me
Sapphire earrings by me
Shepherd window by Lethe_S and the Magic Modders
Cornelia and Agnes are born-in-game sims from my re-creation of Simon and Prudence; Gunther is a born-in-game sim from my re-creation of Victor and Gretle
As always, Maxis owns everything, so no uploading to Paysites!
Additional Credits:
I would sincerely like to thank:
catofevilgenius
, who not only answered my questions on how to apply lace, but was kind enough to allow me to use her lace in the creation of this dress; Antiquedress.com for having such a gorgeous selection to study; MTS and their wonderful tutorials, as well as the MTS Create Forum and the answers to making things sheer; Willywiluhps, whose underwear I opened up to see how to make good seams on the stockings; Lidiqnata for answering my upload questions; Google image search for the ruby brooch, sapphire earrings, brocade fabric (shoes), and lace (stockings); Ulkrhsn for the original mesh; and Cynnix for the edit I've dreamt of for so long (and the teeny bit of alpha texture I used for the dress' alpha)
Enjoy, and be on the lookout for more uploads!
Packs Needed
None, this is Sims 2 base game compatible!
Other Information
Clothing Style
:
– Historial : Historically accurate
Other Type
:
– Not Applicable
Maxis Flags
:
– Not Applicable
Outfit Type
:
– Full Outfit