Sims 3

>

>

Mods that contain script replacements or new scripts.
Pregnancy Variations (Testversion 26.02.2017) [Outdated Mod]
MTS has all free content, all the time. Find out how YOU can help to keep it running.
Tell me how...
35,655

Downloads
388

Thanks Thanks
210

Favourited
136,403

Views
Uploaded: 9th Nov 2016 at 10:55 PM
Updated: 27th Sep 2021 at 7:57 PM

A test release V 1.0.1t is up (see the bottom of this page)
Description:
I thought that it would be more realistic if not every Pregnancy lasts exactly 72 hours, with this mod installed pregnancies will gain a lot more flexibility.
You can set the Pregnancy duration in hours, starting as low as a one hour pregnancy if you so desire.
Each Pregnancy can have its own duration so if two sims get pregnant at the same time they wont necessarily Have the baby at the same time (Depends on your Settings)
This Mod also allows to adapt a running pregnancy duration to be set to a new duration (e.g. set a 72 hour pregnancy duration to 2049 hours

)
The mod comes also with a Pregnancy Breastgrowth option that allows you, (when activated) to simulate the changes to the body during pregnancy in a more realistic way, these changes are applied with each hour the pregnancy progresses.
Since this Mod uses its own Pregnancy System i have included a Control Center which lets you manage the new Pregnancy Features aswell as old Pregnancies (e.g. convert regular pregnancies to Pregnancy Variations Pregnancies or set the Hour of pregnancy)
All of these Features can be customized by you any time in game !
Requirements:
- The Sims 3 Basegame (no Expansions needed)
- Patch 1.67 ( later patches may also work)
- A somewhat powerful CPU / a stable running Sims 3
Advise
-Back up your Save before installing/running the mod !
-

Use at your own Risk
Limitations
- This Mod is only capable of changing Human Female Sims Pregnancies
Usage:
To get to the Pregnancy Variation menu click on the City hall ->Battery...->Pregnancy Variations
Features:
Emulate Standard Pregnancies by Default (customizatios are yours to be made)
Set Pregancy Duration in hours*
Set Pregnancy Duration Variation in hours*
Pregnancy Breastgrowth (like in Sims 4 only more Subtle and smooth)
Pregnancy Control Center (Set the hour of pregnancy, Pause/Resume Pregnancy, Set Baby Gender, Set factor for multiple babies, ...)
Almost every Setting is Customizable in game (Use the City Hall Menu to do that)
Categorized Settings, Basic,Advanced and Expert for different levels of Customization
Silent Pregnancy Option (Prevents Baby conception sound from playing Turn On/Off option for Nausea and Backache)
Non core mod (Uninstall is easy)
*You may set different values for each Simtype (e.g. Alien,Fairy, Vampire etc.)

Example: Setting the Pregancy Duration to 50 and the Pregnancy Duration Variation to 5 will result in Pregnancies with a duration from 45 to 55 hours, so while one Pregnant Sim may have her baby at 48 hours another Sim's baby may be born after 54 hours.
Pregnancy Type
The mod has the ability to differentiate between Simtypes (Alien,Fairy,Genie,Human,Plantsim,Mermaid, Werewolf and Witch)
So if a Fairy and a Human are trying sucessfully for a baby the mod chooses a pregnancy duration for either Humans or Fairys.
To prioritse one Simtype over another there is the Pregnancy Priority list where you can set a Priority for each of the aove stated Simtypes.
So if you set a higher priority for witches than for humans and a witch and a human have a baby the pregnancy duration will be the one for witches.
Pregnancy Breastgrowth:
During pregnancy the female breast grows to accommodate for feeding the baby. If you activate this option not only the Belly of your Sim will grow !
The growth starts with the first hour of the pregnancy and reaches its maximum at 32 hours. After the sim gave birth the new breastsize will stay for 24 hours and then shrink to its original size within 8 hours.
(Did i mention that all these settings are customizable !? [you can even dictate to what percentage of the Pregnancybreastsize the shrink will revert

])
The Standard setting is somewhat subtle, but still recognizable
Use Your own settings for a more pronounced growth:

The Formula the mod uses to calculate the Maximum Breastsize during Pregnancy(i may add more options later):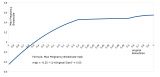 Customize if you like !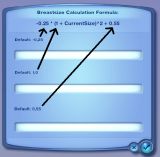 Customize Pregnancies !
If setting the lenght and lenght variation of Pregnancies isnt enough go advanced and set these parameters for each Pregnancy type e.g for Pregnant Fairys, or go Fancy with the Expert Settings and create your own custome pregnancy progress table !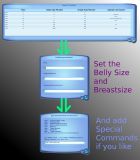 Compatibility
This mod has been tested with the following other mods:
Nraas: MasterController, Overwatch(highly recommended mod!),Woohooer(recommended for Teen Pregnancies), Hybrid, Retuner, Debug Enabler
If you are using my Abductor Mod note that the pregnancy delay feature of that mod will be deactivated since "Pregnancy Variations" provides a far more powerful customization of Alien pregnancies (all other features of the "Abductor" mod remain at your disposal)
Uninstall

I highly recommend to do the following:
If you want/need to Unistall the mod there is a special option in the Menu of the mod, use this if the mod has already modifed Pregnancies for a good clean result.
After this process has finished the mod will deactivate itself, you then can save the game and delete the package after exiting the game.
Note:
If you Have found a bug or if you have a suggestion of a feature you like to in the mod leave a comment or send me a private message if you prefer and i see what i can do about it (ideas and bugreports are both very welcome !

)

Special thanks to:
The great Scripting Tutorials here on Modthesims from
Buzzler
,
BailaBaila99
and
CmarNYC

.
Additional Credits:
Thanks to the creators of
SimPE
(Inge & Peter L Jones)!
ToDo List:
Fixing Bugs (continuously)
Changes in Version 1.0.1t (Note this is just a test version be careful

)
Fixed(Hopefully):
-Fixed an issue with pregnancy interactions not showing/working properly (spotted by kwillag)
-Fixed an issue with the baby Conception Sound not plaing (spotted by desiree101)
-Fixed a chlothing change Issue (spotted by hf29032003)
Modified:
-Made the Expert timeprogram editing a bit more user friendly (imho)
-The mod now works by default on Pregnancies originating from the Active Household or Alien abduction Pregnancies (you can change this in the options)
Added:
-Export/Import your Settings (suggested by Vincent T. )
-Belly size variation ( suggested by Lady Aran)
-Chose between Different Calculation methods for the breast growth part ( suggested by Lady Aran)
-Sim Pie Menu (suggested by melodie9)
-Male Pregnancy option (suggested by Zayet27)
-Gender Skew based on Simtype
Known Issues:
-Loading will freeze at 99% when you had loaded a game before in that session
-Resetting a sim during pregnancies will cause problems e.g. Getting stuck on a pregnancy (spotted by littlenick27 )
-Mod pregnancies dont apply themselfes for some reason sometimes (spotted by krunchnmunchn )
Thanks to all Bug Spotters and Suggestors please be aware that this release is a mere Testversion