Graveyard Lot Trait
MTS has all free content, all the time. Find out how YOU can help to keep it running.
Tell me how...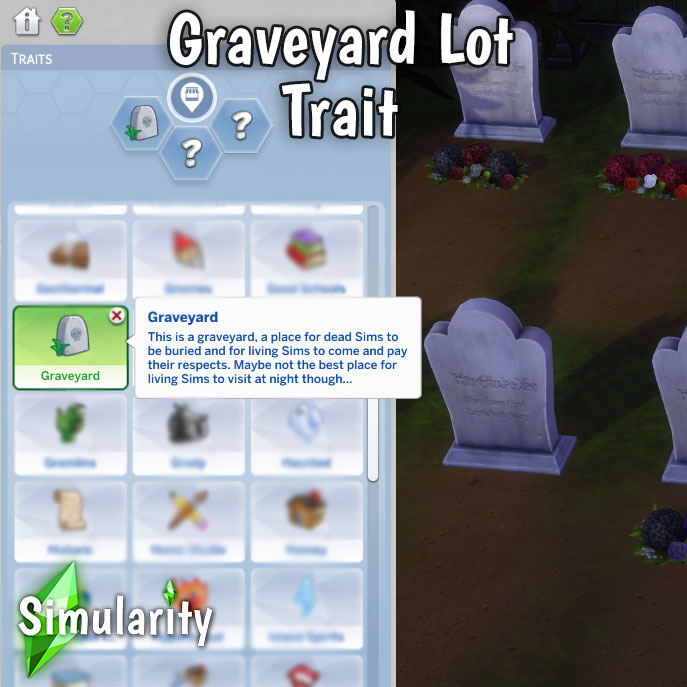 Created by Simularity View Policy / About Me View Downloads Home Patreon Twitter Tumblr
Uploaded 14th Aug 2020 at 1:16 PM · Updated 5th Jul 2021 at 12:26 AM by Simularity : updates and fixes
Updated July 04, 2021
to add more autonomy directions for Sims to mourn at tombstones and urns (SEE NOTES BELOW!) and also added more times per day that mourners show up at the graveyard (they'll be the ones dressed in formal wear). Plus some other minor fixes and improvements.
This lot trait will turn any generic lot into a proper graveyard perfect for all of your deceased Sims to move to as their final resting place... if they wish to rest that is! During the day, the graveyard will be populated with mourners paying their respects to lost loved ones. At night, the graveyard will be haunted by those whom have been lost. The lot trait may includes a few more surprises as well. Read on... if you dare!
FEATURES:
Here are the features currently included in this trait mod:
At 9am to before 10pm: NPC mourners appear to grieve at the graveyard.
At 10pm to before 5am: NPC ghosts appear to haunt the graveyard.
Timed emotional buffs will affect your Sim as soon as they step foot in the graveyard and at different times of day/night.
Your Sim will also receive emotional buffs when they finally leave the graveyard.
Special buffs for Vampires at different times of day/night though the Vampires Game Pack is not required for this Lot Trait to work. It's just a bonus!
Special buffs for Evil, Squeamish, and Gloomy Sims rather than the default buffs all other Sims get.
Special buffs for Alien Sims though the Get to Work Expansion Pack (from which Aliens come from) is not required for this lot trait to work. It's just a bonus!
LOT TRAIT BUFFS:
Here are some of the mood buffs you can expect with this trait mod but there might be more:


May They Rest In Peace (Sad +1) - Your Sim is thinking about all the souls whom are buried here including their own relatives and friends whom have past. May they all rest in peace.

Creepy Feeling (Stressed +2) - Being in this graveyard so late at night has given your Sim a creepy, stressed out feeling. Maybe this wasn't the best of ideas? It might be best to come back during the daylight hours, unless they like this sort of thing.

What Am I Doing Out Here?! (Scared +4) - What am I doing in a graveyard after midnight? Am I crazy?! Did you hear something? I heard something! I need to get out of here!!

Feeling at Peace (Happy +2) - The sadness and loss that your Sim once felt at the graveyard has been replaced with happy memories and feelings of being at peace. They are glad that they visited the graveyard now.

Undead Among the Dead (Sad +1) - Your Vampire Sim is surrounded by the bodies of those who never rose from the grave to become vampires. Your Sim is now pondering whether life as an immortal is truly worth it or if they should have never have become the undead.

In My Element (Energize +2) - It's late at night and your Vampire Sim is surrounded by the dead and the undead. They are truly in their element and ready to go out and stalk their next prey.

Look at All Those Dead Fools! (Happy +2) – Your Sim is looking at the tombstones with glee and wondering how many of those pathetic souls they put in those graves and how many more of those graves they will fill with their evil deeds.

This Place is So Depressing (Sad +4) – Your Sim often feels sad but looking around this graveyard has them feeling very depressed and thinking dark thoughts. Maybe this isn't the best place for them to be?

Eww, Dead People (Uncomfortable +3) – Your Sim is feeling very grossed out being around all these dead Sims. They should probably not stick around too long or they might get sick to their stomach.

Feeling at Peace (Happy +2) – Your Sim feels an odd sense of peace after visiting the graveyard. They are now more certain of their place in the world as a member of the undead.

Relieved to Be Anywhere Else (Happy +2) – Your Sim is relieved to be anywhere that is NOT that graveyard! Maybe they shouldn't go back there for a long, long while. Or ever.

Never Been More Alive (Energized +4) – What makes your Sim feel more alive? Seeing the unfortunate being dead! Yes, your Sim is truly evil and their trip to the graveyard has reinvigorated them like never before.

Jeepers Creepers, it's the Reaper! (Scared +3) Your Sim has just spotted the Grim Reaper at this graveyard! It couldn't possibly be their time yet, could it?? Maybe Grim is just here to wrangle all these ghosts?

Hello Again, My Old Friend (Happy +2) – The Grim Reaper has appeared to wrangle the many ghosts haunting this graveyard. He obviously isn't here for your Sim, seeing as how they are an immortal vampire. Your Sim can still socialize with ole Grim.

LOL, It's the Grim Reaper! (Playful +3) – Only a Sim as evil as your Sim could see the Grim Reaper and feel giddiness.

Fascinating! (Focused +3) Your Alien Sim finds it very interesting how the natives of this world react to this strange being in black. They must study this phenomena and learn more about it.


VERSION HISTORY:
v1.25 - This the second release of this lot trait. It now includes new buffs for vampires while excluding said vampires from experiencing the same buffs as mortals. Evil Sims will also not experience sadness upon entering the graveyard. If you have suggestions on how it could be further improved, let me know. Thanks!
v.1.25b - Now includes both Spanish and Russian translations! Spanish translation is by
CRH
and Russian translation is by barbie_hunter.
v.1.25c - Fixed the venue restrictions that should have been there since v1.0. It no longer will work on residential lots as it was intended to be. Sorry for those who were using it on such but it wasn't supposed to work that way. If I get enough requests to change it back, I may alter it again or create a separate yet similar lot trait for residential lots. Also now includes both German and Portuguese translations! German translation is by
granatapfelsaft
and Portuguese translation is by
Taiyourin
.
v.1.26 - Updated for the v.1.69 Sims 4 patch which previously broke this and my other lot traits. Now they work again! YAY!! All other features remain the same. It just works again now.

v.1.3 - Added unique buffs for the following types of Sims: Evil, Squeamish, Gloomy, and Vampires. I also added a weekly visit from the Grim Reaper! All translations are now out of date so if you provided a translation before, I and the community would greatly appreciate it if you would translate the new version. Pretty please?
v1.4 - Updated for the recent 1.70 patch with the new Scared emotion. Also added buffs for Alien Sims. Plus new translations are included! Simplified and Traditional Chinese by Ciway, German by andi_paradise, and Portuguese by Francine.
v1.49 - Added three new translations (Italian by Francesca, Spanish by Josué, and Czech by Mikaela.) plus some minor edits and fixes.
v1.5
- Added more autonomy directions for Sims to mourn at tombstones and urns (SEE NOTES BELOW!) and also added more times per day that mourners show up at the graveyard (they'll be the ones dressed in formal wear). Plus some other minor fixes and improvements.
HOW TO USE:
To use this trait you'll need to go into Build Mode on any given lot. Start by selecting the Venue Type as "Generic" as that seems to be the best choice for a graveyard thus far. Then go to Lot Traits panel and select "Graveyard" which should be this lot trait. See the preview image at the top of this post to see what the lot trait icon and description should look like in the game.
As for the lot itself; build to your heart's content or do a search in the official Sims 4 gallery for #graveyard or #cemetery and I'm sure you'll find something to your liking. The lot trait will work with any type of lot other than residential type lots.
NOTES:
For the mourners and other Sims to mourn autonomously, they must have something to mourn! Blank tombstones and urns from debug won't work (I tried). You need actual dead Sims for them to mourn. So, either wait until a Sim dies of natural causes or… uh… don't wait.

Then put the tombstone/urn on the graveyard lot so that the mourners and others will start doing their thing.
OVERRIDES:
None
CONFLICTS:
None that I know of.
SPECIAL THANKS:
KawaiiStacie (creator of the popular Slice of Life mod) first created a Graveyard Lot Trait mod that was similar to this but has since abandoned that mod and it is no longer available anywhere for download. I created this new lot trait from scratch on my own. I would still like to give props to KawaiiStacie for coming up with the original idea and inspiring me to create my own graveyard lot trait. Thank you.
I created this trait mod using the Mod Constructor v4 by Zerbu. I wish to thank Kutto and Lumpinou from Zerbu's Realm Discord channel for their essential help in creating this lot trait. I also utilized Sims 4 Studio for several edits so thank you to the team behind that program as well. I would like to thank DeathPoke1qa for making the suggestion that I alter the trait to behave differently for vampires and evil Sims which I now have. I may be making more edits in the future because of their suggestions and others. Thank you to MizoreYukii of the Creator Musings Discord channel for helping me figure out the venue restrictions on all my lot traits!
Tags: #graveyard, #lot trait, #cemetery, #cemeteries, #graves, #tomb, #ghosts, #vampires, #mourners, #rip
About Simularity
All of my latest creations, Sim stories, and more can be found on my official website at www.simularity.cc