Site Map

>

Sims 2

>

Sci-Fi - Goldie's Adventures on the Moon - A Short Story - Chapter 1: Flight to the moon
Replies: 3 (
Who?
), Viewed: 4364 times.
#1

10th Jul 2020 at 1:15 PM Last edited by Jawusa : 14th Jul 2020 at
1:54 PM
.

Goldie's Adventures on the Moon - A Short Story - Chapter 1: Flight to the moon
Goldie's Adventures on the Moon - A Short Story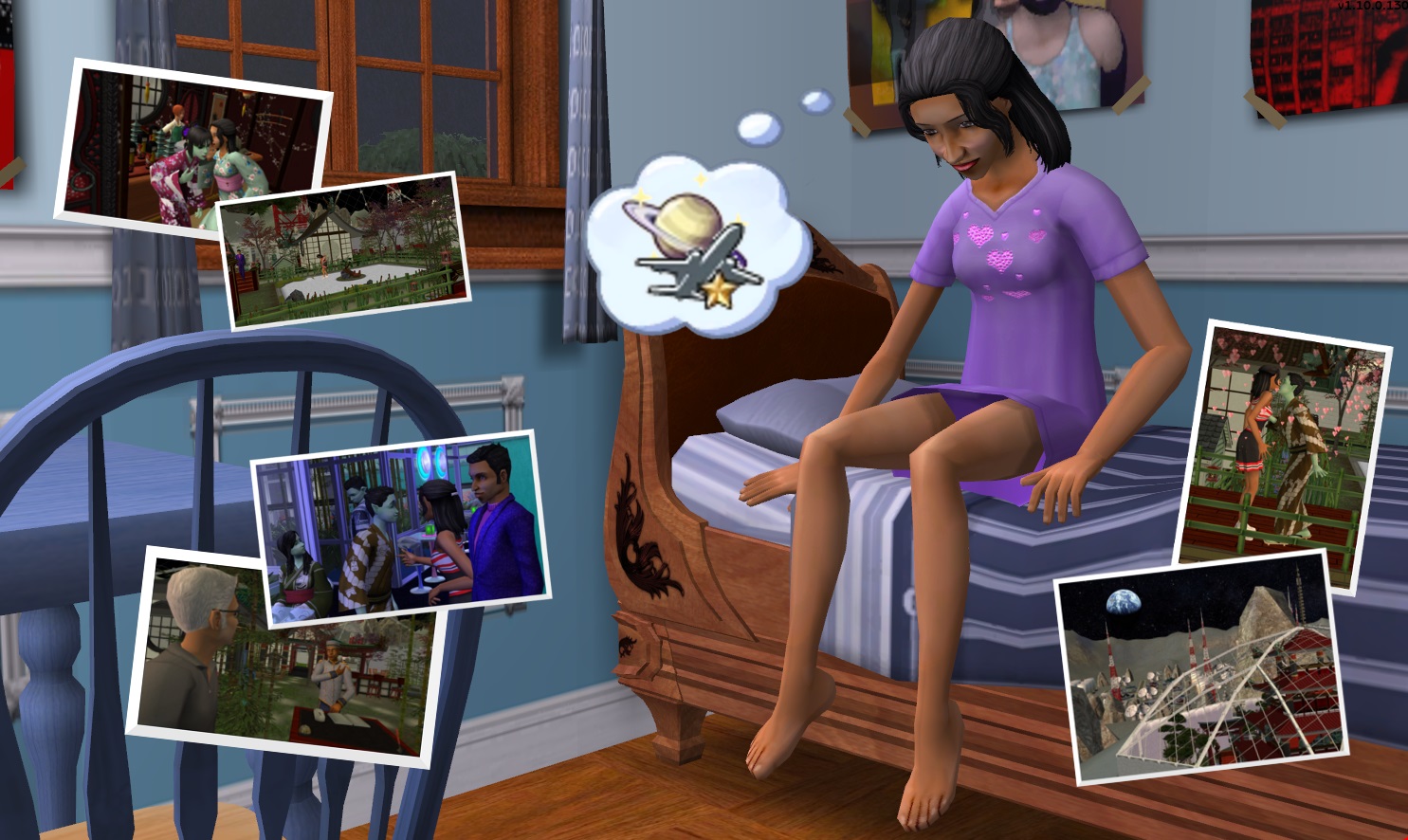 Chapter 1: Flight to the moon

Well, it all started when my mom passed away and we moved in here in the middle of nowhere - Widespot. I was
very
miserable; nothing could cheer me up. Not even my brother's silly attempts at trying to make me laugh by talking through that teddy bear which I've got when I was just a kid? Anyway, they would
never
leame me alone! Why couldn't I just spend the whole day in my room, doing nothing and just have some time and space
for myself
? Everyone was SO annoying!
Anyway, I didn't care about my homework, too. Dad kept insisting on lecturing me because of my bad grades, but I bet, when he was in my age, he must have been one of the worst for sure! Just... look at him and you'll understand. In short: school sucked, family sucked, life sucked!
One day, all of sudden, Dad came to me to tell that I should be packing soon, we're going to fly to the moon. He had seen an advertisement on the newspaper before, applied there and since he was a professional athlete as an adult... well, let's say, he got
everything he wanted
! I wasn't really into that at first... but I didn't want to stay home either. Not to mention that I didn't want to go to school, do the homework, buy nursery stuff for my sister Candy's baby, and do much more chores! So, I just
had to
go. It'd be just me, my dad and my brother Rhett anyway...
That day, I went on vacation without telling anybody at school that I'm leaving... I bet that school bus driver was mad at me for wasting his time on that day.. but you know what, I didn't care. Nor do I now.
As we arrived there, my dad checked us in in a rather... open-air hotel? If such a term exists... anyway, it was
dreadful
! Everything was exposed as hell; the restrooms, the food stand, you name it... only the bedrooms were in a kinda closed building - HOWEVER, it was so tiny and just EEEWWW? The walls were made of thin curtins? You could literally hear EVERYTHING! I HATED it! I
knew
there must be MUCH fancier hotels out there, but Dad saved the simoleons for a
special thing
.
"A room for three, please?"
"Sorry, we only have 1-bed suites, so, you have to rent three suits for your family! Not to mention that there's
one and only
restroom which
you all
have to share with the fellow tourists... oh, and the
only
bath tub we have is in the garden!"
"Whatever... sir! But I'm a former superstar, you can't treat me like this!"
"Goldie, you've been locked in for hours in that tiny room! You can't be
that
sad for the rest of your life! Get out of your suite and join us here at the the food stand! Rhett's here too! "
"Hell NOO, Dad! I don't
want
to eat that crap!"
"You're being disrespectful, young lady! The chirasi bowl is really good, you
should try it! ... Well, if you don't come, I'll take your bowl then."
The tiny suite made me SO angry... and those fake walls! That was probably why, I was in such a bad mood
all day long
, but at least I could read my favorite book which I had brought along... that made me feel
a bit
better. The room still is a bummer, though!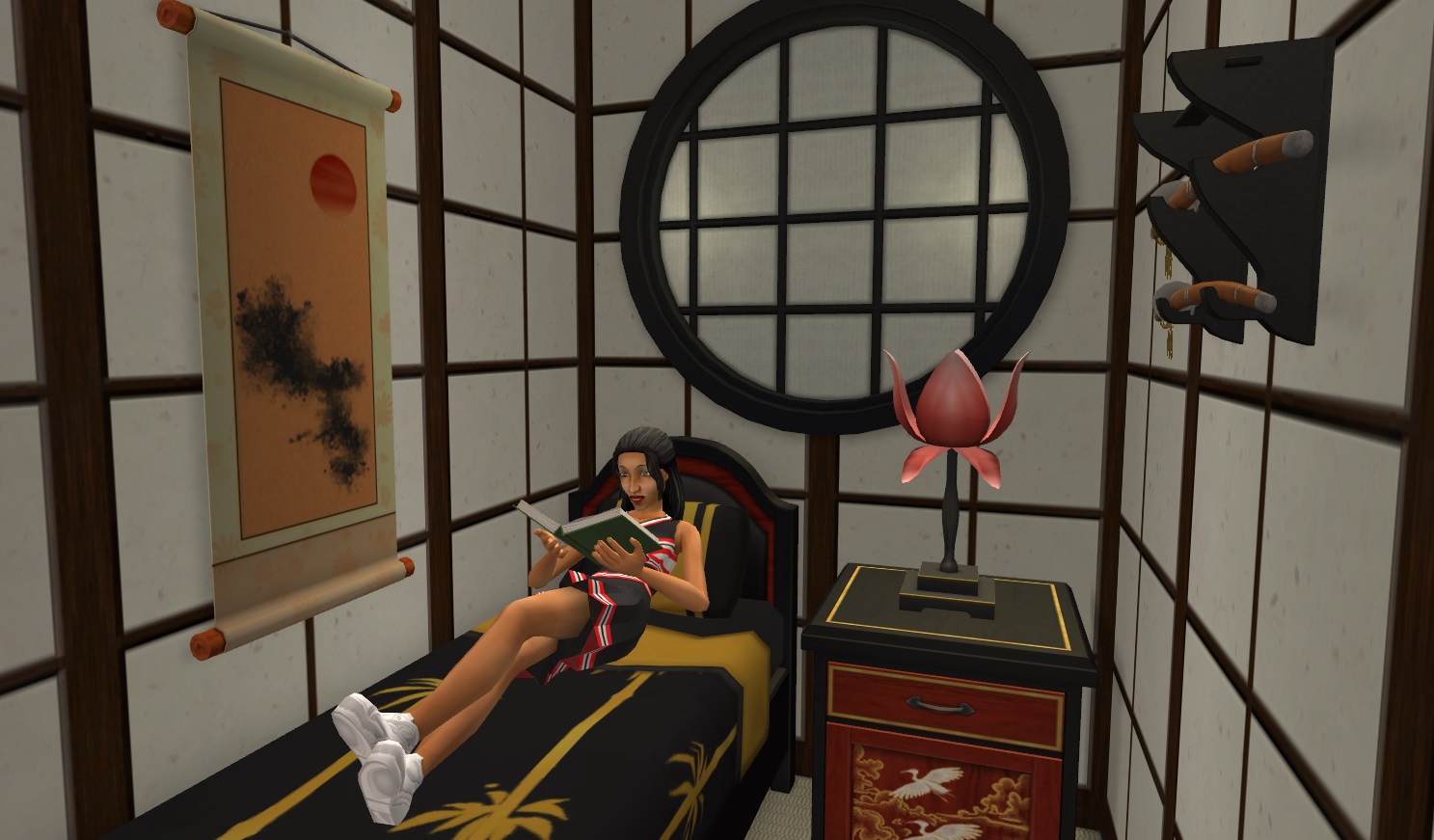 I fell asleep while reading that book... and woke up with weird knockings on the door. It was Dad...
"Honey, they have an aquarium around here. Let's check it out! The reviews on the internet are good and ..."
"Ok, fine... let's just go."
The place looked awesome, indeed! They had like this huge aquarium where you could even swim and downstairs, there was a restaurant, too... it was just stunning! As I was looking around dazedly, some cute guy spoke to me ...
"Oh hi, you're new around here, right?"
"Well... I've been just... uhmm... "
"Hehe ... travelling?"
"Yeah..."
He was kinda cute... but that conversation was kinda... awkward? But he really was cute... like cute for real! Anyway... Dad and Rhett were already upstairs swimming in the pool, so I went up to see what they were up to.
"Goldie!, Rhett!, watch how your Daddy's gonna jump into that hole!"
"Yeah... whatever Dad!
"Hey Goldie, you wanna join me in the sauna?"
"I think I'm fine... Rhett! Just go in there yourself... it's kinda
bizzare
to take a sauna...
with you
!
I really enjoyed swimming in the aqarium... also, it was
interesting
to experience the weak gravity, but it was
very tiring
!
"Dad, I'm gonna head back home... I'm dead tired!"
"Fine, I and Rhett were about to ask you anyway to go home..."
"You... two won't come along?"
"Well... we do want to spend the money now for that
special thing
..."
I never knew what they really meant, but I found these pictures which they've apparently taken
on that night
.
So... they went to check in in another hotel? Without me? Sheesh!
Not to mention that they've taken this photo as well... them doing a flirty face... I wonder for what...
Now coming to this picture, I think I've seen these two girls around town once... when we were in the aquarium and I think I remember the one with long hair listening to the conversation I had with the handsome boy earlier that day - I think she was just curious because I said I was new around here? Well, technically I didn't say that... he asked me and I said? OMG... what did I just say again? I think I said something SOO embarrassing! Anyway... apparently, Dad and Rhett met these two girls later that night in a rather
interesting
looking venue!
And EEEWWWW! This is SO disgusting, but SO creepy as well! I mean, the cashier kinda looks like Sadie, the local cashier in my hometown - Widespot. But, this can't be her!
But if it were her... I could kinda ask what my Dad and Rhett were up to
that night
... but something tells me that it'd better leave things as they are...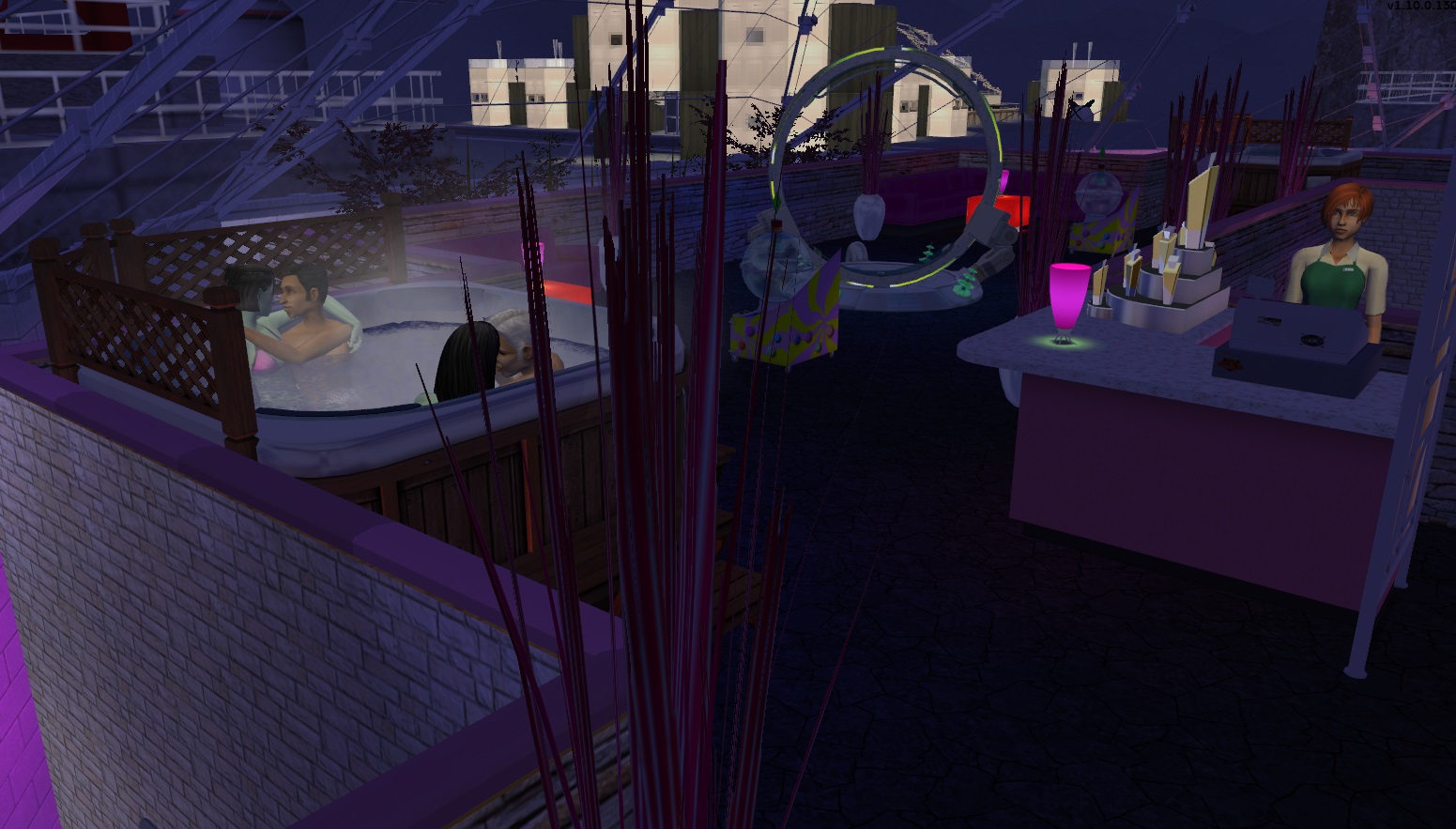 Oh, and they didn't return to the hotel
that night
. I woke up alone in that crappy hotel where they left me alone! I just wonder WHYY?... and did I feel better on that day? NOO!... I had to admit though that this boy at the aquarium was.... kinda cute.
1 users say thanks for this.
(
Who?
)
#2

14th Jul 2020 at 12:31 AM Last edited by Jawusa : 14th Jul 2020 at
10:18 PM
.

Chapter 2: First signs of happiness
Chapter 2: First signs of happiness
When I had returned to my suite last night, I thought it'd be the worst night ever and I wouldn't get any minute of sleep! Well... I guess I judged that hotel too fast? For some reason, I woke up
rather
peacefully. At first, I was mad at Dad and Rhett for deserting me, but actually,
I was the one
who kept complaining and begging for 'some time off' - and yesterday, I just
had
'some time off', so why wasn't I happy?
Anyway... I also received a text message from Dad, which was like: "Hey honey, I and Rhett will be at the Lunar Market around 1 pm. So, why don't you also come and join us?I'm sure you'd find something you like!"
Normally
, they'd always bore me and I would never want to spend some time with them, but STRANGELY, I was actually
pleased
to read this and I felt like a little girl who had lost her father for many years and was happy about the news of him returning? When I arrived at the Lunar Market, I couldn't find Dad or Rhett - neither of them!
I went in every store they had there; not really wanting to buy stuff at all! I never felt so lonely; it was like I was lost in outer space and nobody could rescue me ... although they had left me just yesterday? It felt like eternity! But when I entered in the souvenir shop, my heart suddenly started to pound - it was that cute boy! He
did
notice me when I entered the shop and then... he winked at me...
"Hey, I recognize you... weren't you at the aquarium just yesterday?"
I didn't answer, nor did I nod... or did any other gestures!
"You... OK? You look like you... What happened... if I may ask?"
I suddenly burst into tears... in front of him... and for some strange reason, I didn't know why? (I
do
have pics of me crying in that moment... and also him consoling me, but this diary should be all about
fun
anecdotes to remember - and to be honest, that
wasn't
it!)
But apparently, they were all there, but I kept missing them when I was entering the shops whilst looking for them... that made me feel SO dump!
What was I doing there AT ALL? How couldn't I notice? Was I so blind... or so stupid? Or probably both?
"Oh, I'm sorry if I made you feel uncomfortable, I didn't mean to ... it's just that... "
"No, it's not you! I'm fine... actually, I
enjoyed
the conversations I had with you... ?" *blushes
"Aww, how cute! Me too, although you never really spoke to me.... hey, maybe some fresh air at the garden makes you feel better... let's go there together, sweetie!"
That garden really made me feel better... or was it because I was talking to him? I don't know... but I really enjoyed the scenery over there! It was... beautiful!
"Hey, let me show me how we greet here! ... just do it like me!"
"Uhmmm... OK? I guess I tried to bow like you... ? Kinda..."
"I think you're good for now, it's cute of you to try! You're doing it great, really!
"Thanks... I guess?"
"I like you, you seem to be such a cool sim! What's your name? Btw, my name is Qiu Wan... yeah, I know, kinda hard to pronounce, but hey, you can call me whatever you like! My friends call me just Q."
"Nice to meet you, Q! I've never heard such a name before, that's
unique
..."
"You find me unique?

" *doing a flirty face
"You're cute... I guess... anyway, I'm Goldie Hart! I'm just... a regular nobody!"
... I was so
dazed
and suddenly, I
completely
forgot about Dad and Rhett. I saw that my phone was ringing - it was Dad... and previously, there were five other missed phone calls from Dad.. and three from Rhett! For a minute or two, I felt happiness again! I knew
it felt so good to be needed
! Anyway, they asked me where I were and what I was up to - they said that they had already left the Lunar Market and had been waiting for me in the local bowling alley which also had a diner.
HOWEVER, when I arrived there... I wished I had never done that; they were just singing some weird karaoke songs and this time, I felt EMBARRASSMENT again for being
with them
! But luckily, Q wasn't around... which was GOOD!
We had lunch
together
again after such a long time! I think, that was the
first
time ever on the moon... when they ate, I wouldn't come.. or when I ate, they wouldn't come! But now, I started regretting it - they were
talking about random stuff and I just didn't want to embarrass any longer... so, I went outdoors!
"Hey, do you mind if I just join you? I love bowling!"
"Yeah, sure! Bowling alone ain't fun.. so why not? Do you know any tricks? Show them off!"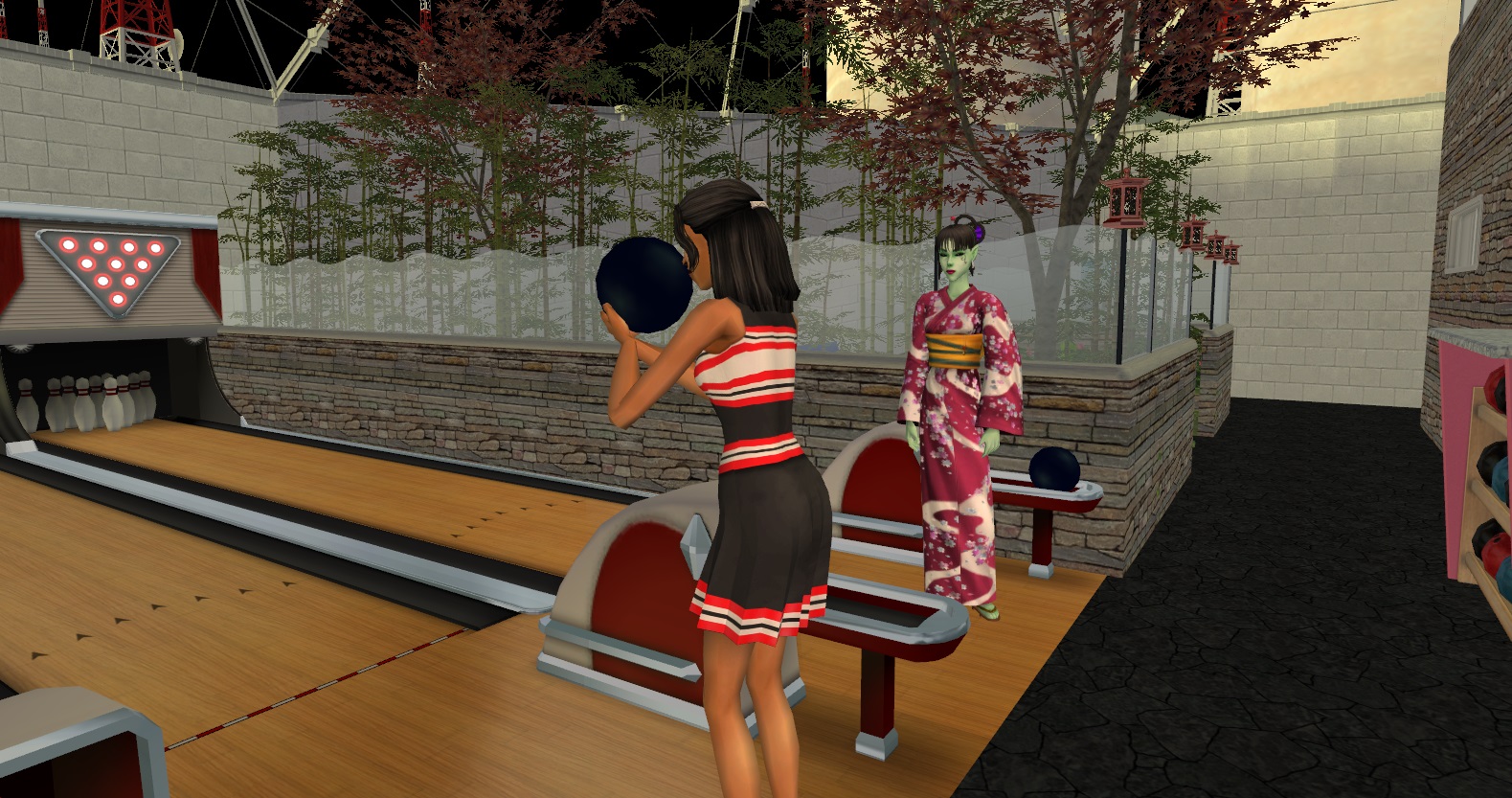 I really loved bowling with her and got to talk to her a lot on that day; she was very talented and also very funny!
"Btw, we were talking about all kinds of stuff, but never really got to introduce ourselves, lmao! What's your name?"
"We...
kinda
missed that indeed! It was nice to talk to you, though, I really enjoyed bowling with you! But yeah, I'm Goldie Hart! How about you?"
"LOVE THAT! I'm Hua Ling - the girl with crazy anime hair and one earring. My mom owns that clothier/jewelry shop down the street, maybe you've seen me over there already."
"Actually, I've never been there..."
"Hey, let's meet there around 6 pm-ish? I'd like to show you some of the outfits which I've sewn myself! They'd look
awesome
on you, I swear!"
While I was chatting with this
rather
outgoing girl, Dad was kinda trying to copy some famous artists' dance moves - I can't tell whose... but the locals around there seemed to be amused, at least... they look amused in Rhett's snapshot?
He was in good mood, though! Dad would never go skating, but on that day, we REALLY went to a roller rink! It's funny since he'd never let me go roller skating back home, and here... he went roller skating
himself
! That was SOO fun! I screamed like a little girl! I was SO happy again after such a long time of grieving!
I didn't want to upset Hua, though. So, I went to that little business which she runs with her mom... and to my surprise, Q as there as well? I... didn't see him when I first entered the little shop, and that made me feel so insecure again? I just... didn't understand whyy! Did I have
bad kind of butterflies
? Anyway... I randomly picked one of the qiapos they had (or kinomo? ... yeah, whether they called that stuff) and tried to disappear as fast as possible into one of the changing booths.
"Hahaha, why Goldie? You didn't even show me the clothing? What's
wrong
with you, lol? "*giggles
Then... I also heard some other giggles beside hers! I... hoped Q didn't notice me and it's not his giggles? But I wasn't sure!
I was afraid to even go out... but I
had to
.
"Why were you hiding? Did you see someone? I was like: wait, whaat?!! What's going on? Did I miss something?"
"I... just... no, not at all, lol!"
"But hey, you look beautiful in that outfit!"
I looked around insecurely... but couldn't find Q anywhere, so he must have left, but still, it was
bizarre
him showing up... was he following me?
Also, why did the cashier over there resemble Sadie Wilke from Widespot so much? I've seen her in another snapshot before... but this can't be her?! I mean, we'd have seen her when she travelled along... and it would absolutely make NO sense for her to travel to the moon every day, work here for some hours and then return to Widespot to run the General Store in my hometown! ... I just
had to
tell this Hua, she found it funny, though!
Anyway, later on, I joined Dad and Rhett at the SkEye Observatory! I was very eager to try out these telescopes, since I had never used one before - I knew, that a fellow student back at home... well Woody had some of these in his home, but it'd be kinda weird to ask to use, so... I didn't bother to ask! Not to mention that his dad wouldn't have allowed me to use anyway.
I could tell, though, that Dad and Rhett weren't really into stargazing! I heard them yawning all the time...
"Honey, do you mind if we
leave you lonely
for a minute or two? I think... i've seen a meteorite crashing downstairs!"
"Fine Dad, I know you're bored and you just try to find an excuse to go to the bar downstairs!"
"Yeah, that's
exactly
what I was about to say! But didn't want to... uhm... hurt your feelings..."
"Just...
leave me loney
, I'll
be alright
!"
While I didn't know what they were up to downstairs, this snapshot didn't really surprise me! I just
knew
they'd be flirting...
again
! This time, I wasn't necessarily mad at them... not even at Dad for
moving on too fast
after Mom died?
Anyway, my second day on the moon was a great success! It didn't start
that well
, but I made friends with some really good guys out there! Q's been so charming recently, but I never dared to... uhm ask whether he has a girlfriend... let alone boyfriend? I kinda felt ashamed to weep in front of him, what does he think of me now... after all of this? I was such a
cry baby
! But hold on, was it really him who was kinda...
following
me? Anyway, I've never been this shy before, I don't get this, I'm an OUTGOING girl! I've never struggled to talk to someone... so, what's wrong with Q? I think Hua's noticed that I had a
crush on him
? NOO, it's not a crush! It's just... well, I only find him cute, that's all!
#3

28th Jul 2020 at 11:10 PM Last edited by Jawusa : 28th Jul 2020 at
11:36 PM
.

Chapter 3: Is it love, when so easily said goodbye?
Chapter 3: Is it love, when so easily said goodbye?
Ever since Mom's passed away, I always woke up with tears. She used to wake me up for school in the mornings - something that not everyone would do. My mom was by far the best mom out there! But something was strange on that day, I wasn't thinking about Mom when I woke up. I wasn't thinking about how she used to cook pancakes with me in the mornings. I wasn't thinking about how we'd sometimes go hiking around town. I wasn't even thinking about how she'd read me to sleep when I was a little kid. On that day, I was actually thinking about... uhmm about that cute boy whom I met just two days ago? And I didn't wake up with tears, but with a stange feeling of joy! I actually woke up with a smile after such a long time of grieving!
Dad, Rhett and I decided to go to the Lunar Zen Garden on that day! Actually, we went there... because my Dad's seen this place with Rhett yesterday while I was spending some time in Hua's clothier and they really wanted me to check that place out. They'd say it's the best place for me to find happiness! They'd tell me to
toss a coin
in that shrine thingy and
wish something
! At first, I didn't really approve of what I was
supposed
to do - but I guess, it really did some magic on me? Because of the things... which came about later on that day... that day was kinda strange, though!
But I really loved the garden, though! It was so beautifully decorated with those tiny bridges and canals... and those cherry trees! Oh my! I really had a great time raking the zen garden! It felt so relaxing - but forreal!
Rhett came to check on me every now and then, but I kept on shooing him away... he just... couldn't see that I was trying to concentrate and find my inner peace? Sheesh! He was playing some mahjong - or what was that game called again? - with Dad and those natives. Sometimes they ask me whether I'd like to join them, but there was this guy I kinda thought looked weird with such a
top hat
and
Asian looking clothing
... some people know him as the Unsavory Charlatan - that name already scared me off! But Dad and Rhett were still going for the game... (btw, I couldn't take a picture of him, he'd avoid being on camera for some reason... but he was playing with those other natives on the other table!)
Anyway, I was soo into medidating, that I completely forgot what was all around me. For one second, I even forgot where I was... I couldn't hear anything... I couldn't see anything... I couldn't even feel anything, not even the ground! It felt like I was levitating forreal! But... hold on, I felt something observing me from the other side... I felt something smiling at me... I felt... I felt something approaching me... I felt... I felt... I...
"Hey, OMG you're Goldie! What a surprise to see you around here! How are things with you?"
I... could literally just... GOSHH! Ground, pleasee, PLEASEE swallow me?! That was soo embarrassing... and when I looked around, I saw his friend (with whom he had played chess before... all the time?)! He was smiling at me... mischievously?
"Hehe, I've seen you raking, then medidating..."
"Ooh, so.. you've literally seen everything?"
"Hey... you didn't do
that bad
... let's just... have this moment together!" *grabs hand
OMG and then, YOU GUYS, he GRABBED my hand... OMG, I... I didn't even know what to say at that moment!
At first I was afraid... I was petrified!
"Goldie, I've been trying to say this to you ever since I've first met you... ever since I've first seen you, ... ever since Day 1, but uhmm..."
"I think I have a crush on you, Goldie! Your eyes are so beautiful! I... I'm so
into you, I can barely breathe
!
"Uhmm... Qiu, I..."
"I've
been waiting and waiting for you to make a move... before I make a move!
"
And then, he really kissed my lips! OMG, that was my first kiss... and I'd never imagine it to be in a romantic zen garden... in outer space! They say you never forget your very first kiss, and now I can see why! Either way, it was
lovely
!
"So, uhmm... now you know, how I feel towards you, Goldie!"
"Awww, you're soo romantic! I think I have a crush on you, too! I was shy to tell you this as well... and actually, I didn't even know myself what was going on... because I've never been this shy before, I'm actually an outgoing girl, I never had to struggle to find the words and it's so strange... I couldn't even... "
"Lemme hug you
one last time
, babe!" *Goldie blushes
Dad and Rhett must have probably seen me when I had my first kiss... they smiled at me... my Dad even winked at me, but we didn't say any words. It was just this... awkward moment where nobody would talk... and all!
I was getting hungry... and just asked my Dad whether we'd go for a dinner soon? Since it was already getting too late... he just nodded and kept on smiling... which was even WEIRDER than it was before!
Anyway, later on that day, we went to dine in a traditional tea house/restaurant! They didn't have my favorite hamburgers on their menu, but they had other fancy-looking meals... which I haven't heard of before! I couldn't really choose, because literally EVERYTHING seemed foreign to me! But I could remember ordering something... which looked like a salmon on the menu! Not that I tried it before, but it looked somewhat familiar to what I'm used to, so I went for it!
The salmon was... good! Though, I wasn't sure, why Rhett decided to eat on a different table! Maybe he did that on purpose, so I could have some "daddy & daughter" time? I don't know... but Dad told me something... out of blue. All of sudden, he was like:
"Girl, I'm so glad to see you happy again! I told you, you'd be happy after tossing a coin or two into that shrine..."
At that moment, I understood why he kept insisting me on tossing that coin into that shrine thingy when we first arrived at the Lunar Zen Garden...
By the time we finished our dinner, the sun still hadn't set yet, and Rhett insisted on visiting the spa & gym... he's heard that they have these hot springs, which he REALLY wanted to try out... I mean, I couldn't blame him! After all, I was curious to see what these moon geysirs were all about! Thankfully, we had a great time spending time together as a family! I just noticed how I missed that in the past, but for the first time after all of these years, I wish that Candy were here as well! Things were about to improve between I and Rhett, too! I was getting along with all of them! Back in my miserable days, I'd always reject Rhett - remember the "silly" attempts of him trying to talk to me through my childhood teddy bear... GOSH, he was trying to cheer me up and I acted like an idiot!
"Uhmm, Rhett? I'd like to tell you something..."
"What?"
"Well, now that I think, I really appreciate all the effort you've done for me! Like... you know, to cheer me up with the teddy bear and all..."
"Yeah, I remember... it was probably a bad idea. I thought it'd work since as a kid, it did..."
"Well, I'm a teenager now..."
"True."
"But hey, at least you tried to cheer me up... and to tell the truth, it
does
cheer me up, now that I think you tried to do something for me! Thanks for that!"
"You're welcome, but look behind you! Isn't that your new
boyfriend
?"
I turned my head... and OMG, it was him indeed! It was Q! And when I looked upon him... he winked at me!
"So, I bet you guys want some privacy, right?"
"Daaad... I'm..."
"I know what you mean, Goldie! I've felt this way many times when I had my first fling in the hot tub!" *winks at Qiu and Goldie
It kinda felt bizarre when my Dad
had to
give away
way too much info
... and it made me feel very AWKWARD at that moment! Like FORREAL!
They all were into something... all of these boys! I just couldn't... understand them! Q didn't even seem to be irritated or something... I just hope he
does
forget about what my Dad just
decided
to reveal?
It was a
steamy
atmosphere, though... with him! But not just with him, I mean... it was
literally steamy
, what else would you expect at the hot springs? So... that "steamy" term applies well here! Either way... I really enjoyed this
steamy
moment with... uhm,
him
?
As always, kinda... Dad and Rhett would tell me that they'd be "out for fun" again... like on the other days. They never really told me where they'd go, but it had always to do with nightlife venues... kinda? Anyway, I couldn't blame them anymore... I mean, I'm a grown-up girl now and I don't need their company all the time! As much as I wanted to be left "alone" with Q, I guess... they wanted to have some time off on their own, too!
But...
my, oh, my!
Those dance moves! LOL! Even I could dance better... I mean, Rhett's got something still, but Dad, he really sucks at dancing! But he thinks
he can dance, he can jive!
But at least, he's
having the time of his life!
And I'm happy for him... and Rhett, too! In the past, I'd be mad at him for moving on too fast, but he's right! We can't be stuck in sorrow FOREVER! One day, we just... have to
break free
and be happy again!
If I were to choose which day my favourite day was on the moon... I guess, it'd be this one here? I just had my first kiss? OMG, how cool's that?! And did you hear what he said? He just confessed his feelings to me... and I could finally do as well! I WASN'T expecting ANY of this! This is soooo GREAT! OMG! I'm literally melting! Alright,
enough is enough
... lol! But I could literally be raving about him all day long! I felt SO flattered when he confessed his feelings... Oh, wait, I have to tell this Hua! And Virginia, my best friend back in Widespot, too! Maybe this would even encourage her to confess her feelings to Woddy, too! I mean, she's told me once that she's a crush on that Woody boy? Why did I forget that? HOW could I forget that?! They don't even know what just happened today! Hold on, dear diary, let me text to them real quick...
#4

8th Aug 2020 at 7:21 PM Last edited by Jawusa : 8th Aug 2020 at
7:49 PM
.

Chapter 4: Pagoda in the Shadows (The Finale)
Chapter 4: Pagoda in the Shadows (The Finale)
To my own surprise, I actually
enjoyed
the past three days on the moon! At first, I was soo looking forward to returning home again, I was complaining about every single thing there and didn't even let anyone cheer me up! Suddenly, it was completely the opposite on the last day?
I felt something I never felt.
I wasn't even homesick or missed any of my friends at school! I
did
wonder though how my friends back at school were doing... how my sister Candy was doing. She must have given birth to her baby already... whether it's a girl or a boy? Either way, she hadn't contacted us ever since we arrived here on the moon, but that's what Candy usually does anyway, so this didn't surprise me...
not even a little bit!
Anyway, yesterday, when I was hanging around in the zen garden, Rhett found an old map which was apparently buried in the frontyard of some old teahouse/or wherever he was spending his time in these days. It looked like a treasure map, but this can't... just... HOWW? It doesn't make any sense, does it make sense? No, it doesn't. Get it! But my father was so keen on that map, so I just
had to
go along with them! Either way... the map was not even complete! It had some directions... but there were in fragments and there was no info about the exact location. Let alone where to find the treasure at all...? But for some reason, Dad and Rhett were convinced they'd find it once we arrive there anyway!
The map was seemingly leading to nowhere! We left the little colony named Moonbase Apollo (which was the only colony anyway in that area?) I didn't look like there were others... the surrounding area was completely empty, looked sad and deserted... somewhat creepy, too! For a second or two, I thought I'd hear something, but no, there was this absolute silence! Sometimes, I even had the impression, I'd hear my breath... or my blood in the veins. I tried to keep myself calm and tried to pretend that it never happened, I
just kept breathing and breathing and breathing
... but it never seemed to end! The "treasure hunt" was getting creepy as well! I wondered
what
this "treasure" is... and where
all of this
led to? I really began to question everything... even questions like "Are we going to make it out... alive at all?" or "What if this map is just a trap? Who buried it there at all... how did Rhett find that in the first place?" Also, we shouldn't have gone without knowing much about the place! We should have asked the locals around town!
Suddenly, we saw some creepy looking rocks and behind these rocks, there was a mysterious pagoda in a dome. The dome looked much like the other buildings downtown. But this one here was different! It was nestled in a tiny crater and it was at a quite high altitude (compared to the other places)... between the rocks, we could even spot the colony - Moonbase Apollo from the distance. This remote place was creepy indeed! I couldn't even tell whether this was a forgotten/abandoned house once... or whether some sinister organisation constructed this thing here on purpose... to spy the people around the colony, which might be a thing, since the area was covered with those large rocks!
Anyway... we entered the dome and were dazed by what we saw! There was such a dense garden and bamboo forest... with an old bridge and all... the pond surface was all filled with waterlilies everywhere!
It didn't look well-tended at all! No, much the opposite! There were weeds everywhere! The water was full of algae; the air around there felt rather humid and wild! Whoever belonged this garden to, they either did a lousy job at gardening... or they deceased a long time ago and
nobody even noticed
! Well, I hoped it was the first theory, because I didn't want to believe in the other one. I was really NOT interesting in seeing any ghosts!
When we had a quick look around and there... there was this shrine thingy again! I and Rhett tossed a coin once and it brought us both luck! So, Dad wanted to toss a coin as well. I wanted to warn him though, because... that shrine looked way different than the ones I and Rhett had used. Something about the shrine was odd, it didn't look cute or promising at all... this one here looked rather creepy! But Dad had the strong impression, he'd find the treasure in there... so, he tossed a coin!
I remember this eerie red-ish smoke which was emitted right away when he tossed the coin into this devilish shrine. All of sudden, he got a whole swarm of...
Moon-bees? (or how should we cal them?) chasing him! As if this wasn't enough, I heard eerie sounds from above! There... I
knew
it! THIS PLACE WAS HAUNTED! THERE'S A GHOST UPSTAIRS!!!! Rhett tried to calm me down and he'd say things like "Yeah, you've watched way too many of those stupid soap operas on TV..." and all... which, ehh? I didn't anyway? And they're everything but stupid! HIS...
whatever he's watching
on TV shows are stupid! Sheesh!
Poor Dad, though! I really felt sorry for him and was also scared of
what's coming next
! I remember seeing this one Horror movie where the Goths would go on vacation and then be trapped by aliens in this creepy tomb! I just KNEW the same would happen to us, too! Since... you know, we ARE on the moon and there were many, MANY aliens wandering around here! I didn't want to follow Rhett, I really didn't! But I couldn't have let him go on his own, too! He insisted on going upstairs to see what's going on... and I just couldn't leave him behind, could I? Either way... I had goosebumps all over my body! This clearly wasn't it!
"Hey, check this out! You can see all the gorgeous ladies from here above!"
"Rhett!! Stop being a jerk, this is serious! I'm scared and look what you're doing!"
"I think, you're exaggerating Goldie..."
"DIDN'T YOU SEE THOSE MOON-BEES ARISING OUT OF NOWHERE??!!"
"There were so many plants down there, I bet Dad just upset the bees, that's all! There's no supernatural things going on here.. this's just a place where you can stalk... ahem, just look at other sims... who are uhmm.. good looking!"
"Whatever... but I could have sworn, I've heard noises from above!"
"Why don't you then go explore
yourself
? I just don't want to be involved with this thing... count me out, really!"
Rhett was being sooo annoying again, but I noticed some hidden stairs behind the benches while arguing with him... so I went there to have a closer look! I felt... the presence! I thought there was a ghost there on the top! I could feel my heart pounding like CRAZY!!
I've never been this scared in my
whole
life! I was like "WHYY is this place considered as a treasure then? If it just brings misfortune and all...?"
Well, the garden was kinda beautiful, so that's the treasure? Naah, that'd be stupid! The garden only looks good NOW because it grew throughout all these years! I bet it was pretty boring when that stupid treasure was buried somewhere over here!
Though, when I finally dared to go upstairs, I saw this old man hanging around here? He wasn't an alien... so, he didn't look as if he were from here... or was he? Anyway, I should have been scared, but I was not!
Not even a little bit!
Or was he also a victim of some alien traps? Just like us? OMG! What if he's gone through the same as we did? Wait, no, this can't be the case! Otherwise, we wouldn't have been able to find the map? If he was here before... so, he must be someone who already knew how to get to this place... without the aid of a secret map! Or was the map which Rhett's found his map? Anyway, I tried to greet him, just in the way how Q's taught me! This old man indeed looked like someone who could help us!
"Good evening, sir! I'm.."
"Hmmmm..."
"I'm..."
"Hmmm..."
"Goldie Hart... I and my family were here on..."
"Hmmm..."
"Vacation and we'd like to ask you for help? If you could help us, please?"
"Hmmm...."
Well, he was being very weird
FOR SURE
!!! I felt ridiculously uncomfortable standing next to him! He wouldn't even answer any of my questions... or whatever! He didn't even notice I was there? Maybe that's why! I thought, maybe the smell of good tea would literally
wake him up
?
"Maybe, I misjudged you! I first thought you have traveled far but not seem to be knowing!"
"What are you talking about, sir? I just asked you for help and you didn't reply!"
"Hmm..."
"Oh, NOOO!! Please, do not start with
that
again! Just, drink your tea, sir!"
Thankfully, I didn't have to stay alone with him all the time! Dad and Rhett got aware of the smell and came to join us!
"So, she's her daughter?"
"Yeah, Goldie's my daughter! I also have another daughter named Candy, but she couldn't travel along with us."
"I know."
"Uhmm, OK, so... why do you ask me then when you actually know my daughters?"
"I just do."
That conversation and was MORE THAN CREEPY! I don't think I've ever seen such an awkward looking sim who also behaves soo awkward? So, yeah... apparently, he lives there in that creepy
pagoda in the shadows
! But still, that day was SOO weird! I was tired because of the long walk; I was upset because nobody took me seriously; I was bored because I couldn't use the internet at all; I was hungry because this old man didn't even offer food to us? We were his "guests" and he NOTICED that we had a long journey behind us and that we might possibly be hungry? But he didn't even offer us anything at all... he only offered us to sit downstairs to talk a bit more in his patio... I guess we were all just being polite to him. Lol! But that day really wasn't being it!
For some reason, he'd always stare at me and sit next to me when we'd be chatting... one more reason why I found him weird? It wasn't even enough to say "he was weird" because he was literally beyond that! We kept on talking on his patio for such a long time, our stomachs growled and he'd still not be offering or let us just go? OMG, and when
the sun was setting
and
he was right by my side...
! ... OK, OK, we got it! I won't be writing a diary entry full of complaints!
At some point, he suddenly stood up and said:
"You seem to possess the charm and panache necessary to bear The Legend!"
"Uhmm, OK? I'm sorry to sound rude, but you won't give us any food?
Because we're leaving!
"
"You'll be awared with the biggest treasure in your life!"
So, we thought, he'd finish telling this stupid legend and then, he'd serve us some food! So, we could get away from here and especially from HIM!
We had to listen to him... unfortunately!
"... and that was The Legend! The treasure is yours now! Keep it well and farewell!" *vanishes in air
"Hey, you can't treat us like that! Come back here you fool! You can't leave us behind like
this
? We listened to your stupid story and you wouldn't even do us a favour in return?!"
Dad was really upset... so was I and Rhett. But we decided to just leave that place, we
stole
grabbed enough fruits from his garden and just went back to the suite! It was already very late in the night... almost early thing in the morning when we arrived there! We'd have to leave soon anyway, so we just packed out stuff! While this wasn't the greatest day in Moonbase Apollo, I've learned a lot from my journey during these days and overall, I still think that this vacation was a great success!
The shuttle's just arrived and it was time to say goodbye to Moonbase Apollo! I'll miss this superb place! But thankfully, I got the phone numbers of both; Qiu and Hua, so, I can still keep in touch with them back in Widespot! I'm really excited to show them my hometown one day, too! I'm sure they'd love it, wouldn't they?
The End.
Back to top