Site Map

>

Sims 4

>

Asylum - Big Brother Challenge - Sims 4 Edition!

>

Interesting new play styles to enhance your gaming experience with TS4.
#26

4th Sep 2018 at 1:10 PM Last edited by Cepheus : 4th Sep 2018 at
1:44 PM
.

Big Brother Sims 4 Edition: Week 1 Day 1
A/N: Hello guys! Here's the update!

Quite quick, huh?

The truth is, I already have the drafts until Week 1 Day 5 (though still not finish) on MS Word so I have a guide to follow for posting. So I won't take my intro long. Let's head to Day 1!

WEEK 1 DAY 1 (THU)

Welcome back to my house! I know you're all on the edge of your seats so we all should jump directly to Day 1, so we can all know the housemates more.

I first made them move in in an empty lot since they're all so poor they cannot afford to directly move in into my mansion. Then I used my magic spell "motherlode" to help 'em get into the house. And then, tada! They have moved in!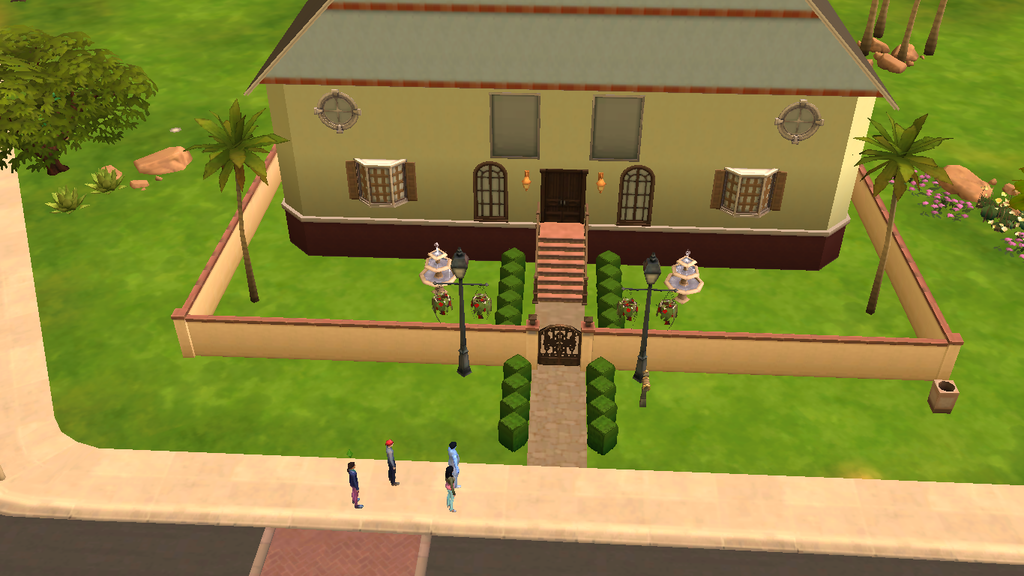 Oh you're wondering why there are only four of them outside?




Well that's because the others are already inside! You disobedient Sims! *sigh* Well, to give them credit, they're just being true to themselves.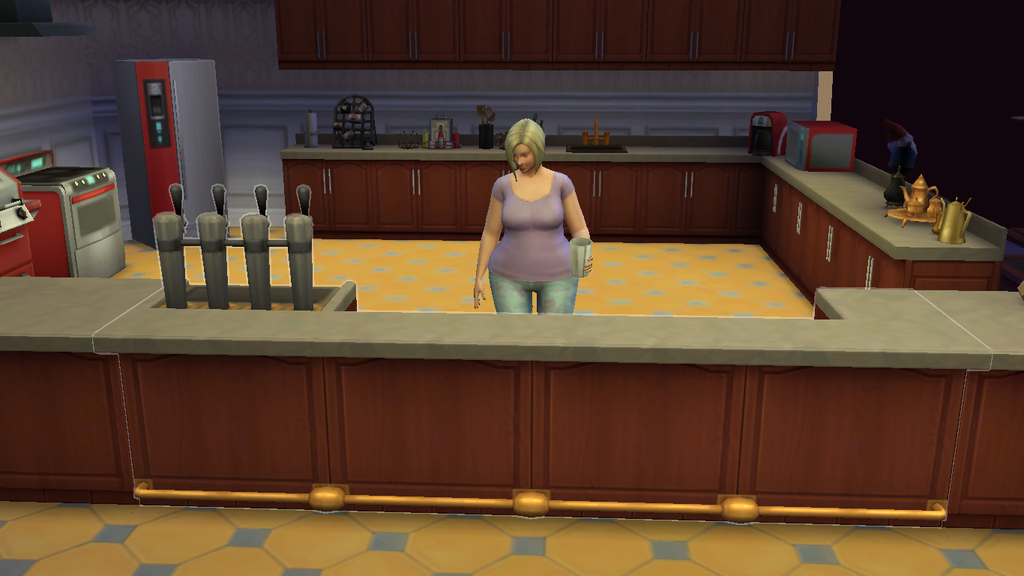 Janette, being the Glutton she is, has already started making herself a drink.
Janette: "Ooh we have a bar! Lucky!"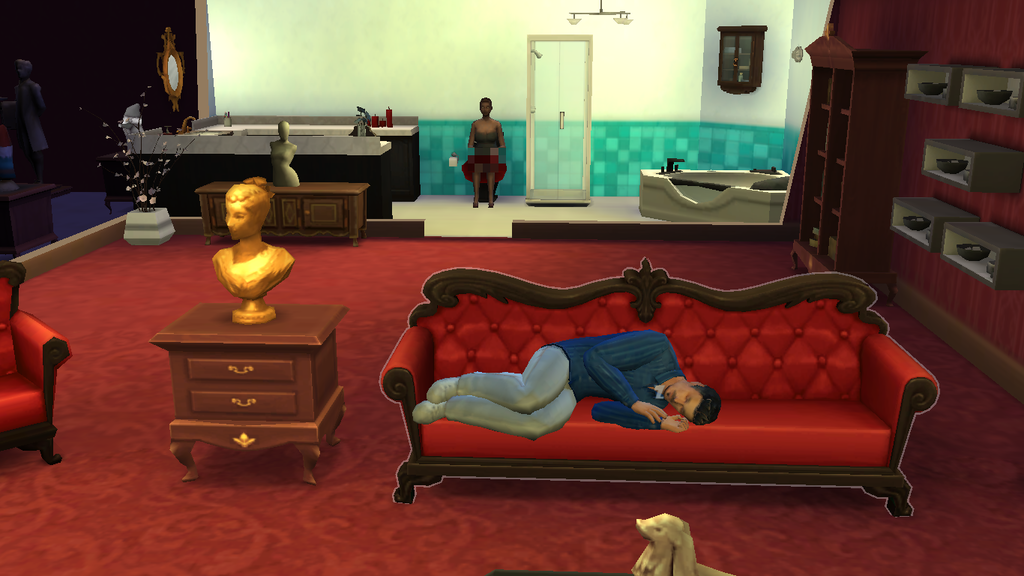 Kason: "ZZZZZZ"
Kason's lazy, alright. And look at Patricia at the back.
Patricia: "Wouldn't want to pee ourself now, would we?"
Your bladder isn't even full, darling.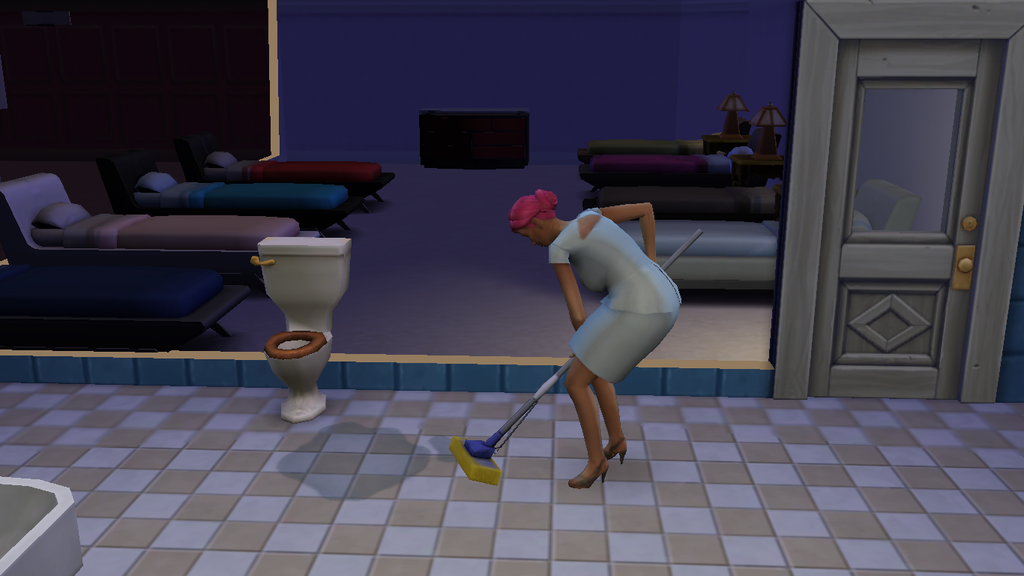 Got myself a maid in Denise. Yey!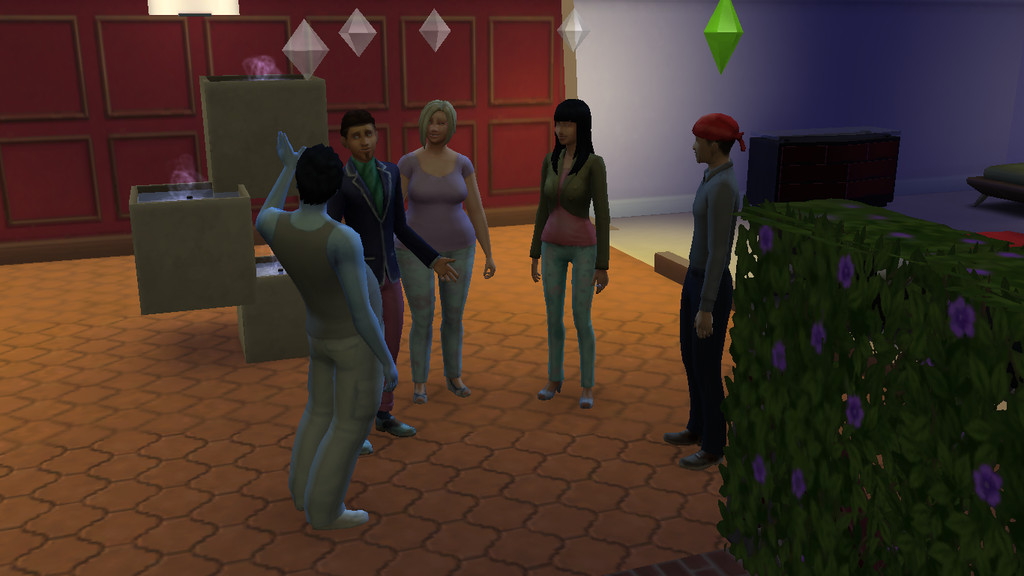 How sweet. They've already started socializing with each other. Welp, except for someone we know who's very tired right from the start and had started napping.

Anyways, I'll let them do what they want for now. Socialize with each other, get to know each other. And then I'll meet them a bit later at 8PM to finally formalize their stay in my house.

You might be wondering what kind of task I will set for this first week. Well, I am not quite sure myself. It is my first time to handle this job as a deity Big Brother in a Sims world that I actually have no idea. Haha! For the meantime this week, I think I'll just have them go their way naturally as themselves, see who can use their free time to their benefits and build skills. And then by the mid-week, I'll check who among them has gained skills and how much, and the highest will have the reward of staying on the special room. There is no punishment yet for the lowest three as this week is for general skill building, but by next week, they will have to step up their game (they'd have no choice) because I will have them locked up inside the activity area. Punishment you say but it's more like a second chance to me.

On that note, I will tour you inside my house while we wait for the official time. Okay, don't judge. I am not an architect or designer, I just buy the house and furnitures and stuffs and I just built it and decide if it's good or not. If it's not to your liking, good thing you're not a housemate then! Haha!




Here's the entirety of the house outside.




The gate and the doorway. There is a miss that is walking by.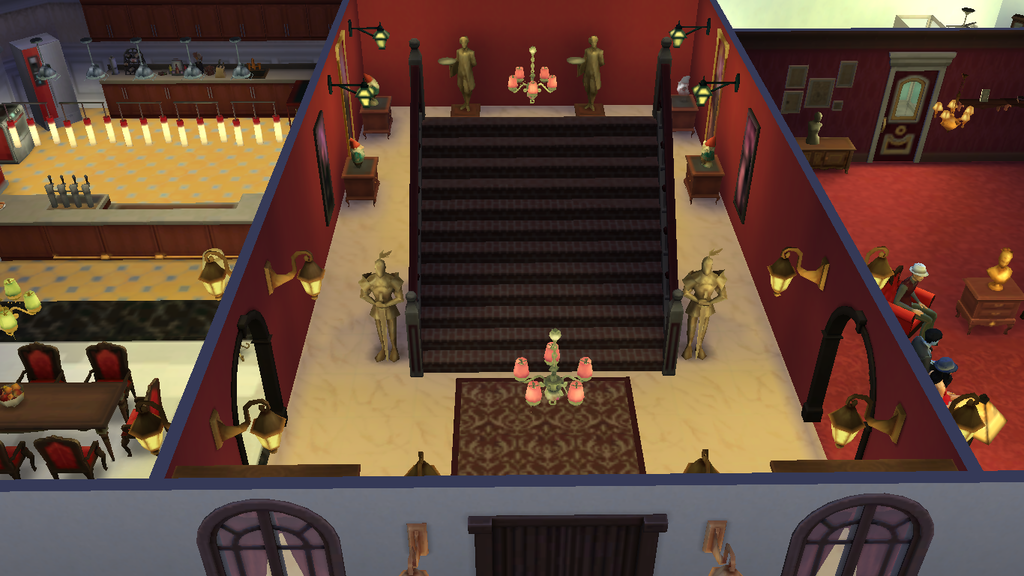 The hallway.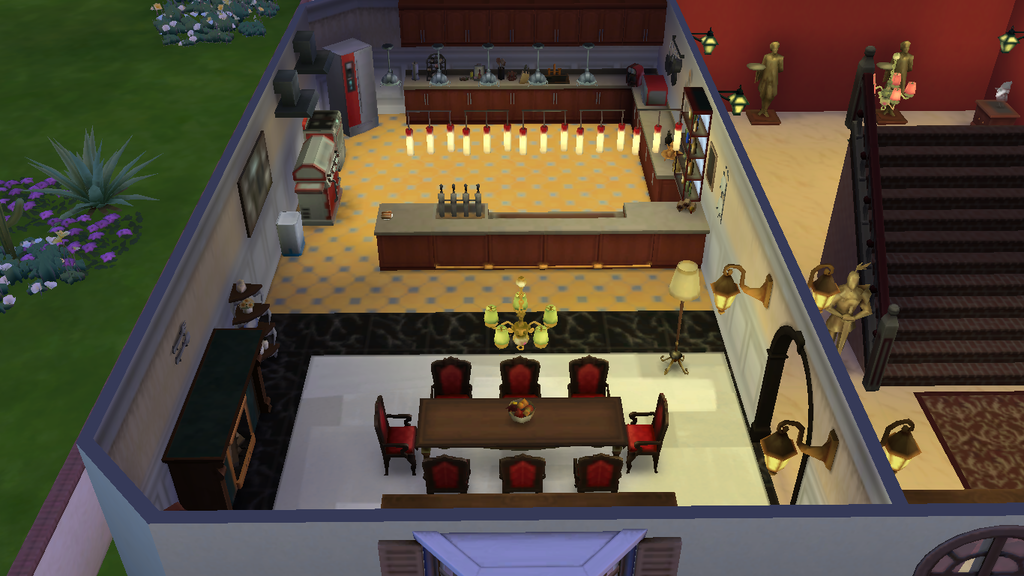 Dining and kitchen.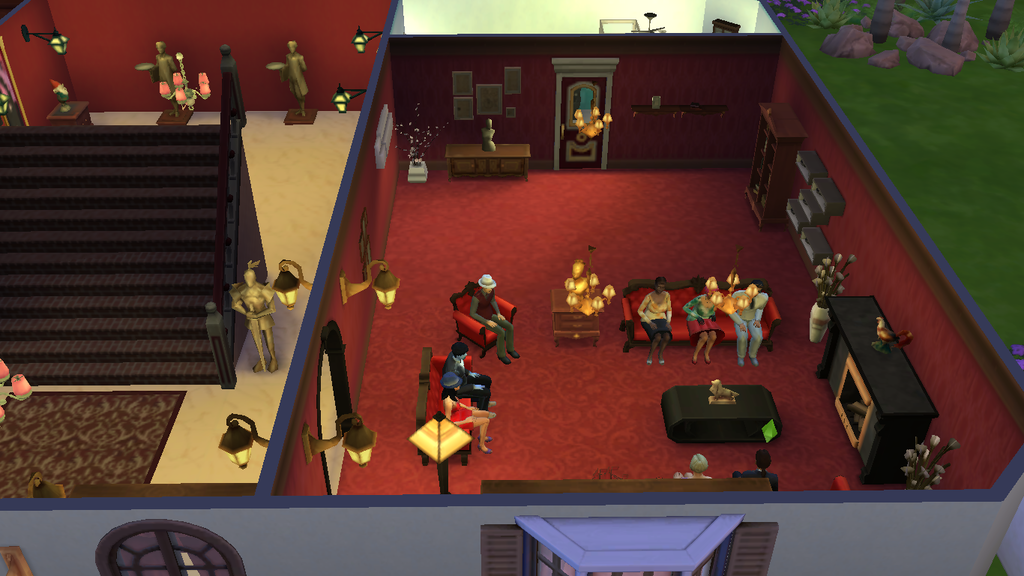 The spacious living room where the housemates are already sitting 'cause I told them so.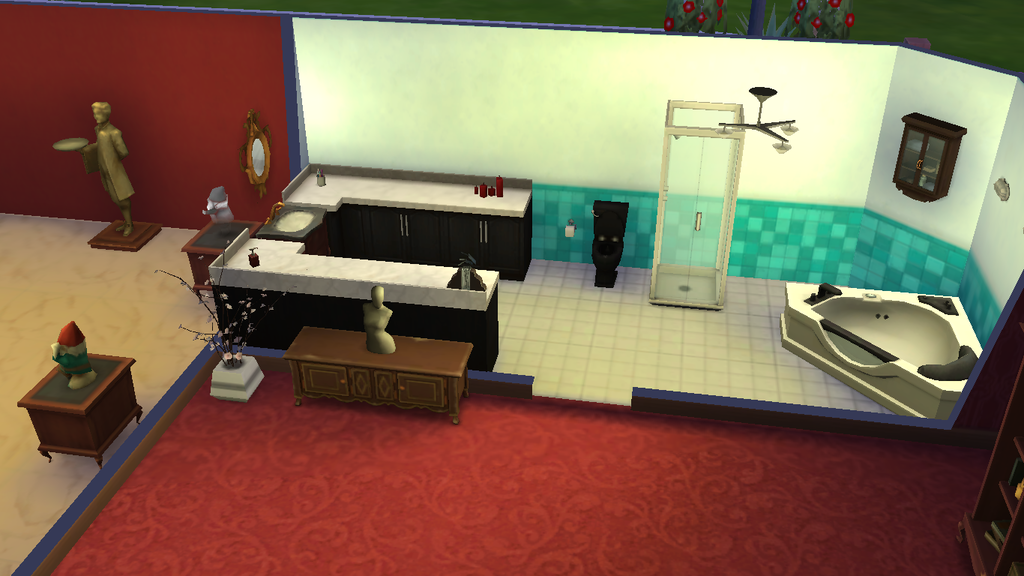 First floor bathroom.




The general bedroom. All of them are going to sleep there this first week. It has average furnitures which will make 'em feel, well, average. They still don't know about the existence of the special room for the Sim that will be rewarded. Here it is by the way…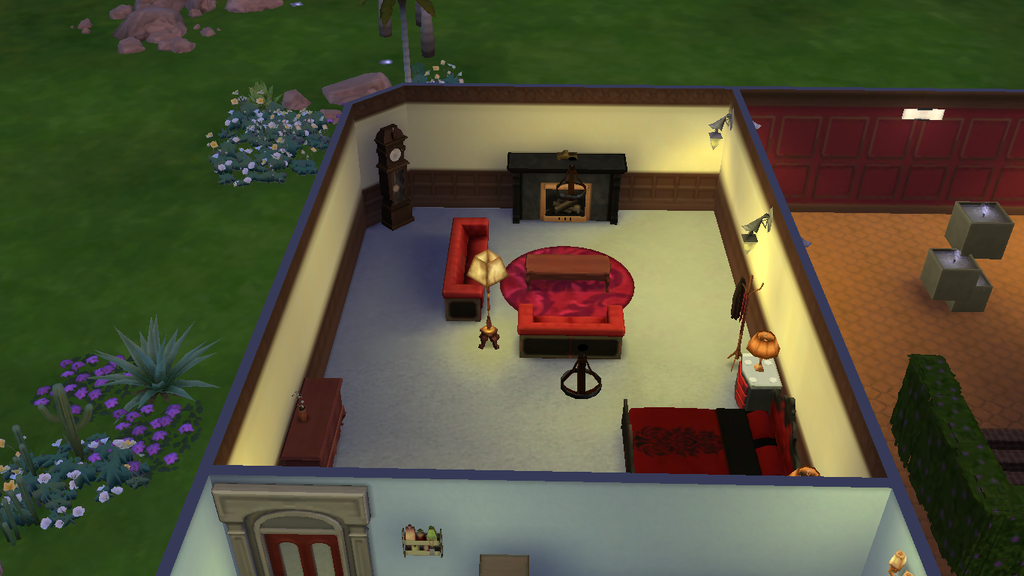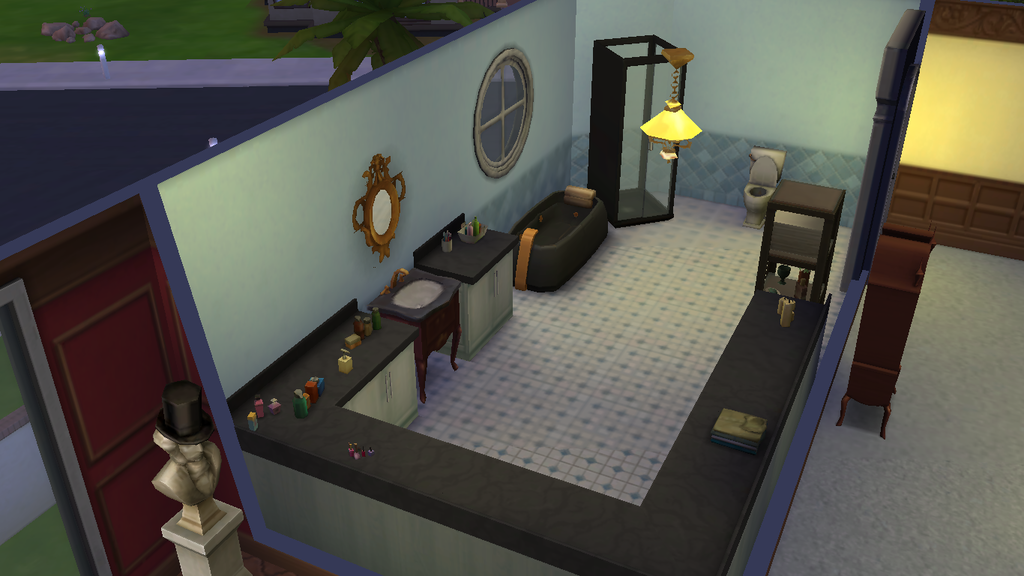 Luxurious, right? Yeah, no kidding. By luxurious I mean top-of-the-line furnitures which will provide additional boost to their mood and comfort. Not bad, eh?




And last, but definitely not the least is the activity area. This will either be their heaven or hell. All the tasks for the following weeks will be done here.

Okay so now we're done with the house tour–oh! He's awake!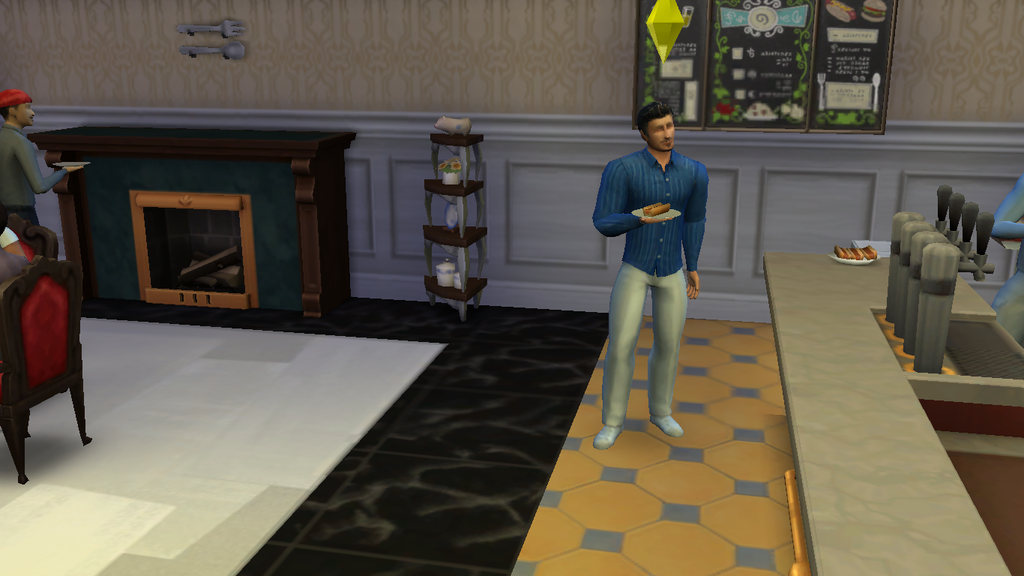 Of course, to eat. You lazy, bastard.
Kason: "I'm awake 'cause it's dinner time, baby!"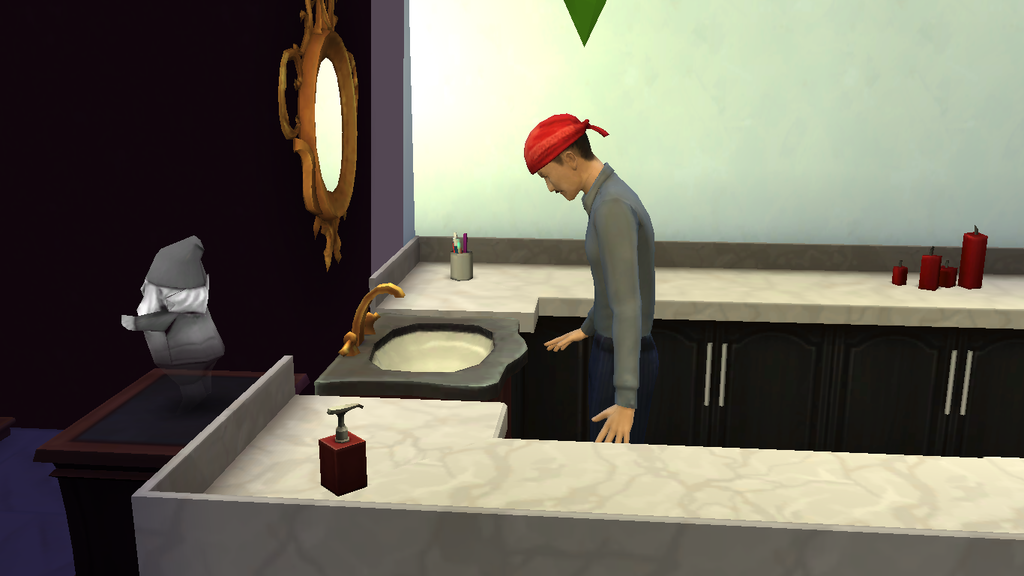 Oh Asher, I know you're not used to people. Don't worry you'll get used to it.
Asher: "Okay, okay. I need to make some cool jokes to appeal to these people. I need some alone time first to think."
Okay, take your time.

*DING DONG DING DONG*
It's 8PM at last! Time to officially meet the deity!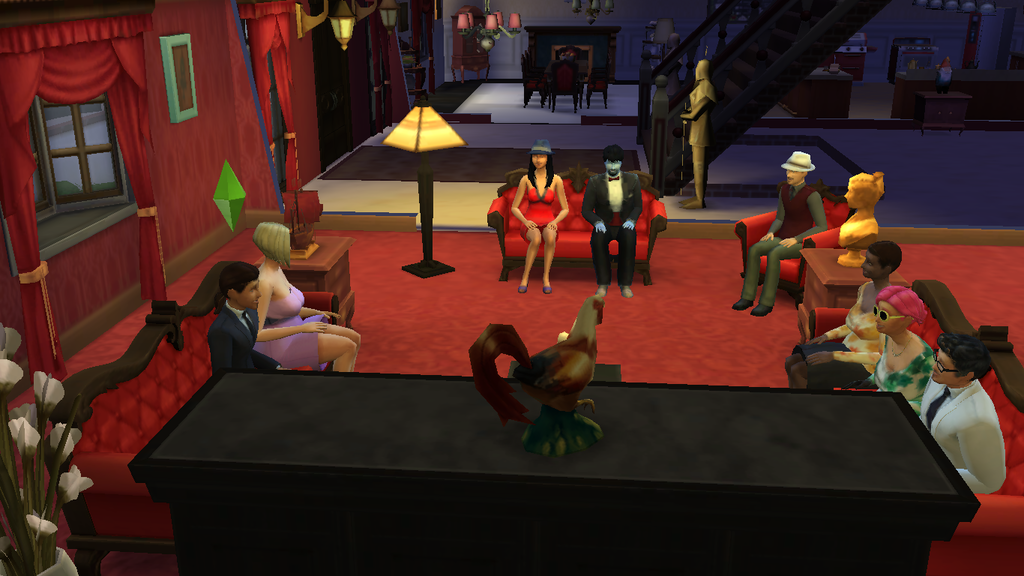 "Why hello housemates! I am Big Brother, the owner of the house, and the generous giver of the 1 million simoleon to whoever will be granted the title of Big Winner–"
Asher: "Wait, Big Brother is a cock? Hehe."
Denise: "Obviously. He's a 'brother' you know."
Patricia: "Hey Asher easy with the word. We can go with a rooster. There might be children watching."
Ugh, nice try for your first joke Asher.
"Okay, for the record, I am not a cock, or a rooster, or a chicken. I AM A DEITY. Respect that. And my house–my rules. Remember that you can do whatever you want because I LET IT. If I want you to do something, you'll magically do it anyway, so no disobedience."
Dorian: "Yeah come to think of it, we were just all in the kitchen a while ago doing whatever and now we're in our formal outfit, sitting on the couch, staring at each other because we actually CAN'T do anything except sit on the couch–"
"Enough Dorian. You and your paranoia is… *Sigh* Anyway, I am here to officially announce your entrance to the Big Brother house! Congratulations! Out of all the Sims in this virtual world, you 8 are the lucky ones to have been chosen to compete. Good luck and welcome!"
Janet: "Uhm so, what's our task for the week? Is it the highest eaten meals–I mean highest meter run inside the house done? Hehe."
Kason: "How about the longest sleep? Why are you proposing something so tiring? That is so mainstream."
"Good question Janet. But both yours and Kason's proposals are wrong. For this week, your task is to... do anything you want!"
Everyone: *gasp*
"Yep, just do whatever you want. Just think of it as a mystery task. Keeps you guessing what to do and what you shouldn't. Hahaha!"
Bob: "Woah, I sense a sad sadistic sadist in you Big Bro. It makes me sad too."
Aw, don't be sad Bob. It'll be alright.
Tanvi: "Mystery you say? More like you haven't really thought of what you want us to do."
Tanvi, you little witty evil.
*cough cough* "Alright that's enough introduction for today. Enjoy your stay. See you on Sunday mid-week same time. Who knows, I might divulge what mystery I had in mind for you guys. Good night!"
*POOF*
And so I was gone. And so are their mysterious urge to just sit on the couch while staring at each other. Autonomy back to full.

Once that was done, they're all back to their own business.




Tanvi, what are you frowning about? You know I'm a generous deity. I'll replace that for you. *poof* Sink replaced.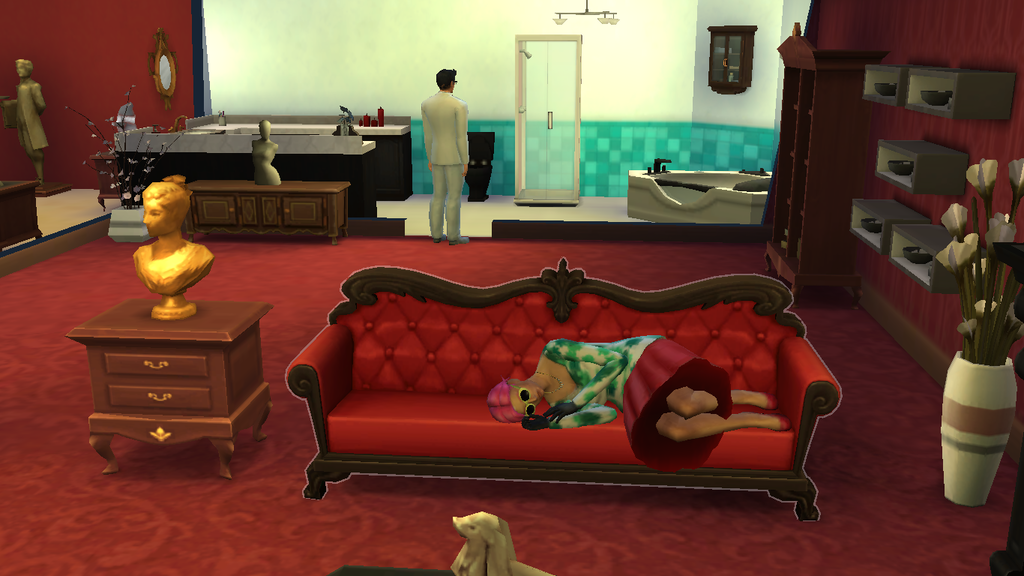 With all the beds we have upstairs, Denise decided that she wants to sleep in the cozy sofa. And Kason is staring at the empty bathroom.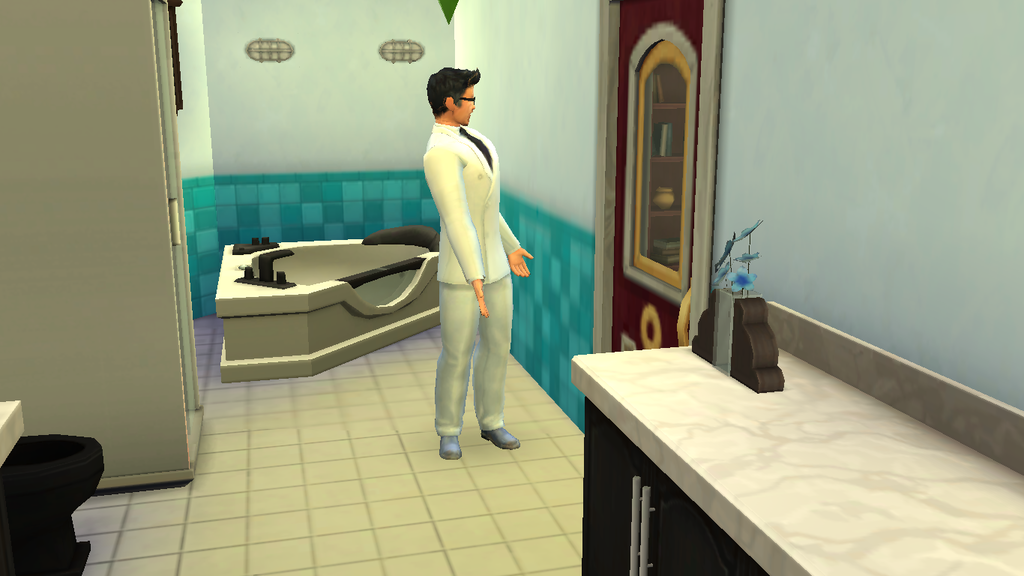 To complain about the puddle. Why don't you clean it up yourself then? (Denise cleaned it up after waking up from her nap afterwards.)




While the others are asleep on their proper beds, Kason and Denise remains awake, due to their earlier nap.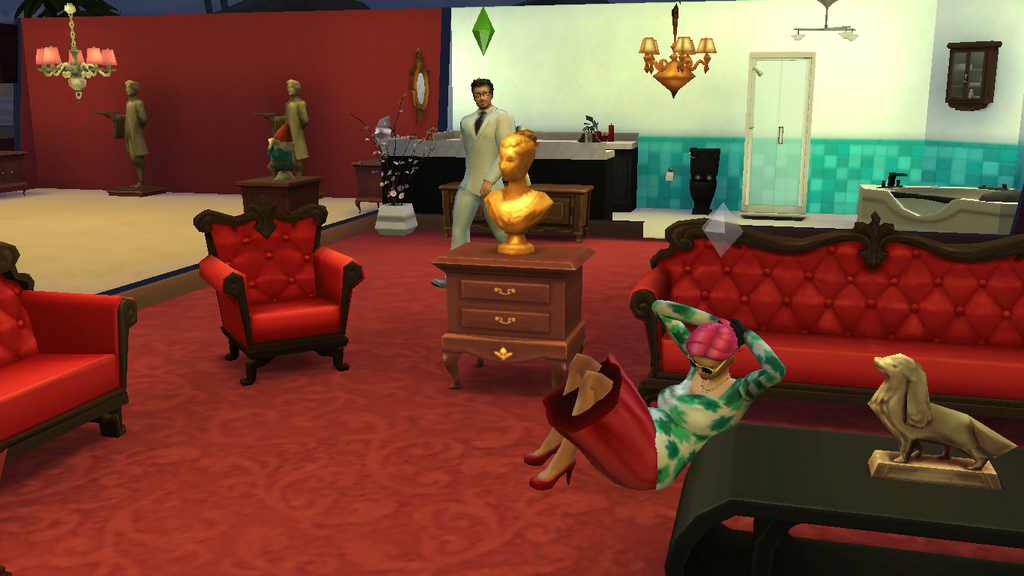 Denise: "Gotta do some crunches after a good nap."
Kason's approaching… What could he be up to now after his bathroom complaint?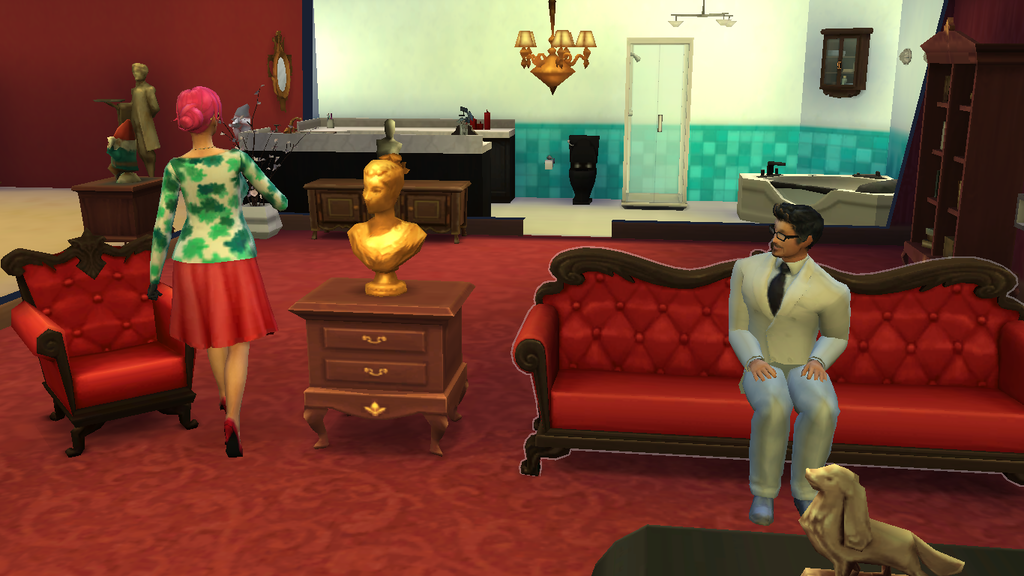 Yep. He's there to check Denise's butt. Real gentleman.
Kason: "Woohoo, I like butts after crunches."

Now let's end this first day with something I noticed from one of the housemates. Okay so I randomized their outfits, made a little customization, but very minimal. Only with Dorian and Patricia to be exact, to fit their profiles and traits. So I was amused when I saw this: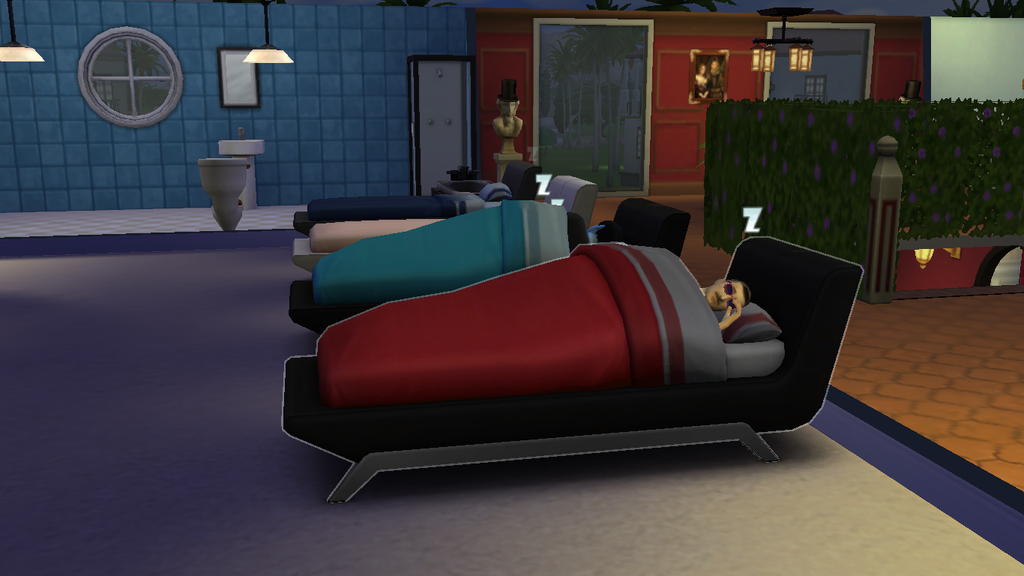 Asher is wearing sunglasses while he's sleeping! HAHAHA! Now that's what you call a real comedian! They are really becoming true to themselves that it's getting creepy. LOL

And with that, good night folks. Tune in for more exciting happenings inside my house. Big Brother signing off.


A/N: For the first day I can say that I had a lot of fun. I enjoyed playing the role of Big Brother and also bringing the housemates' traits into life. I hope I'm bringing them justice though. Hahaha! Here's to hoping they'll give us more fun events for the next days! 'Til then! Cheers


P.S. Any suggestions and/or comments are fully welcome. Just don't be too harsh, okay?

#27

4th Sep 2018 at 1:44 PM

Big Brother Sims 4 Edition: Week 1 Day 2
A/N:

With the speed of lightning, I shall update! Hahaha! Nah, I just really wanna get over with all the prepared drafts I have so I can actually play. I left my Sims on their frozen state to focus on updating so I don't have any backlogs of sort and update real-time. It's not like someone is actually pushing my motivation to do all these, heck, no one has even read my posts yet, but well, it just feels like a waste to not share these guys I have breathed life into. Anyway, let's open the house now for Day 2!
WEEK 1 DAY 2 (FRI)

Bob is the first to wake up out of all the housemates on Day 2. With the exception of Denise and Kason because they didn't sleep. First thing he did was to clean up the leftover hotdog from last night and earn me some 10 simoleons for it. Good guy Bob.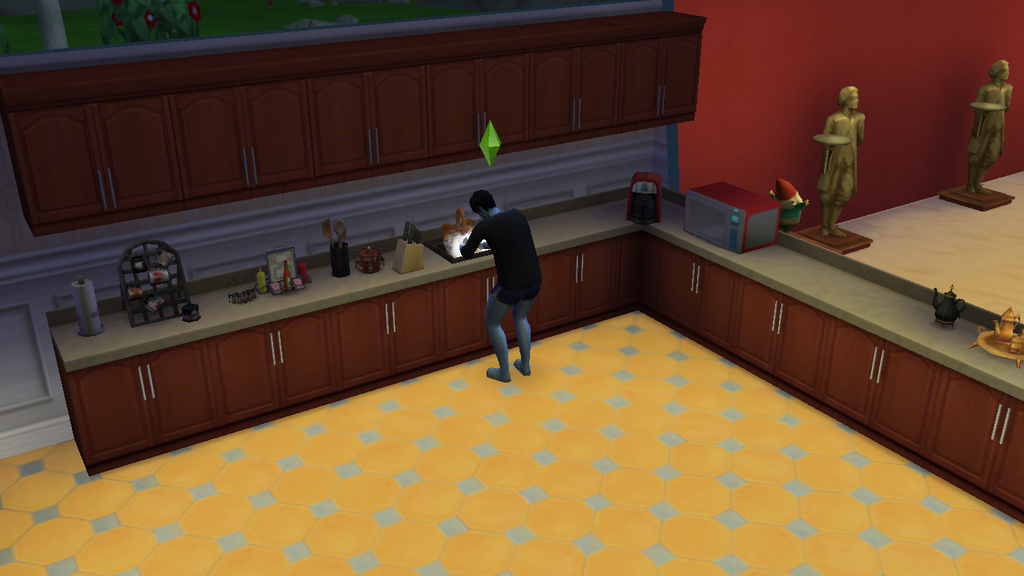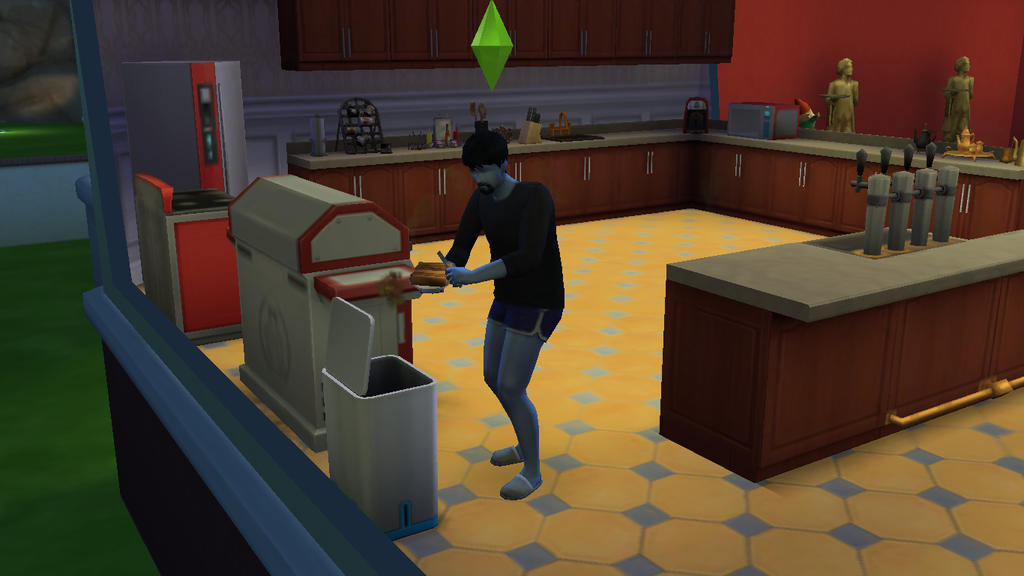 Bob: "First thing Mims do in the morning is clean. Yes we do. Oh I miss my family."
*pat pat* It's okay Bob.

Dorian woke up as well. And immediately went to cook. This is his first time, which can go awry, or more like firey.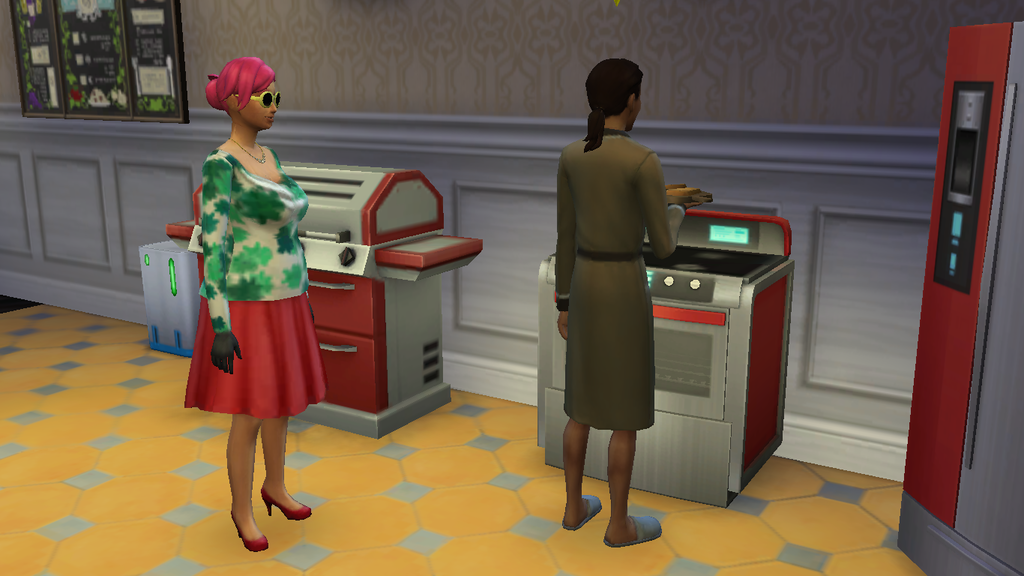 So Denise, being the aspiring cook, went with him to assist.
Denise: "Don't worry honey, I got you."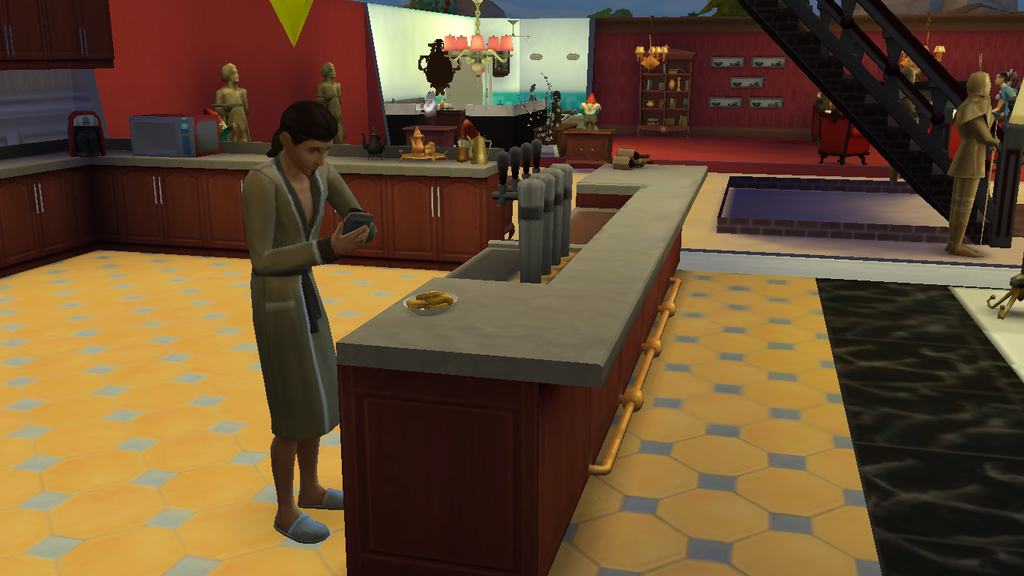 It really didn't get firey for his first time cooking. But he just wanted to cook. Nothing else.
Dorian: "I don't really want to eat. I just felt like cooking. It's not like I'm being paranoid thinking what if there's poison in it. I mean I cooked it myself, instructed by Denise… Nope, I'm not gonna eat it, I'll play a dating game on my phone instead."
Dorian and his paranoia everyone.

Meanwhile, Asher has someone to confide to with regards to his jokes for the day.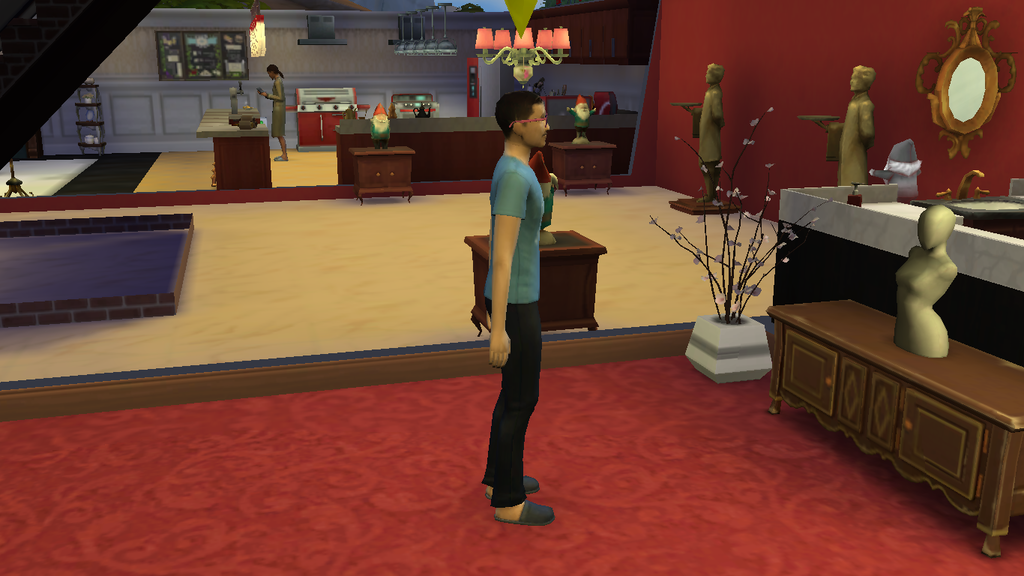 Asher: "Okay nude statue. How about some flirty suggestive jokes for today, huh? You know, 'coz you look like someone who'd like some nude jokes. Get it? Nude. You. Naked. Joke."
The statue seemed to be offended.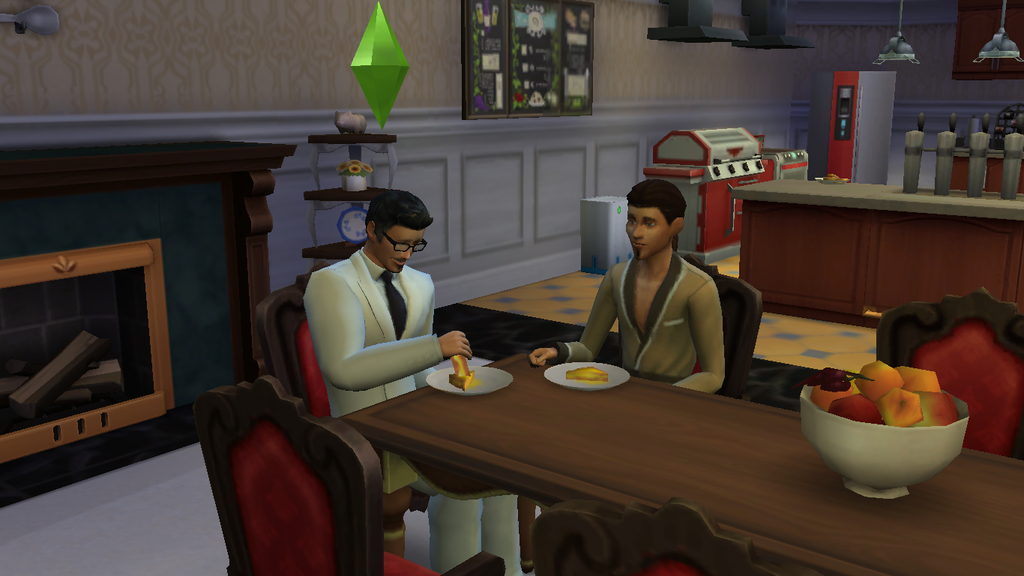 Kason: "Breakfast time guys!"
Kason you sloth. You always just show up to eat. Can't you do something for these guys even just for once? *sigh* Oh, and Dorian decided to eat his cooked meal. Looks like he overcame his paranoia.
Dorian: "To hell with food poisons, I'm hungry."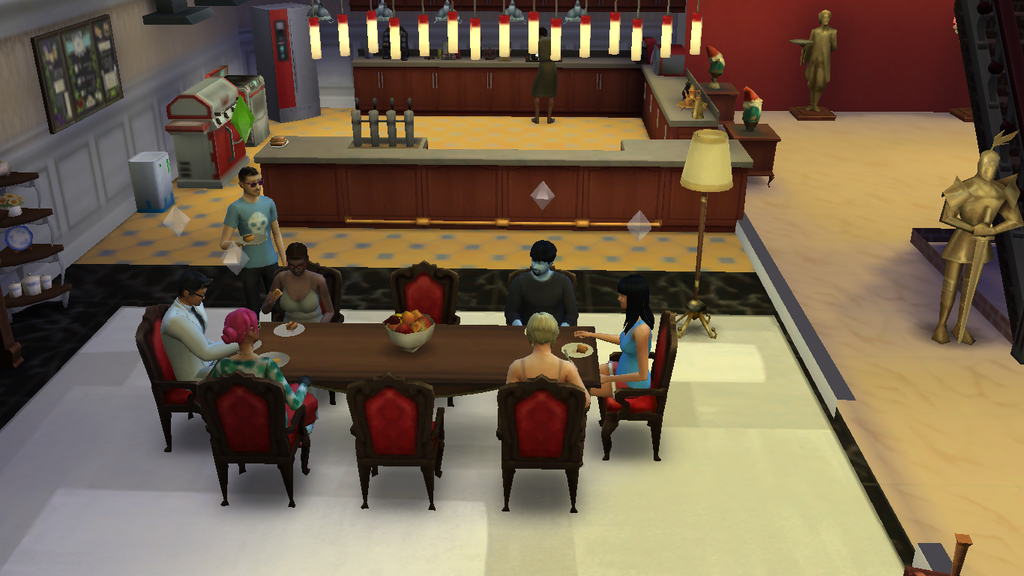 Soon, everyone else decided to eat as well. Asher wasn't able to sit on the table due to the placement of the bowl of fruits so I removed it. Dorian was already done eating so he decided to wait for them and clean all their plates after they ate. You seem to be an odd one Dorian for a rich Sim.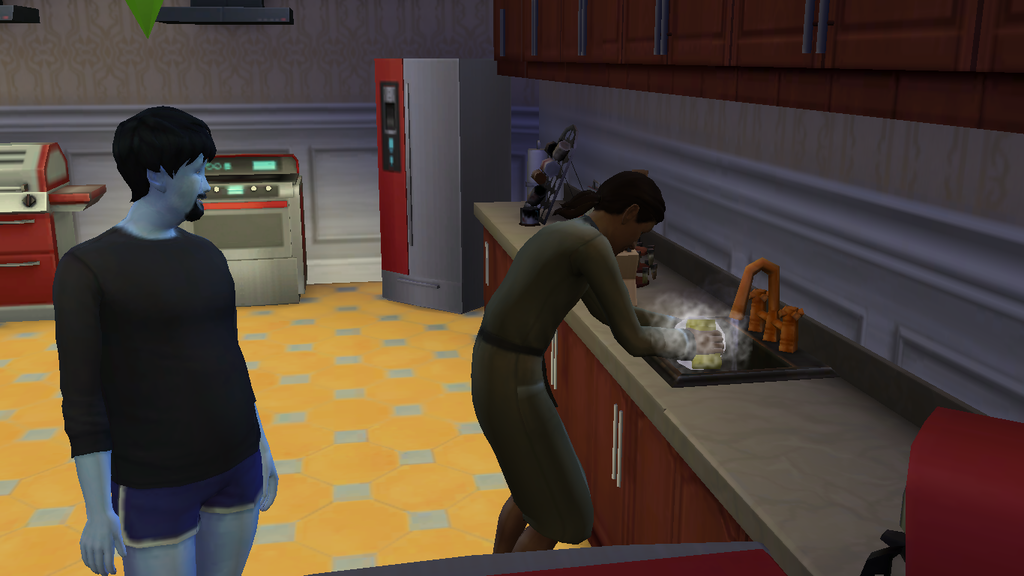 Bob: "Is this your first time cleaning up plates? You seem excited. We do it all the time back on our planet."
Dorian: "I can't do this at all at home so I'm going to do it here."
Dorian has took his first step into the commoner's world, and he's excited.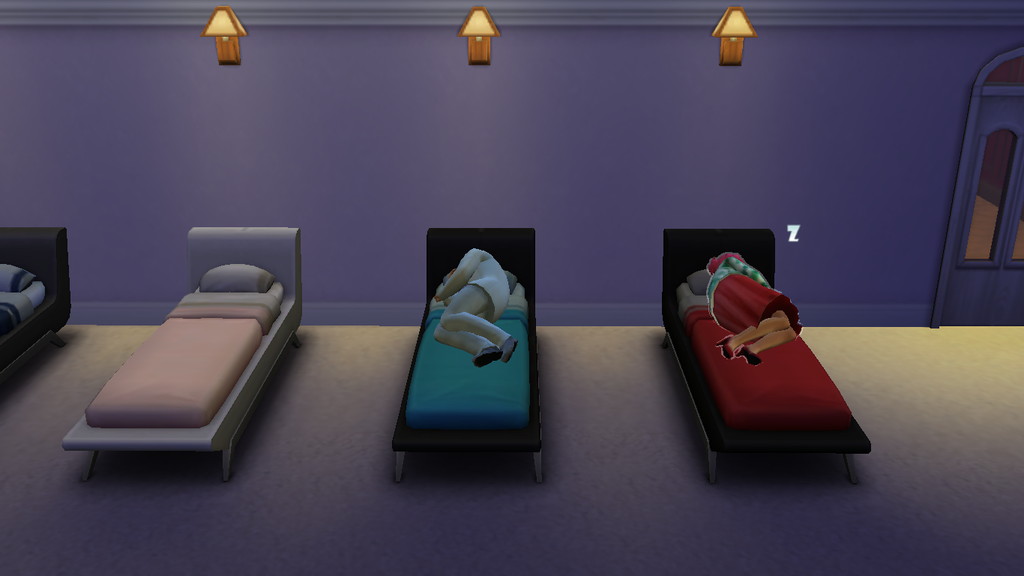 Behold! Kason and Denise is back to napping. Okay, I'm officially calling you two the Napper Duo.

When you're doing any Sims Challenge, there will always be that time that one Sim will walk in into the bathroom while some other Sim is doing his/her business. So here you go, our first privacy invader…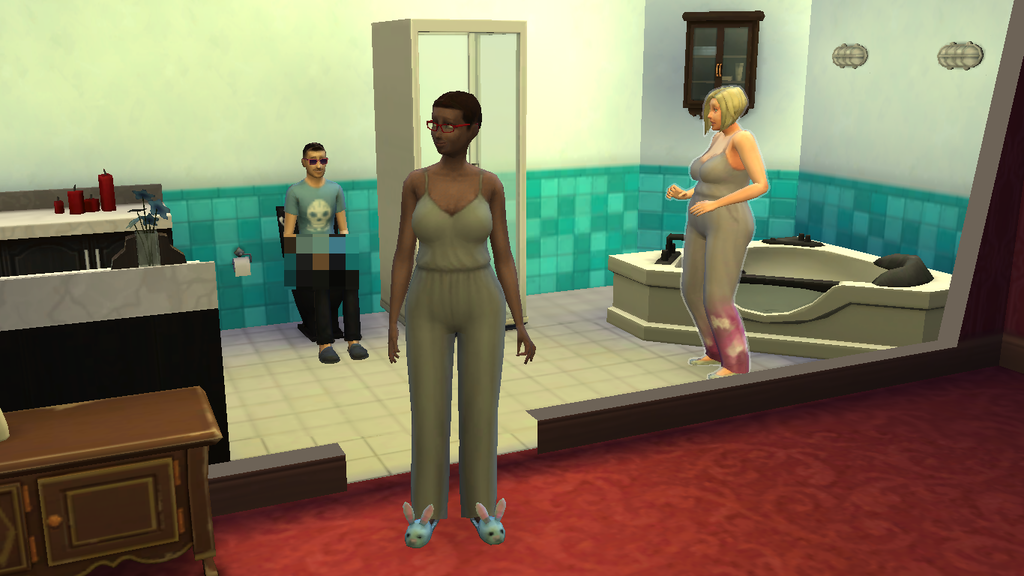 Janette! *applause*
Janette: "Ohmigod! I didn't know you were inside Asher!"
Asher: "Patricia is outside waiting for her turn you know. But, it's all cool."
Patricia: "Asher sure is taking his time. Janette already went inside."
Now be embarrass as your reward. I swear this privacy invasion will be the death of someone inside my house. Learn to lock you guys! *sigh*




But as Asher says, it's all cool. They even played on their phones together inside the bathroom and had some drinks at the bar. Cool.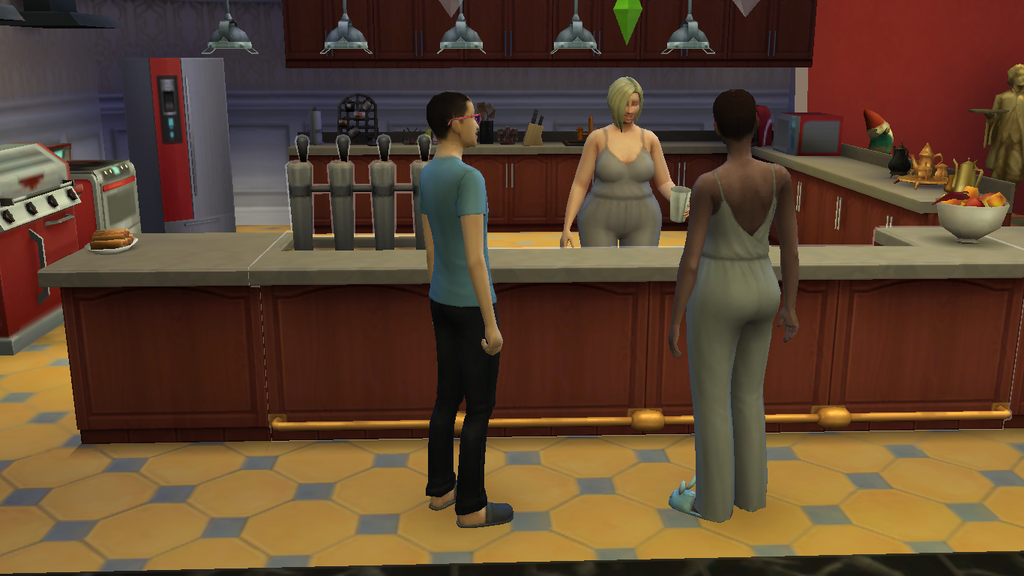 Asher: "Yeah remember when Janette walked into the bathroom while I was pooping? That was so funny."
Janette & Patricia: "Yeah, good times."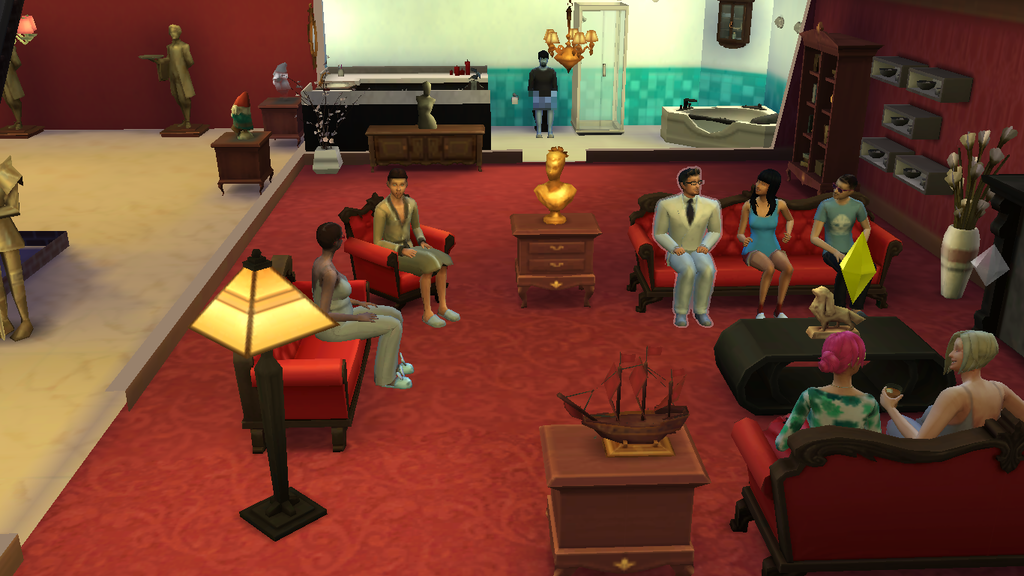 Now they're back at the living room socializing. Glad they're getting along well.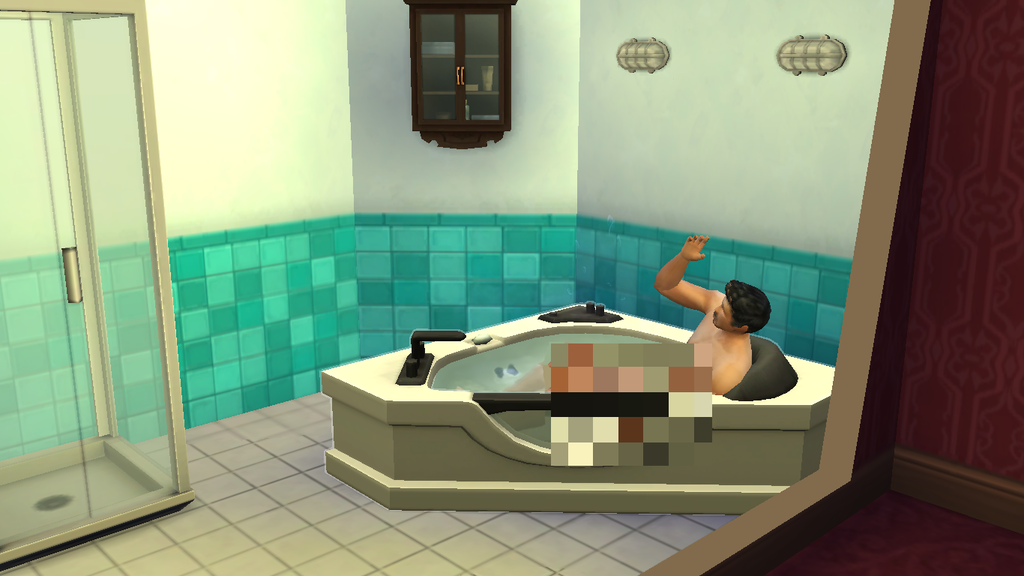 Kason was the first to try the first floor bathtub (which is a personal favorite even though its comfort isn't on top because I like its shape), and the first Sim to take a bath. Hm, not bad for a slob. But of course not before…




Denise walks in on him while he's naked, as she drink her coffee. The Napper Duo bond is so… bizarre, wouldn't you say?
Denise (mimicking Janette): "Ohmigod! I didn't know you were inside Kason!"
What's actually Denise is thinking: "I knew you were checking my butt last night so I'm going to check yours too. Now we're fair."
Yep, fair enough.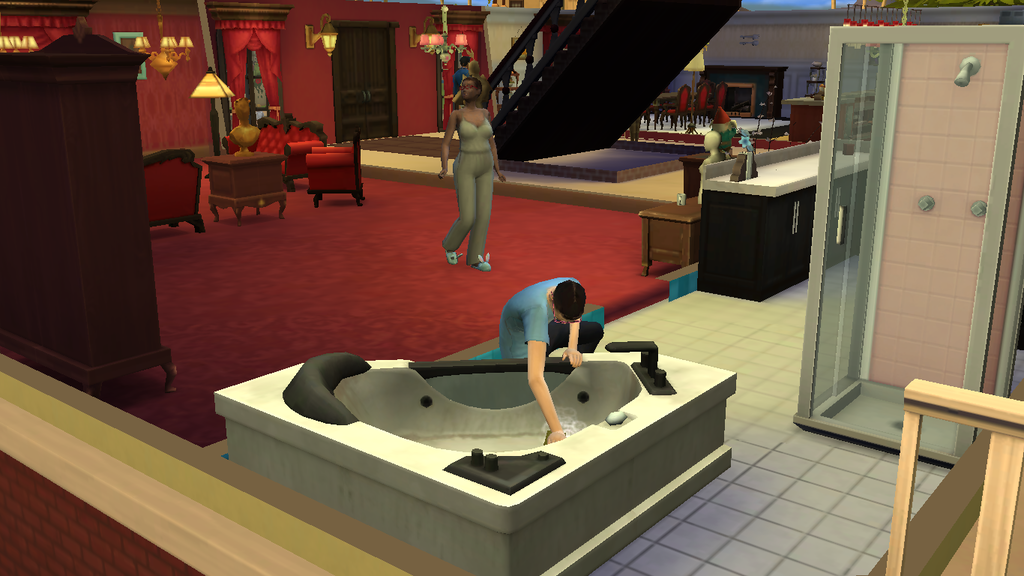 Asher: "I'm going to clean this tub while I think of some jokes to scrub, on their faces."
Asher always need his alone time.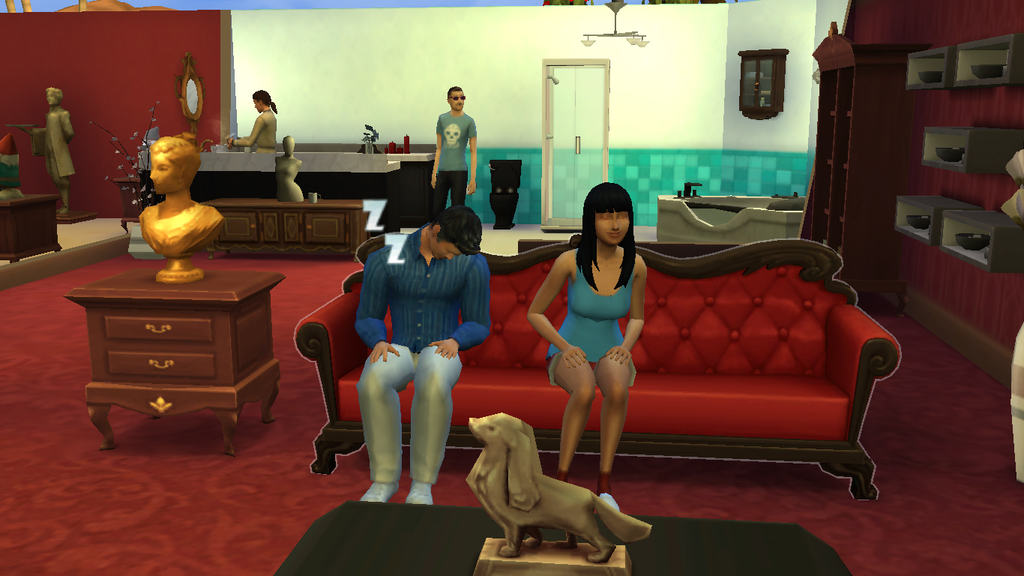 Kason passed out while sitting on the couch. So much for that earlier nap. And Tanvi looks amused.
Tanvi: "I enjoy watching others' miseries."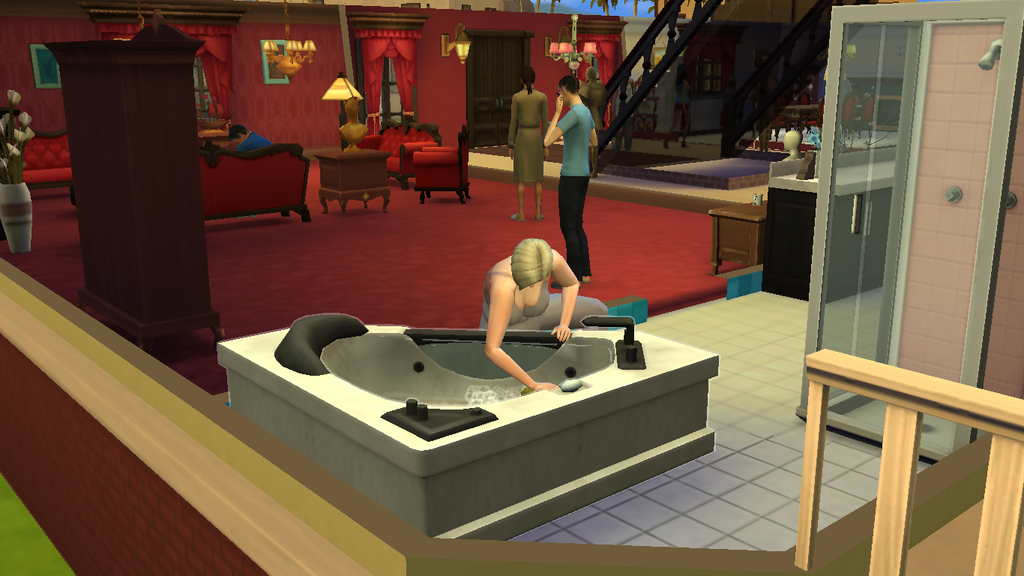 Janette: "This tub sure needs some cleaning."
Wait, are you trying to imply something here? Either Asher isn't that good cleaner, or Kason is so dirty that he left some slime on the tub. Well, the latter kind of make sense.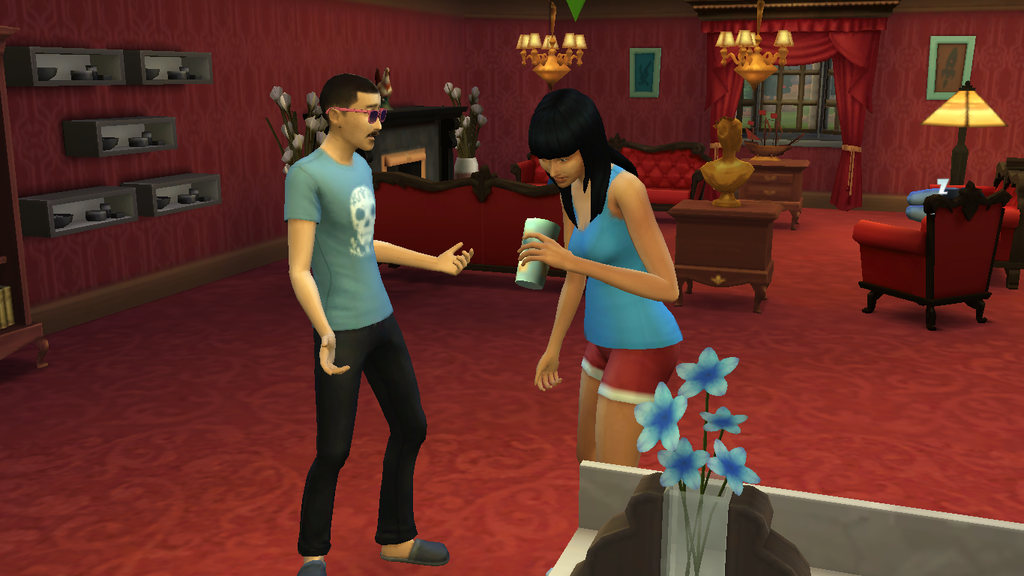 They're all getting along well–or so I thought. We can all see here that Tanvi has started her evil plans. She just threw a glass of… some liquid on Asher's face. Hopefully, Asher took it as a joke.
Tanvi: "Your face is so ugly it needs some washing!"
Asher: "Woah!" *pause* "That is actually funny. Hahaha!"

After that, they all went to sleep. Except for Asher, who as I said, always needs his alone time. So let's take a look at what Asher does during his alone time.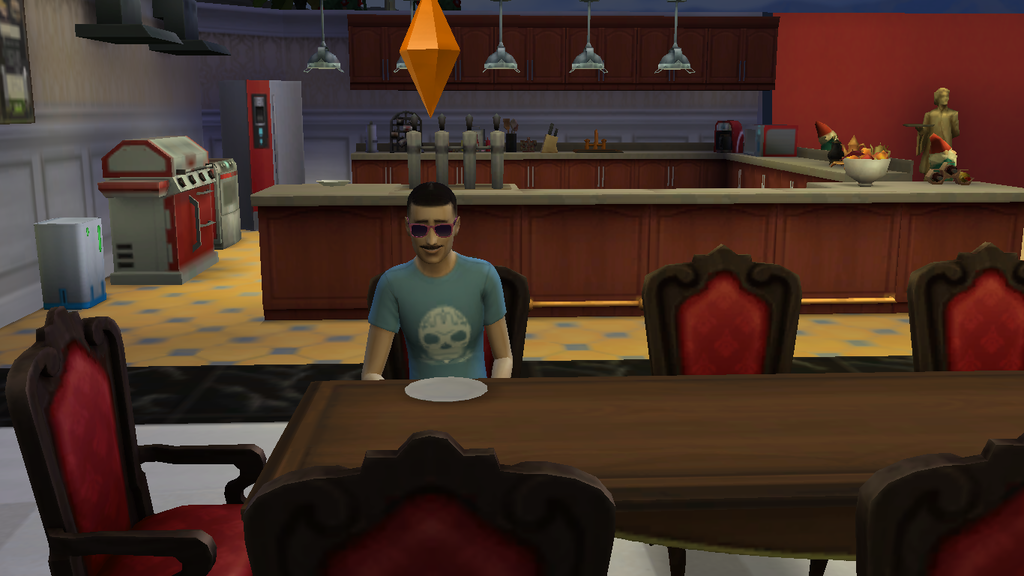 Asher: "Wooh! Alone at last!"
He seems to be enjoying it. Just look at that smirk. And his pink sunglasses.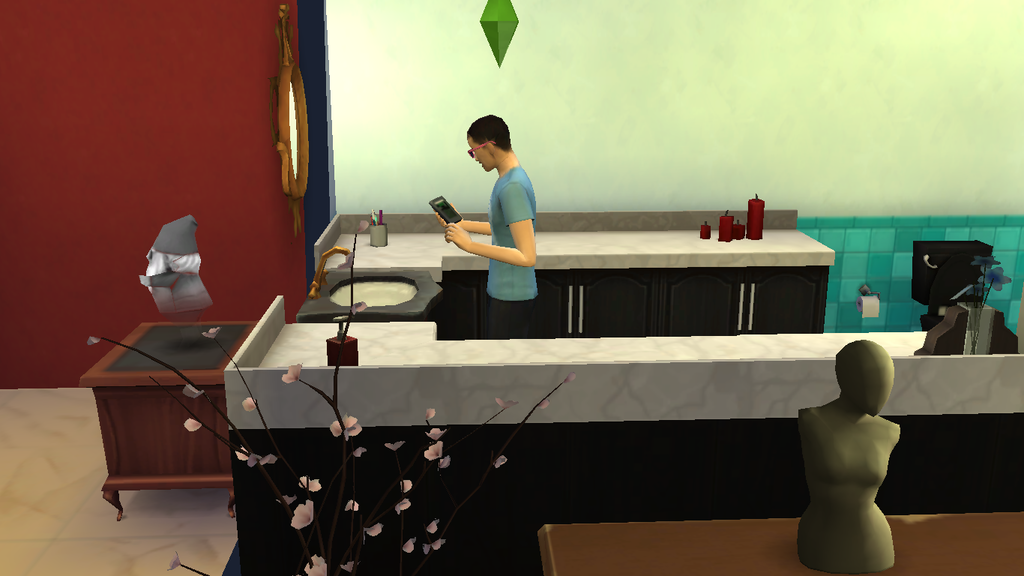 Asher: "Time to beat my own high score!"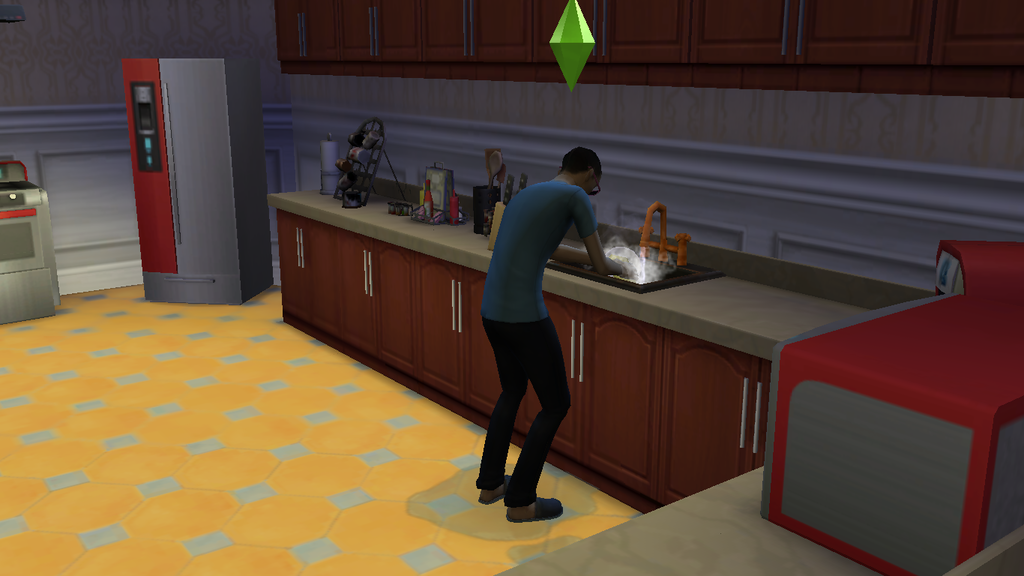 Asher: "And clean some dishes."
Uhm, how about the puddle? Care to clean it as well?




Asher: "This is some fine furnitures you got here Big Bro."
Why, thank you Asher.

After some time of idly standing and staring, Asher went to sleep as well.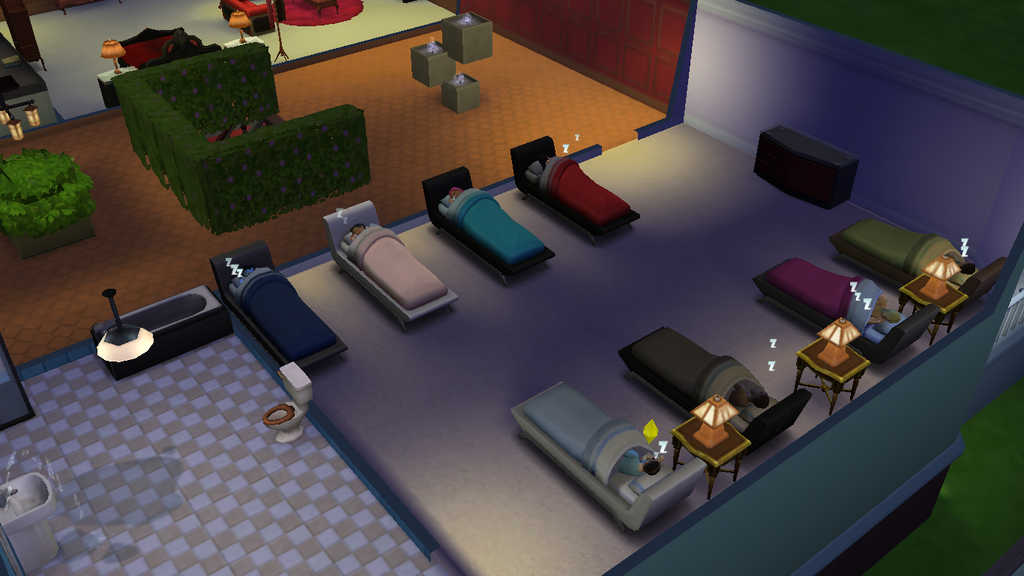 With everyone fast asleep, we've already reach the end of their second day. What else is in store for them for tomorrow, I wonder? Will there finally be some development in their routinary lives without me, their deity, interfering? Let's find out next time! This is Big Brother, signing off!


A/N: Alright, some housemates are establishing their personality and it's cool. Are you picking your favorites now? For me... I love them all! Hahaha!

So, 'til next update guys! Chao!


#28

5th Sep 2018 at 5:55 AM

Big Brother Sims 4 Edition: Week 1 Day 3
A/N: Hello! Here's the third installment for our Week 1!

Let's get to it right away! *Swooosh*
WEEK 1 DAY 3 (SAT)

Tanvi is the earliest riser this third day. And what better way to start your day than drinking some fresh orange juice?




And apparently, with some early morning insults as well.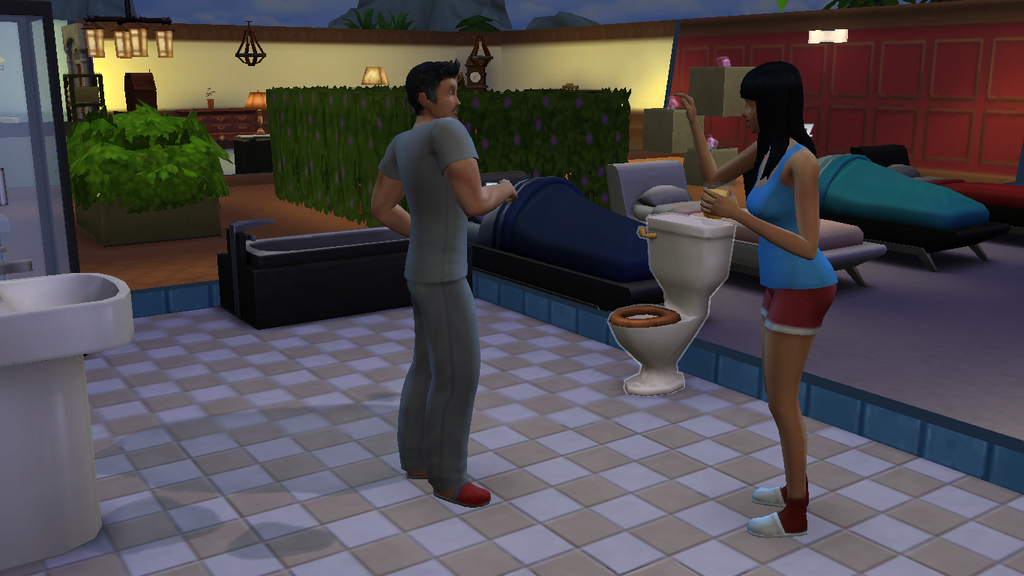 Tanvi: "Your breath is so smelly I can even smell it from the first floor!"




Don't worry, Kason had some comeback for himself.
Kason: "Blablabla, whatever. At least your nose is working. Unlike your squinting eyes that doesn't seem to see how handsome I am."
At least he didn't deny the smelly part. And he didn't seem to mind the insult. On the contrary, it seemed to have boosted his confidence for he finally…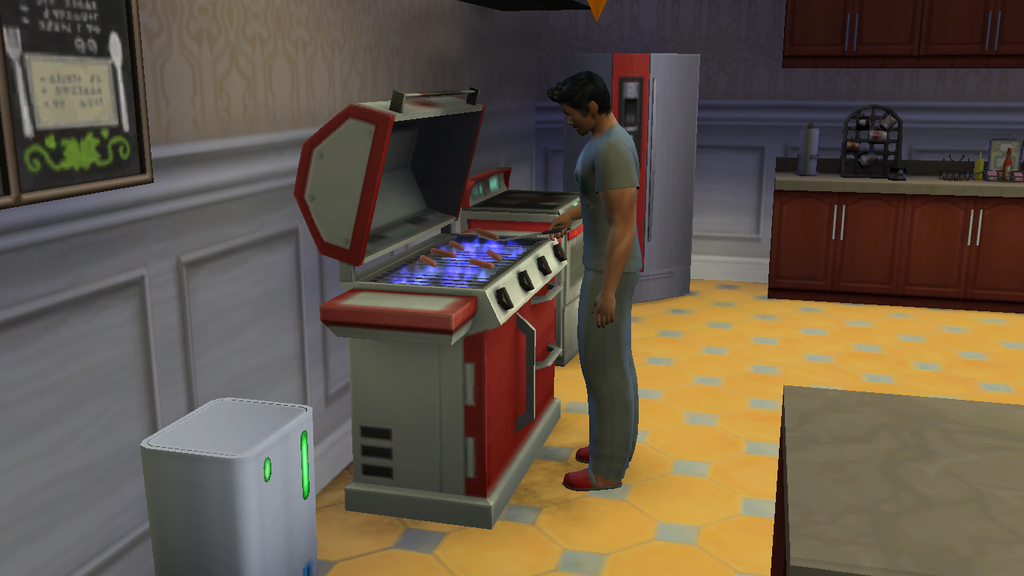 …cooked for everyone else! I am speechless.
Kason: "I'm not that ungrateful, you know. Give me some credit. Besides, I'm starving already."
Fine, fine you lazy dork.




Here we see Kason giving away his ultimate secret for his six-packs to his Napper Duo.
Kason: "Milk is the secret to this awesome muscular body of mine."
Denise: "I wish Janette can hear you. She needs the advice."

Anyways, let's take our time to applaud those housemates who has the initiative to clean my house. Bravo!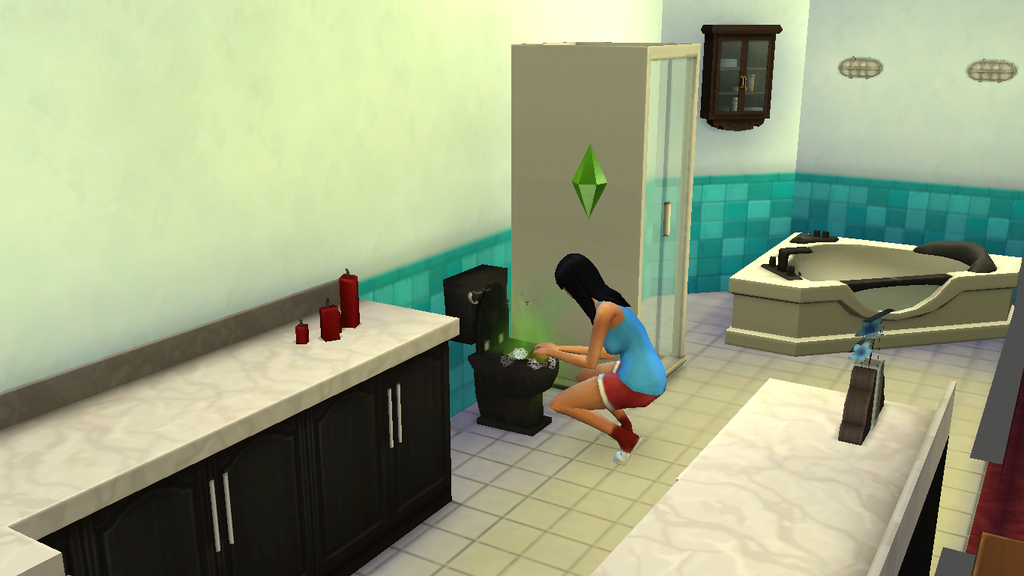 Tanvi cleaning the porcelain throne.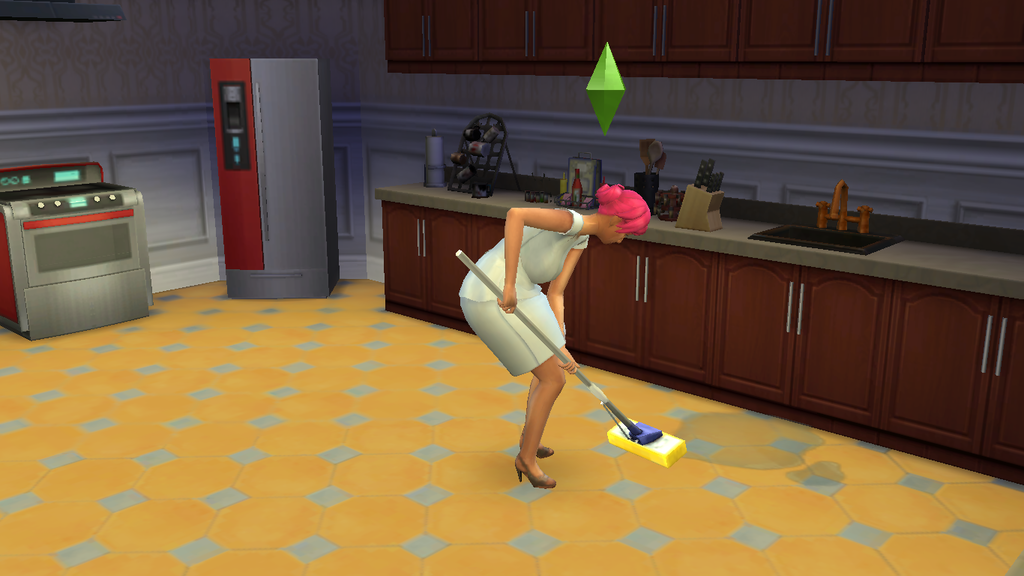 Denise mopping the puddle that Asher ignored last night.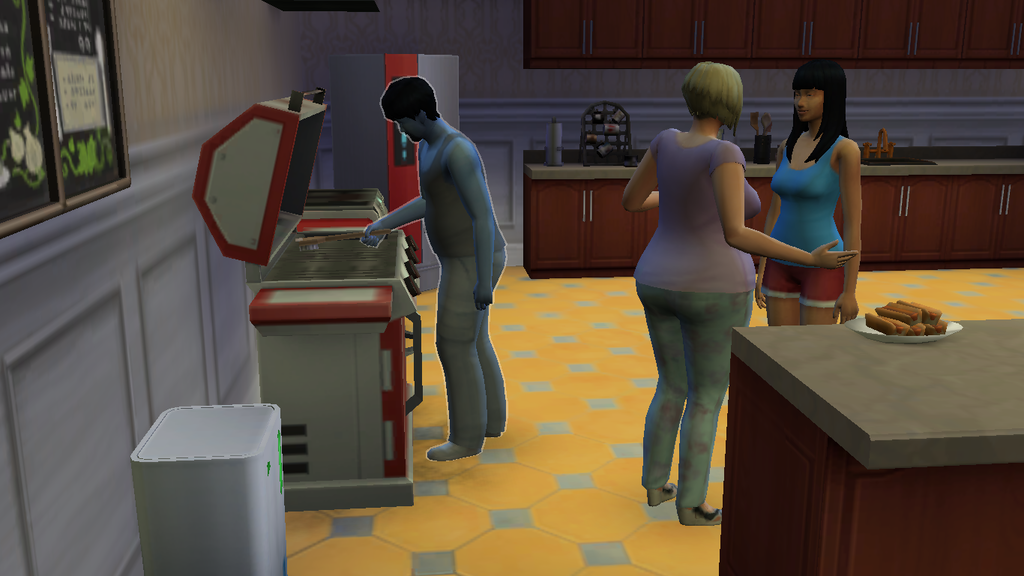 Bob cleaning the griller.

Thank gods for these Sims (I am deity but just like Kason, I am not that ungrateful). I wouldn't want to imagine what my house would become if not for them. These unsung heroes. Hoorah for you guys! No extra points though. Unfortunately, there is no cleaning skills on Sims 4. LOL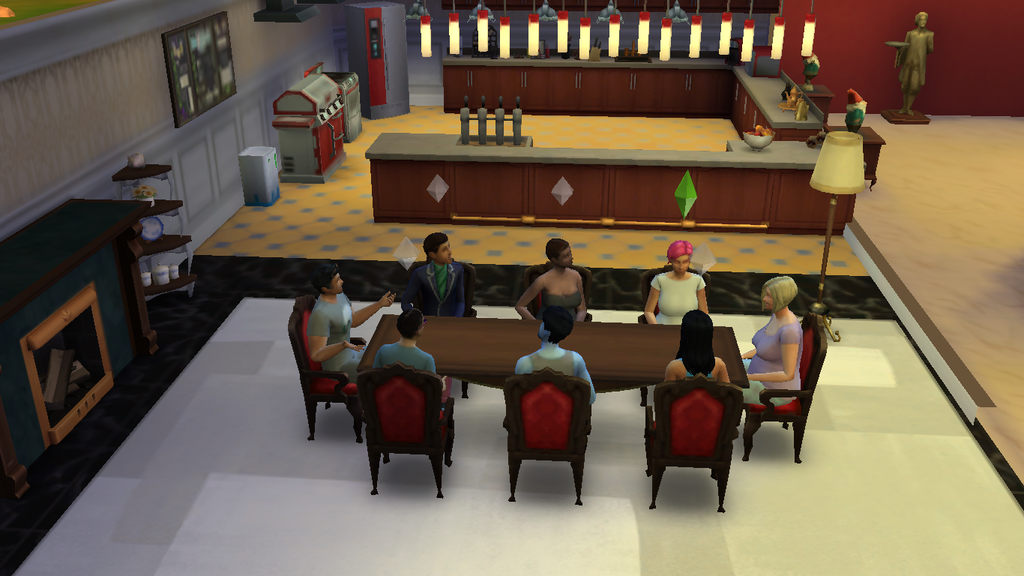 After having a general meeting of sorts, Kason is back to his napping game.




And guess who joined him? No, it's not his Napping partner, Denise. It's…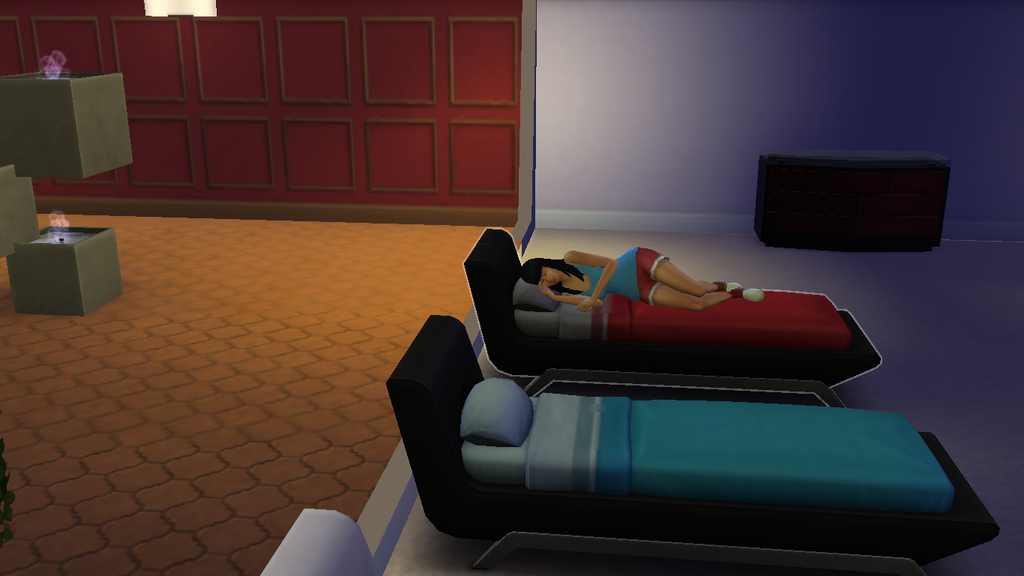 Tanvi! Is she going to join the Nappers Club?

After that nap, Tanvi seemed to be in a good mood so she decided to try her hands on cooking.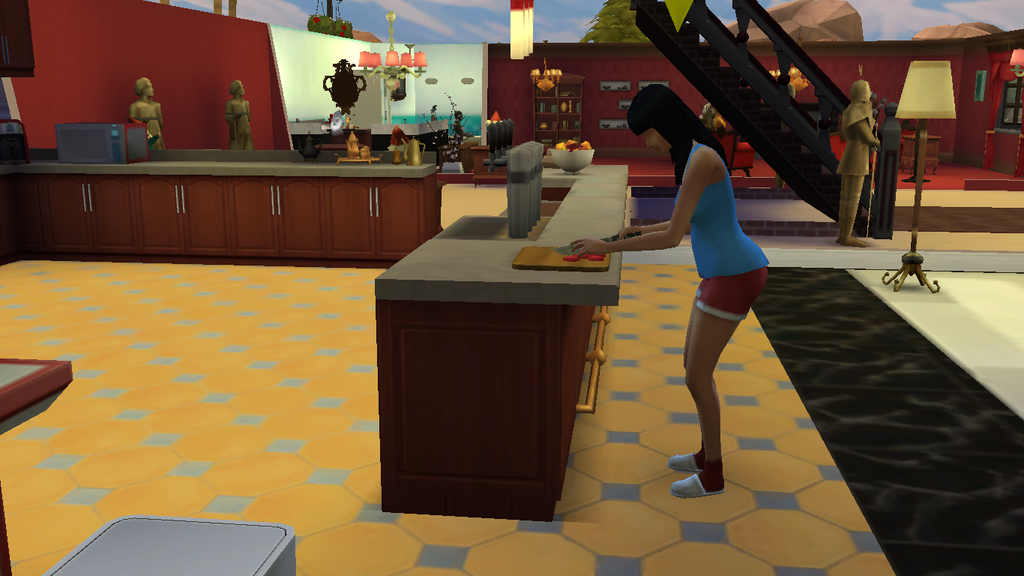 One can only hope that this isn't a part of her evil plans in store for the housemates. Look how well she handles her knife.
Tanvi: "Now, now. I'm just cooking you know. No big deal."




Tanvi: "BWAHAHAHAHAHA!"
So uhm, why are you laughing so evilly like that?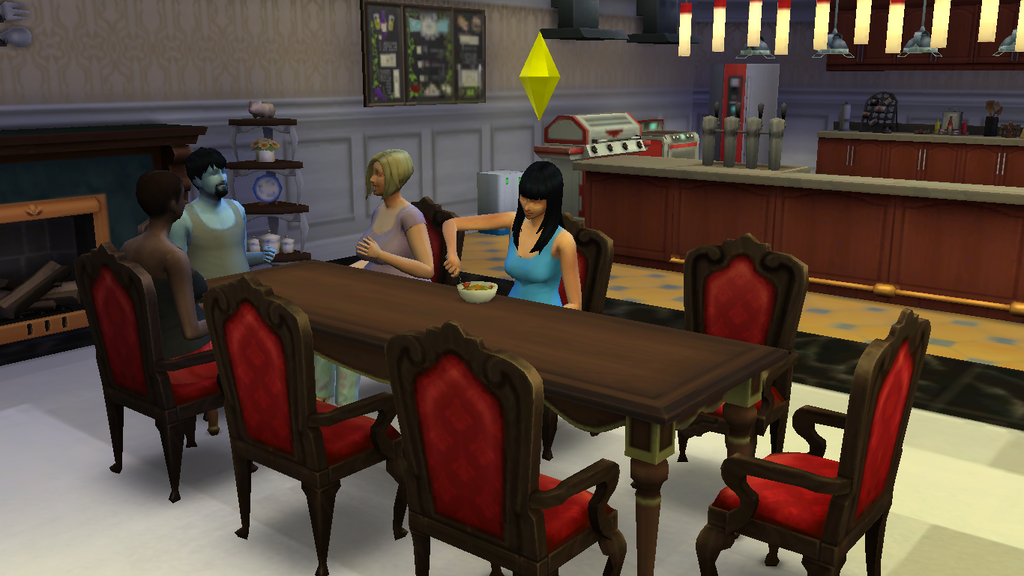 Oh, you're eating it yourself.
Tanvi: "I told you so, it's no big deal."
Looks like the housemates will be okay. Well, at least for now.

No, that's not one of the Nappers. That's Asher, hiding under the bed in embarrassment. Apparently, someone (Denise, to be specific) walked in on him again while inside the bathroom. Poor Asher.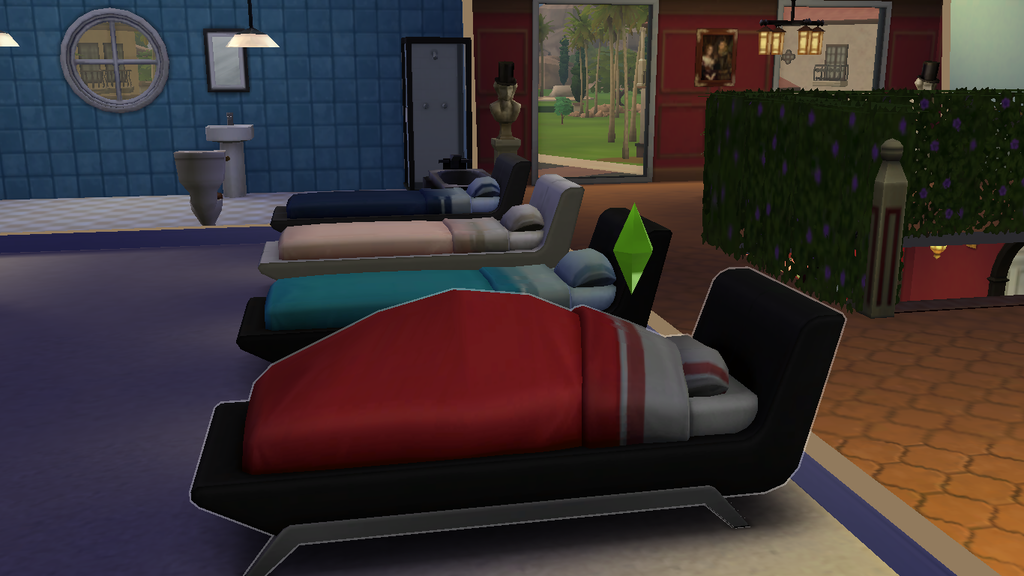 Asher: "Oh gods. No one's ever gonna marry me now."
Now, now Asher. It's not like anyone's going to anyway… Okay sorry, that was harsh.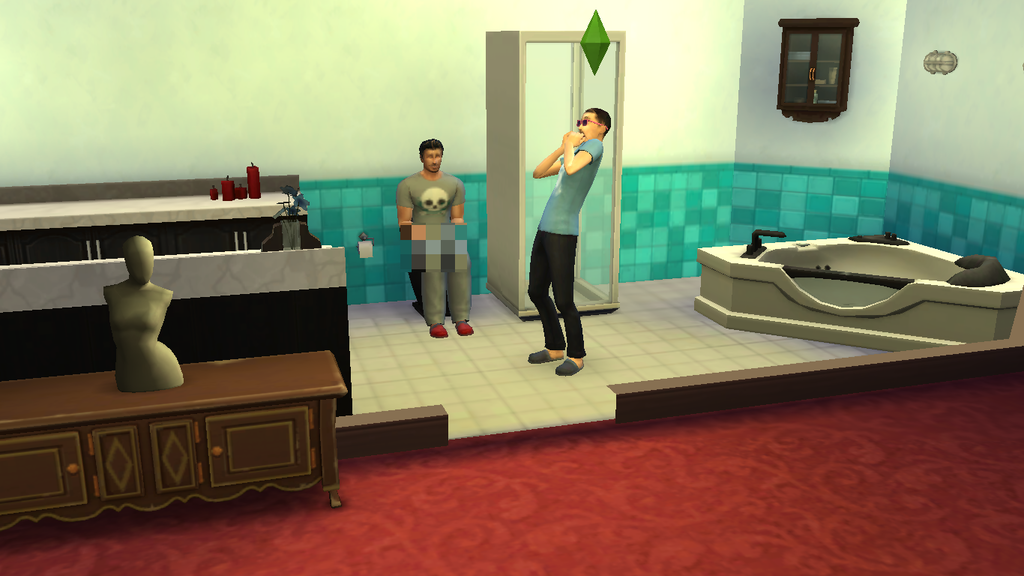 And so he decided to take his revenge on Kason, who's also not new to the privacy invasion business.
Asher (with his poor pretend-to-be-shock voice): "Ohmigod! I didn't know you were inside Kason!"
Kason: "Did you just mimic Denise?"

And speaking of Denise. She really has no clue whether the bathroom is empty or not.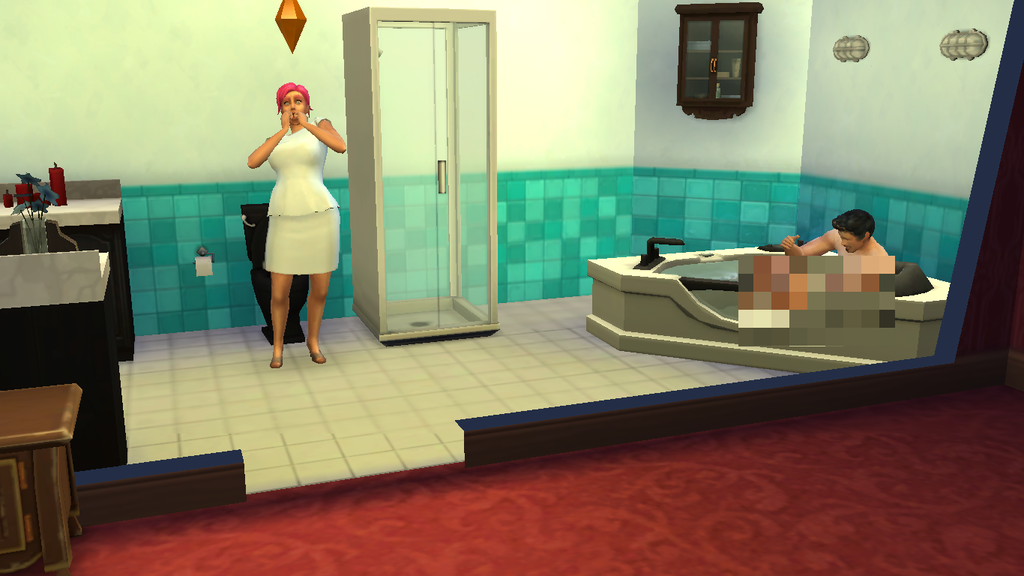 She walked in on Kason, AGAIN.
Denise: "Ohmigod! I didn't know you were inside Kason!"
…I got a feeling this is intentional.

After the bath, Kason called over Tanvi to give the talk.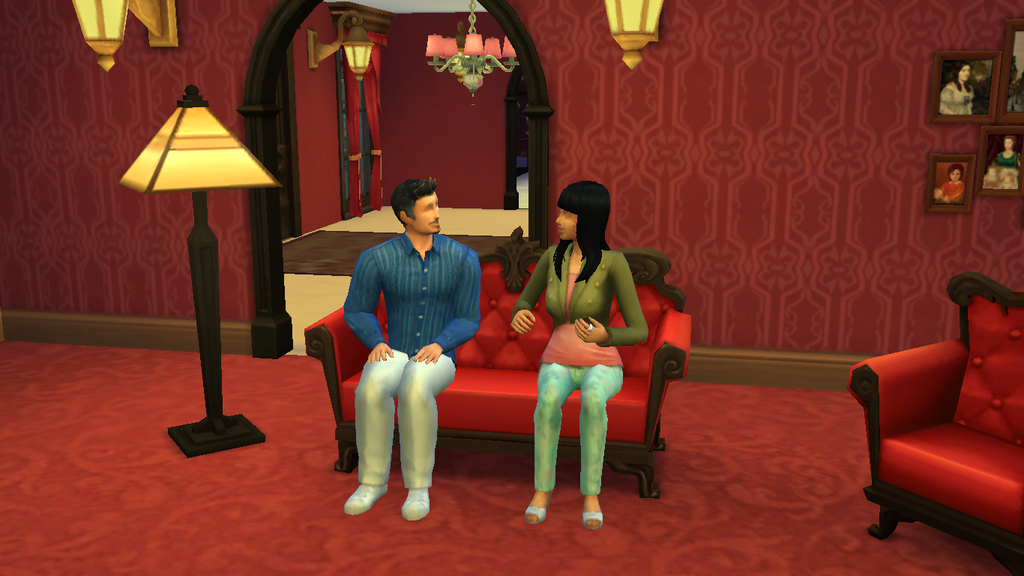 The talk to persuade her to join the Napper's Club.
Kason: "Well? Napping is really fun right?"
Tanvi: "Yeah, yeah it actually is!"
So, is Tanvi really going over to their side? We'll see…

Everyone went to sleep after that, except Kason. He still has some art-appreciation thing to do.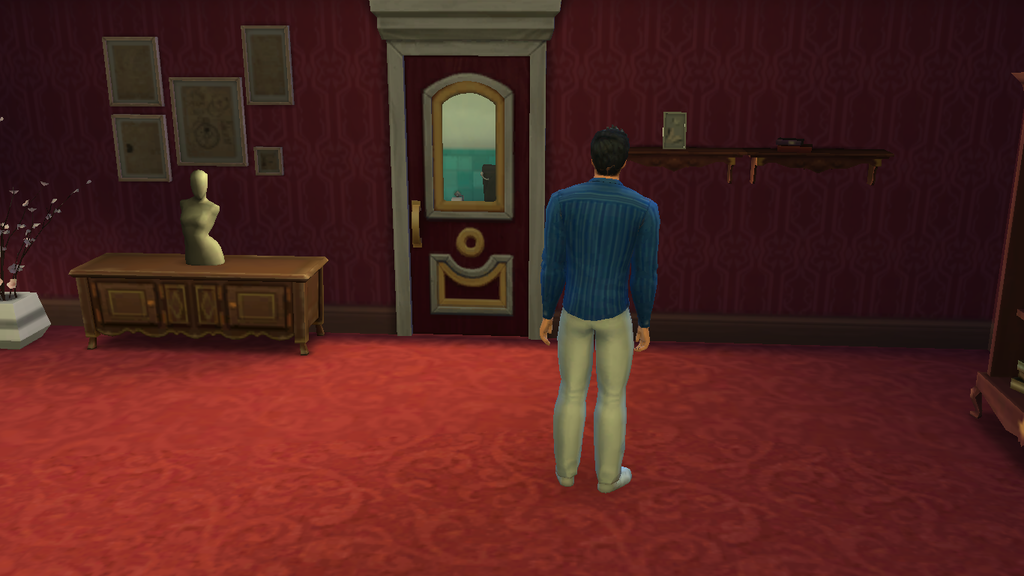 Kason: "This is some class interior designing Big Bro."
Why thank you, Kason. I appreciate your and Asher's appreciation. Very little people appreciate art these days. Nap well, my friend ('cause he took a nap quickly after that).

With two new appreciator, we will now conclude the housemate's Day 3. Let's hope our housemates will give us more fun the next few days because I sure hope not to lose some readers due to boredom. Stay tune to the happenings inside my house! 'Til next time. This has been Big Brother, signing off.

A/N: There goes our third day! So, how was it? Some of them are getting really known for their weird antics inside while some still haven't introduced their personality that much. But we have a lot of days to cover and for sure they will all let themselves known. So, look forward to the next post guys. 'Til then! Byeee~
P.S. All of the Sims inside the house are on full autonomy and I am not in any way controlling what they are doing. I only interfere when it'll come to the challenges I will laid out. So all of the happenings you have seen so far were done out of their own will.


#29

5th Sep 2018 at 11:57 AM

Big Brother Sims 4 Edition: Week 1 Day 4
A/N: Hello guys! Here's Day 4 update!
Anyways, some might feel that this version will take too long, since I update per day. I will try to update per week, only if there're little happenings to post. Thing is, there are a lot of interesting things worth including (or I'm just making a big deal out of it) so I put all of them in a day update. I also personally don't want to have a per week update, I feel like it's too long. And uploading all those screenshots, if ever, will take a lot of, well, bandwidth data out of me. And as I have said, I am a poor kid.

Anyhows, I hope all of you (yeah even if it's just a single soul on this earth) will have the patient to keep up with me. Thanks in advance!

WEEK 1 DAY 4 (SUN)

It's Sunday guys! Which means that it's the midweek where we will assess who the leading housemate is for the weekly challenge. As I've previously mentioned, their challenge is to freely build various skill, though they're not aware of that. They will know that though, soon, later at the general assembly. But before that, let's see first how they dealt with their usual mornings.

Do you know about the Cycle of Karma slash Revenge? Someone does something to you and you do that something to someone else, then that someone else will eventually do that to someone else as well. Just like this.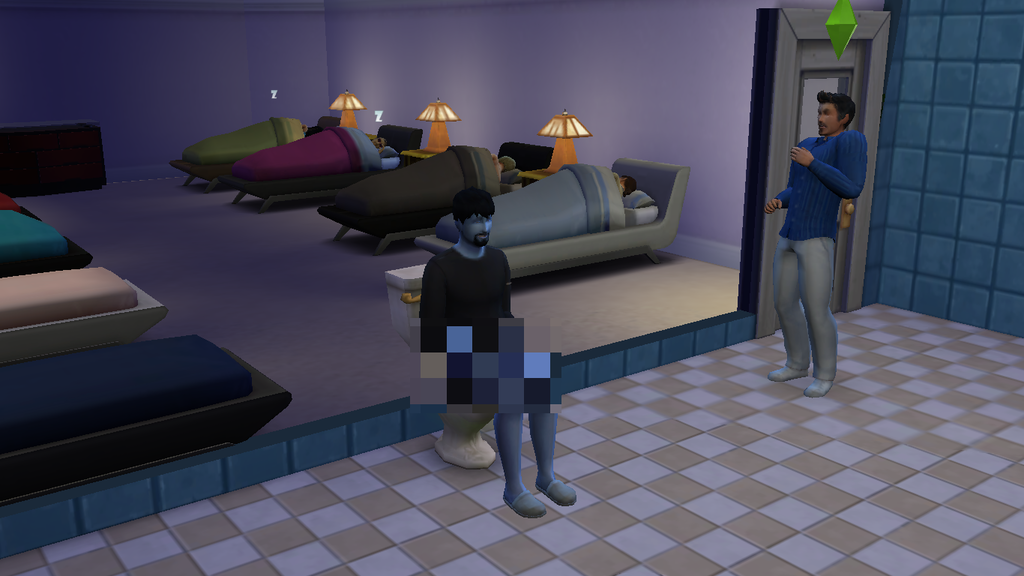 Kason decided to walk in on Bob early in the morning.
Kason: "Ohmigod! I didn't know you were inside Bob!"
We'll all just wait who Bob will walk into next time. And that above line is starting to sound old. Thanks a lot, Janette, for starting a hype.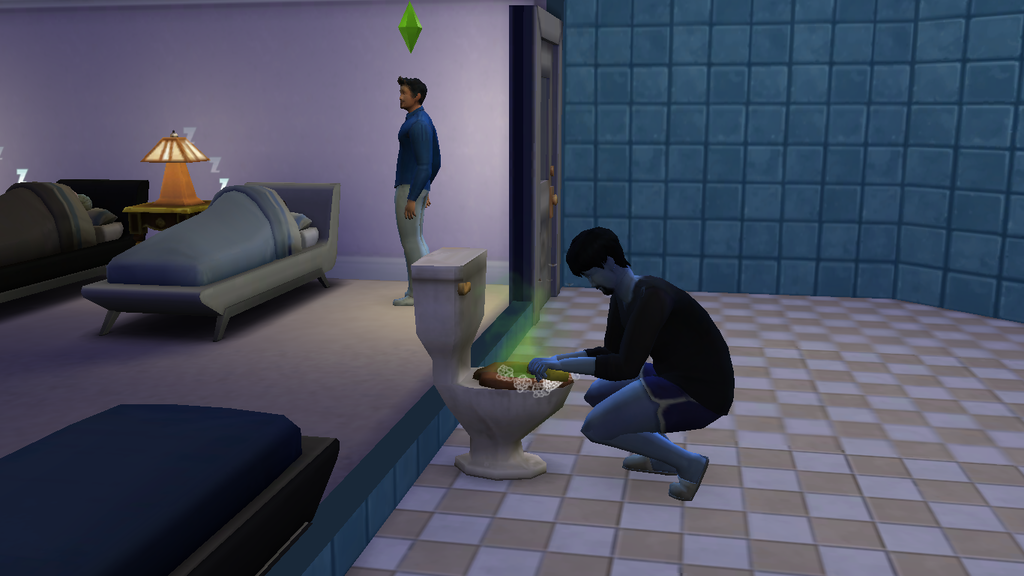 Embarrassed, Bob just cleaned the toilet.
Bob: "I'll clean this throne like how I clean my dignity."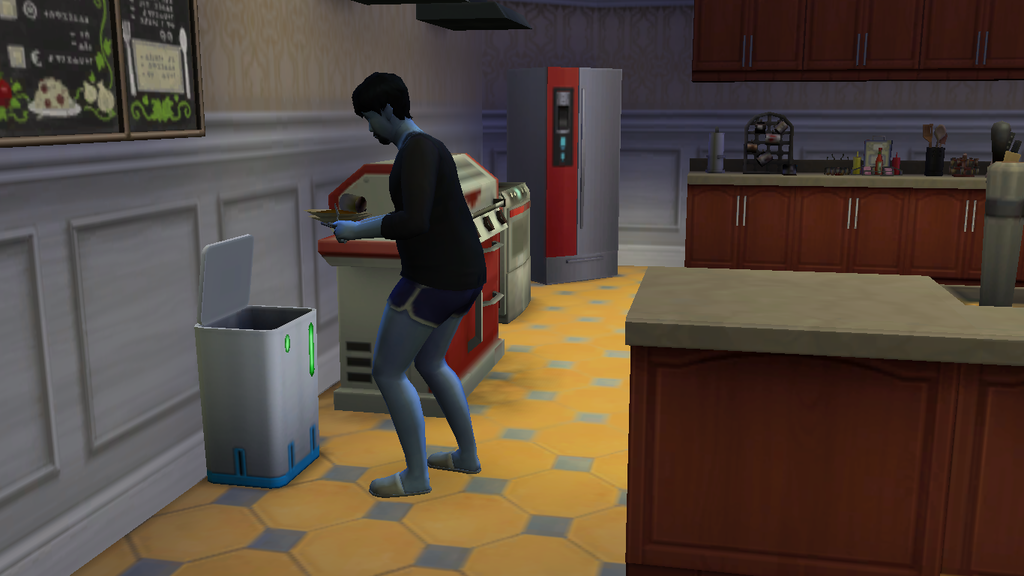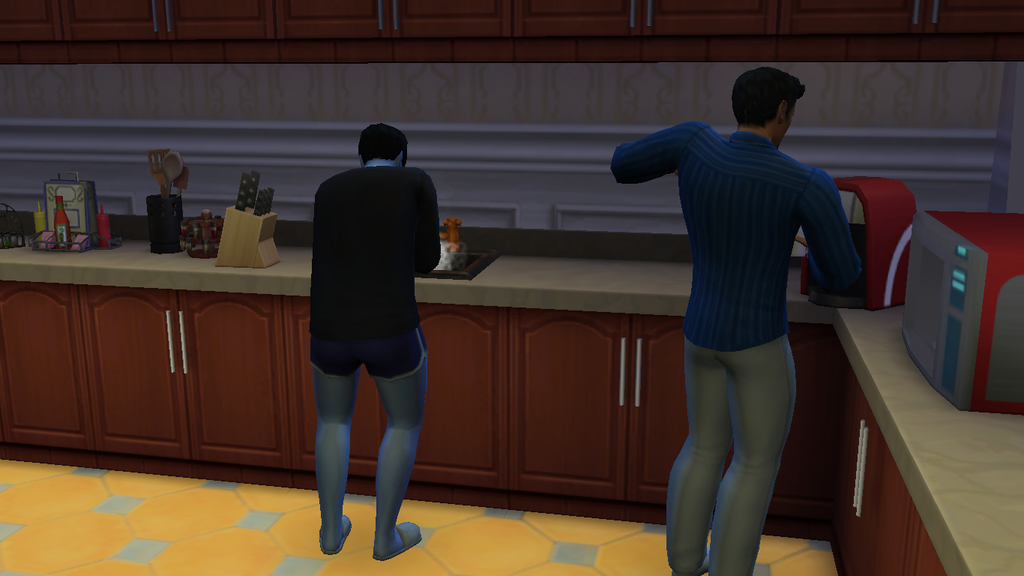 And the leftovers. I'm starting to think that Mims really do clean up first thing in the morning, as Bob had previously mentioned.
Bob: "Clean, clean, clean. Clean off my embarrassing memories."
Or… that.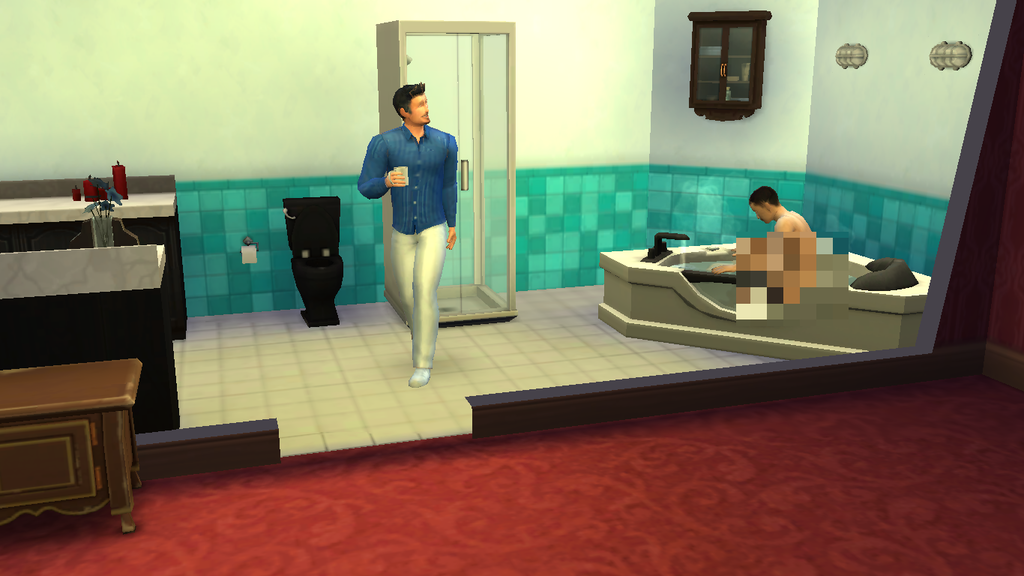 It seems like Kason hasn't had enough yet for he decided to walk in into the bathroom while Asher is dipping into the tub.
Kason: "You seriously need to work out dude. I can almost see your skeletal system." *sips coffee*
Asher: "I prefer to be alone during bath time, Kason."
Don't you always, Asher? But yeah, alone time during bath time is preferable to all.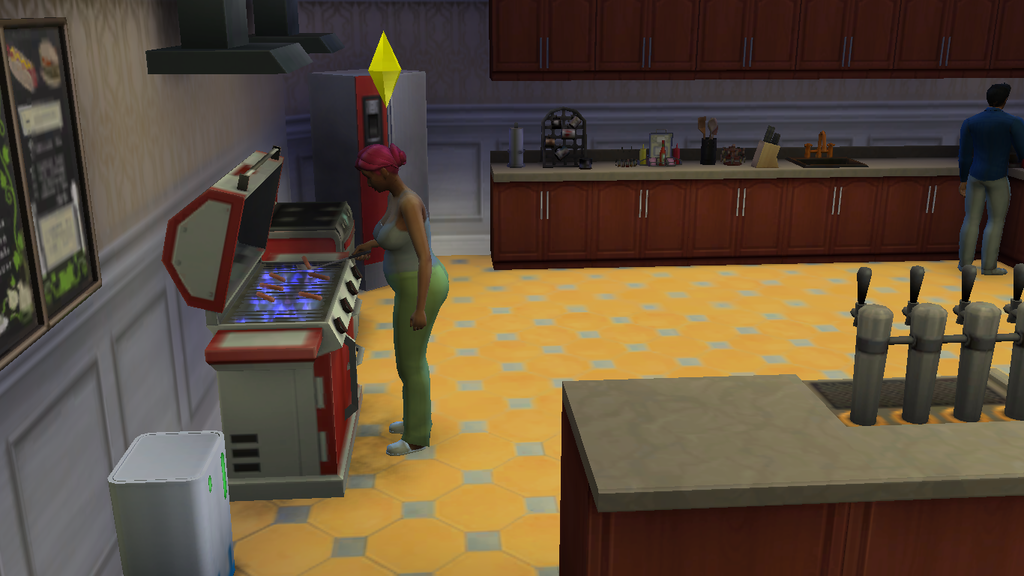 Being the aspiring master chef among the housemates, I've expected Denise to be the first to cook. But it seems like you should not set your expectations high with these Sims. It's already the 4th day when she decided to actually cook.
Denise: "Oh yeah, I just remembered I want to be a celebrity chef. I'll cook now."
Memory's a bit slow, huh, Denise?




Here we see the second victim of Tanvi's evil glass of some red liquid: Patricia.
Tanvi: "Your skin is so dark it needs some washing!"
Didn't we hear that before? Yeah, with Asher. *sigh* I don't think that's a good idea though, Tanvi. Remember that Patricia wants to be the Chief of Mischief. I think she wouldn't just take that as a joke just like how Asher did. You might have find your match. (Few moments later) Patricia just continued talking with the others though after that. Guess we won't see any actions. Yeah, shouldn't set any expectations with these virtual beings.

There was some kind of general meeting again, but this time, they split into two groups. Are they forming some kind of alliance? Hm…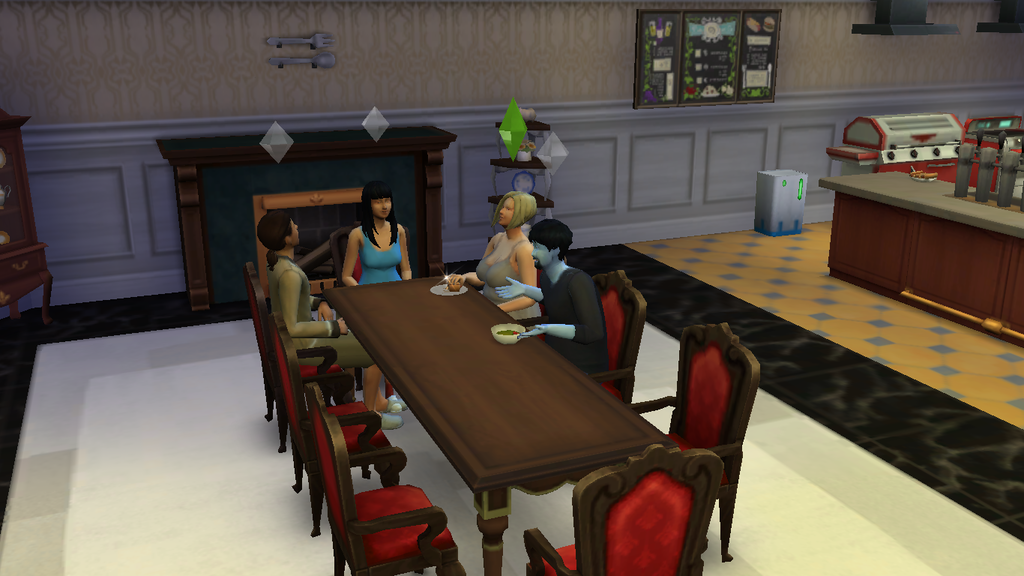 Dorian, Tanvi, Janette and Bob.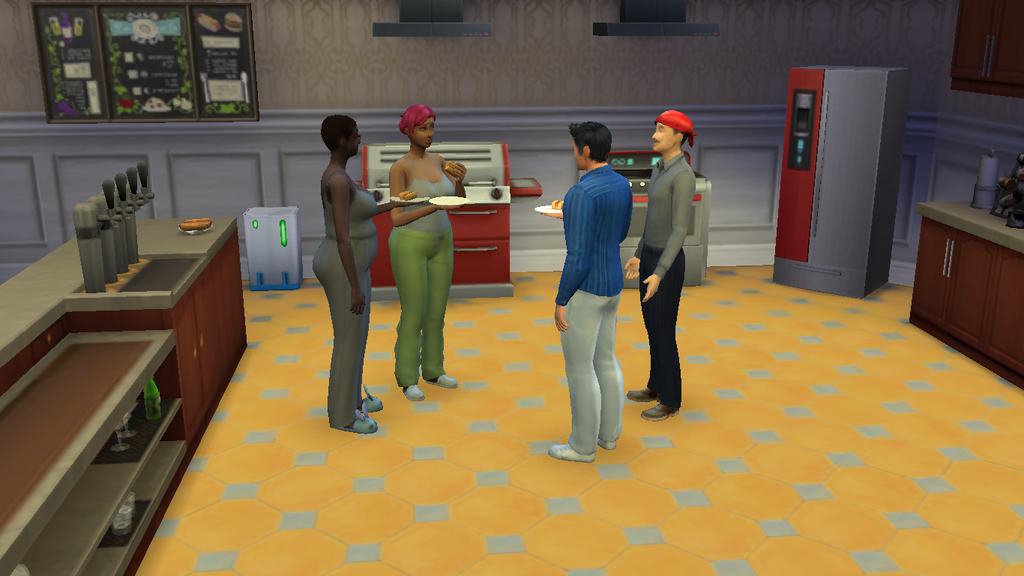 Patricia, Denise, Kason and Asher.

Now let's assess the two groups.
The first group which consists of Dorian, Tanvi, Janette and Bob is I think a competitive group. Dorian is a rich guy. Though not really focused on winning, he surely have the upbringing that he can use to his own advantage. Tanvi is genius and evil; enough said. Janette is ambitious and Bob is creative. This group is really a formidable one to overcome.
The second group which consists of Patricia, Denise, Kason and Asher is what I like to call the 'laid-back group'. Patricia, even though hot-headed is a good person. Denise has the ambitions but has more tendency to just clean stuffs. Kason is the pure embodiment of the word laid-back. And Asher just wants to make everyone laugh while being alone. This group might not be a competitive one, but is a very compassionate one.
There is definitely no exact formula as to winning a reality show so we can never tell. But if these alliances are form, my house will be more exciting to watch.
But then again like I told you, let's not keep our hopes up. For all we know, they probably just randomly started to talk in those two groups with no motives at all. Yeah, let's keep it that way. (I feel like I've wasted some brain cell doing that assessment for nothing. *sigh*)

I've mentioned a while ago that Patricia might be the opponent Tanvi has matched herself with, but she ignored the drinking splash so we crossed that out. But look at this.




Is she prepping herself up to face Tanvi and get her revenge?
Patricia: "Just wait you bitch. Just because I have the good trait doesn't mean I am good at all."
Is this finally the development we're waiting for to happen? We'll find out…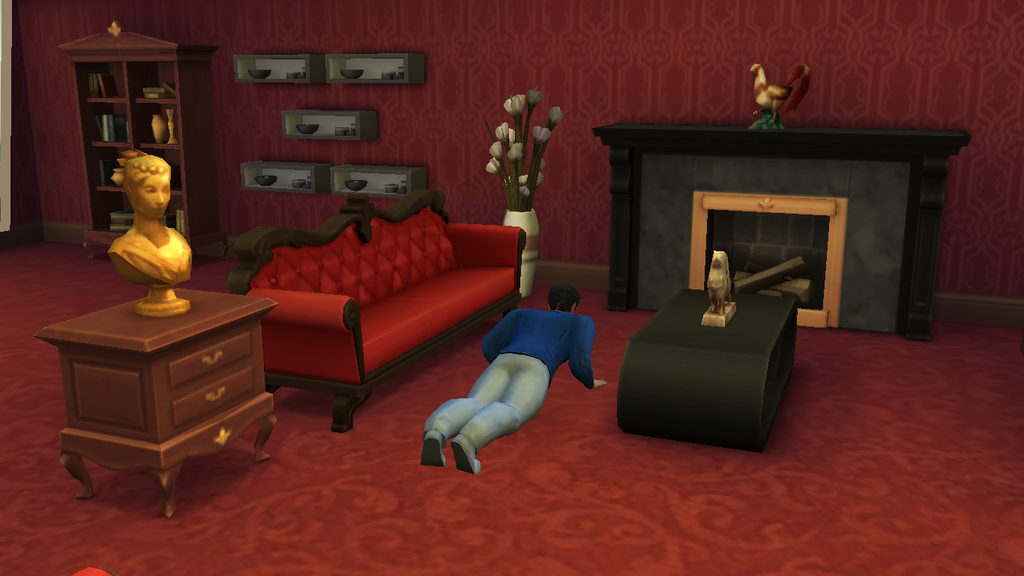 Kason joined the fitness hype.
Kason: "I didn't have milk today so I need to do some push-ups. Wouldn't want to be like Asher."

Let's pause and watch our new segment for today. The Puddle Story featuring Denise.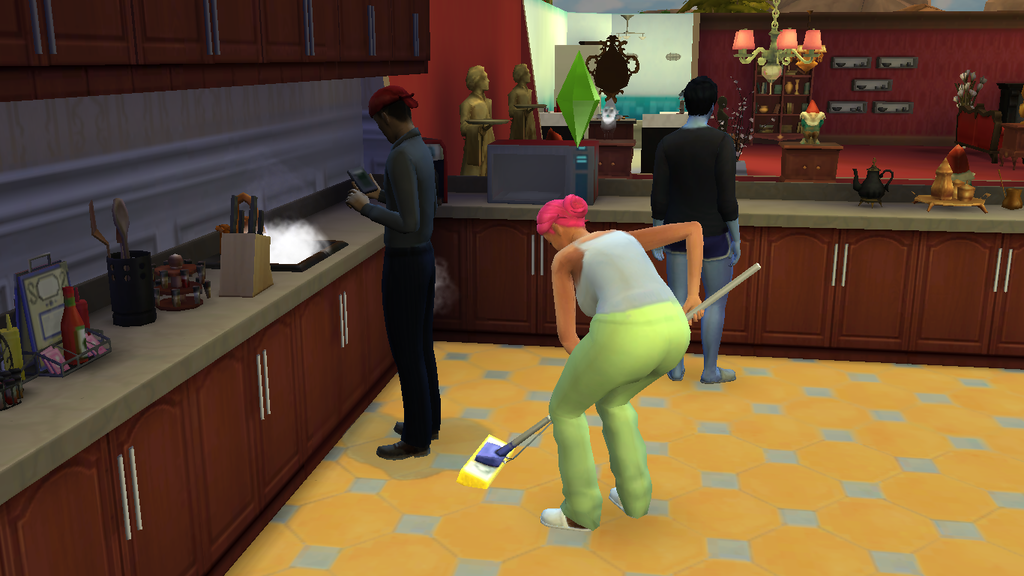 I got a maid in you~
And Asher is ignoring the puddle again.

Looks like there is a friendship budding inside the house!




Dorian: "Let's hug bud!"
Asher: "Sure bud!"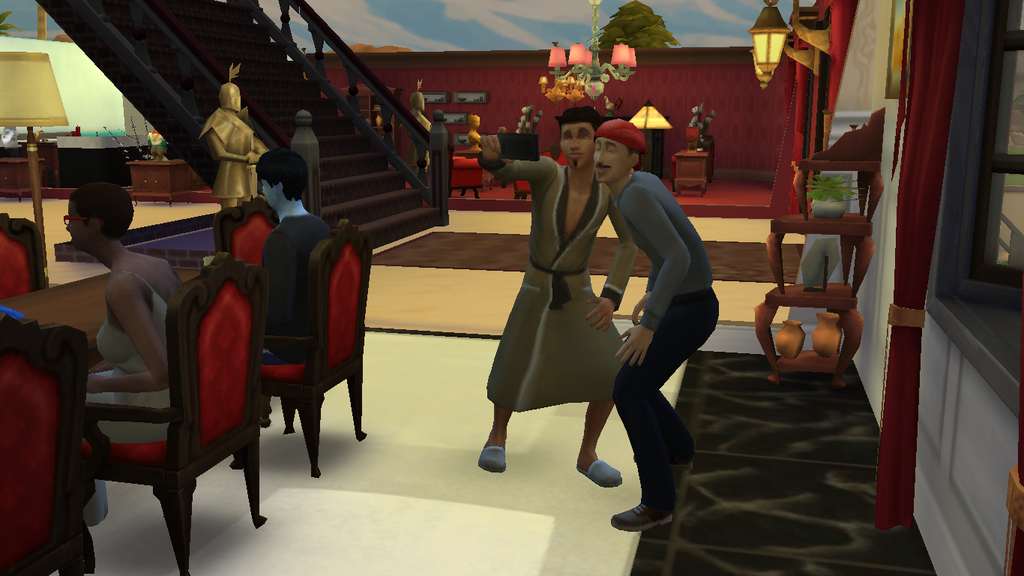 Dorian: "Let's take a selfie bud!"
Asher: "Sure bud!"




Tanvi: "Crunches are for babies. Push-ups are for those who want REAL CHALLENGE."
Ooooohhhh! Looks like someone is calling out to someone at the corner of the screen. Hope for action development: +1.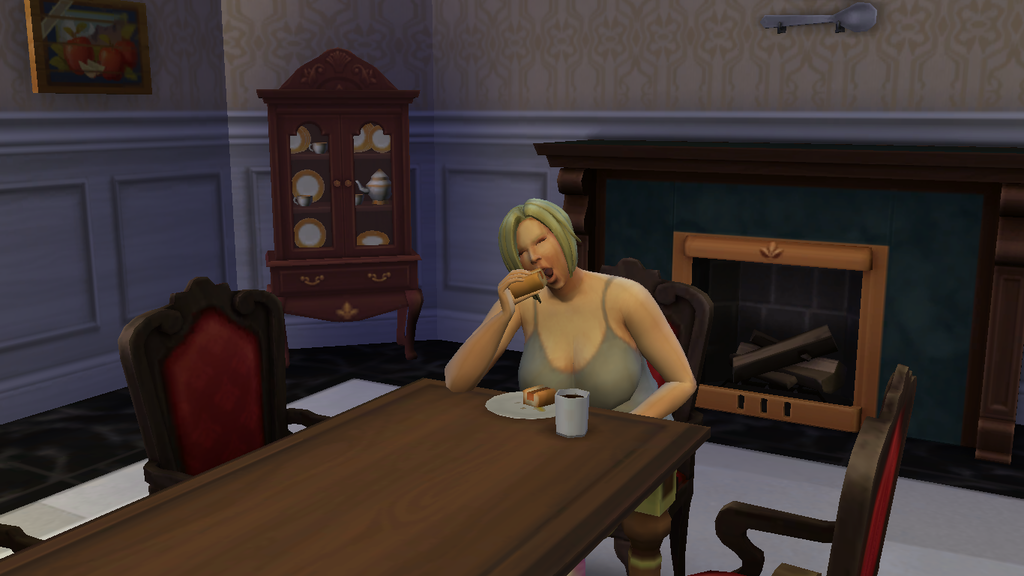 Janette: "Crunches. Push-ups. How about eating full meal?"
I thought you wanna be the Biggest Loser, Janet? Memory's slow too?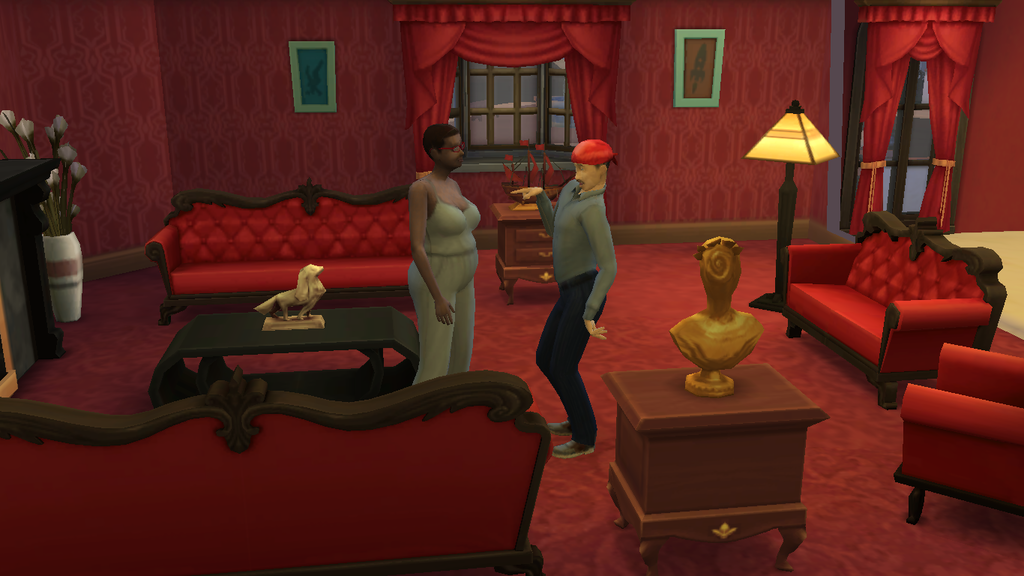 Asher: "You know I noticed that girls talk to each other like this: blablablablabla"
What are you doing Asher? You know that kind of corny impersonation doesn't work–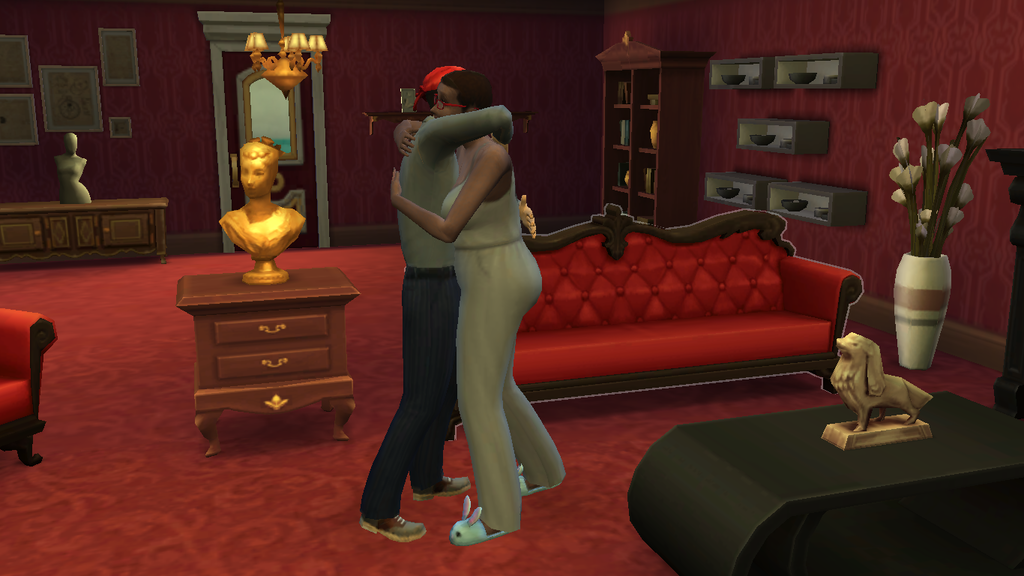 Patricia: "Hahaha! You're so funny Asher! I appreciate your joke, it cheered me up. Here, let me give you a hug."
Asher: "Sure, it's nothing. Just wanna spread the good vibes Dorian and I had."
Oh. Okay.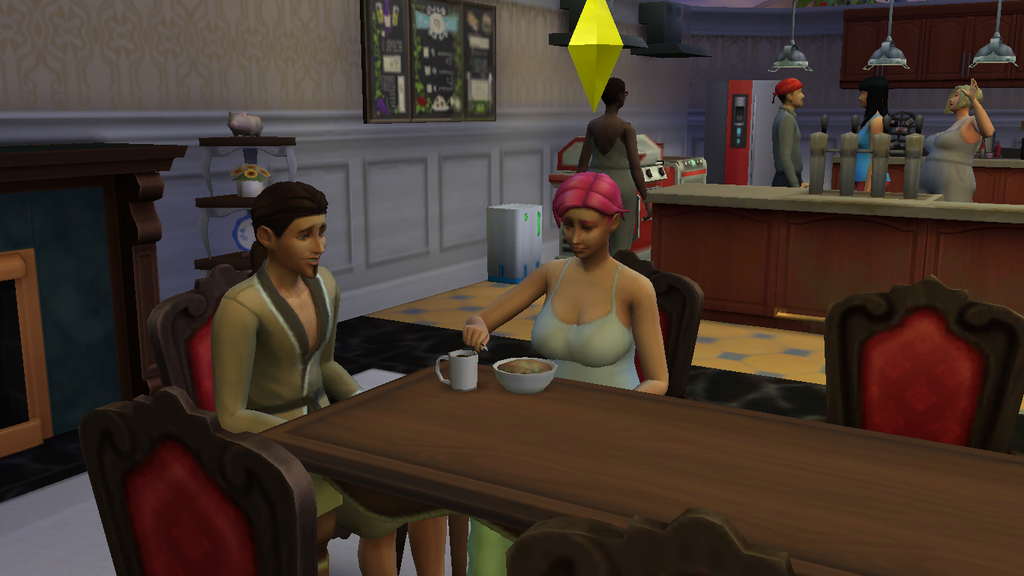 Janette (at the back): "Guys! Try to eat full meal! I'm telling you, it's wonderful!"
Denise: "Okay, let me try too."
Dorian: "Are you sure, Denise? You know you're on the way to Janette's weight, right?"
Denise: *pretends not to hear anything*
Dorian: *fakes a smile*

*DING DONG DING DONG*
Finally it's time!
"Housemates, gather up on the living room wearing your formal attire."
Dorian: "Oh no, not this again."
*POOF*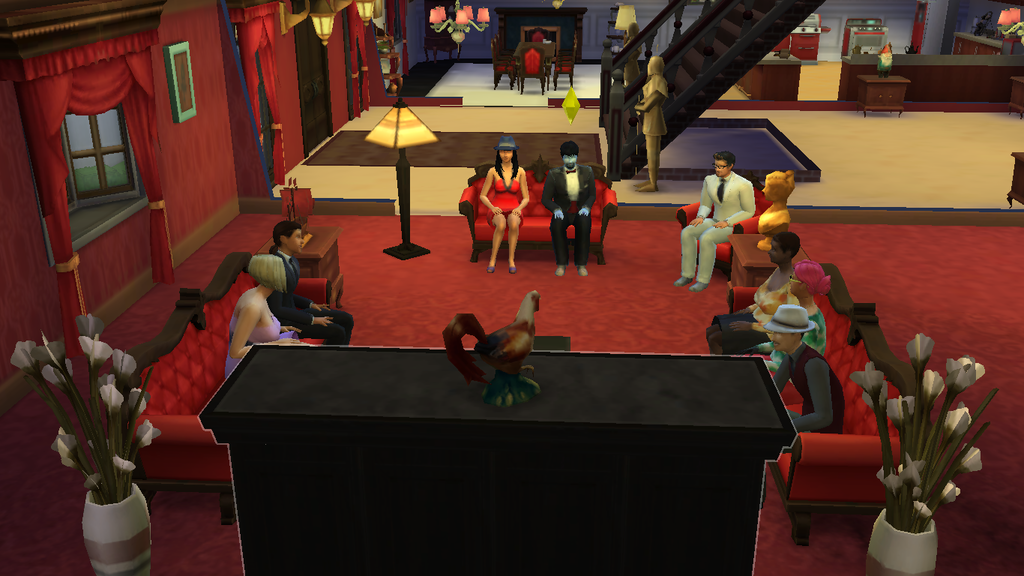 "Good evening housemates."
Everyone: "Good evening, Big Bro."
"So, how's the first few days inside my house?"
Kason: "Fun. Your sofas are cozy."
"Figure. All you ever do is nap."
Janette: "Love the bar. And the food."
"Yep. You haven't even started your goal of becoming slimmer."
Asher: "All is good Big Bro, my jokes are improving and all… but can you do something about the bathroom locks?"
"Uh yeah. The lock mods aren't working so… no."
Dorian: "I like it here Big Bro! I can actually do the dishes without the maids interfering. But I let Denise do the puddles. It seems like she enjoys that."
Denise: "Yes I do, thanks Dorian. I'm actually fine with how the bathroom door works Big Bro, no need to change anything."
"Don't let your real motive show up Denise."
Bob: "I get to clean things first early in the morning, which is good. It reminds me of my Mims family… which is a bit sad… you know… they're all gone…"
"Bob, let's not ruin the evening with your emo mode."
Tanvi & Patricia: "All is going according to plan…"
"Wow, best friends much?"
Tanvi & Patricia: *rolls eyes*
*cough cough* "Okay, enough with the intro. I am here to tell you about the 'Mystery Challenge' I have told you when you first stepped in into my house. The Mystery Challenge is the Initiative Challenge. It is a test to see who among you have the initiative to build their skills inside and not waste the precious time I gave you. And now, we're gonna tally the points all of you earned. Formula is the number of skills you built, plus the number of skill points earned from those skills.

Dorian
Charisma - 1
Comedy - 3
Cooking - 1
Video Gaming - 1
Skills built: 4
Total number of skill points earned: 6
Total: 10

Janette
Charisma - 1
Comedy - 2
Cooking - 2
Mixology - 2
Video Gaming - 1
Skills built: 5
Total number of skill points earned: 8
Total: 13

Tanvi
Charisma - 1
Comedy - 2
Cooking - 2
Fitness - 1
Mischief - 1
Video Gaming — 1
Skills built: 6
Total number of skill points earned: 8
Total: 14

Bob
Charisma - 1
Comedy - 2
Cooking - 1
Fitness - 1
Video Gaming - 1
Skills built: 5
Total number of skill points earned: 6
Total: 11

Asher
Charisma - 1
Comedy - 2
Cooking - 1
Video Gaming - 1
Skills built: 4
Total number of skill points earned: 5
Total: 9

Patricia
Charisma - 1
Comedy - 2
Fitness - 1
Video Gaming - 1
Skills built: 4
Total number of skill points earned: 5
Total: 9

Kason
Comedy - 2
Cooking - 1
Fitness - 1
Mischief - 1
Video Gaming - 1
Skills built: 5
Total number of skill points earned: 6
Total: 11

Denise
Charisma - 1
Comedy - 2
Cooking - 1
Fitness - 1
Video Gaming - 1
Skills built: 5
Total number of skill points earned: 6
Total: 11

And the leading Sim is… Tanvi!
Tanvi: "Oh yeah! BWAHAHAHA!"
Everyone: *disappointed howl*
"Don't worry guys, it's still just the midweek assessment so you still have a chance. You just have to step up your game. And, speaking of second chance, I'll be giving you immediately that. Head out to the activity room and see for yourselves."
Everyone: "We have an activity room?"
"Yes, yes. Go there now."
*POOF*
"Tada! Your midweek challenge is to build carpentry skills! I know you're all excited so let's do this now!" *pause* "Oh, and before I forget, Tanvi will receive a special reward soon. Also, the Sims who got the lowest scores, Asher and Patricia, will be given proper punishment. So, happy carpentry!"

Before they can even complain, autonomy: on. Wahahaha!

A/N: Alright, I'll explain to you why the late reward-punishment awarding. I have had plans for it that I've already mentioned during their Day 1 (which are basically a rip-off from The Doll House), but unfortunately, locking mods aren't working for me so I need to scrap all that. It took time, but I finally have some concrete rules laid out so make sure to look forward to the explanation on the next few days. There will be major changes that will hopefully make this edition more exciting. *fingers crossed*

Back to the house, everyone has started (forcefully) to make their Horse Sculpture. Because I know very well that they will just chat even though I lock them all outside (by lock I mean deleting the door lol). Look at them go.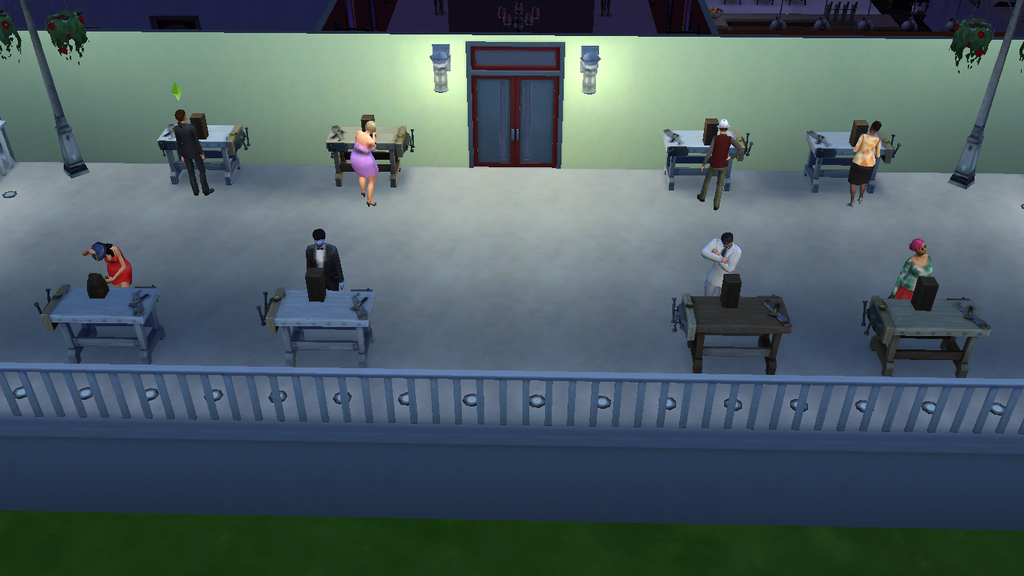 Let's zoom in at them to see their reactions.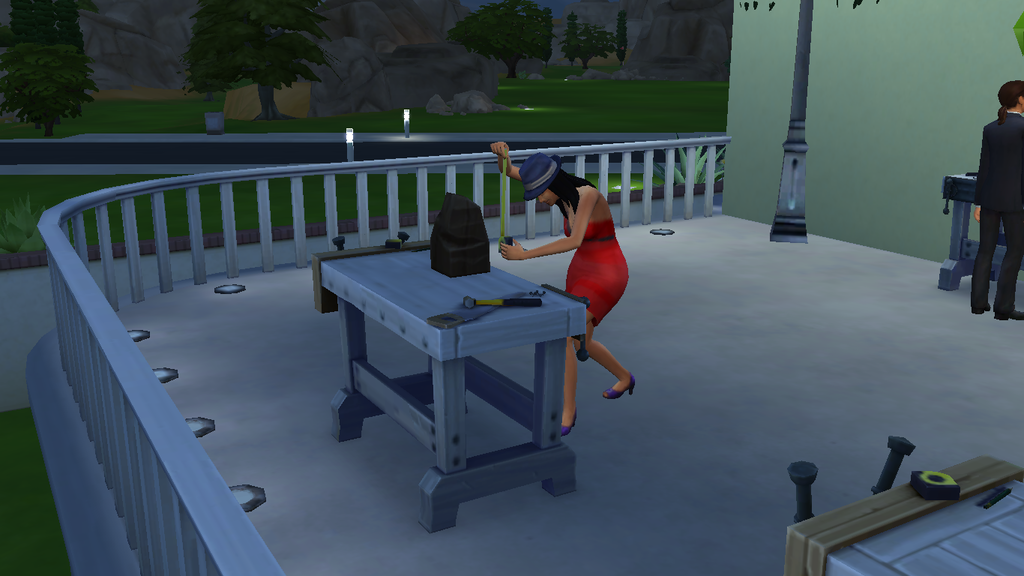 Tanvi the genius (and the midweek winner) is already measuring her sculpture.
Tanvi: "The head of the horse is going to be 5.2'' in diameter… and…"
Okay I don't want to hear the rest. Numbers make me dizzy.




The wood isn't going to build itself Bob.
Bob: "Turn into a horse!"
And you're not a magician, though you look like one with that suit on.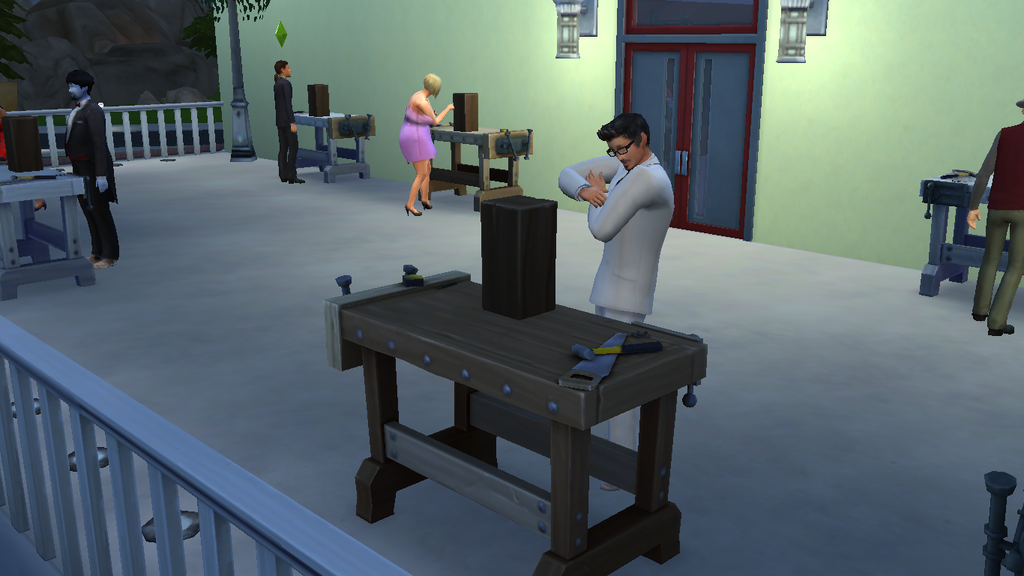 Looks like Kason is pretty confident.
Kason: "I'm going to make you as bulky as I am, with six-pack abs."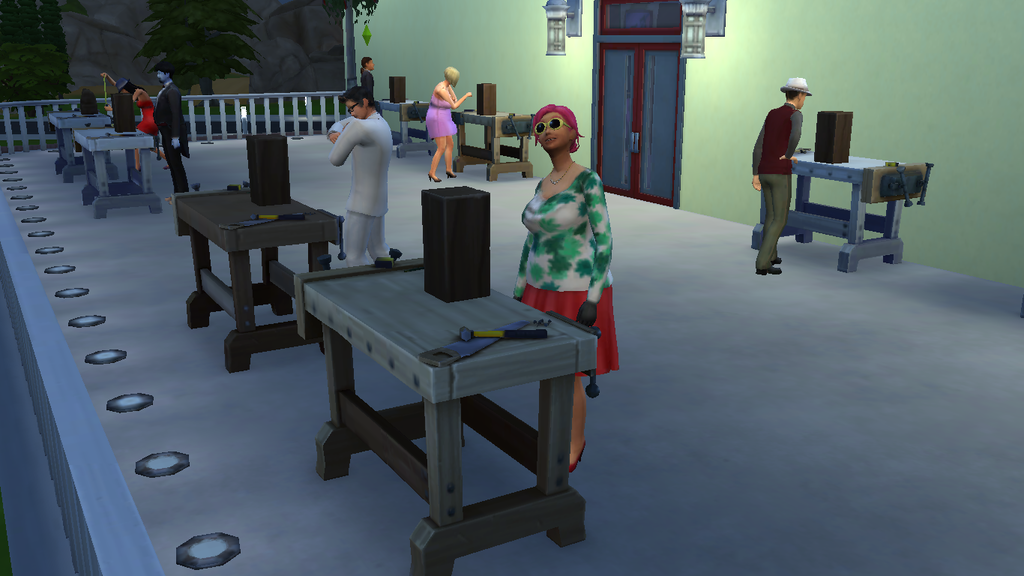 It seems like Denise has some good imagination going on for the chopped wood.
Denise: "It sure is dark here, huh?"
Don't wear your sunglasses at night, dear.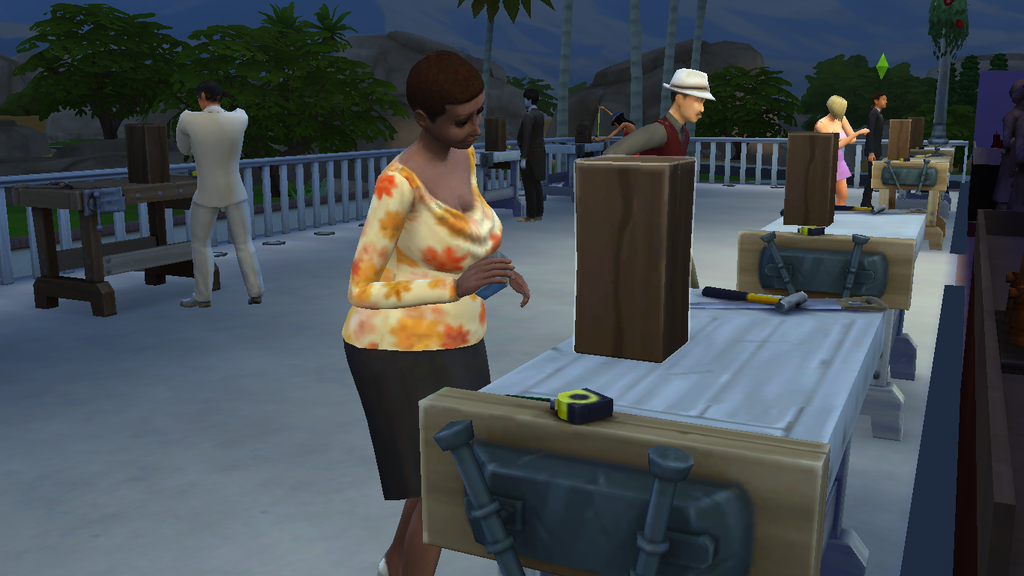 Patricia has started working on her piece.
Patricia: "I like you little piece of wood. We have the same skin tone."




Asher: "This is so much harder than thinking of jokes."
Hahaha! I like your pouty reaction there Asher.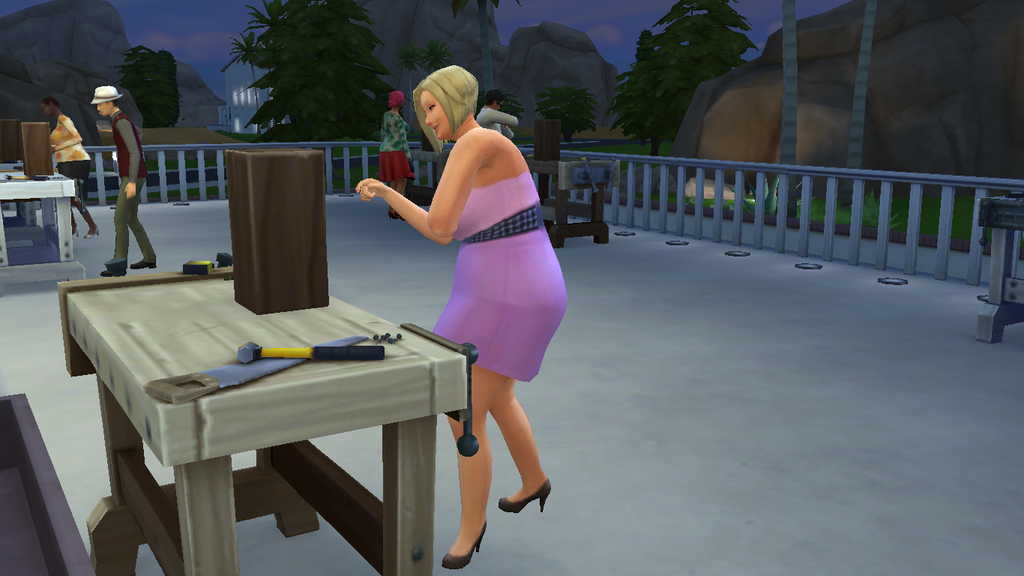 Janette: "I'm going to make you the sexiest horse."
Don't push your dreams into the poor wood sweetie.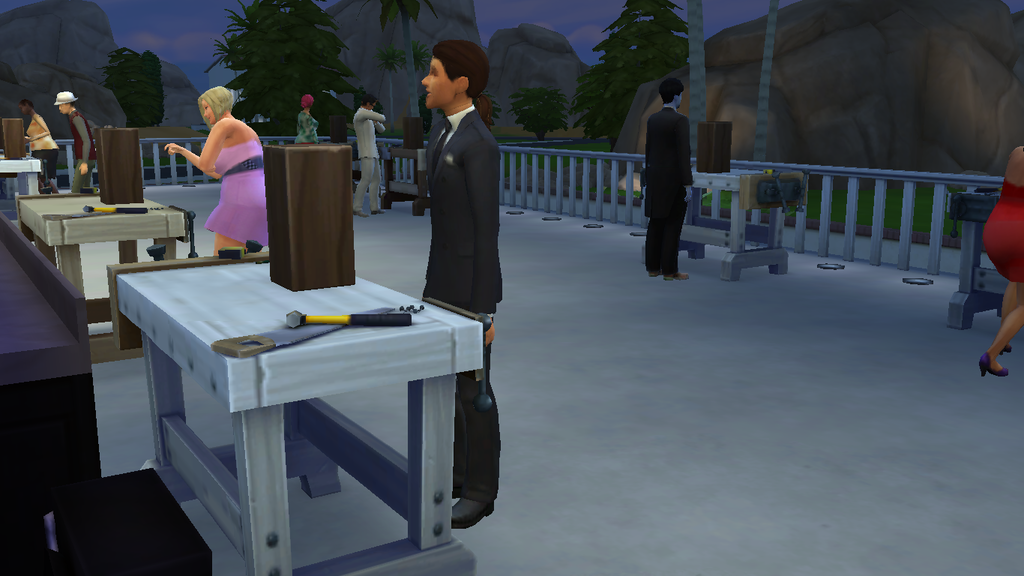 Dorian: *nervous laugh* "Just a little while ago we were sitting in the living room and now we're here outside being forced to carve some sculptures. Not to mention that we didn't even know this area existed in the first place. What is happening?"
Stop thinking and start working Dorian.

I let them be after that, giving them the freedom to stop or whatever. But to my surprise, each one of them finished it. Patricia, being the first, thus, the first to leave the activity area as well.




Tanvi feels more confident than ever after finishing her piece. Plus the recent fact that she's on the lead.
Tanvi: "No. One. Can. Stop. Me. Now."




Bob and Asher were the last two left working.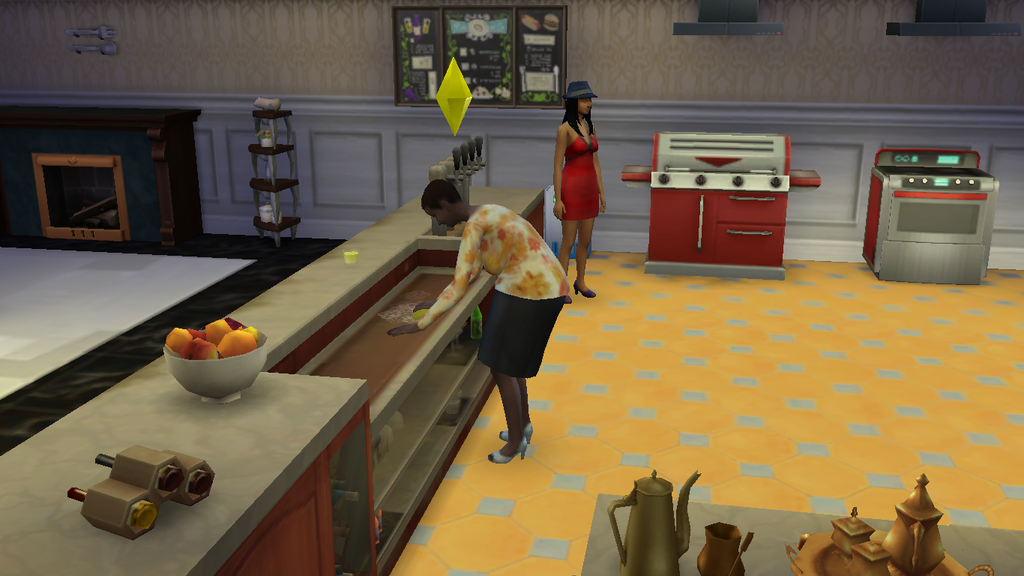 Meanwhile inside, Patricia has started to clean the bar.
Patricia: "I'll vent my frustration by cleaning this dirty bar."
Tanvi: "Yes clean, you loser. BWAHAHAHA!"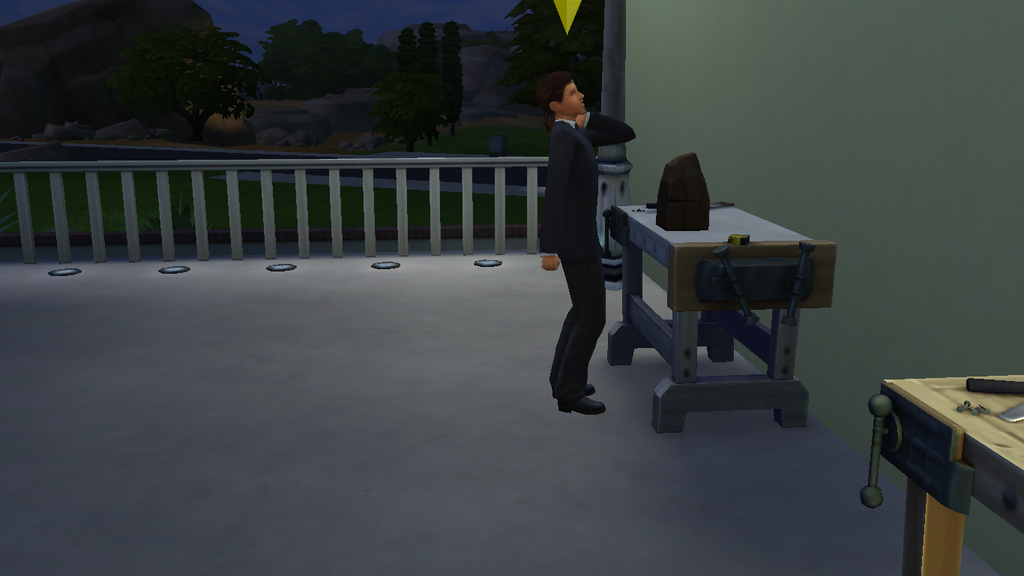 Back to the activity area, Bob has finished his while Dorian still works on his sculpture alone, obviously already stressed out.
Dorian: "Everyone's already finished and I'm still here. Oh my neck hurts."
Blame it to your paranoia dude.

You've all heard of stress-eating and stress-cleaning (with Patricia). But for sure you have never heard of…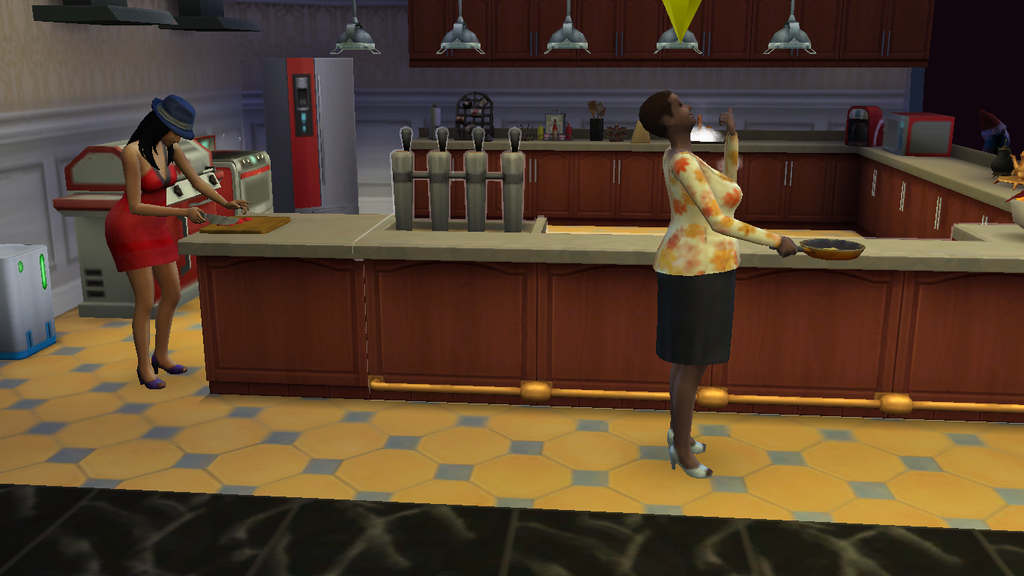 …stress-cooking.
Tanvi: "I won't lose to you."
Patricia isn't competing, Tanvi. The girl is just hungry and stressed.




Patricia quickly went to sleep without eating her prepared meal (probably because eating with her rival is too much for her), leaving Tanvi to eat her victory meal. And she's basking in her own achievement glee.
Tanvi: "Winners deserve this."




Yep, she's certainly proud of herself.
Tanvi: "This couldn't get any better! BWAHAHAHA!"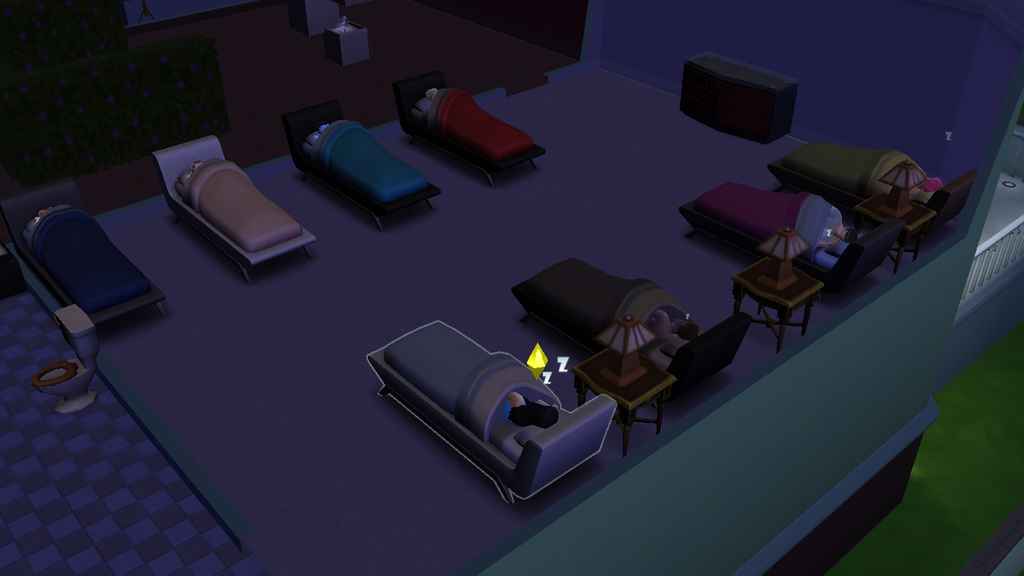 After taking some time of feeling good to herself for her midweek achievement, Tanvi went to bed as well. And with that, Day 4 ends. Will Tanvi continuously win using her evil tactics? Or will someone else get ahead of her? Will anyone have the initiative to start improving their carpentry skills without me, their deity, to push them? Let's all find out tomorrow here at Big Brother Sims 4 Edition. This is Big Brother, signing off.


Whew! A lot has happened there (and by a lot I mean a lot of screenshots). But look forward for more. The next days, Big Bro will laid out his rules for the house (finally). So~ see ya guys!


#30

6th Sep 2018 at 6:05 AM Last edited by Cepheus : 6th Sep 2018 at
11:00 AM
.

Big Brother Sims 4 Edition: Week 1 Day 5
A/N: 5th Day update!
WEEK 1 DAY 5 (MON)

Monday at dawn, Dorian, Denise and Kason were all awakened by the mysterious call of…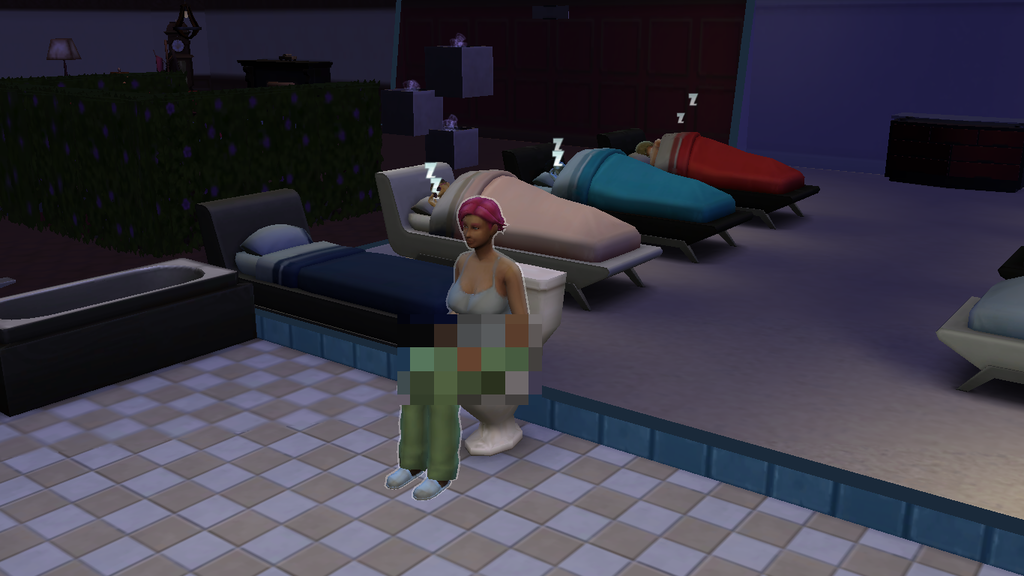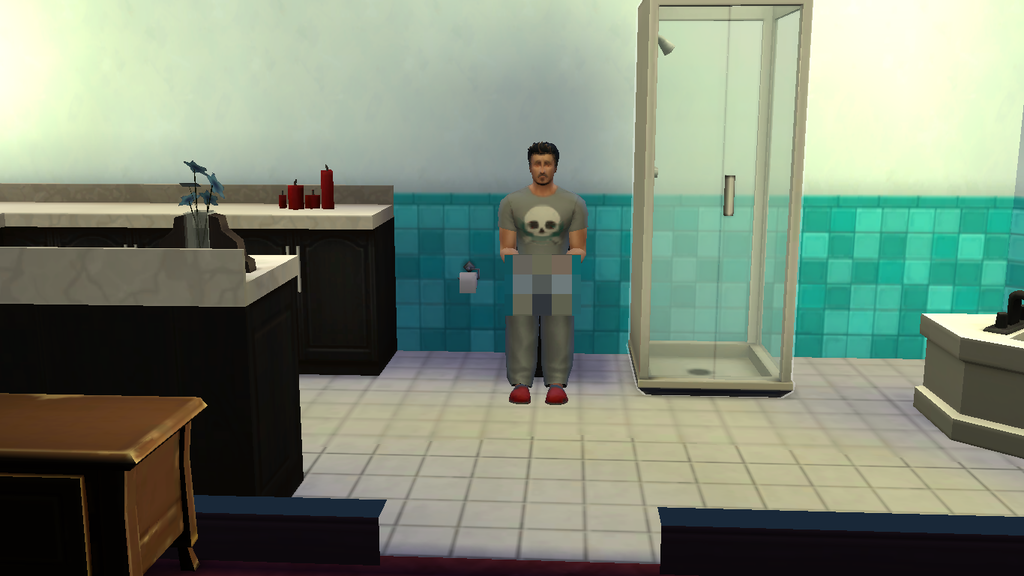 …nature. Since they're all awake, they've decided to loiter around the house.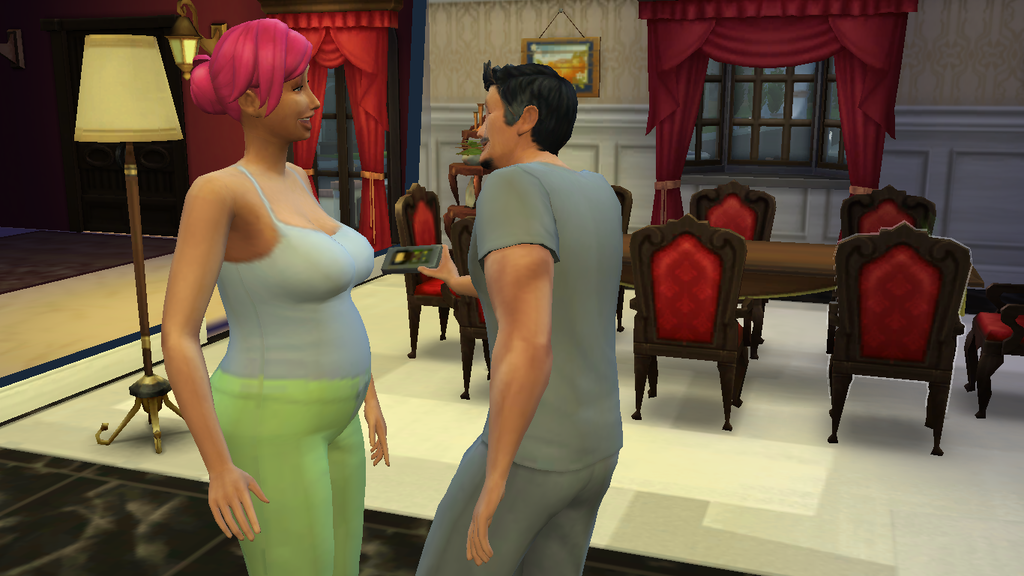 The Napping Duo shares yet another bond by taking a selfie.
Kason: "Let's take a 'woke-up-like-this' selfie nappie."
Denise: "Sounds good nappie."
Can't you think of any other nicknames for your club? Nappie? Seriously?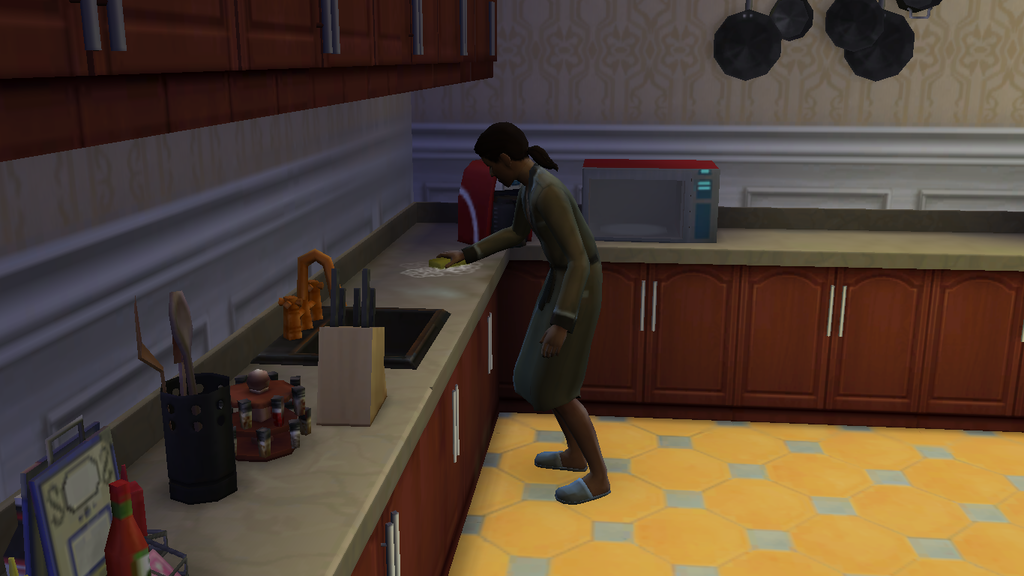 Dorian, on the other hand, has started cleaning the counters.
Dorian: "Maids always get to do this back at home so no one ever told me that this is fun."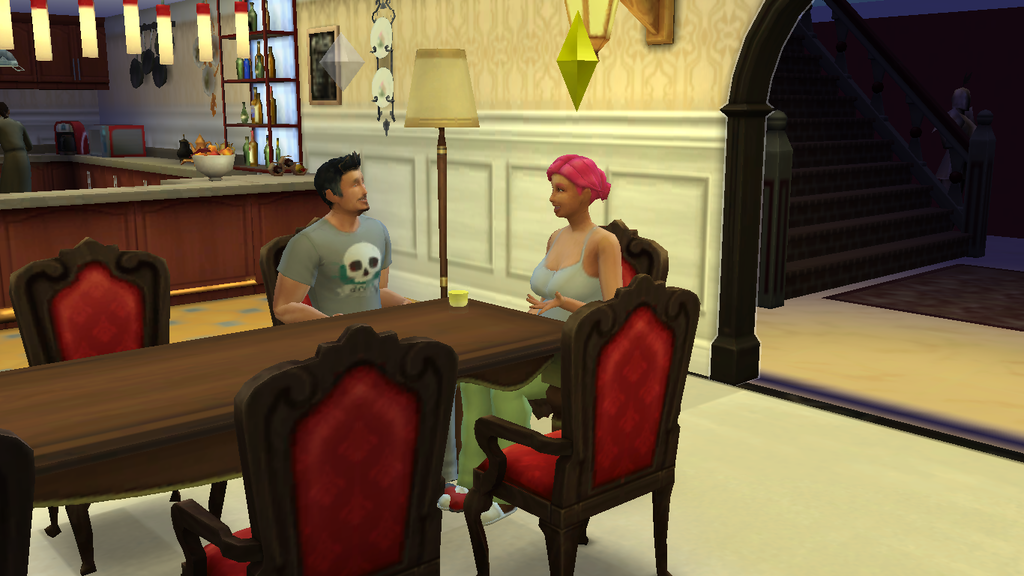 Yet another Nappie bond.
Denise: "Yeah I know you told me that milk is good and all, but I just can't get enough of this lemonade."
Kason: "Lemonades are good as well, but I'm just saying that if you want some real muscle, go for milk."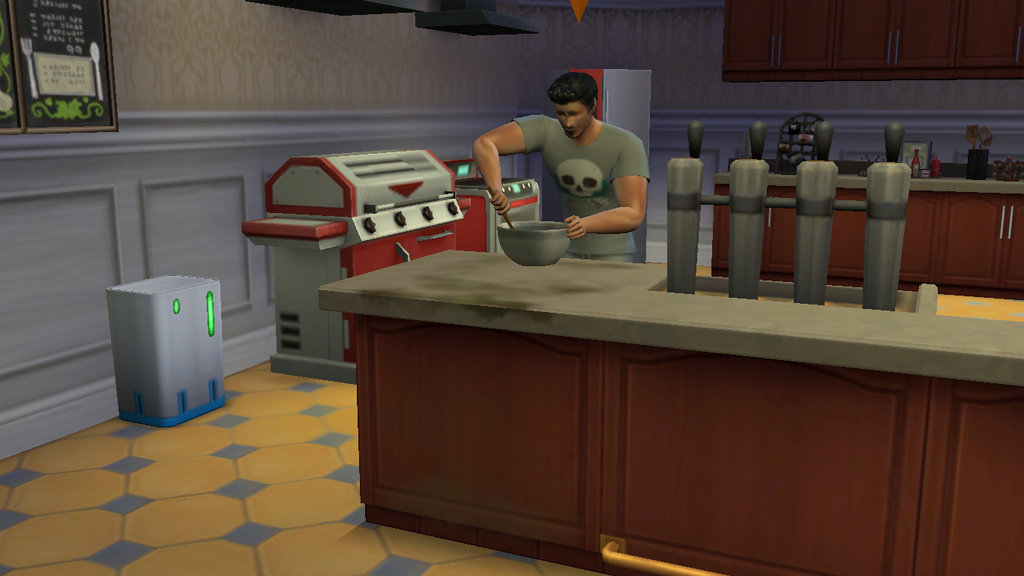 Would you look at that! Kason started cooking again! I think you're really overcoming your lazy trait there buddy! Good for you!
Kason: "Yeah. And I'm pretty hungry as well."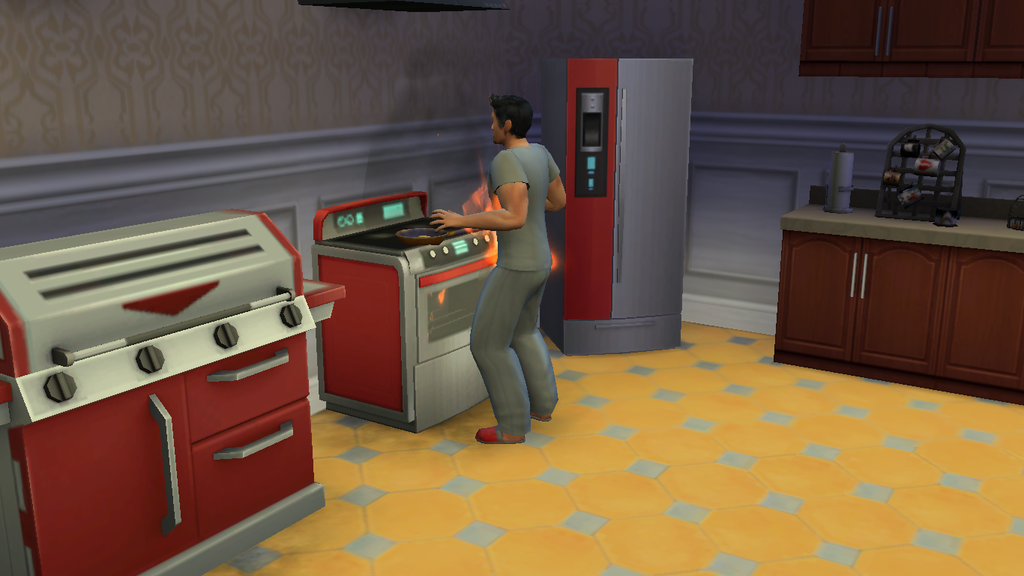 Unfortunately, things got firey for him.
A/N: In behalf of Big Brother, I apologize. I forgot to buy them fire alarms and fire sprinklers.

Sorry.


Kason: "Oh no! I'm so hot I'm literally on fire!"
This is not the time for narcissism Kason. Worry about your life.




And when do heroes emerge? Yes, during time of crisis. Behold as Dorian takes a step into the heroic world. A round of applause please! And look at Denise panicking for her nappie's life.
Kason: "HEEELP!!!"
Dorian: "I'll fire extinguish you Kason!"
Denise: "Oh my god! Kason you're on fire!"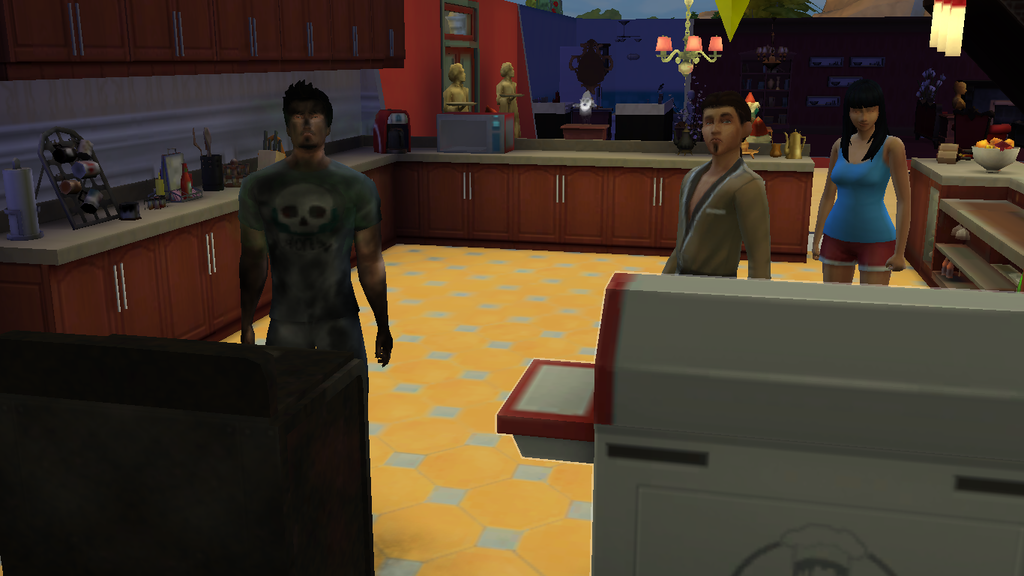 Luckily, Dorian was able to put out the fire. Just look at his confident smug. And Kason looks like he's thanking the gods that he's still alive. Of course, Tanvi is there to happily witness Kason's misery, though a bit disappointed that he survived.
Kason: "In behalf of all the girls I will bring happiness to, I thank all gods that they didn't let me die. At least not before all the girls have a taste of me."
Dorian: "I don't get to save as much as lives from the firey hell because our house is fireproof. And all I can say is IT FEELS SOOOO GOOOOOD!"
Tanvi: "It was fun to see all those annoying flexing muscles burn. Too bad it didn't end up into ashes. Next time, next time."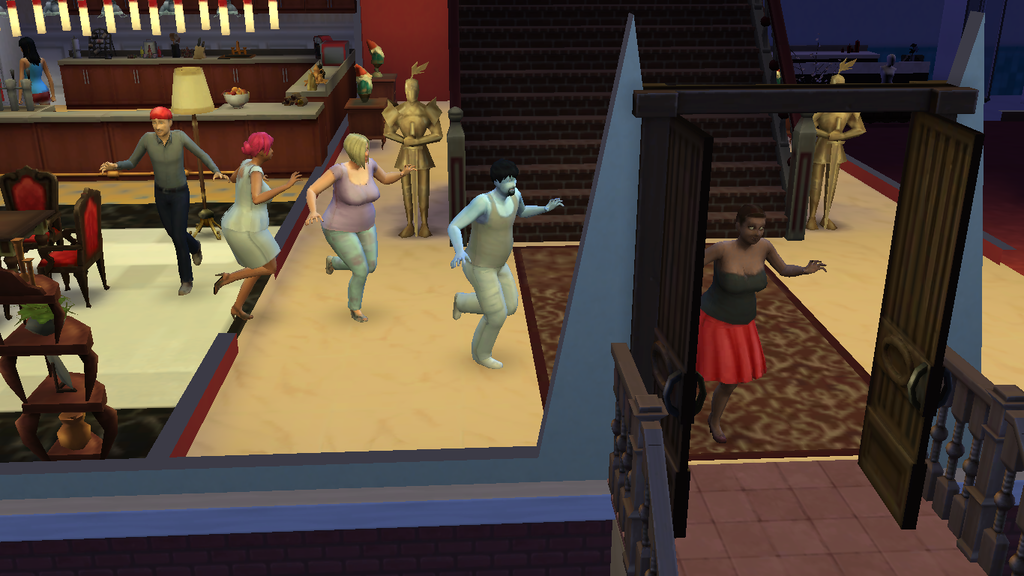 The others however, (including Kason's nappie, Denise) raced outside the house to save their own butts from the hellish ordeal.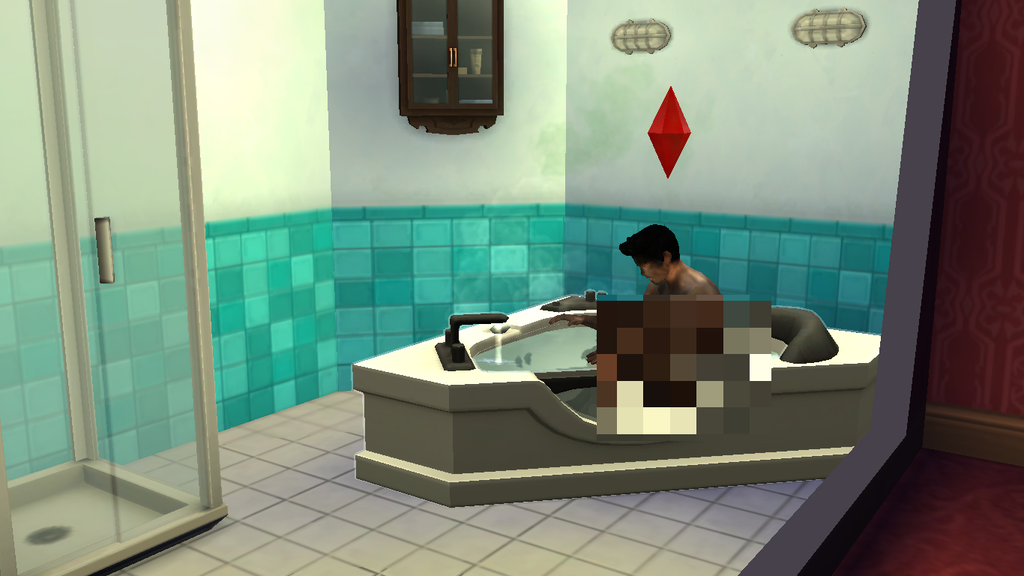 After burning himself, Kason went to take a bath. I thought he was going to enjoy being dirty as he is a slob, but I guess not.
Kason: "Oh no no, not the skin tone."
You racist.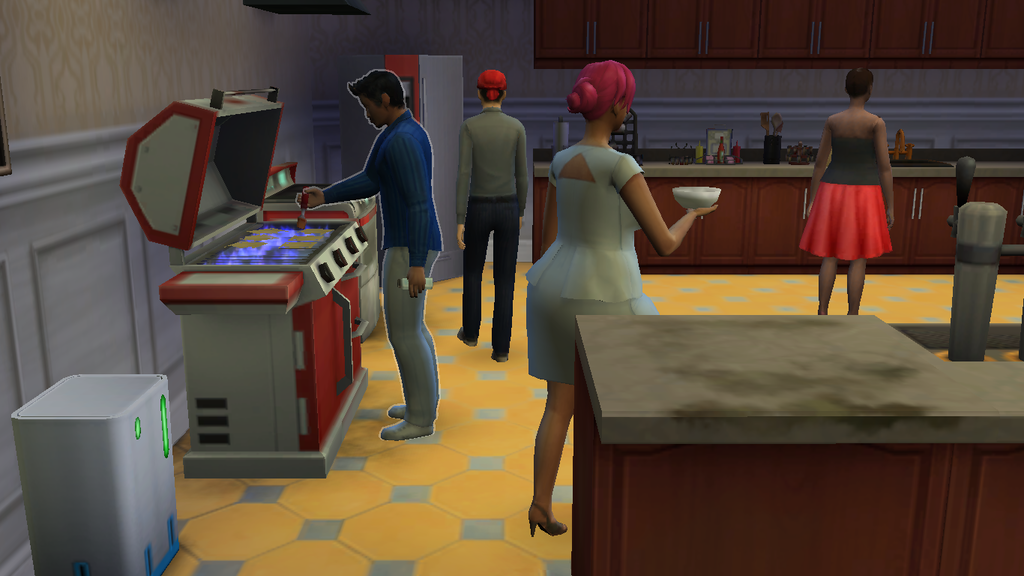 Almost burning into ashes didn't seem to stop Kason from cooking again.
Kason: "I feel safer with the griller."
Denise, Asher & Patricia, all walking out, unamused with his decision.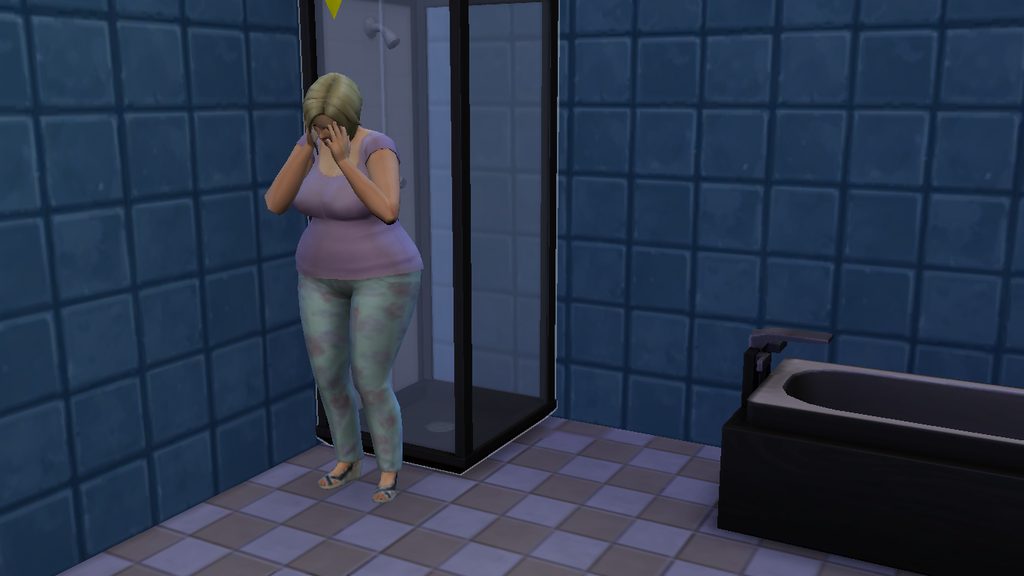 Janette on the other hand can't seem to get her head off the visions of someone burning.
Janette: "His flesh almost melt off his bones. Oh my gods I need to cover my body with a lot of fats as protection!"
I'm sure that's not how it works Janette. Don't stray off of your goals.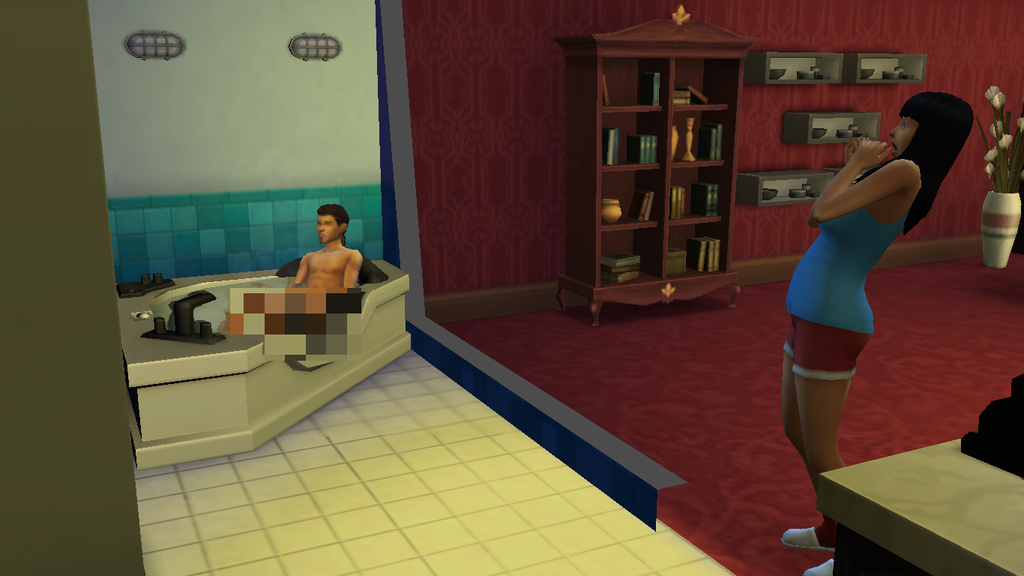 Here's another peeping moments with Dorian and Tanvi.
Tanvi: "Ohmigod! I didn't know you were inside Dorian!"
Dorian: *nodding off*

Not long after that…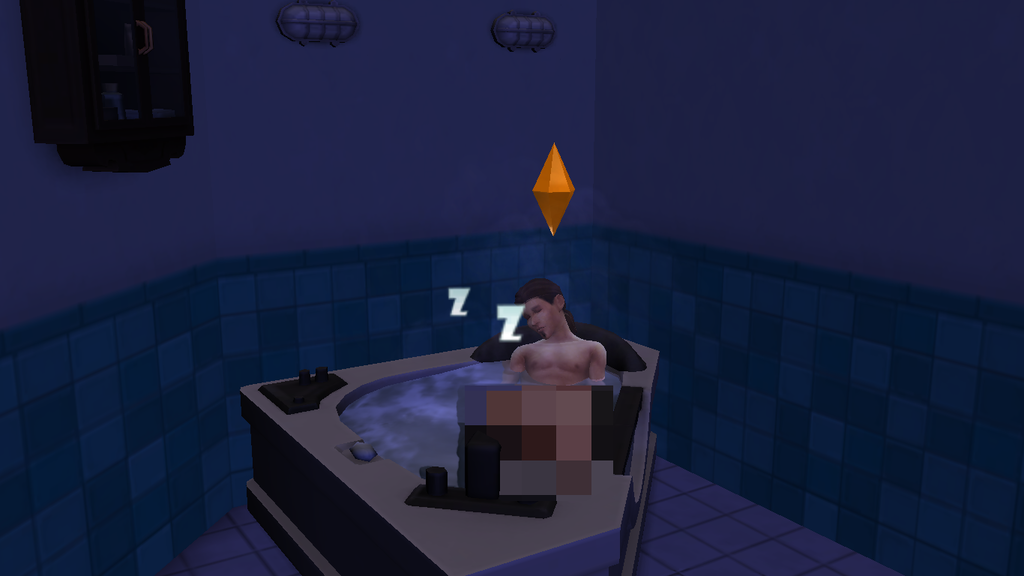 Guess the hero play he did took a toll on him.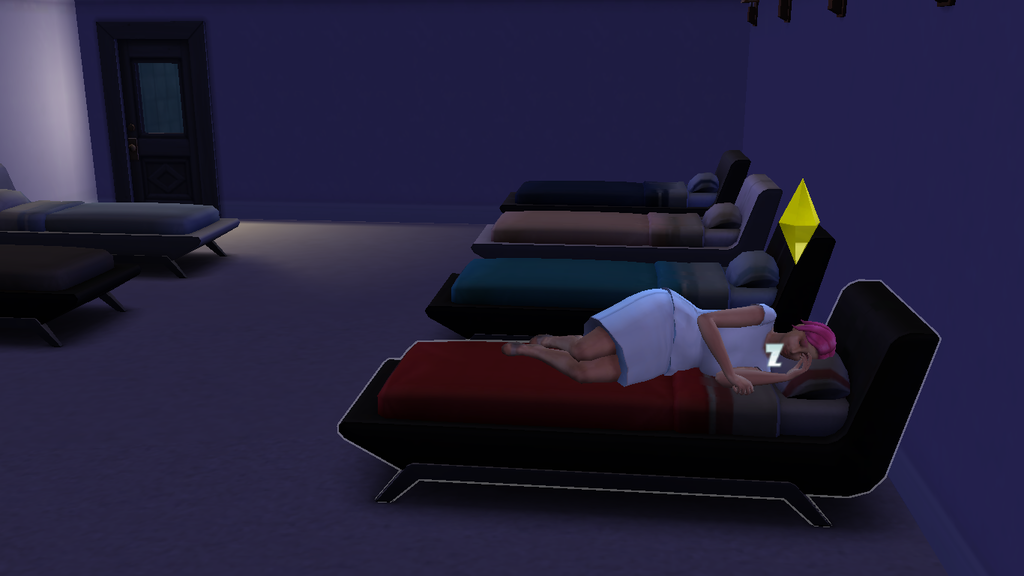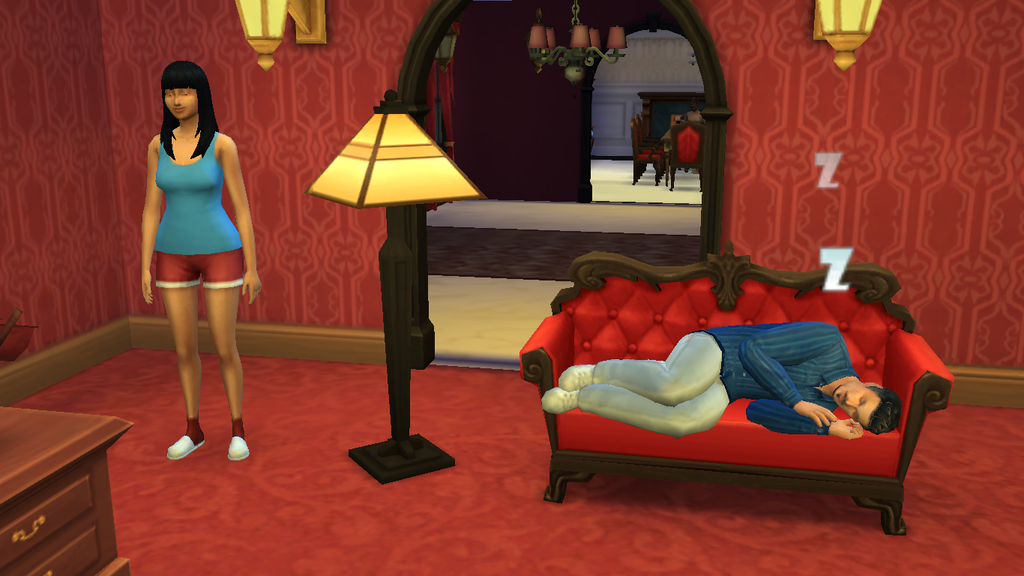 The Napping club, as what their Club suggests, took a nap. While Tanvi, their almost-member watched, as if taunting Kason, her recruiter, that he's not getting her with them.
Tanvi: "Nap is for the weak."
I can swear that you also took a nap some time before, honey.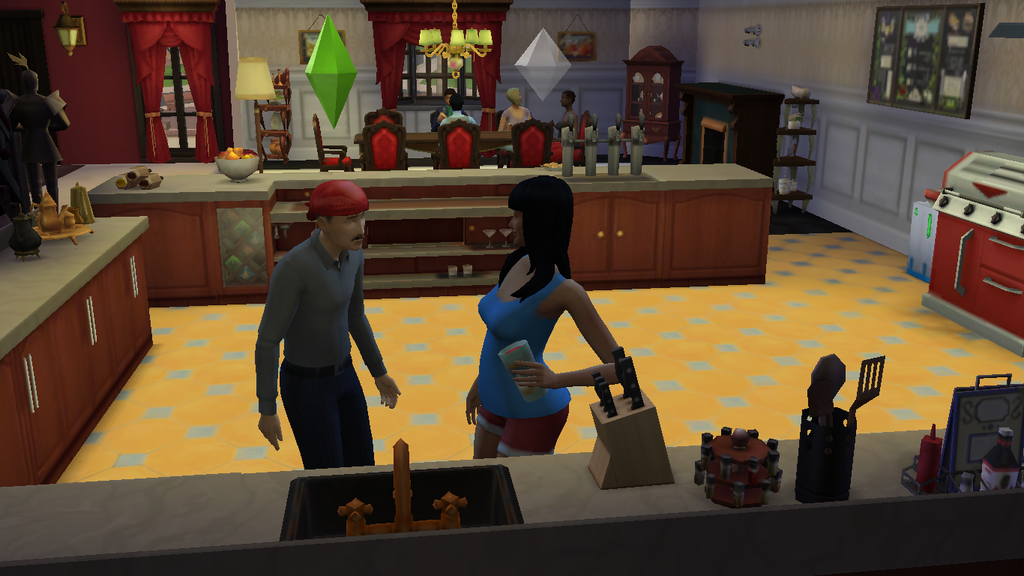 Tanvi: "This is what strong people do."
What did poor Asher ever did to you? *sigh*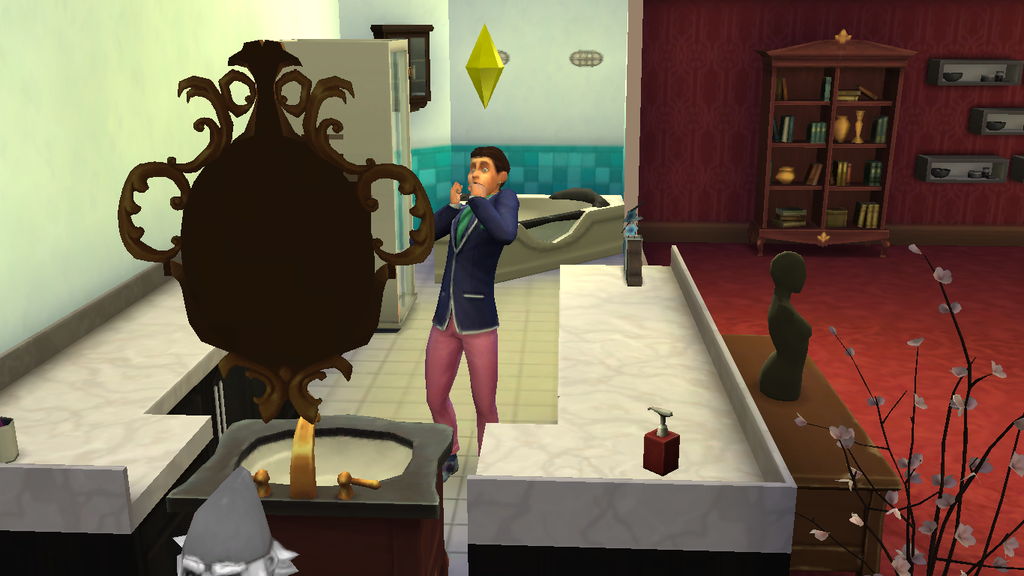 Dorian–being terrified at his own reflection. Was saving someone really that overwhelming?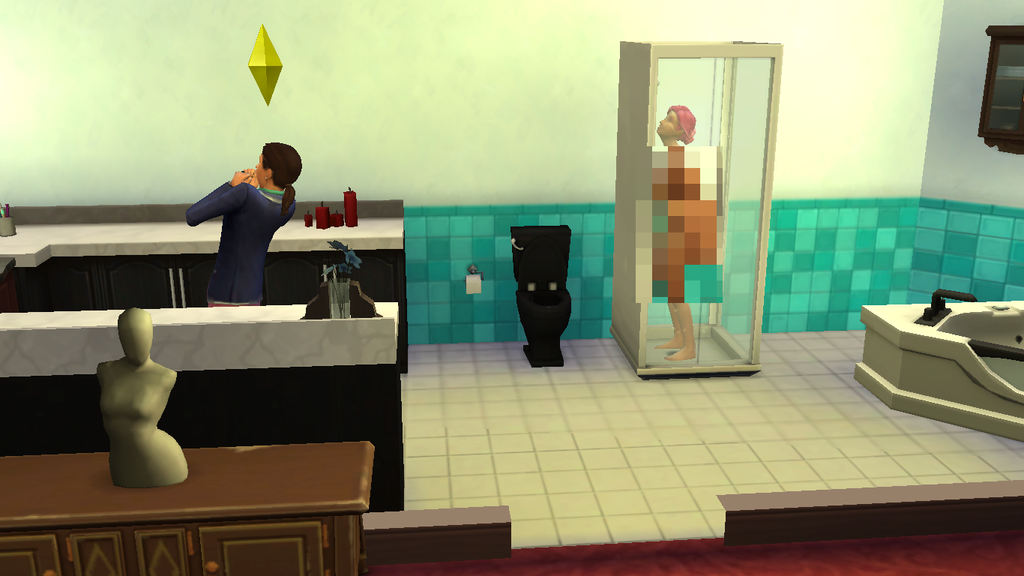 Just kidding. Dorian was terrified to see Denise's naked body.
Dorian: "Ohmigod! I didn't know you were inside Denise!"
Denise seemed to not mind.

Meanwhile, Asher is back with the spread-the-love business.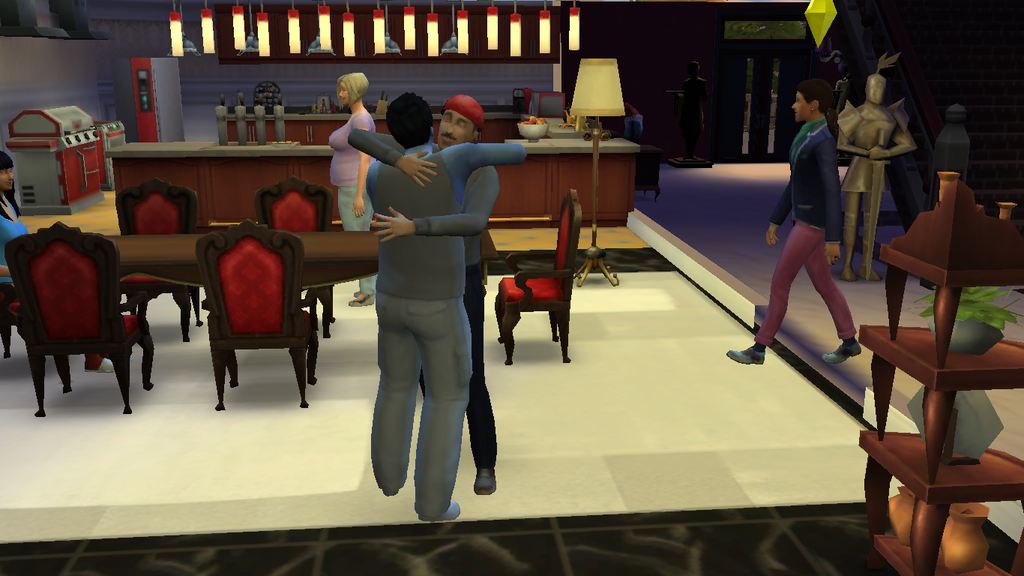 Asher: "Cheer up bud. I know you're going to re-build your fam."
Bob: "Thanks. But my name is Bob, not bud."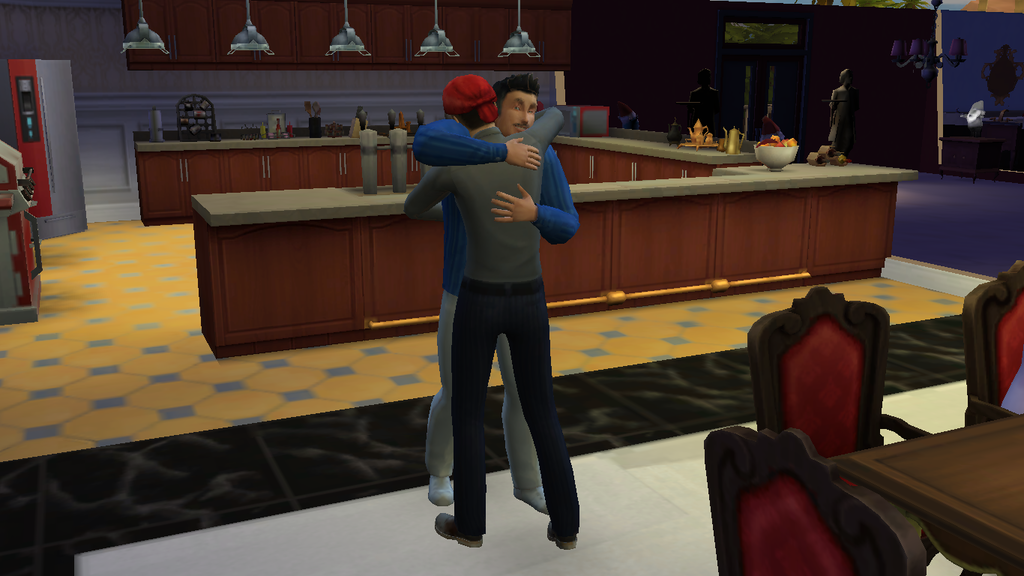 Asher: "I'm so glad you're alive bud."
Kason: "Thanks bud. But I'm reserved for girls."

Here's a sweet (rare) moment.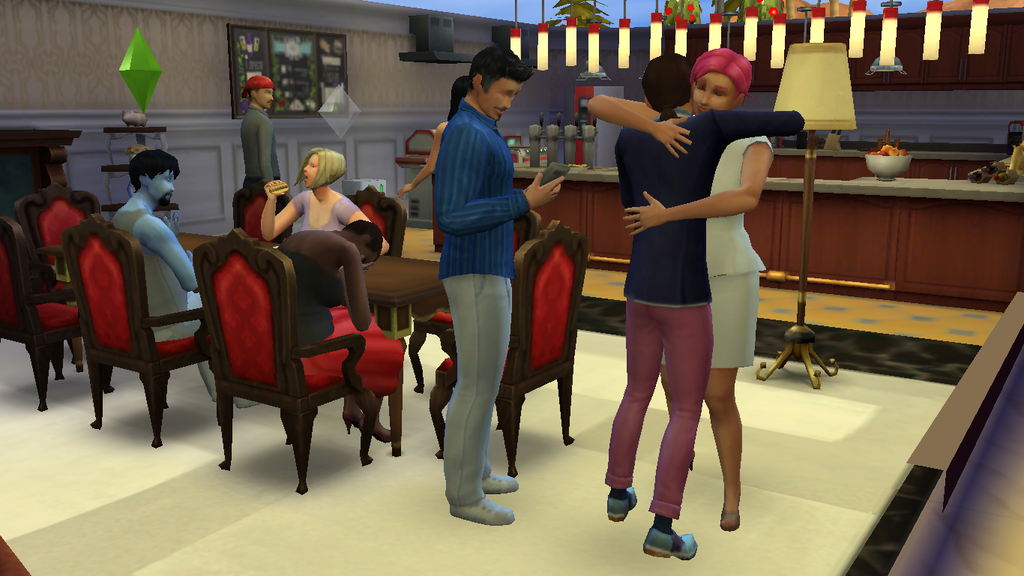 Denise: "Thanks so much for saving my nappie Dorian."
Dorian: "Nah, just doing my job."
Kason: "I'll film you two while doing that."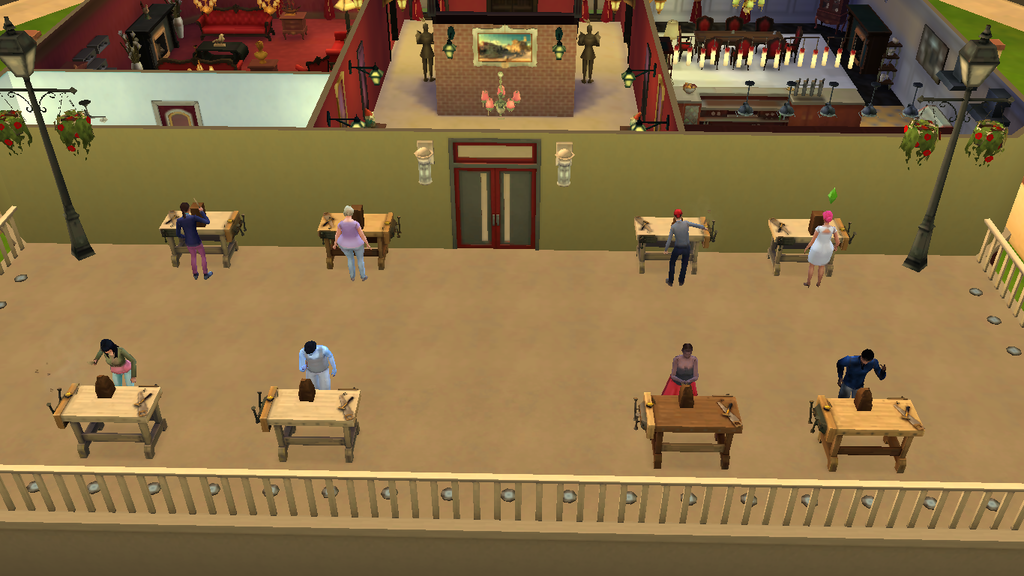 After that, I forced them all to work on their carpentry skills again, while I work on renovating my house for the finalization of my rules.

I know it's been late but here are the rules I will start to enforce starting today.
- Every Thursday will be the introduction of new challenge for the week and the eviction of the loser of the whole week.
- Every Sunday, there's a new set of challenge in addition to the challenge first introduced on Thursday. The midweek winner and loser(s) will also be announced the same day.
- Reward for the midweek: winner will get to stay at the luxurious room, complete with all top-of-the-line furniture. The room even have TV and computer for his/her ultimate fun. Length of stay is from Sunday 8PM until Wednesday 8AM. He/she can build his/her skills (for the challenge) from there during his/her stay.
- Punishment for the midweek: same as the winner, loser(s) will get to stay in another room separate from the others. On the contrary however, the room only contains of cheap furniture. He/she/they will also get to build his skills (for the challenge) there. Length of stay is same as the winner: from Sunday 8PM 'til Wednesday 8AM.
- There will now be an activity time from 10AM to 7PM. All housemates will be forced to work on their skills at 10AM, 1PM and 4PM, regardless of what they are doing, but if they autonomously left after those time, they are free to do so. This includes those inside the reward and punishment rooms. This is to make sure that everybody has a chance to build their skills and it is up to them if they want to continue it or not.

On that note, I have renovated the house in accordance to the new laws (I will tour you again in a bit). I have changed the furniture of the house from the highest quality furniture to just average, to make a point of the reward and punishment room. I have also added the fire sprinkler system and fire alarms 'coz we don't want any of my housemates dying, do we? I also made two new bathrooms in their bedroom, just 'cause I'm feeling generous. So let's take a look at it, shall we?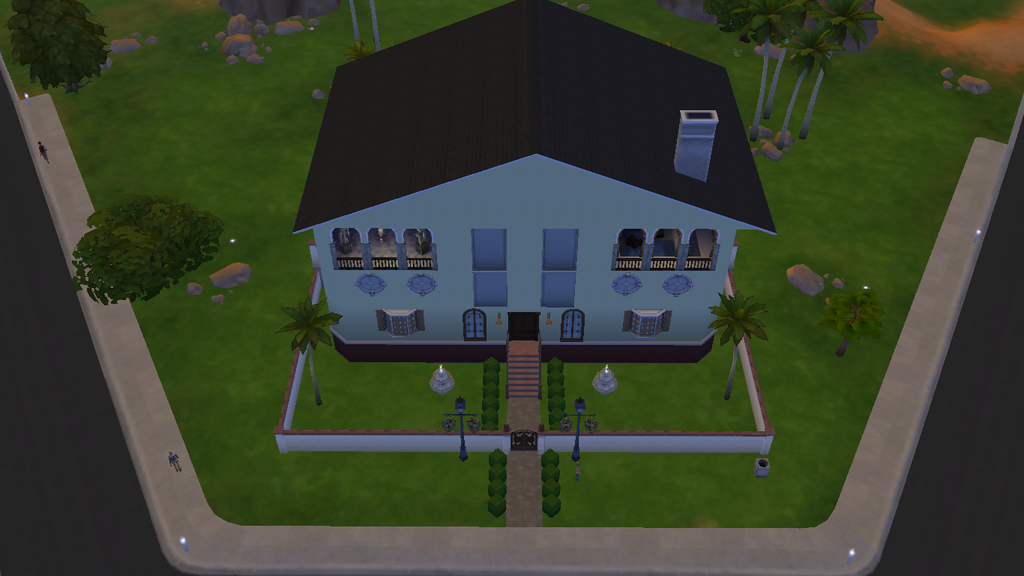 Here's its entirety from outside.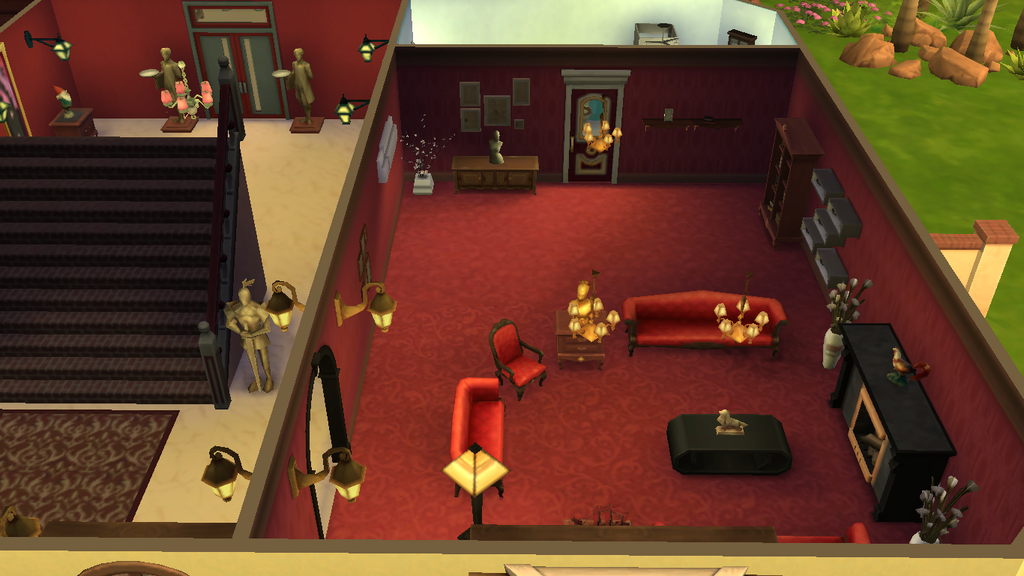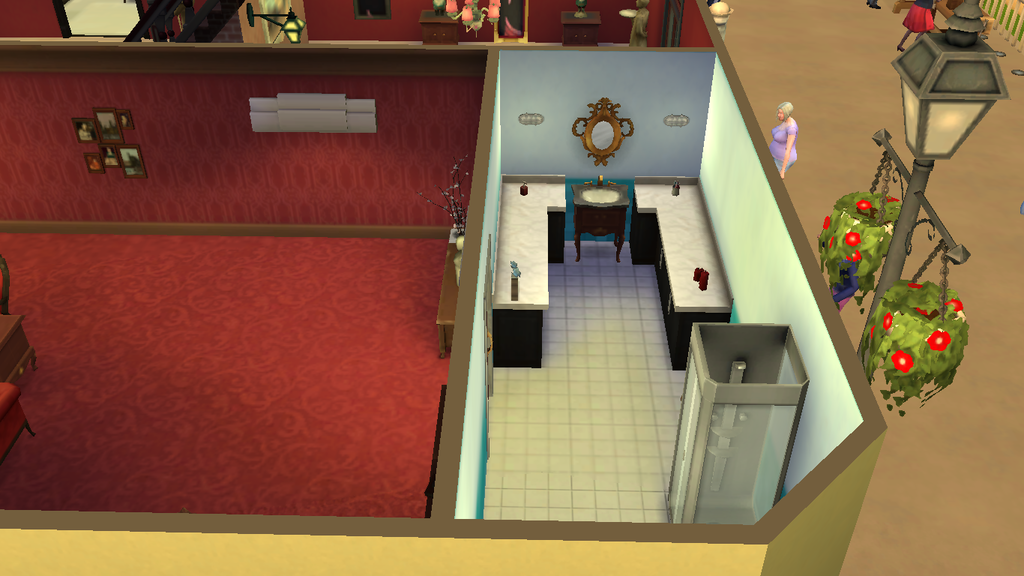 The living room, first floor bathroom, dining and kitchen with the new furniture.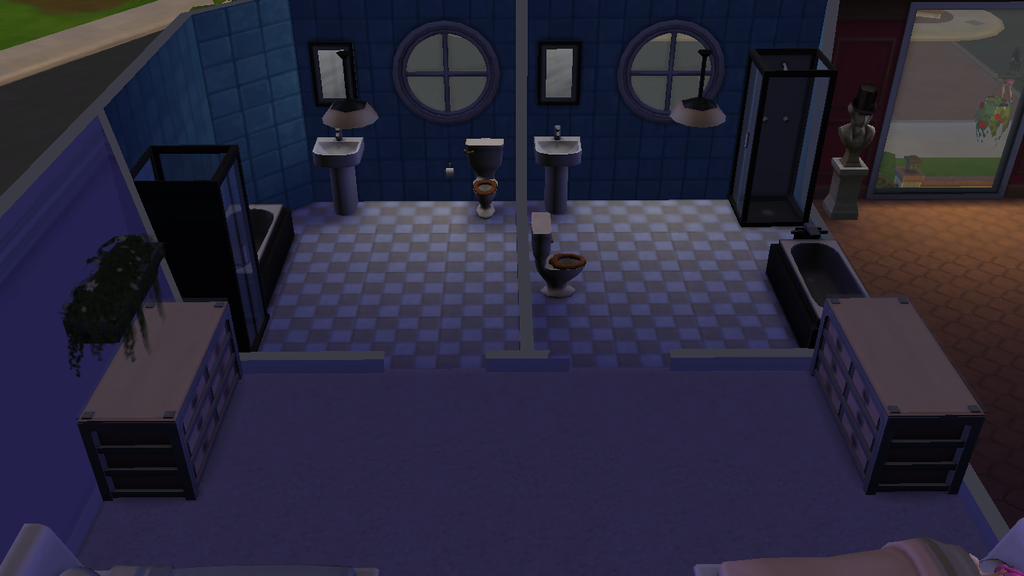 The renovated general room.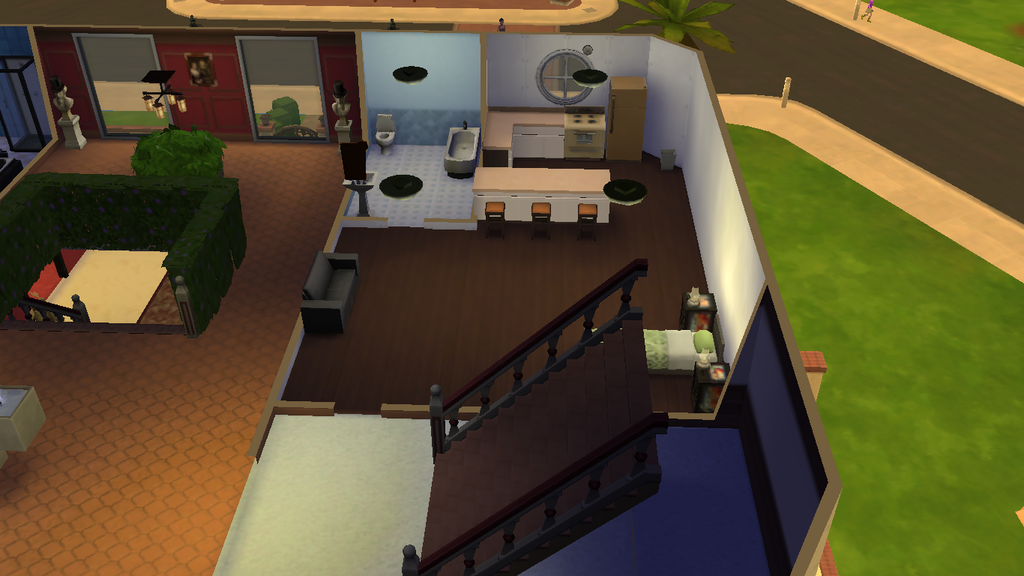 The punishment room.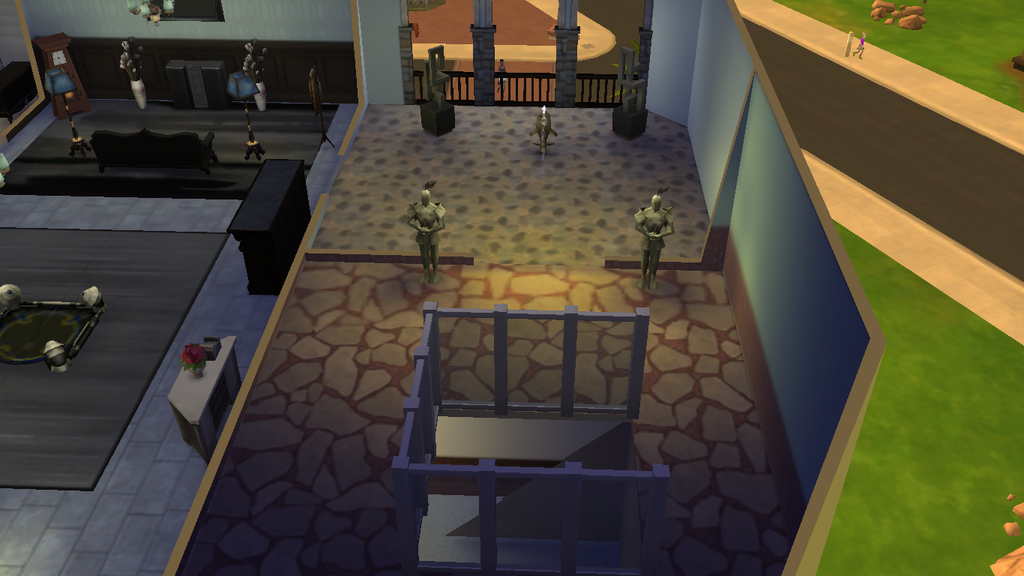 Lastly, the reward room. And I would like to take note of this: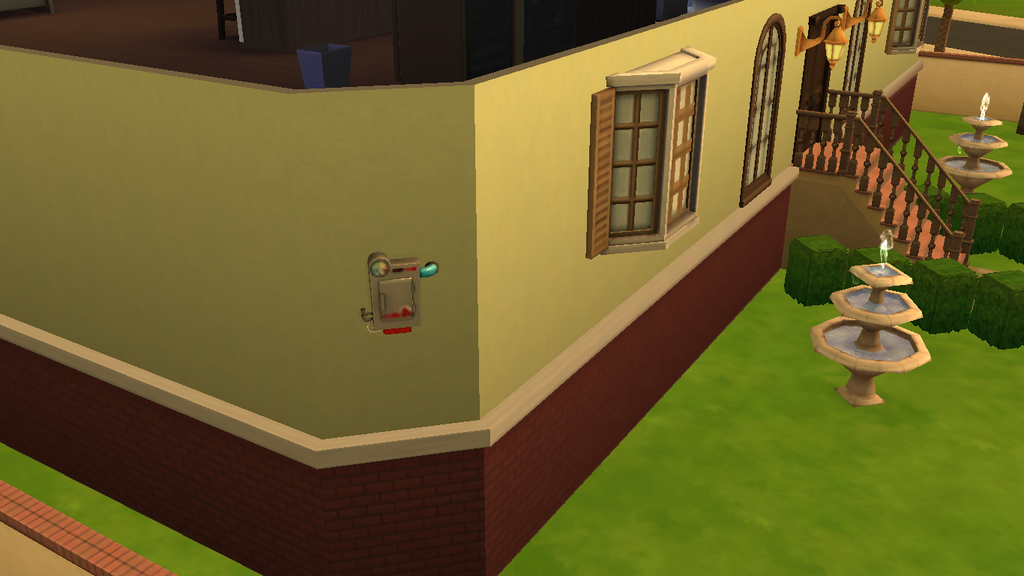 Yep! We're now fireproof! No more burning housemate! *smug*

My house is much better now, huh?
A/N: Lock mods still do not work so I have no choice but do 'locking' the hard way–the deleting the door way.

Anyways, let's go back to the carpenter Sims.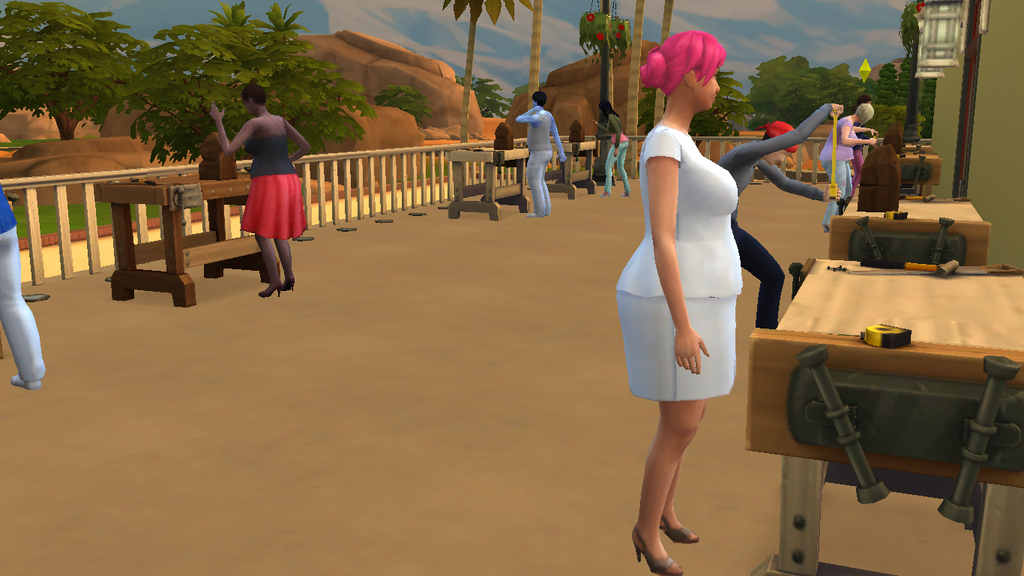 Denise was the one to finish the carpentry works this time.
Denise: "Go Asher!"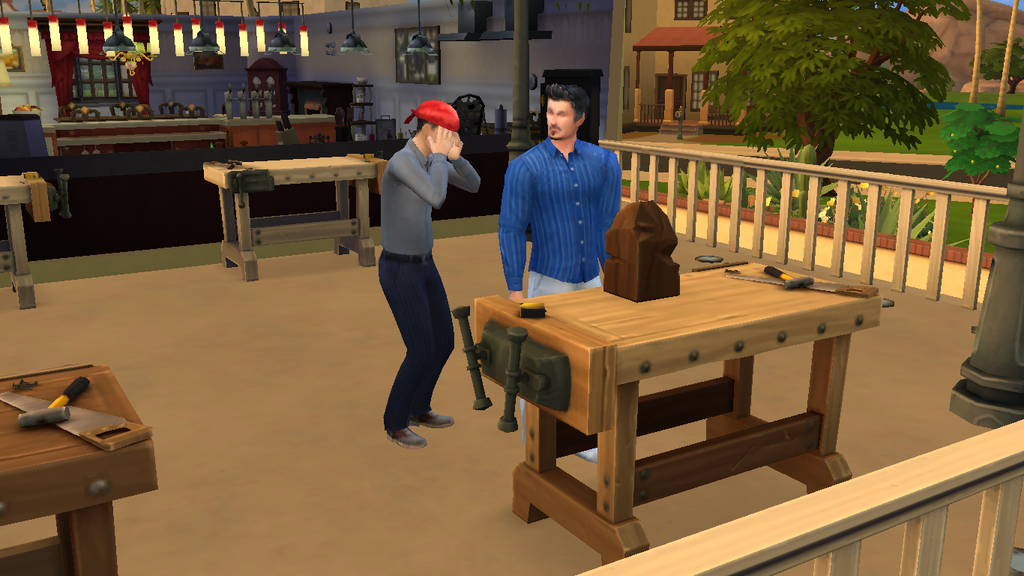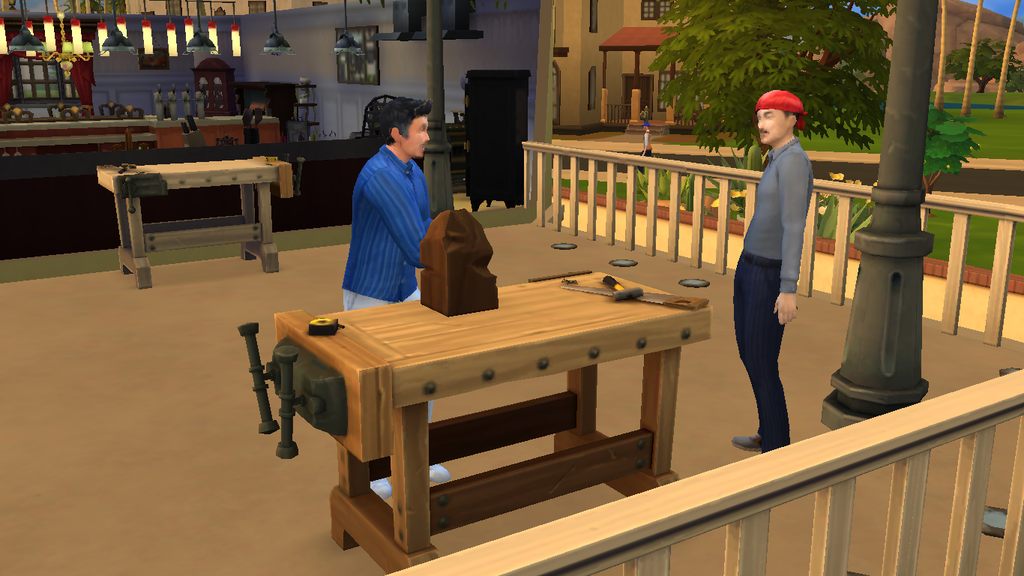 After finishing, Asher seemed to vent to Kason. Kason in return seemed to give some advice to him.
Asher: "I mean, this is much harder than writing joke scripts."
Kason: "Nothing comes easy bro. You just need to be patient until you carve yourself a six-pack."
Are you two even in the same wavelength here? Wait, do you remember the two teams we have mentioned a while back? Asher and Kason were in the same team right? Is this what I think it is? The alliance finally happening?




Yeah, no. It was just random. Janette and Bob were on different teams as well as Bob and Patricia. Hope for team rivalry drama: -1.

Once they were all done with the carpentry, I have the winner and losers for the midweek to go to their respective rooms (I have also moved their carpentry table inside). Here are their reactions.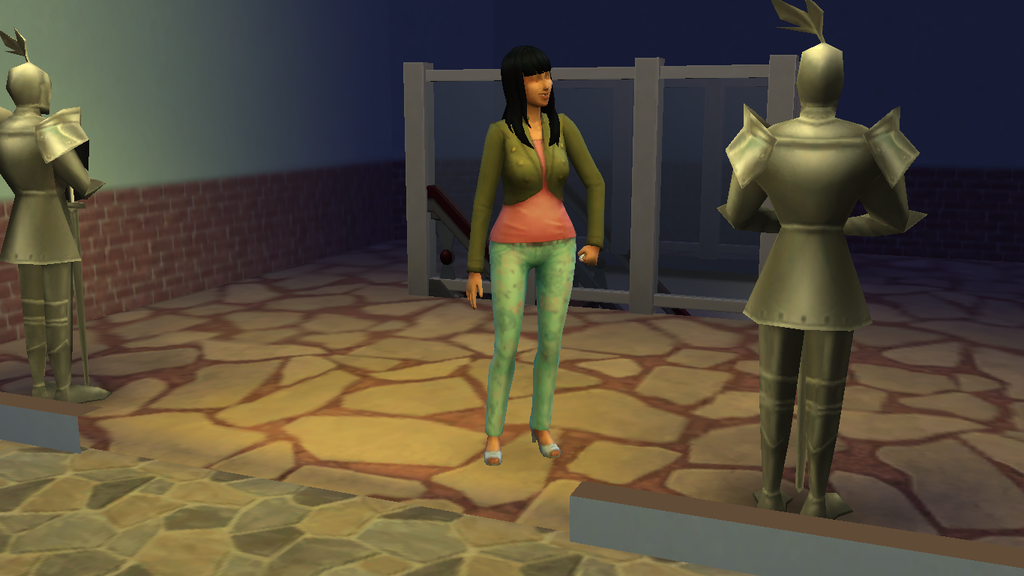 Tanvi: "I AM LOVING THIS!"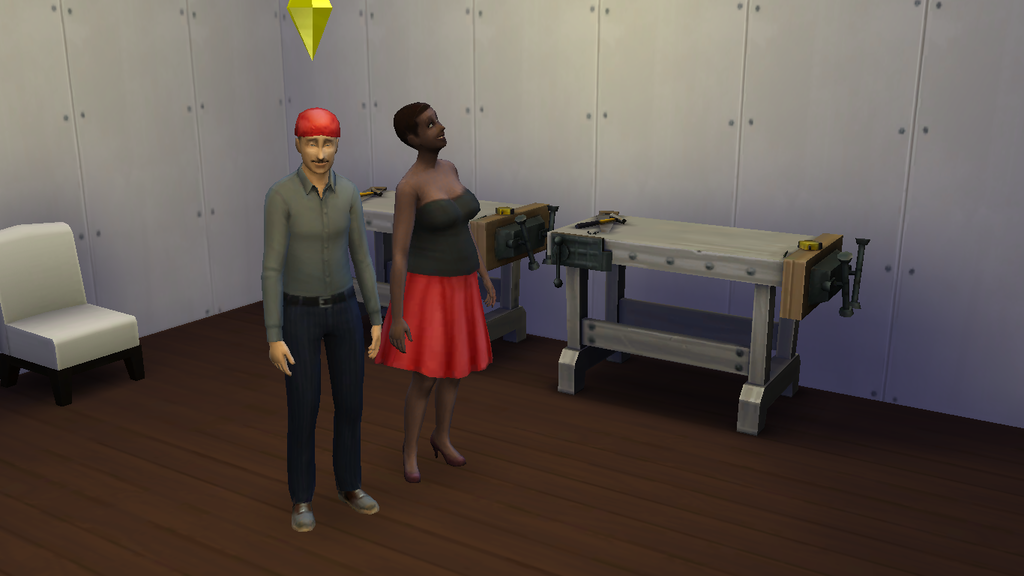 Patricia: "Ooh nice, we got a new room."
You can't be this good, Pat.
Asher: "We are doomed, inside a room."
Your pun Asher is… lame. Well, at least the words rhyme.

The rivals, both napped after entering their rooms. They both napped but just look at the difference.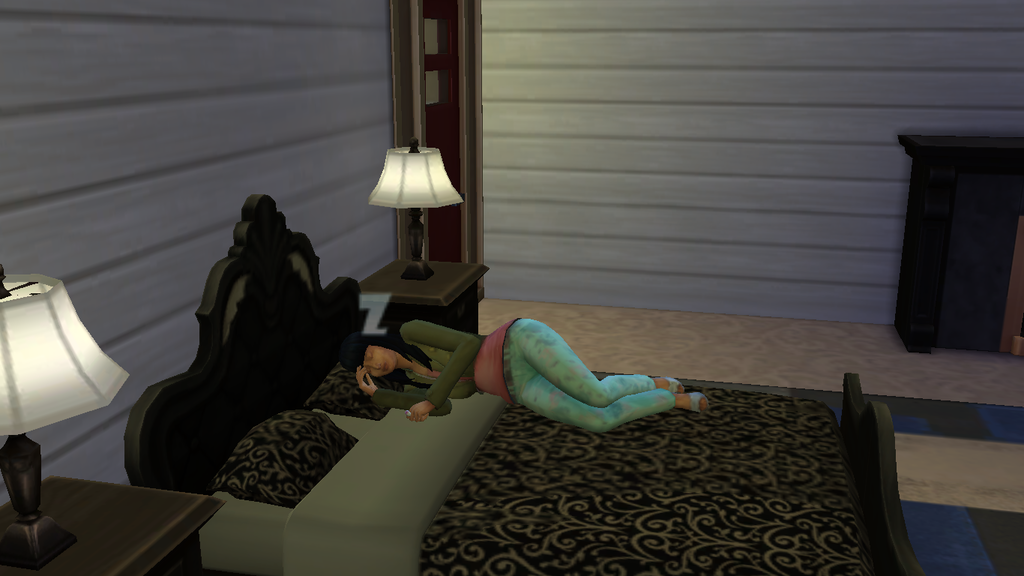 I can almost hear Tanvi's joyful devilish laughter.

Back outside the reward-punishment rooms, Kason has started grilling on the new (average) griller, despite his close encounter with the firey death.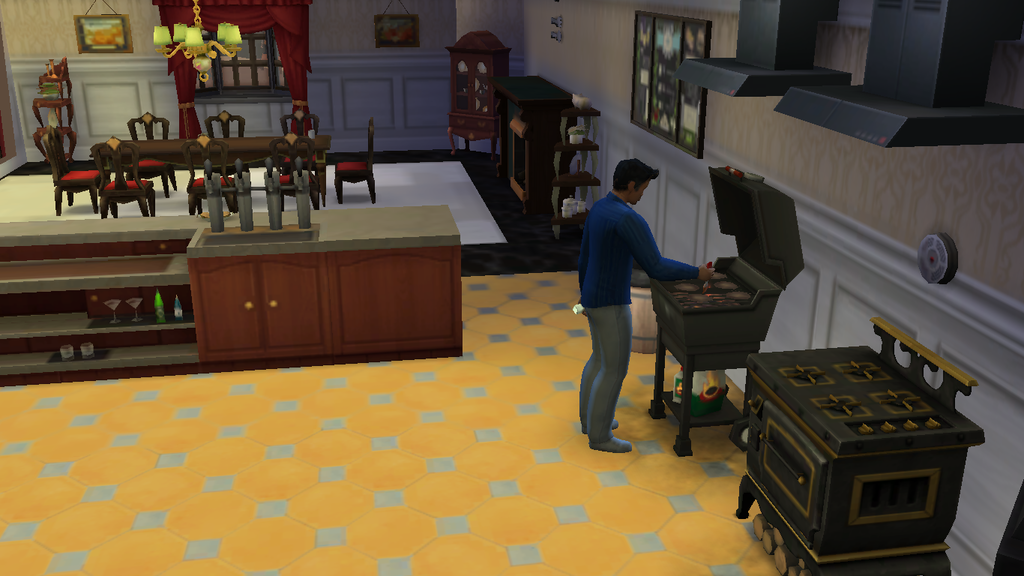 Kason: "No fear of fire can stop a hungry stomach. Besides, we are now fireproof baby!"
That is indeed true. And, you're welcome.

His nappie, started cooking as well.




Denise: "It's safe to cook now guys! Let's all cook!"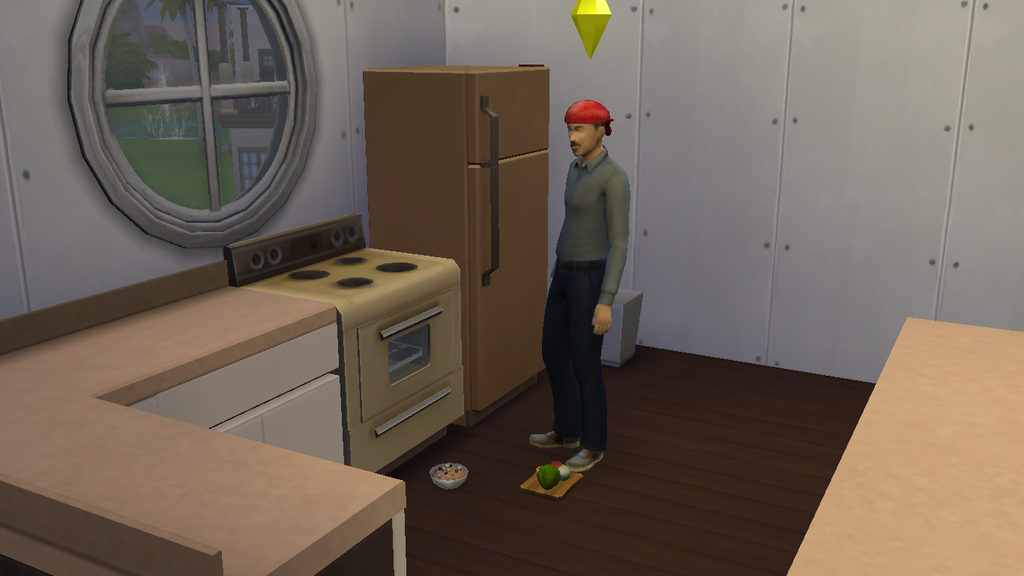 Asher: "I'm in! But how can I go down from this room?"
*sigh* See that? He's refusing to cook 'coz he wants to use the counter downstairs. *sigh* "Don't you get it? You're under house-arrest. *sigh* And Denise would you please quit calling the others who's on the other rooms? *sigh* How can I get you guys to obey? *sigh*
A/N: Really though. How can I get the other Sims to ignore the existence of those other Sims they cannot reach? Is there a mod for it?

But well, the lock doors mod aren't even working for me so… I think I just have to force them to ignore each other. *sigh*




Bob: "I heard Kason's advice to Asher. Might as well use it."




After her comfortable nap, Tanvi started playing on the computer. Guess what she's playing…




Of course none other than SIMS FOREVER. Just like me (and all of us), Tanvi has to release her sadistic tendencies into somewhere else.
Tanvi: "I'm going to kill someone by locking him in a room without any doors. BWAHAHAHA!"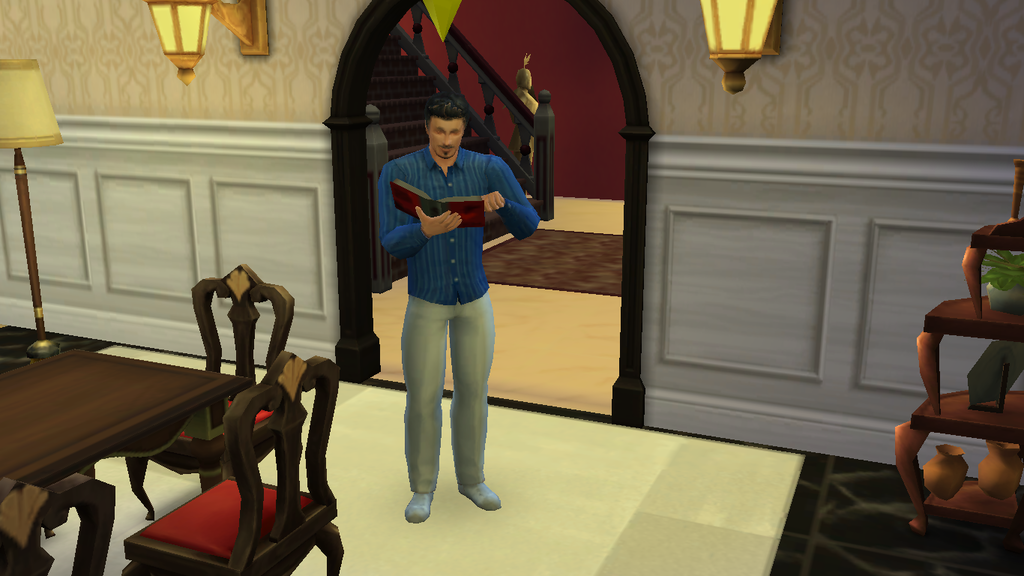 Kason has started reading a book titled: Reel Her In. Fits him so much.
Kason: "Ugh, I know all of these already."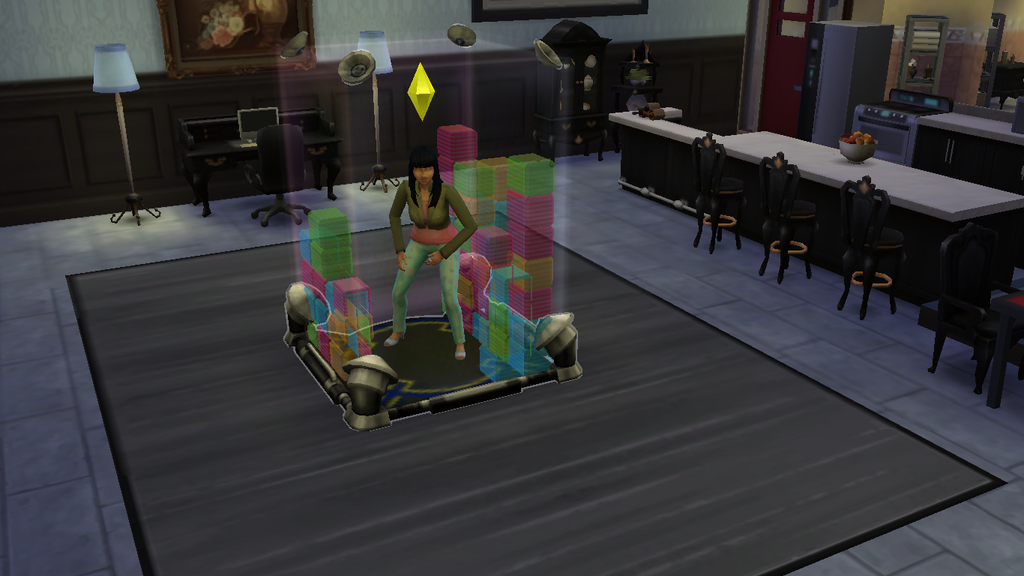 Tanvi sure is making the most out of the reward room.

Let's end the 5th day by emphasizing the difference again of the reward and punishment room.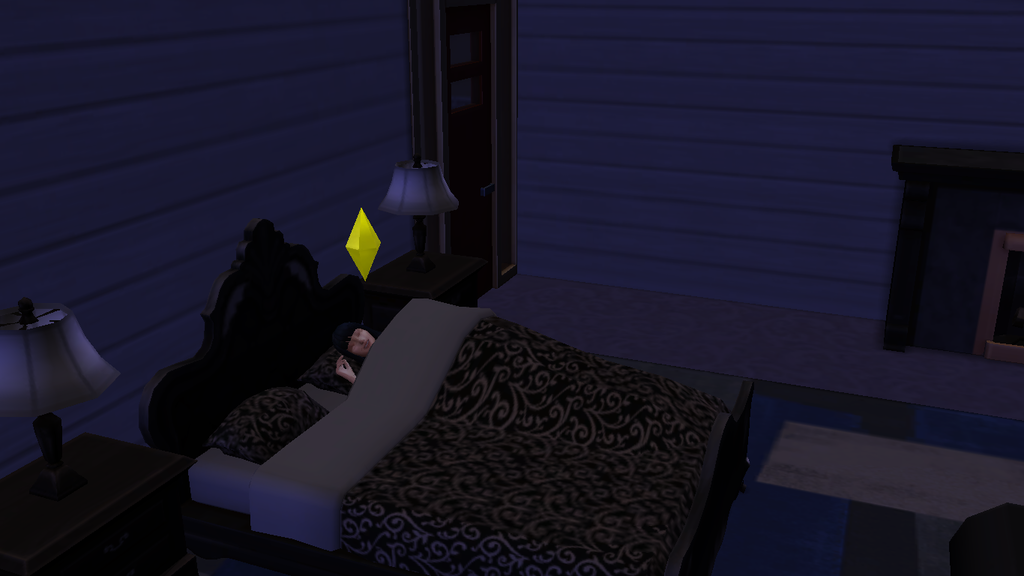 Look how cozy Tanvi's bed is compared to Asher's and Patricia's. Hopefully, this reward and punishment, once spread out to the other housemates from their own experiences will make them motivated to do and excel more at the weekly challenges. Here's Big Brother, hoping for the best, and signing off.

A/N: This day has the most happenings out of all the previous days. There were more sighs from me (and Big Bro) but we're both glad we've finally laid down the rules. For sure those were subject to changes as the weeks go by but at least we now have a foundation to follow. So, see you all guys again! Ja!
#31

8th Sep 2018 at 5:20 AM

Big Brother Sims 4 Edition: Week 1 Day 6
A/N: Update!
WEEK 1 DAY 6 (TUE)


The following day, I let all of them enjoy the warmth of their fireplace (since we're now fireproof). And soon everyone warmed themselves up by it.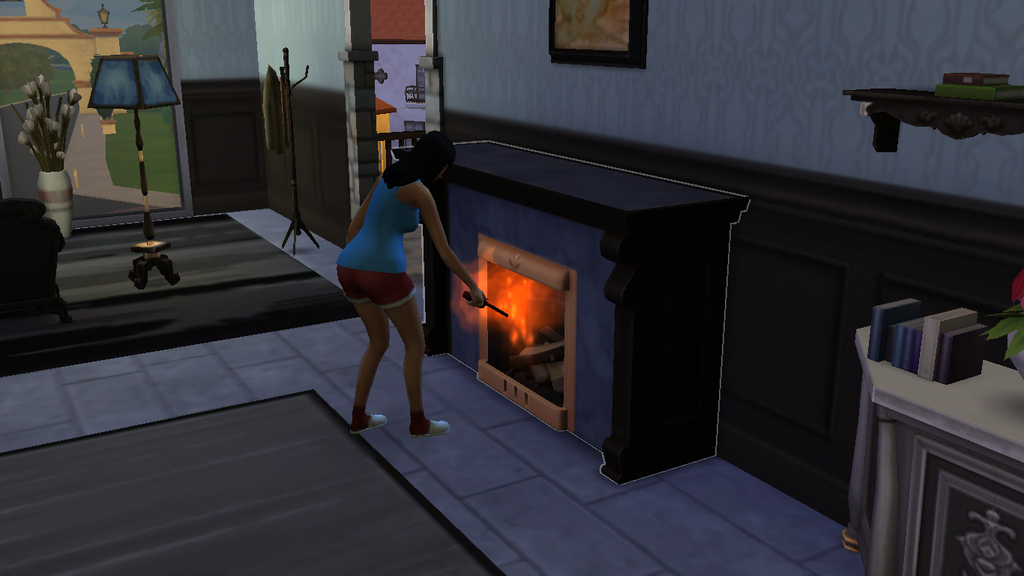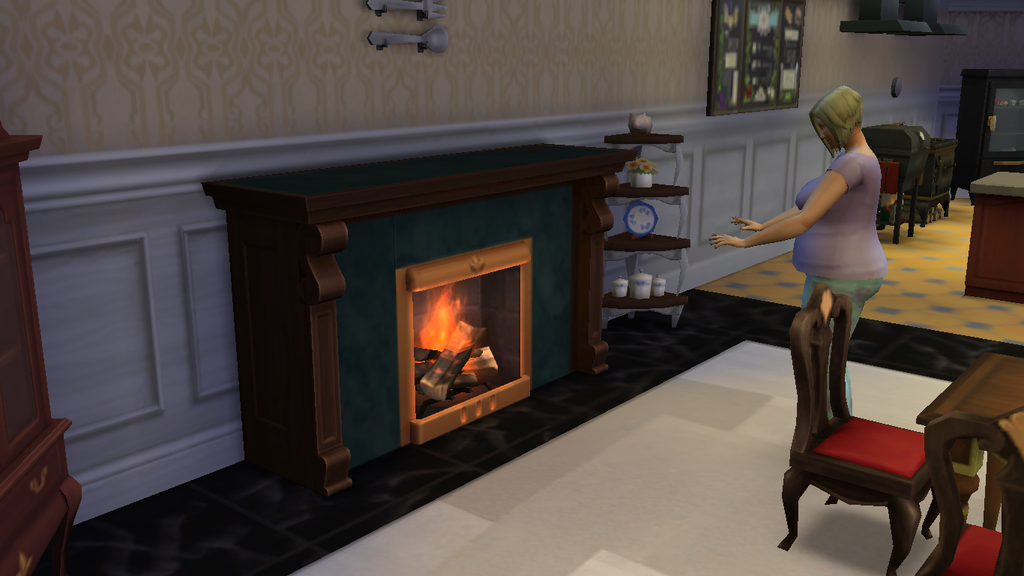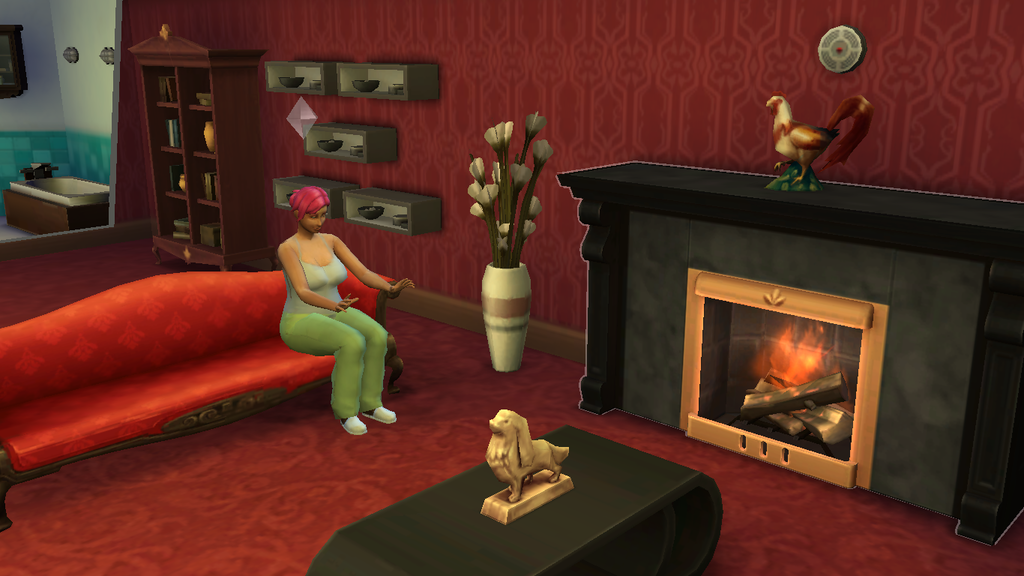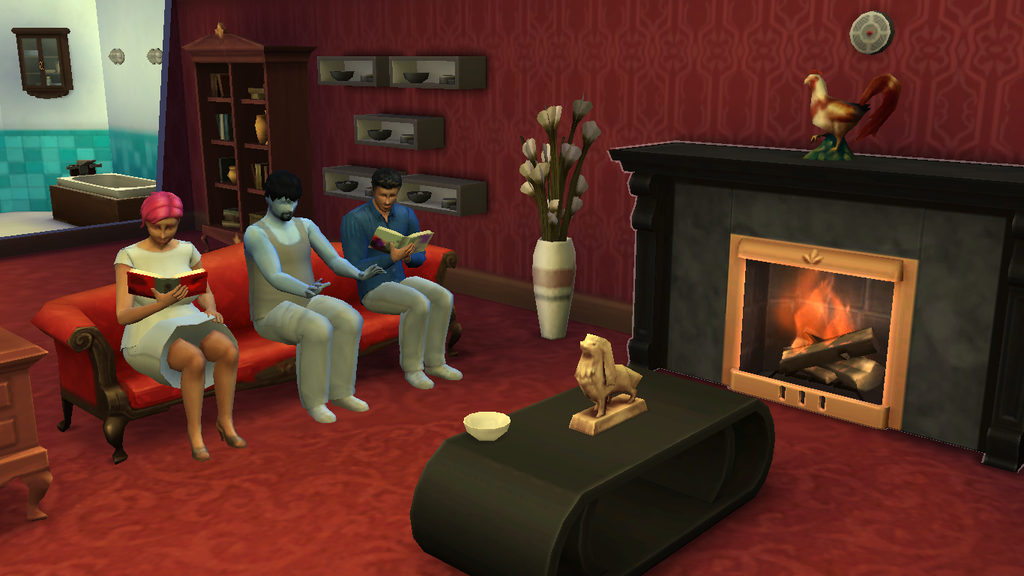 I thought that this day would be a relaxing, comfortable one. Boy how I was wrong.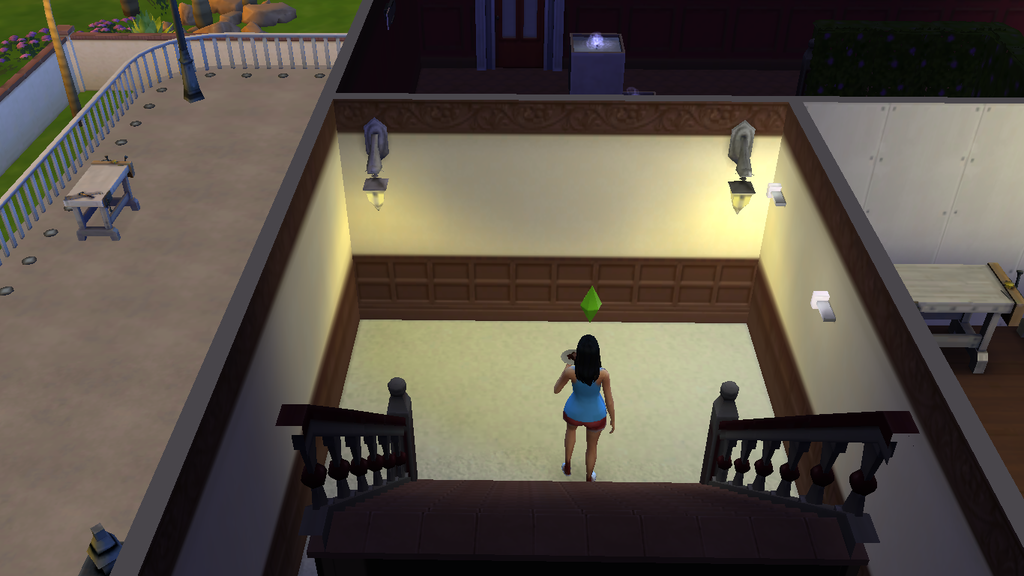 The housemates under house-arrest (inside reward and punishment room) kept on wanting to talk to the others. Look at Tanvi dumbfounded, looking at the wall.
Tanvi: "Wait, wasn't there a door here?"

Everything is fine, I thought, as long as they stay where they are. BUT NO. How they wanted to get out that…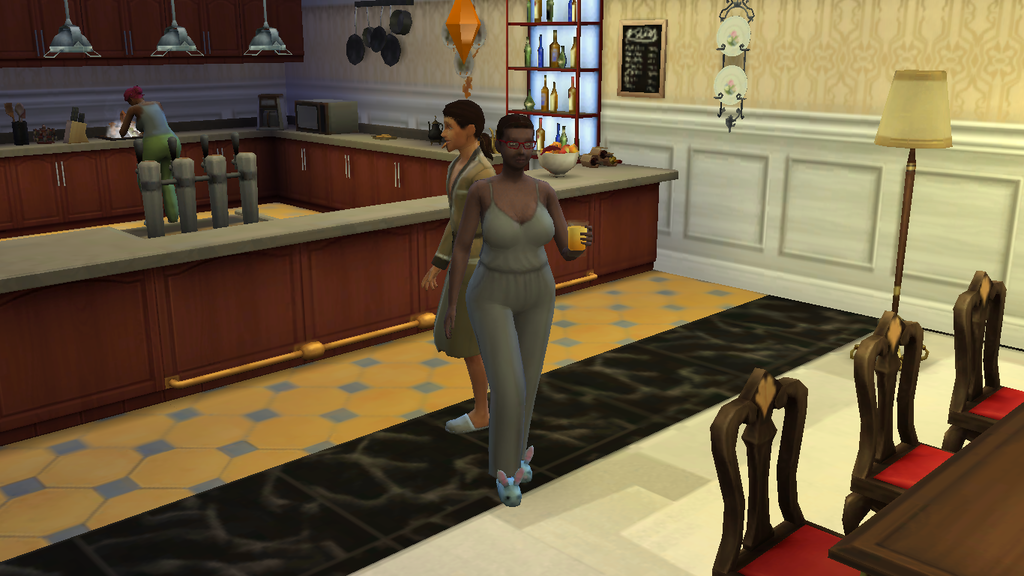 PATRICIA MAGICALLY APPEARED IN THE FIRST FLOOR KITCHEN.
Patricia: "Fuck it, I'm teleporting for this juice."
Dorian: "Woah Patricia! I thought you were inside the punishment room?"
WHAT THE FUCK?!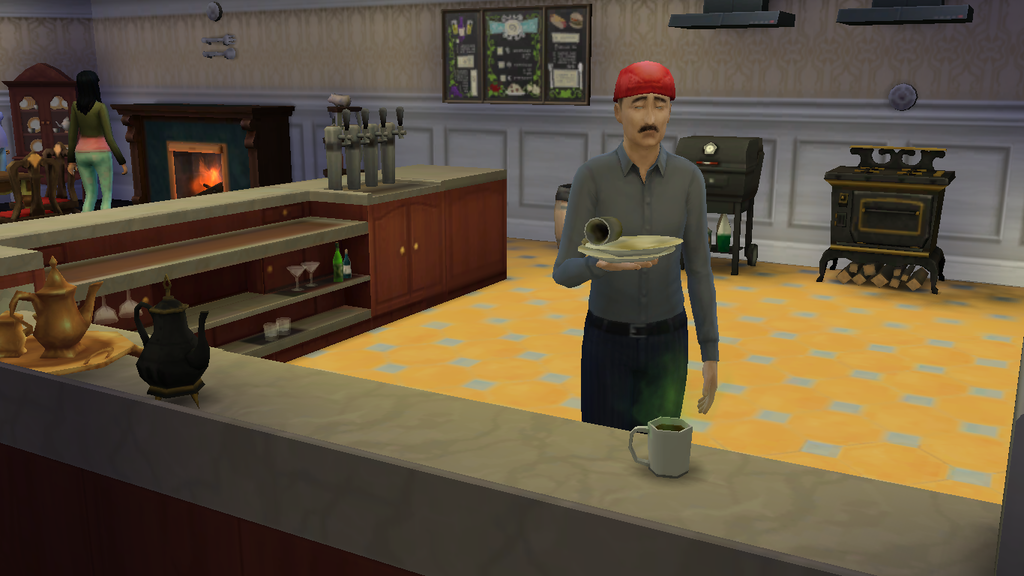 Even Asher was able to MAGICALLY WASH THE DISHES THERE. NOW I AM GETTING PISSED AT THIS KIND OF REBELLION.

I forced them back inside again to work on their carpentry skills as I try inhale-exhale to calm my nerves down.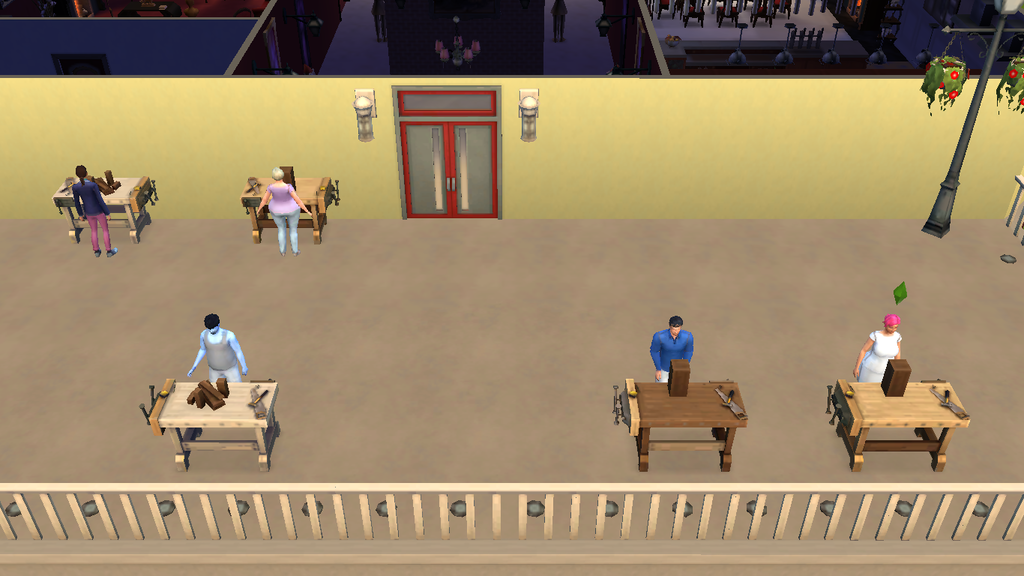 Work your asses off, you disobedient Sims.

I thought that they'd behave after that, BUT NOOOOOOOOOOOO!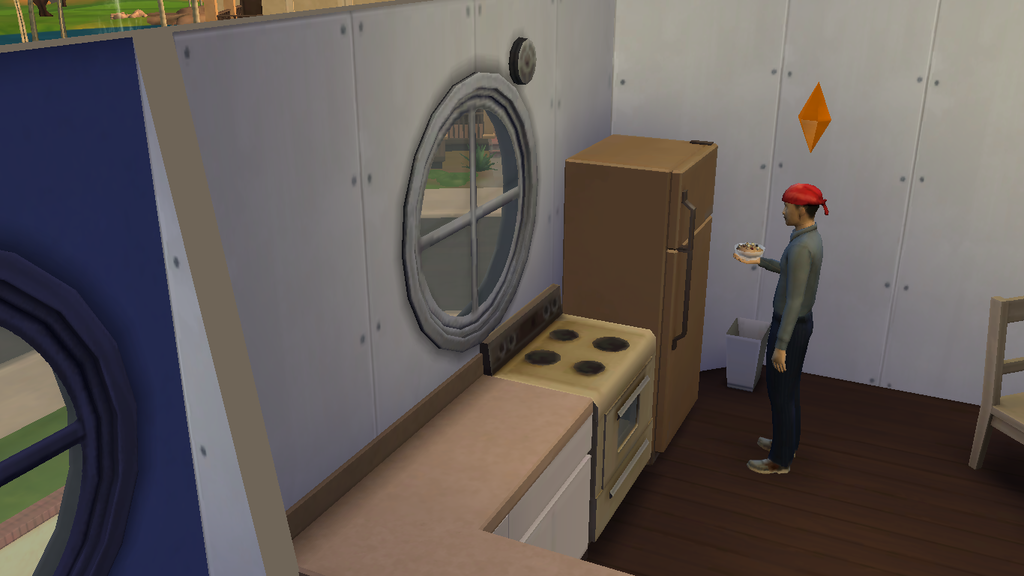 ASHER AND PATRICIA REFUSES TO FUCKING EAT! THEY DON'T WANT TO USE THE CHEAP STOVE OR THE CHEAP COUNTERS. NOT EVEN TO HAVE A QUICK MEAL BECAUSE THEY DON'T WANT TO EAT ON THEIR OWN TABLES AND ARE BOTH STARVING THEMSELVES!!! AAAARGH!! NOW I'M DONE! *sound of things clattering and slamming of a door*

A/N: Okay, so uhm… Big Bro just walked out. *laughs nervously* Uhm so before you guys judge Big Bro for being impatient, I want you to know that it was really hard for him to monitor these guys. Imagine having three floors to frequently check and then suddenly the Sims that were supposed to be on their respective places will teleport to another. I, too, would lose my mind. *sigh* Anyways, for the meantime, I'll fast forward the time until 12 midnight and let those under house-arrest out to eat (wouldn't want something that would tarnish Big Bro's name like Sims dying in his home). Then I'll talk to Big Bro to sort things out (again), wouldn't want him resigning, right?

*Fast forward*

A/N: Here you go guys.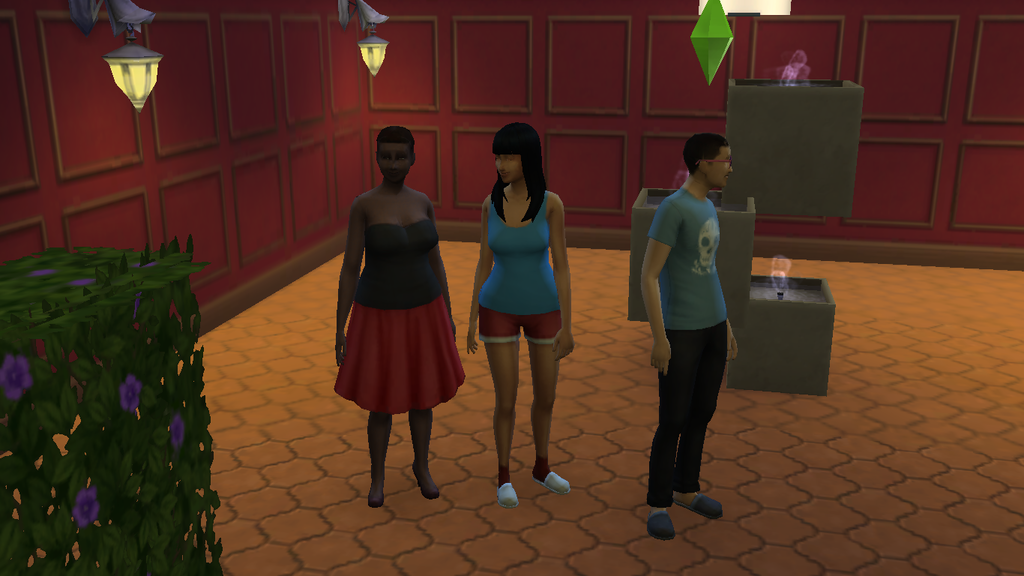 A/N: *sigh* Please stop smirking. I think I'd lose my mind too. *sigh* So with that, I think we're shortly ending the 6th day. In behalf of Big Bro, we're signing off.
#32

8th Sep 2018 at 7:52 AM

Big Brother Sims 4 Edition: Week 1 Day 7
WEEK 1 DAY 7 (WED)


A/N: So I managed to talk to Big Bro. He went to vent everything to me, the hardship he had to endure as he tries his best to keep his insanity intact watching these Sims while being generous to them but with little appreciation from them and such. It was quite depressing to hear and I've never seen this side of Big Bro. I pity him. So please understand Big Bro guys. He's doing his best. Fortunately, he was willing to resume work, he just needed to breathe. We did change (yet again) some rules that will be explained later. So! With that, we're back to business!

If you've been following the happenings inside the house, they were some rebellious actions we had to deal with. In accordance to that, we had to devise some rules again. Since the reward and punishment room didn't work, we thought of something else to reward and punish the winner(s) and loser(s) for the midweek. Below are the new rules:
- Enforcement of activity time will only be at 10AM and 4PM (how generous a deity I am).
- For the winner(s) of the midweek: reward is that he/she is saved from the elimination. So whether he/she fails the new challenge after midweek, he/she won't be eliminated.
- For the loser(s) of the midweek: they have to repair (or upgrade once their skill levels can) all the things that get broken inside the house. On that note, the furniture inside will remain on average level so that it can get broken.
And with a heavy heart, I decided to demolish the reward and punishment room. Oh my efforts on doing those. *cries*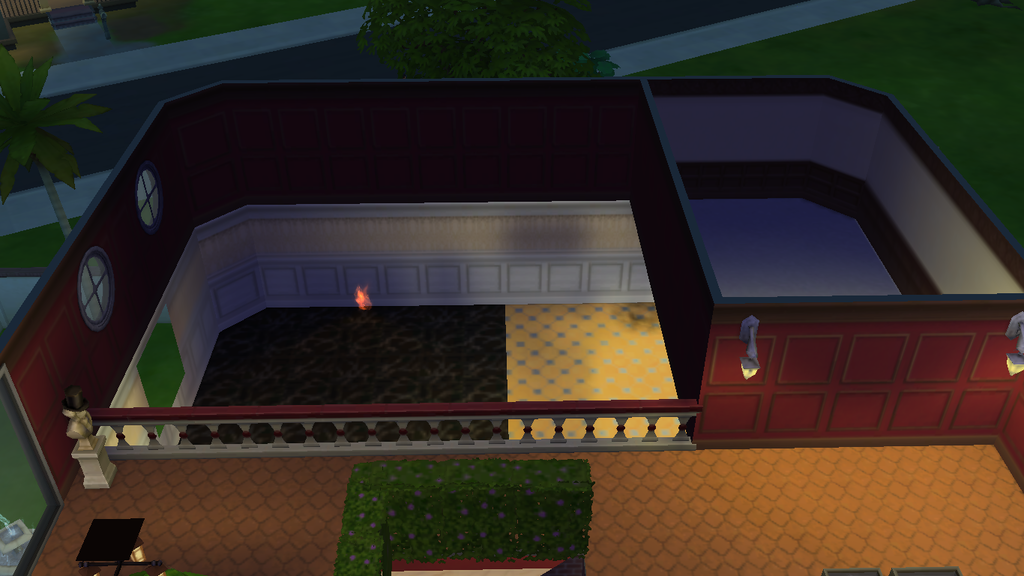 My house is now only up to second floor (goodbye penthouse). The former punishment room is now an observation deck. I just left an empty room (where the stairs leading up to the penthouse was) for future use.

As soon as the three under house-arrest were released, I immediately made them do their punishment. Not that I had any grudge, but yeah. Grudge.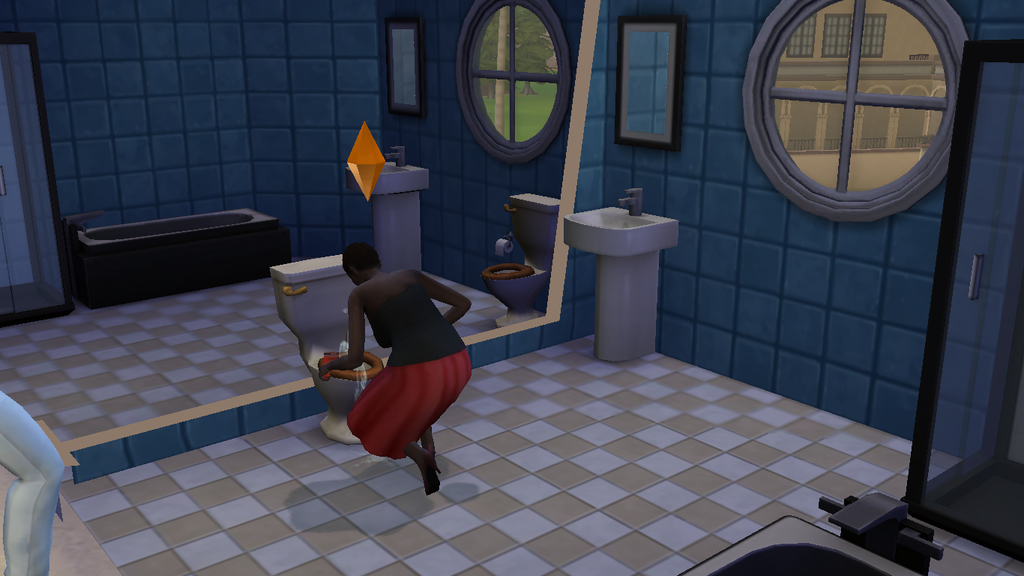 After that, Patricia went back to sleep. While the other loser and winner battered as they eat.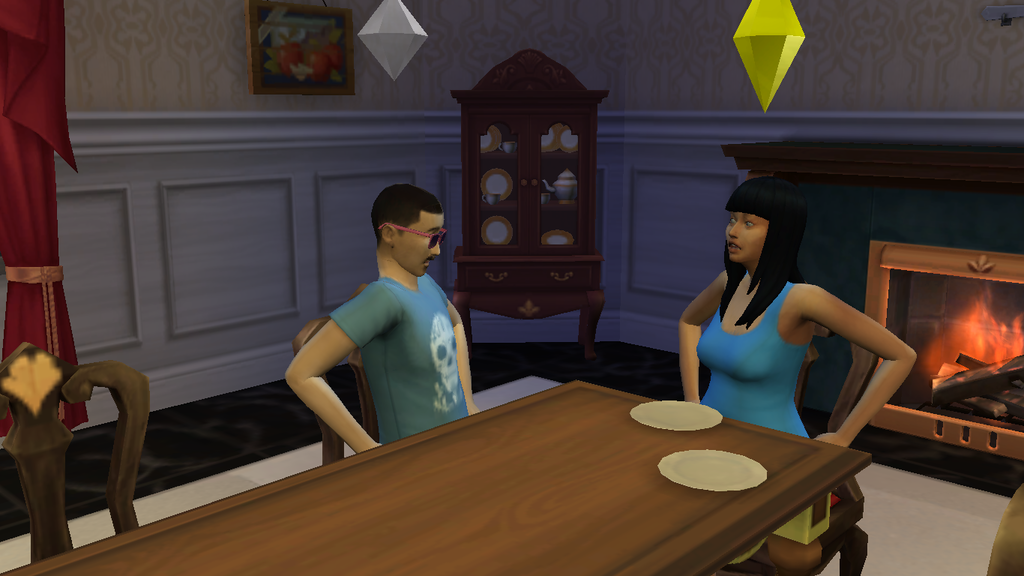 Tanvi: "You're like your punishment, cheap!"
Asher: "Yer leyk yer peneshment, sheep!"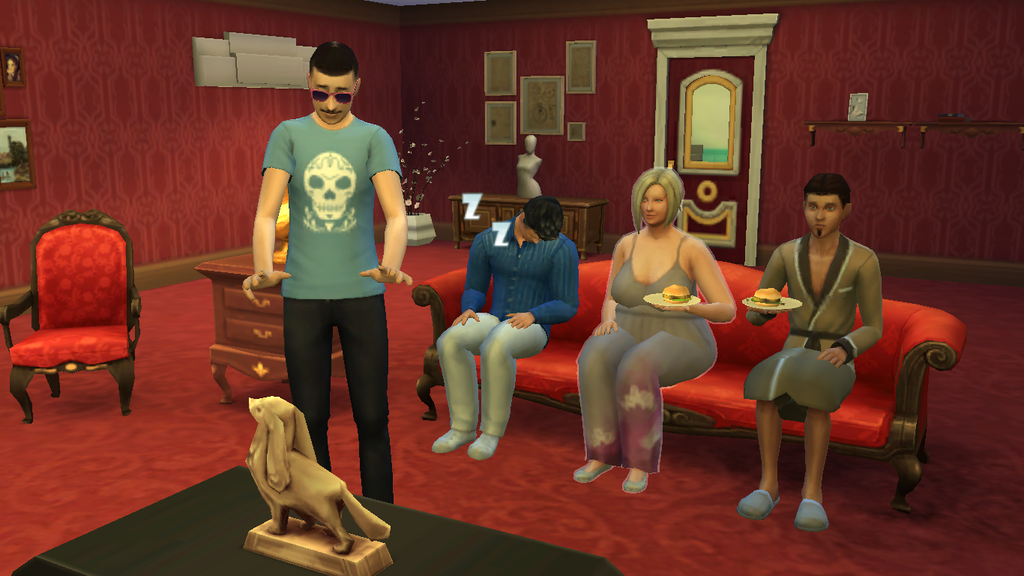 Kason fell asleep on the couch as Janette and Dorian woke up to eat some burgers for early morning breakfast. Asher meanwhile is trying to summon the statue.
Dorian: "I never thought that burgers can be breakfast."
Janette: "I can eat burgers all day."
Asher: "I summon you, evil animal statue, to eat Tanvi alive!"

Soon, activity time arrived and so I made them work, work and work. Which made all of them pinched and tensed with low amusement. No, no grudge at all.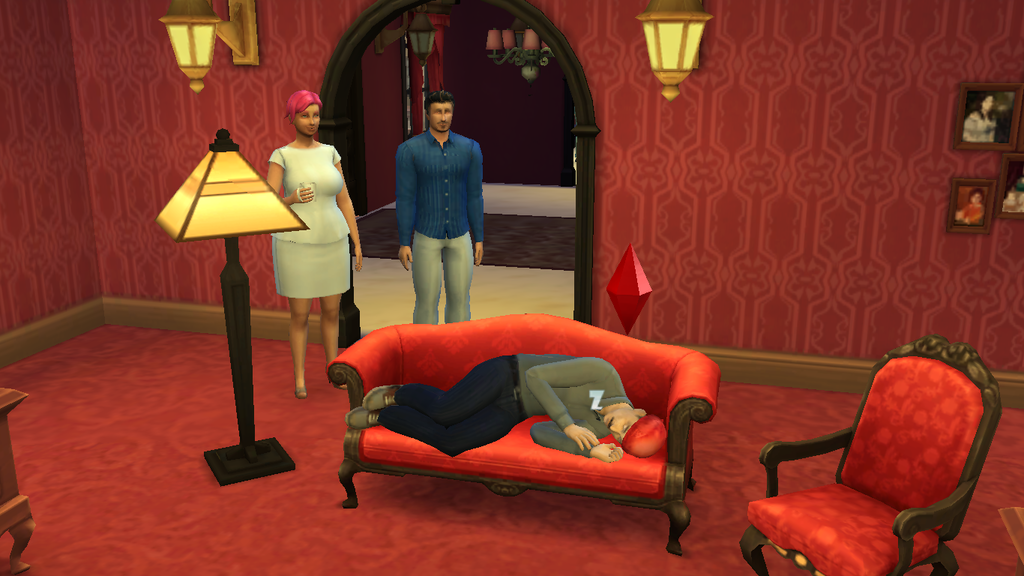 Denise: "Looks like we found a new candidate for our club, nappie." *sips coffee*
Kason: "Yeah, we'll give him the talk soon."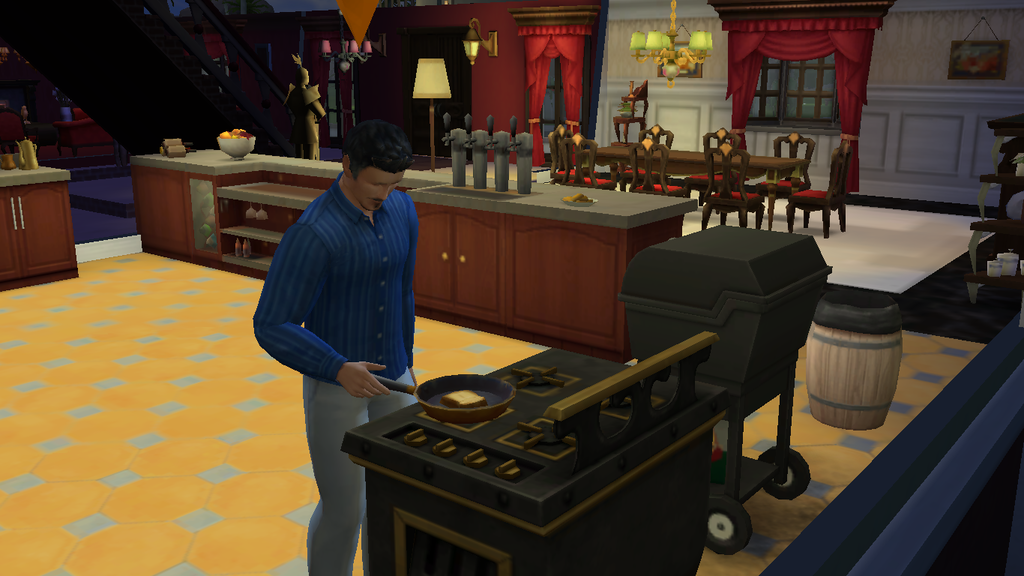 Kason cooked again that evening. Is he stealing his nappie's aspiration now?
Kason: "I'm hungry, let's cook."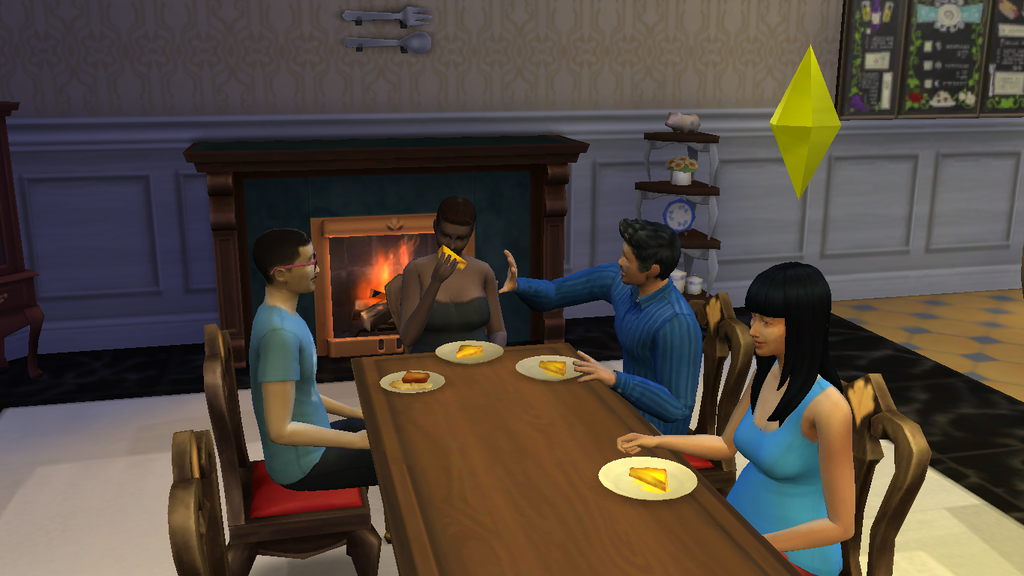 Kason: "So, how's the experience with the reward and punishment rooms guys? Was it any good?"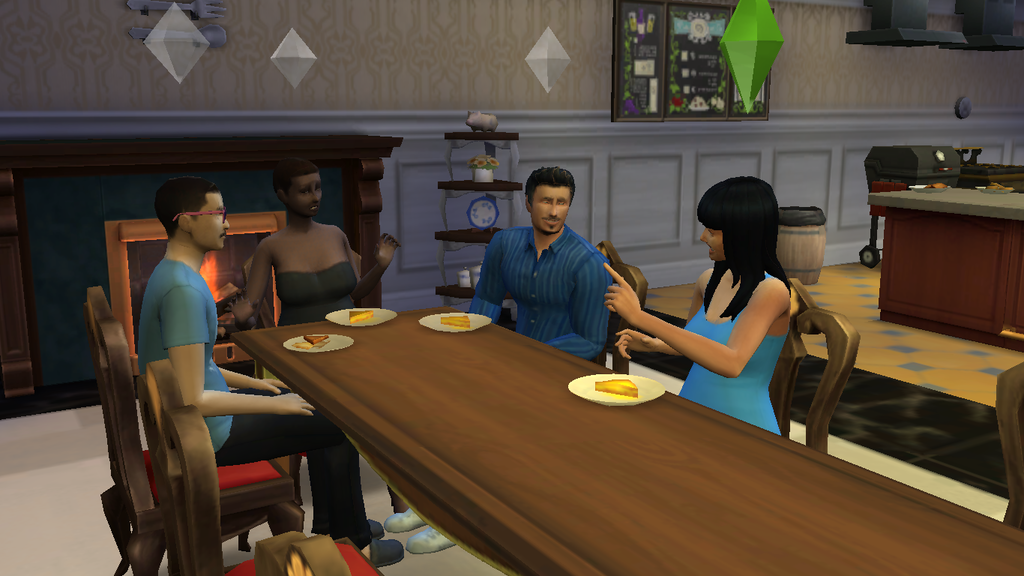 Tanvi: "It was the best! But if not for these two idiots, Big Bro would have not demolished my penthouse!"
Kason: "Really? That's why the house was renovated again?"
Patricia: "Woah! Easy with the finger pointing there girl!"
Asher: "…"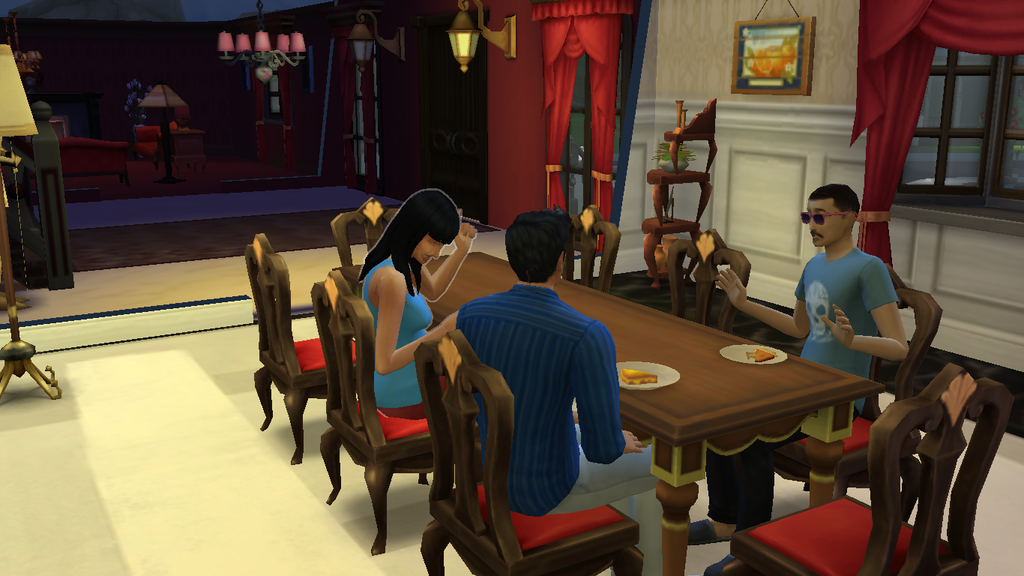 Patricia had already walked out from the conversation while Tanvi continued her ranting as Kason only watched.
Tanvi: "This is all your fault!"
Asher: "Hey now! I didn't know I can teleport you know!"




Tanvi: "Blaming others felt good that I wanna do some crunches."

To be honest, I felt good with what Tanvi did. So thanks Tanvi. Before the good feeling leave, I'm ending this 7th day. Tomorrow will be the new week and the first eviction night. I've never felt so excited to have less housemate to think about. Let's look forward to who will be the first to leave my house. Big Bro, signing off.

A/N: So this day ended pretty quick too. Big Bro seemed to be still not in the mood. Grudges, right? I do hope though that tomorrow, he'll finally let go of his grudge against his own housemates. *crosses finger* 'Til then, bye.
#33

8th Sep 2018 at 8:24 AM

Big Brother Sims 4 Edition: Week 2 Day 1
WEEK 2 DAY 1 (THU)

Finally! It's eviction night! Who's the first to leave the house, I wonder? Let's all find out!

Kason and Dorian decided to have some Cycle of Karma slash Revenge for breakfast.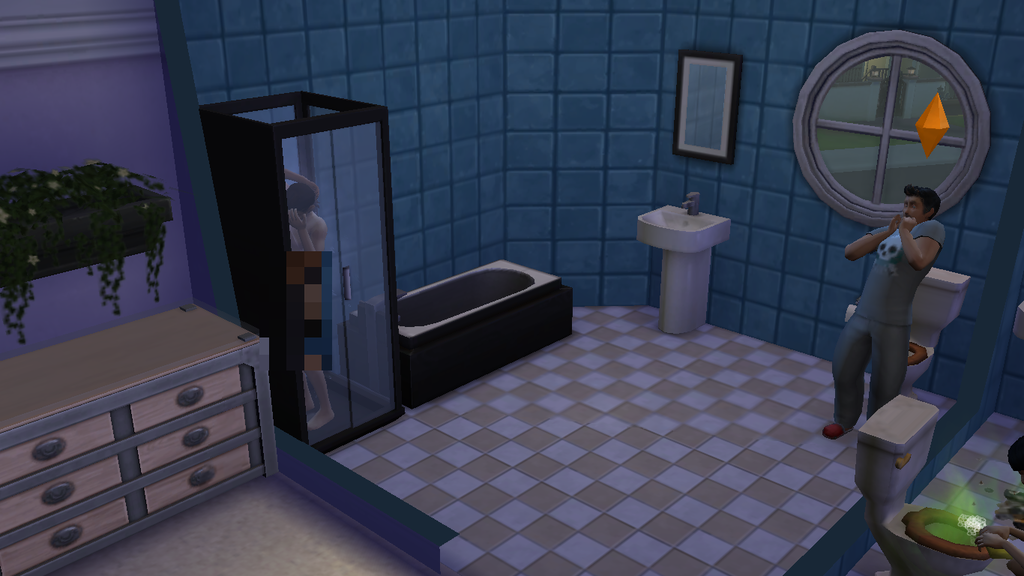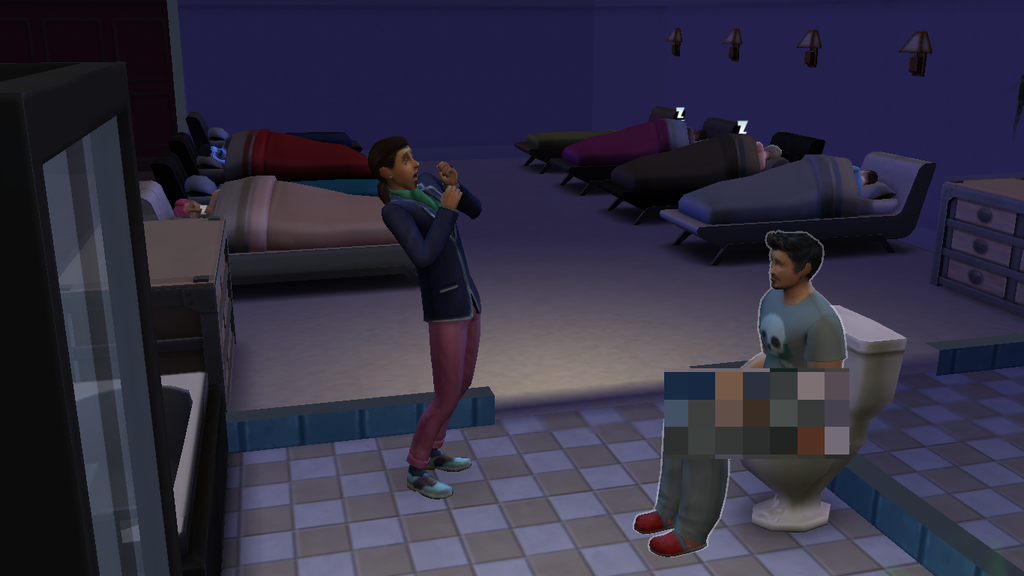 Dorian & Kason to each other: "Ohmigod! I didn't know you were inside Dorian/Kason!"
Because of that, go punish yourselves and hide under the bed.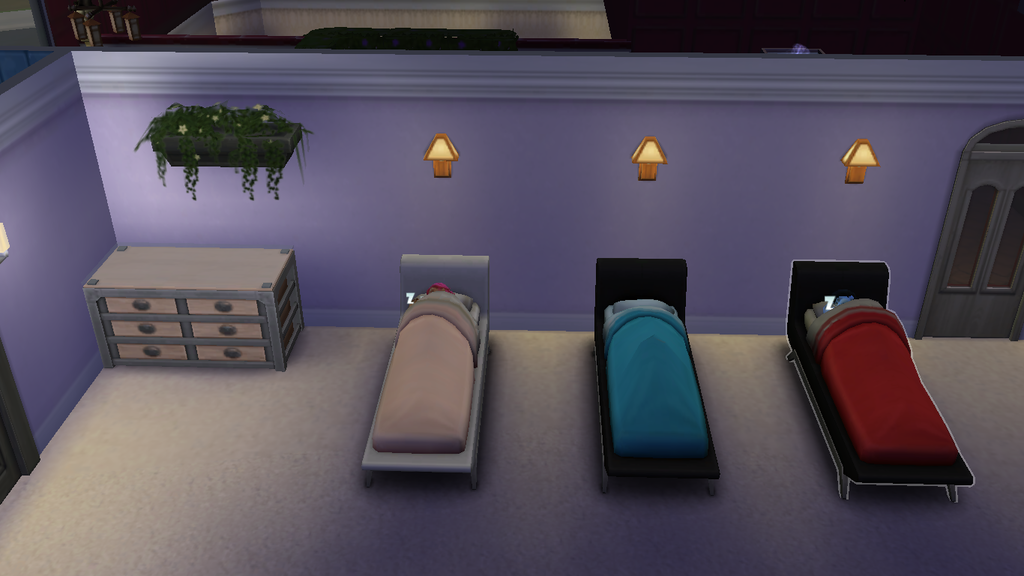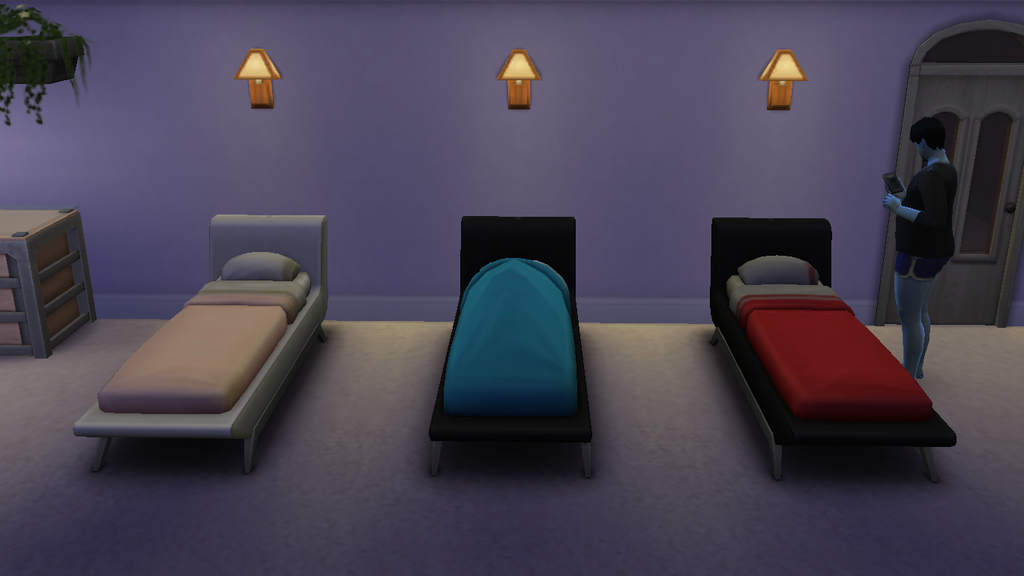 They hid under the blue bed after each other.

Remember that I had Asher and Patricia repair the broken toilets? Though they did, they left a pile of garbage around it. And so some disgusting housemates around the house started a bandwagon of playing in it. I removed the bookshelf because they turn to it for amusement (again, no grudge at all) so they had to find a way to have fun. Stupid Sims.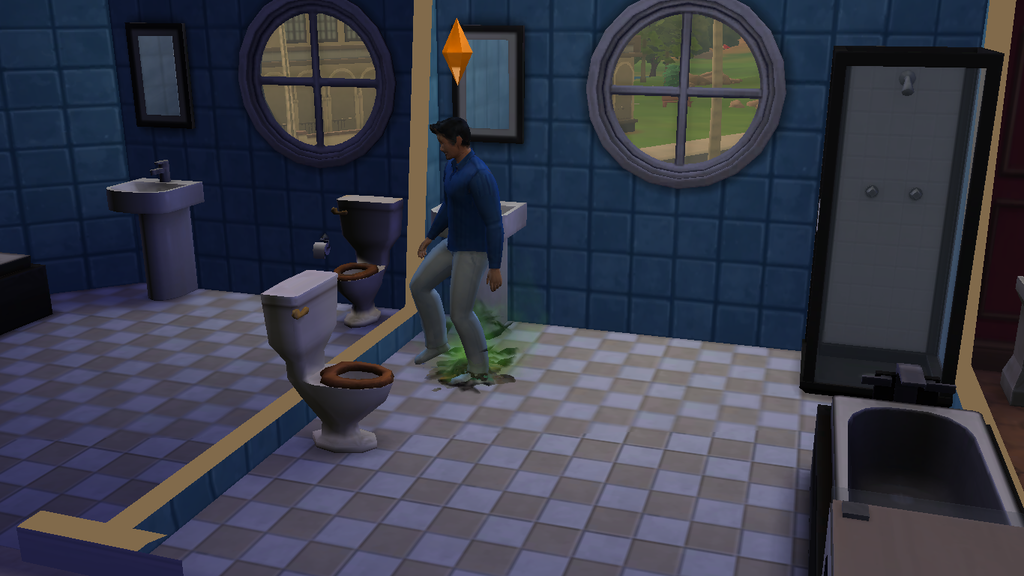 I don't know where Asher got his own garbage pile but hell, he can even teleport so this is nothing to be surprised about.

Meanwhile, Kason has been flaunting his fitness skill.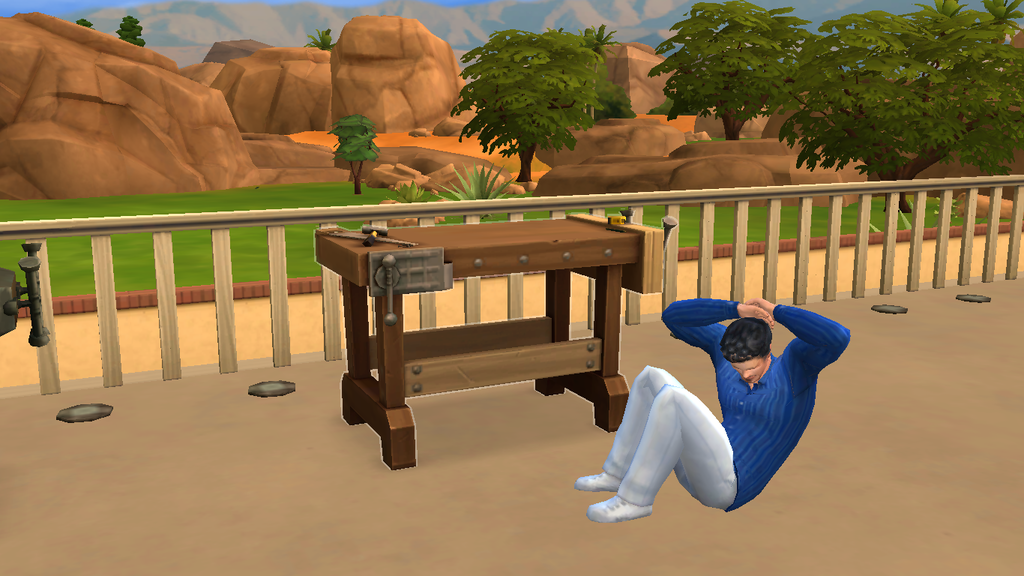 Kason: "Gotta stay fit!"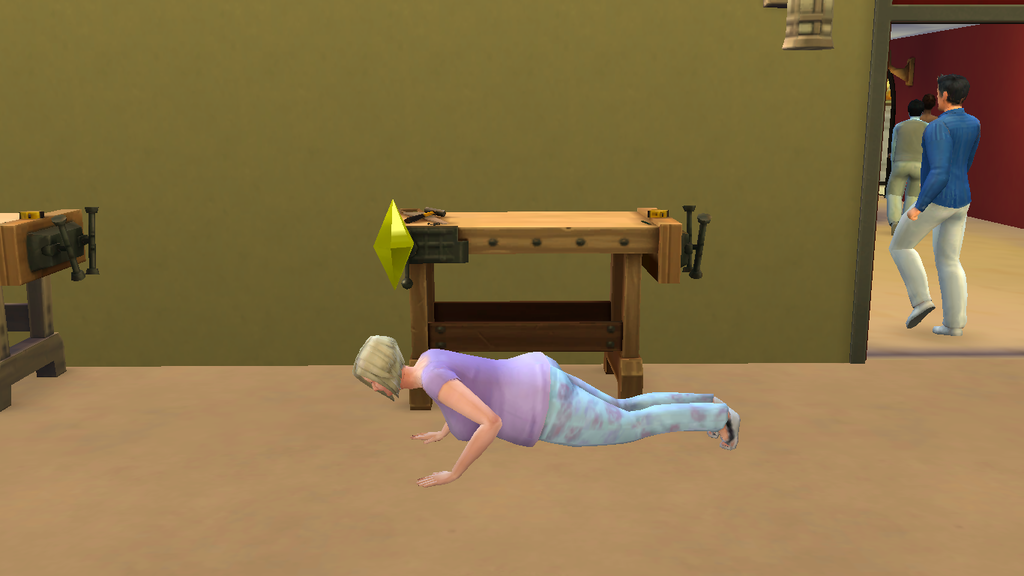 Surprisingly, Janette has finally took the hint!
Janette: "I remember now! I want to be fit! That's why there was something I feel that I am forgetting!"
Finally Janette, finally!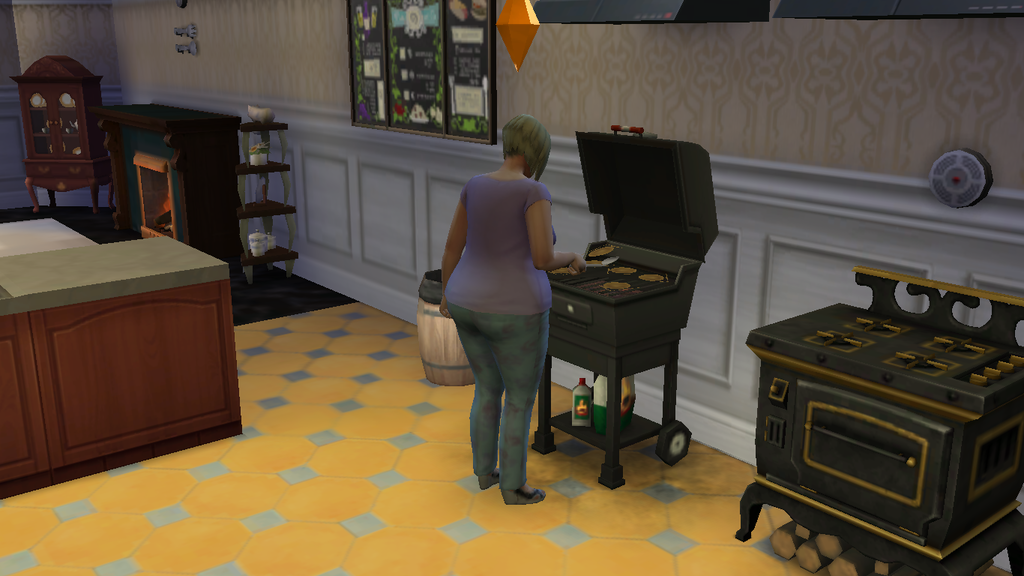 Janette: "Pushups sure make you hungry."
Oh no.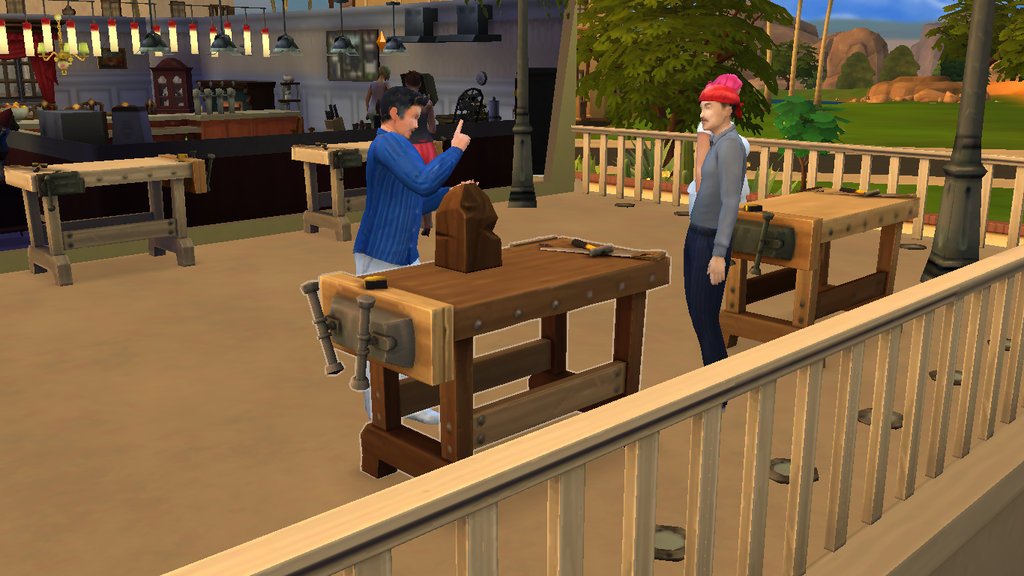 Asher: "I really need some advice, man. I feel like my time here is nearing."
Kason: "First, pushups. Second, crunches. Third, both…"
You're really making the poor guy leave the house, Kason.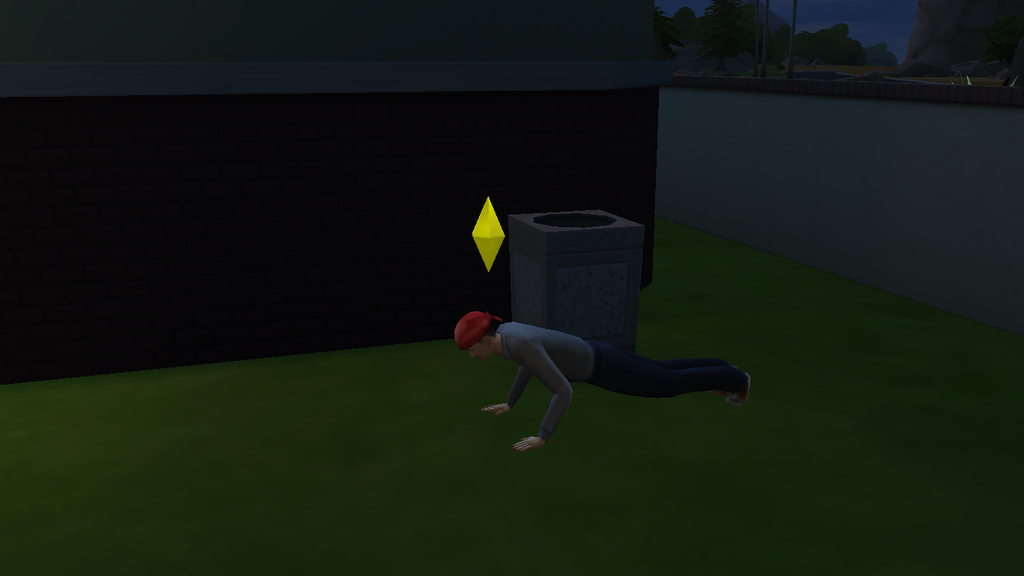 Asher: "I still have time, I can do this!"
Our challenge is carpentry, not fitness Asher. Don't listen to Kason. You know that fitness is all he talks about.




While Asher was working out, everyone else decided to have dinner together.
Patricia: "We have to get used to it now, I mean without Asher."
Everyone: "Yeah, agreed."
Do you guys already know who will be evicted?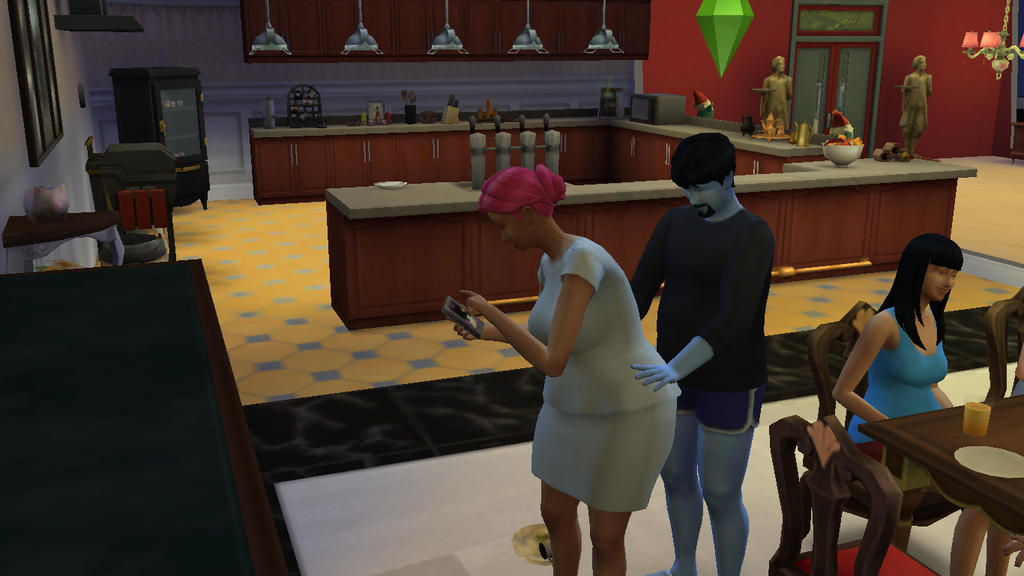 Bob: "I like feeling butts after dinner."
Oh Bob, you're worse than Kason who just checked hers out. Welp, Denise seemed to not mind anyway.




Kason: "Hey Denise, I saw Bob feeling your butt. Are you okay?"
Denise: "Yep, no harm done."
Kason are you being protective of your nappie? Is the love finally in the air?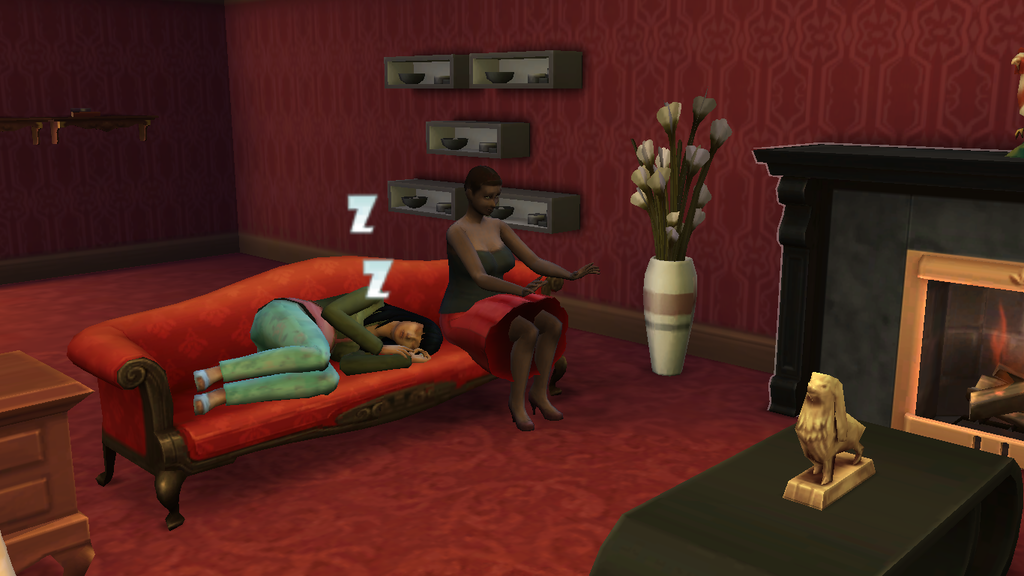 Patricia: "Can you give me some pillow animal statue? While Tanvi here is sleeping."
Woah, are you going to–
Patricia: "Sleeping like that without a pillow will hurt her neck you know."
Oh. That. Okay. You're really a good girl Pat.

*DING DONG DING DONG*
It's 8PM guys!
"Housemates, gather at the living room."
*POOF*




"Good evening housemates."
Everyone: "Good eve Big Bro."
"How was your week? And how do you feel about the first eviction tonight?"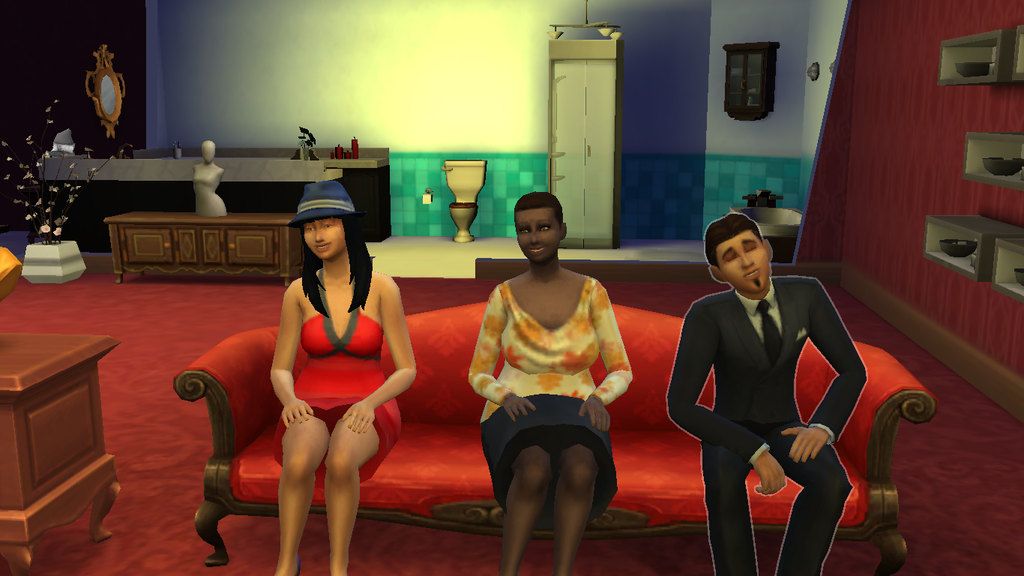 Dorian: "I got a good feeling about this, about myself."
Patricia: "I know I am one of the candidates, having to experience the punishment room, I hope I can have another chance to prove myself–"
Tanvi: "Oh shut up, you talk too much. It's my turn. I feel perfect Big Bro. Though I feel sad about the demolishment of my penthouse."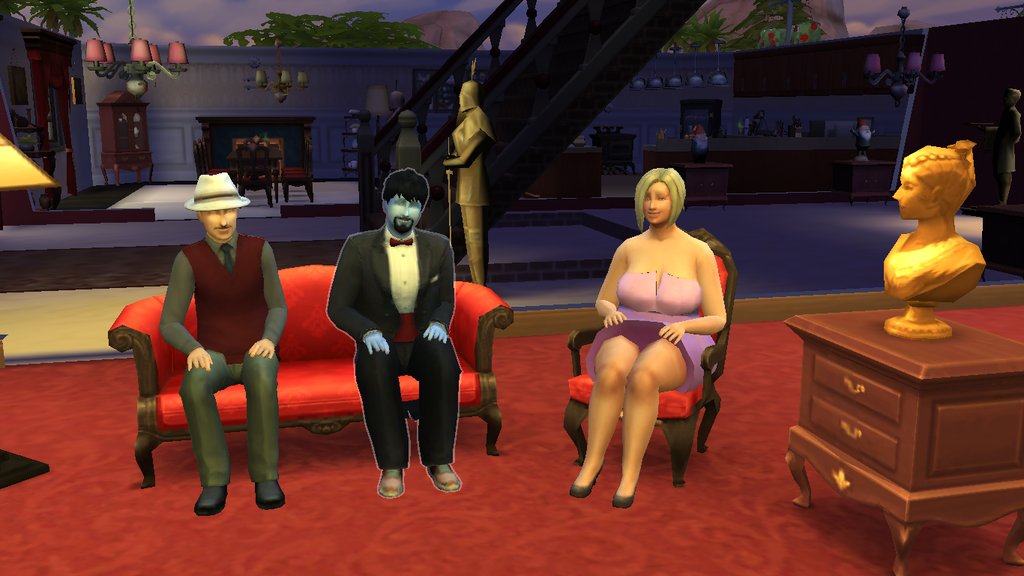 Janette: "I feel slimmer."
Bob: "I feel just average."
Asher: *fakes a laugh* "I feel good, too."




Kason: "I feel nice, having to sit next to my nappie."
Denise: "That's a bit weird but yeah I feel the same."

"Good to hear. So are you all ready? The winner who build his carpentry skills the highest is… *drum roll* DORIAN! With skill level 4! Congratulations!" All the others had up to skill 3.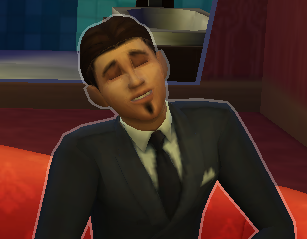 Dorian: "OH YEAH I KNEW IT!"
"While the loser who will be the first evictee is none other than who the housemates predicted… ASHER! You have the lowest carpentry skill at skill 3. Sorry Asher, goodbye."
A/N: We are attaching their skills for your reference.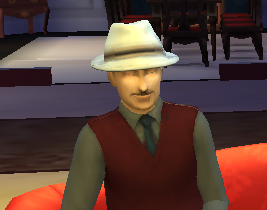 Asher: "I knew it."
"Goodbye Asher."
Everyone: "Goodbye Asher."
Asher: "Goodbye guys."

"The two guys who were involved with the love-spreading inside the house were both involved in the eviction night: the one was hailed as the winner, while the other was evicted. Oh the irony. Moving on, we will now announce the new challenge for Week 2. I'd have the winner, Dorian do it. What, you ask? It's an adoption! This week's challenge will be all of you to build a relationship with baby Dimitri. The closest you are to the Dimitri, the closest you are to winning."




Janette: "Oh my god! We have a baby in the house!"
Dorian: "Yeah, Big Bro had me adopt. Can you handle it Janette, I don't know how to hold it, I might break it."

Yeah do that while I fix the baby's room. *POOF* Here you go.




Once the announcement was made, everyone went to sleep. Everyone except Kason.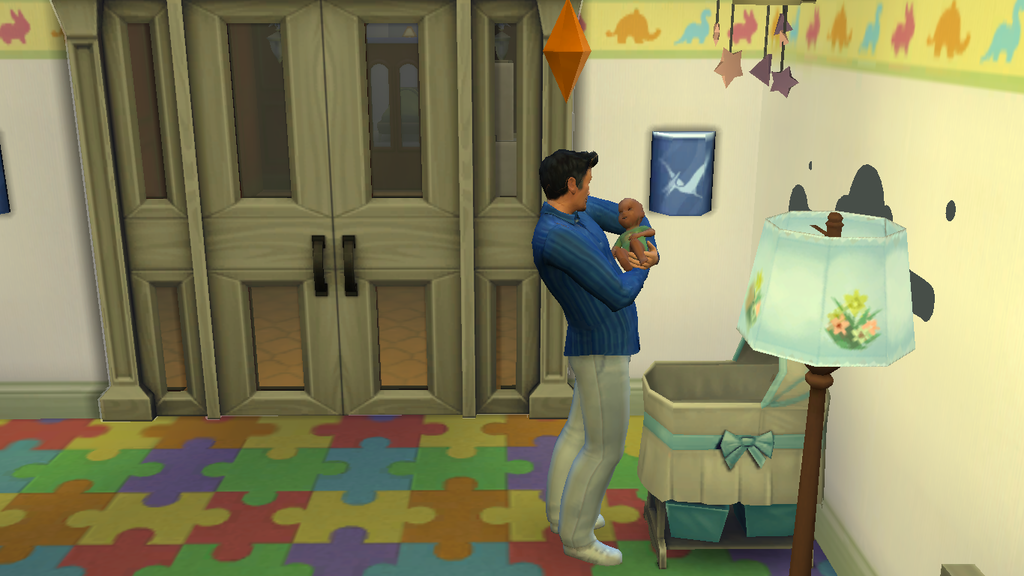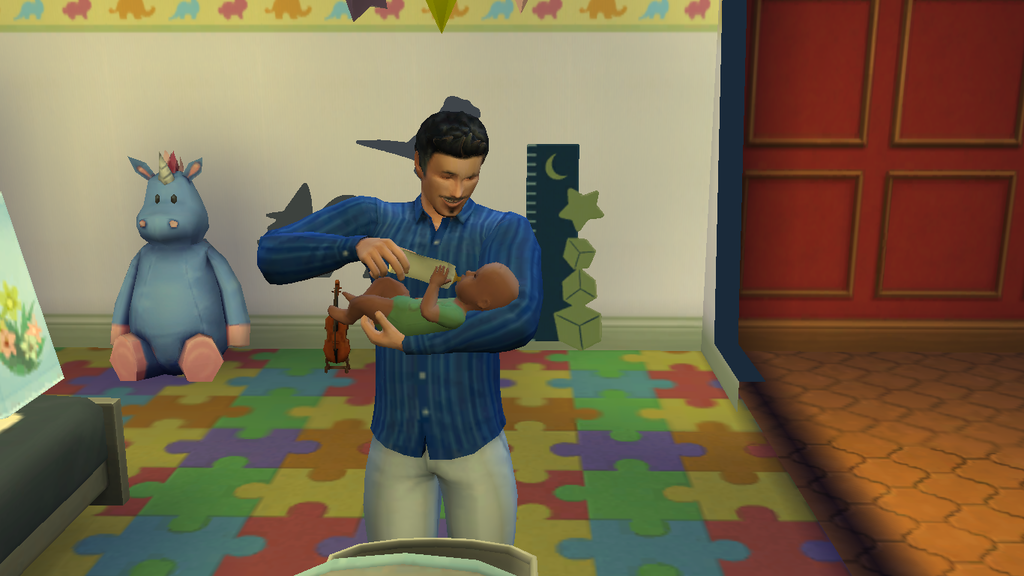 He instantly became a father! Wow!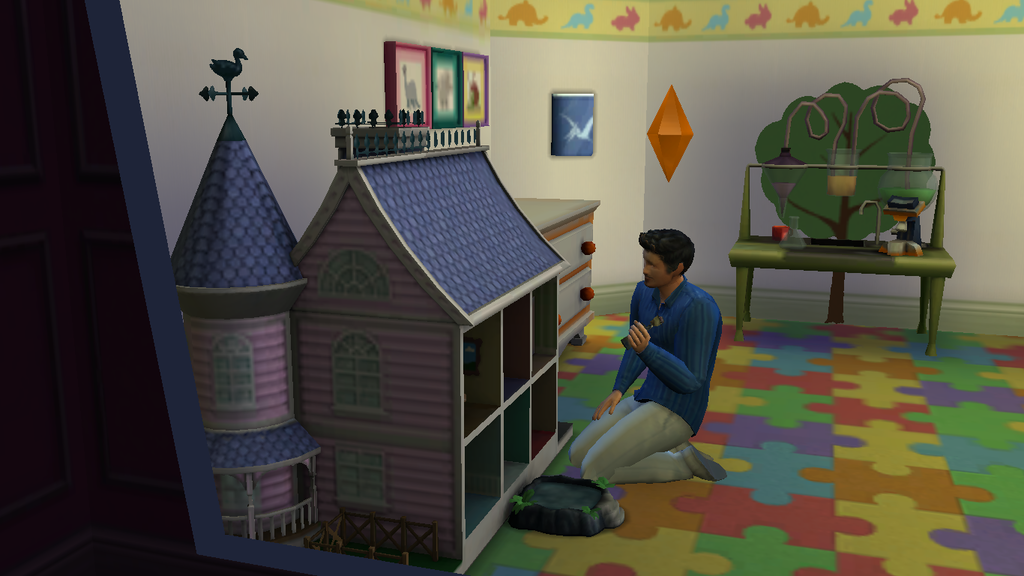 Kason: "I have to be close to little Dimitri so I can have access to his dollhouse. I love dollhouse."
Yeah, we all forget that you have the childish trait.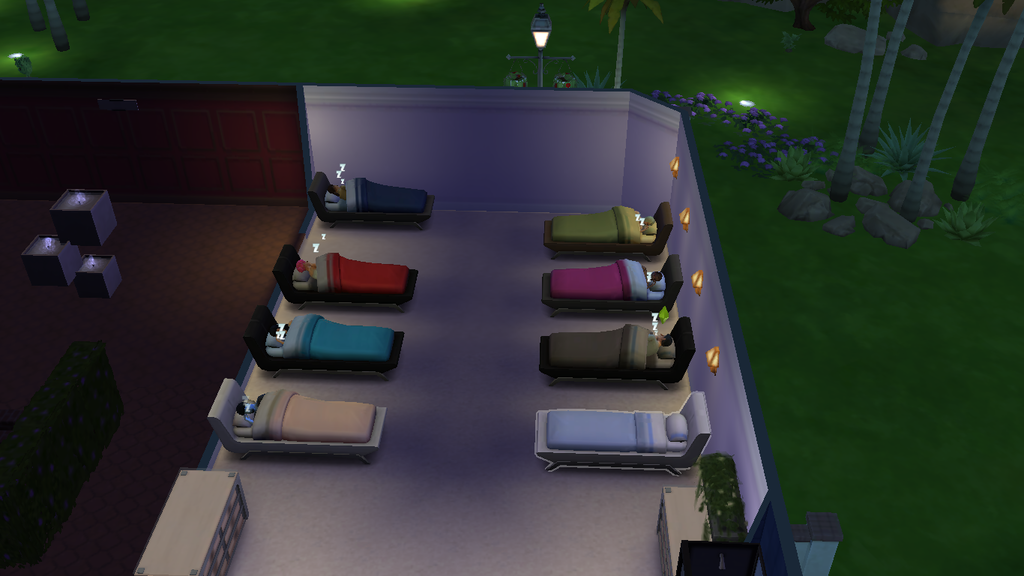 He went to sleep soon after playing. Here we see all the housemates sleeping, with one bed empty. Pretty sad, eh? But more than that, we are excited to see what Baby Dimitri will bring to the house. Who will have the advantage out of all the housemates? Is it Bob who's naturally domesticated because of his family aspiration? Or Kason who already bonded with the baby due to his wish to have access to play the dollhouse? Dorian, who proved that he can build skill faster than the others? Or is it the girls, who should naturally have a maternal instincts? Let's all know next time! Here's Big Brother, signing off.
#34

7th Jan 2019 at 9:02 PM
I mixed it up. I did the stuff with the HoH and Nominees, but instead of the nominee with the lowest relationship, I did the nominee that did the worst. I also added Power of Veto. This is where the HoH, the nominees, and 3 other random houseguests (or less if there is not 3 houseguests left) fight for the ability to save a nominees. If a houseguest won, and one of the nominees had a relationship bar above a certain threshold (or if they both had above that threshold the one with the highest relationship) they would save them. If not they would discard. If the HoH wins, they automatically discard, and if a nominee wins , they save themselves. By the way if a houseguest uses PoV and there are other houseguests left, they cannot be chosen as a replacement. Yes someone will be replaced. BTW If a nominees saved, they can't be nominated. The replacement will be the person with the lowest the lowest relationship (unless they won or they were saved). Anyway it was really fun and I might post what I do as I'm gonna do it again.
Bye

Test Subject
DELETED POST

Lab Assistant
#35

7th Jun 2019 at 3:02 AM
i know this is a super old challenge, but i'm desperately searching for a challenge that doesn't make me take out mods, play on super short lifespans or have a million kids, so i wanted to try this, & i'm having a terrible time getting anywhere....i get the not controlling your sims part, but i've been playing for 2.5 sims days & not a single member of the household has autonomously painted at all, i can't kick them all out after the 1st week is up, so this is a bit of a predicament
Test Subject

#36

29th May 2020 at 12:17 PM
Has anyone found a mod that enables autonomous painting at level 0?
#37

4th Jul 2022 at 5:17 PM
I did this one in a weekend! One of my final two worked out so hard that when he went swimming, he drowned.
Back to top