Aliens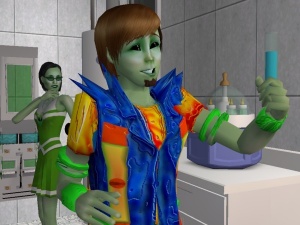 This guide is all about aliens and alien abduction in The Sims 2.
Aliens
Aliens are the playable supernatural species from the base game, and a funky addition to The Sims 2. With green skin and black shiny eyes, aliens are a bit odd, but quite fun as playable sims.
In order to get aliens, there are two ways: alien abduction, and making them yourself.
Alien Abduction
The most common way to get aliens into your game is by getting abducted. To get abducted, an adult or teen sim must stargaze using the expensive telescope at night. In doing so, there is a small chance they may be abducted by aliens!
It is, however, an EXTREMELY SMALL chance - 1/2 of 1% (0.05%)! This makes it incredibly rare that any simmer will experience a natural alien abduction in the course of play without hacks or cheating. Generally if you'd like to experience an abduction you'll need to get a hack for it, or force an abduction... You may also have luck sending your sim to stargaze, cancelling the action, and repeating - it's been reported the abduction happens very quickly after stargazing has begun, so will likely increase your chances by taking multiple gazes.
There is no chance of being abducted if you just use "look through" on the telescope (it will start showing up early in the morning before dawn), nor with using the cheap telescope. You MUST stargaze using the expensive telescope.
You can force an abduction by activating the testing cheats, and then shift-click on the expensive telescope with your sim in live mode. Choose "DEBUG - Get abducted" and your sim will then be abducted by aliens.
When the sim is abducted by aliens, they will be taken away in a beam of light, and their mood will go crazy for the duration of their visit.
Curious/Strangetown
The exception to the small chance of abduction is the Curious household in Strangetown, which will experience an abduction the first time you stargaze at night - it is scripted to do this by the game and is the only 100% (or increased at all) chance of abduction you'll find without using a cheat/hack.
Alien Pregnancy
If your abducted sim was an adult male, when he is returned, he will be pregnant with an alien baby. Adult and teen females and teen males will not be alien-impregnated when abducted without additional hacks.
The pregnancy will proceed as a normal female sim's pregnancy, though he will certainly look a bit surprised when he gives birth. The abductee will give birth to a green baby with huge tilted black eyes and a tiny nose after the standard three days. If the abductee happens to have twins and is using a custom skin, it's possible the second baby will not have alien genetics (green skin, etc.) due to the way the game randomizes genetics.
Once born, aliens have no special abilities above normal sims (they don't learn faster or excel at anything in particular any more than normal sims) - any special powers you see in pictures or stories are just, well, storytelling. You can make them wear strange clothes, live in weird houses from space, or otherwise play them differently if you like, though.
Creating Aliens
If you don't want to get your sim abducted and you'd just like to create an alien in Create a Sim, you can do that as well. Activate the testing cheats in neighborhood view before entering Create a Sim/Create a Family. Then press Shift+N, which will activate debug mode. Debug mode will allow you to access the alien skin and eyes in Create a Sim to create new aliens there, though you will not be able to choose from the alien face if you want your alien to look like the normal big-eyed, small-nosed alien.
You can, of course, download all sorts of custom and default replacement eyes and skintones to make more interesting, beautiful, or freakish aliens than Maxis defaults. See: Content List: Halloween and Horror.
Myths About Aliens
All of the following are things that people believe about aliens that have either been proven untrue or are completely unsubstantiated (and probably untrue) rumours. In other words, these are myths:
Having the knowledge aspiration increases your sim's chance of being abducted.
Having high logic skill increases your sim's chance of being abducted.
Having a high amount of interest in Paranormal will increase your sim's chance of being abducted.
Your sims must be in Strangetown to be abducted (see 'Curious/Strangetown:' above)
There is a higher chance of alien abduction in Strangetown in general (see 'Curious/Strangetown:' above)
Alien children are smarter than normal and gain skill faster than other children
Content for Aliens?
Looking for default replacement or other skins and eyes for aliens? How about hacks for instant abduction? Pollination tech faces? Alien clothing or furnishings? See the links below under Related Links.
Contributor Credits
Thanks to the following users for tips that have been added to this guide: The_French_Sim, MarkySharky6, dillitru, yamikronue
Related Links