Is CEP installed?
Do you have CEP installed?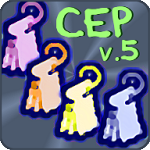 The Color Enabler Package is necessary for Maxis object (but not Bodyshop items) recolors to appear. If you do have it already, then you might not have the most recent version or it didn't install correctly. Try downloading and reinstalling CEP again.
If object recolours that you had in use before installing a new expansion pack are now flashing blue, it may be related to CEP. Make sure to reinstall CEP after installing a new expansion, so all your content shows up properly.

Click Next: Looking in the correct place to continue...

Back to: Correct Installation