Removing Default Replacements
Problems
Sims' bodies have "black gloves" and look strange.
Sims' faces and bodies don't match.
White writing on sims' scalps or hair.
You have a default replacement skintone that you no longer want.
Causes
Dependent Defaults Missing Non-Defaults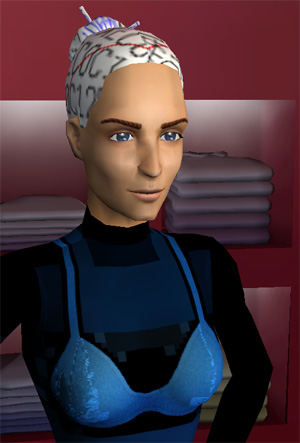 If you are getting a problem that looks like the picture at right, your problem is definitely related to default replacements. If your faces look fine but hair/scalps are white with writing, and bodies have black gloves or are otherwise patchy, strange, with blocks of colour, or a solid colour, this is your problem.
What has happened is you have downloaded a set of dependent defaults - meaning that the default replacement file you have downloaded is dependent on a non-default skin set... but you haven't gotten that non-default set.
The easiest solution is to go back to where you got the default replacement file(s) and download the non-default set. That should fix the problem. Or, if you no longer want that default or don't know where you got the file from, see below under Finding Default Replacements to find out how to remove them.

Other Default Issues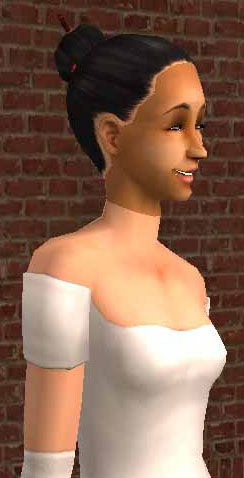 If you are getting a problem that looks like this picture, your problem is probably one of the following:
You have more than one default replacement skintone, and they are conflicting, causing the error you see there.
You have an improperly made default replacement skintone that does not properly replace all skintone files, so it's left out some and is causing that mismatch.
You have a bit of a lower-powered graphics card and you have the cheat boolProp useShaders true on - try bringing up the cheat console (CTRL-SHIFT-C) and type boolProp useShaders false and see if that fixes it. If that does fix it, you can add it to your userstartup.cheat file.
Finding Default Replacements
If your problem is caused by a default replacement skintone and you would like to find it in your downloads to remove it, here's how:
The easiest method is to get Delphy's Download Organiser and use it to scan your downloads. Default replacements will have a type of "replacement" so you can find any defaults easily to remove them.
Use Clean Installer to scan your Downloads folder. Default replacements, among other things, will have nothing under Type - it will be blank. However, you will be able to click on the items and view their textures (you may have to hit next a few times on the texture display to see that it's a skintone) to see which might be a skintone to remove it.
Search your Downloads folder for the word "default" - most creators of default replacements use that word in their file name.
Related Links