Relics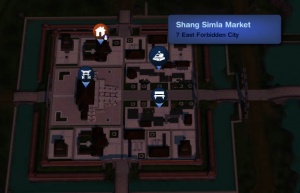 Relics are collectible items found in EP1: World Adventures. You can find Relics through
Tomb Adventuring
, excavating archaeological sites, or by purchasing them from the Relic Merchant in the Marketplace of each of the three
destinations
.
Relics can be used for any adventures you come across or just for general decoration for your home.
Below is the list of relics, their location and their minimum and maximum value.
Common Relics
Common relics are simple collectible items without incredibly impressive names. They are, as their name suggests, quite common and can be found just about anywhere in all three destinations. The very old ones can be extremely valuable, and they do look nice in your sims' homes.
Relic Collections
These relics are much rarer and more valuable than Common Relics. Each of the nine collections has a set of Relics, and they may not all be found in one destination.
Once you have completed a collection, display it in your sims' homes to receive a Wonderous Collection moodlet when your sims are in the room with the collection.
It is possible to find multiples of the same item in a collection - you can use these extras for a quick profit, or as part of a mixed collection in Transfiguration.
Canopic Jars
| Relic Name | Location | Minimum Sale Value | Maximum Sale Value |
| --- | --- | --- | --- |
| Little Pharaoh Canopic Jar | Egypt | §400 | §900 |
| Canopic Jar of the Cat | Egypt | §400 | §900 |
| Weeping Canopic Jar | Egypt | §400 | §900 |
| Canopic Jar of the Eagle | Egypt | §400 | §900 |
| Mummified Canopic Jar | Egypt | §400 | §900 |
Gold Figurines
| Relic Name | Location | Minimum Sale Value | Maximum Sale Value |
| --- | --- | --- | --- |
| Horus of the Sky | Egypt | §1,500 | §2,500 |
| Seth of the Desert | Egypt | §1,500 | §2,500 |
| Statue of the Cobra | Egypt | §1,500 | §2,500 |
| Sultan of the Sphinx | Egypt | §1,500 | §2,500 |
Zodiac Animals
| Relic Name | Location | Minimum Sale Value | Maximum Sale Value |
| --- | --- | --- | --- |
| Dragon | China | §1,600 | §3,000 |
| Snake | China | §1,600 | §3,000 |
| Tiger | China | §1,600 | §3,000 |
Chinese Vases
| Relic Name | Location | Minimum Value | Maximum Value |
| --- | --- | --- | --- |
| Vase of Maroof | China | §350 | §800 |
| Vase of Barooka | China | §350 | §800 |
| Vase of Amin | China | §350 | §800 |
| Vase of Life | China | §350 | §800 |
| Vase of Nosylla | China | §350 | §800 |
| Vase of the Empress | China | §350 | §800 |
| Vase of Nebu | China | §350 | §800 |
| Vase of the Dragon | China | §350 | §800 |
Dangerous Creatures
| Relic Name | Location | Minimum Sale Value | Maximum Sale Value |
| --- | --- | --- | --- |
| Ammit the Destroyer | Egypt | §2,500 | §4,000 |
| Anubis | Egypt | §2,500 | §4,000 |
| Fudog | China | §2,500 | §4,000 |
| Fearless Gargoyle | France | §2,500 | §4,000 |
Dropa Stones
| Relic Name | Location | Minimum Sale Value | Maximum Sale Value |
| --- | --- | --- | --- |
| Dropa Stone of the Vortex | China | §700 | §1,200 |
| Dropa Stone of the Sky | China | §700 | §1,200 |
| Dropa Stone of the Enlightened | Egypt | §700 | §1,200 |
| Dropa Stone of the Endless Sands | Egypt | §700 | §1,200 |
| Dropa Stone of the Fluer | France | §700 | §1,200 |
| Dropa Stone of the Stars | France | §700 | §1,200 |
Egyptian Tomb
| Relic Name | Location | Minimum Sale Value | Maximum Sale Value |
| --- | --- | --- | --- |
| Sigil of the Tomb of Discovery | Egypt | §100 | §100 |
| Sigil of the Tomb of the Burning Sands | Egypt | §100 | §100 |
| Sigil of the Tomb of the Rock | Egypt | §100 | §100 |
| Sigil of the Tomb of the Desert Ocean | Egypt | §100 | §100 |
| Sigil of the Criminal Headquartes | Egypt | §100 | §100 |
| Sigil of the Ancient Library | Egypt | §100 | §100 |
| Sigil of James Vaughan's Command Center | Egypt | §100 | §100 |
| Sigil of the Soulpeace Chambers | Egypt | §100 | §100 |
| Sigil of Queen Hatshepsut | Egypt | §100 | §100 |
| Sigil of the Bazaar Basement | Egypt | §100 | §100 |
| Sigil of the Den of Lost Souls | Egypt | §100 | §100 |
| Sigil of the Copper Quarry | Egypt | §100 | §100 |
| Sigil of the Sanctuary of Horus | Egypt | §100 | §100 |
Chinese Tomb
| Relic Name | Location | Minimum Sale Value | Maximum Sale Value |
| --- | --- | --- | --- |
| Symbol of Pangu's Haven | China | §100 | §100 |
| Symbol of the Annex of the Resolute Fist | China | §100 | §100 |
| Symbol of the Tomb of the First Emperor | China | §100 | §100 |
| Symbol of the Temple of the Dragon | China | §100 | §100 |
| Symbol of the Halls of the Lost Army | China | §100 | §100 |
| Symbol of the Hot Springs Cave | China | §100 | §100 |
| Symbol of Dong Huo's Treasure Trove | China | §100 | §100 |
| Symbol of the Market Caverns | China | §100 | §100 |
| Symbol of the Resolute Fist Retreat | China | §100 | §100 |
French Tomb
| Relic Name | Location | Minimum Sale Value | Maximum Sale Value |
| --- | --- | --- | --- |
| Signet of the Nectary Cellars | France | §100 | §100 |
| Signet of the Tomb of Isael | France | §100 | §100 |
| Signet of the Tomb of Jean Necteaux | France | §100 | §100 |
| Signet of the Museum Catacombs | France | §100 | §100 |
| Signet of Tuatha's Garden | France | §100 | §100 |
| Signet of King's Burial Ground | France | §100 | §100 |
| Signet of the Maze of the High Ruler | France | §100 | §100 |
| Signet of Smuggler's Cavern | France | §100 | §100 |
| Signet of Le Chateau du Landgraab | France | §100 | §100 |
Challenges
| Challenge | Description |
| --- | --- |
| Relic Collection Connoisseur | Relic Collection Connoisseurs have completed 6 relic collections. Relic Collection Connoisseurs gain 50% more mood increase from the Wonderous Collection moodlet. |
| Historical Hoarder | A Historical Hoarder has Collected 20 Relics of each culture. Relics discovered by Historical Hoarders are 50% more valuable. |
Related Pages