Mysterious Mr. Gnome
The Mysterious Mr. Gnome looks similar to a regular gnome, only with a star on his hat, and no base. While he may appear to just be a simple statue, he's capable of things no statue can do!
Finding a Gnome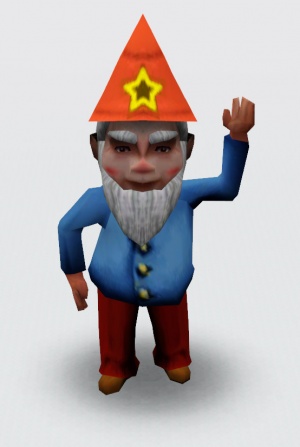 The Gnome can be found in several ways:
When fishing, you may pull up a "crate" which contains one of several random items. One of these can be the gnome.
When exploring the catacombs in the graveyard's mausoleum. You can get gems, seeds, etc., or a gnome.
When sending in metals for smelting, there is a chance when you receive the metal that a message will come up stating the ore was really a magic gnome.
When sending in gems for cutting, there's a chance you'll get a message saying the gem was really a gnome in disguise.
When rummaging in trash, one of the items you can find is a gnome.
You may have a higher chance of getting a gnome from sending in gems or ores for cutting or smelting if you have a sim who's done a lot of collecting send the items in.
Once you have a gnome in your inventory, place him where ever you want him on your home lot... but don't be surprised if he's not there when you look again! Kick the gnome and pick him up again to get different poses. You can also give your Gnome a name.
You may have multiple Gnomes, and you may get multiple Gnomes from a single batch of gems or ores.
Gnome Trickery
The Gnome changes poses, uses objects, cleans objects, and just plain moves around the lot when you aren't watching! His hours of trickery are between 21:00-4:00 (9 PM to 4 AM); the chance of performing any of these options is between 10% and 80%. He may develop a preference for specific objects, especially expensive ones (over 1500 simoleons).
Your Gnome may seem to go dormant for a while - they don't move or do something every night, and as the chances of them doing something are random, you may have to wait a while for your Gnome to move.
Idle Poses
Standing
Proud
Handstand
Dancing (2 poses)
Interested Poses
Scared
Pointing
Examining
Relaxing Poses
Sleep Poses