Can't Enter Lots
The TS3 open neighbourhood allows you to follow your sim's wanderings throughout the city - but not everywhere. If you find that you can't follow your sim into a particular lot, there's probably nothing wrong - you're just trying to get into the wrong sort of lot.
There are two types of community lot in TS3:
These lots have a blue icon over them in Neighbourhood view, and they function pretty much like residential lots. You send you sim to the lot, direct her to do things by clicking on objects, and can see inside the lot as normal. These are generally leisure destinations - swimming pools, libraries, parks etc.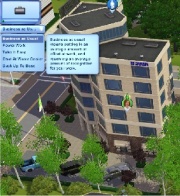 Rabbit Holes
Lots which have a red icon over them in Neighbourhood view are known as "rabbit holes", and are generally workplaces, shops, or lots which provide skill classes. You can send your sim to these lots and tell him what to do there by clicking the lot, but you can't see inside them - if you try to zoom in on your sim while he's inside a rabbit hole, the building will vanish and you'll just see the floor. There's nothing wrong here - that's exactly how it's meant to work.
If the lot is a workplace or a school, then you can direct how your sim approaches things using the drop-down menu in the action queue - this provides options such as "Sleep at work" and "Work extra hard", which affect your sim's job performance/grade and mood.

In technical terms, rabbit holes are actually buyable items - a rabbit hole is a "fake building", bought and placed on an empty community lot. As such, you can turn rabbit holes around, replace them, or build new rabbit holes by editing the community lot they sit on.
There is currently no way to create your own/edit existing Rabbit Holes.