Sims 2

>

>

Community lots/For when sims leave their houses/It's scary outside
The Phantom of the Opera - Opera Populaire 1870
3,292

Downloads
171

Thanks Thanks
28

Favourited
41,541

Views

Uploaded: 1st Mar 2011 at 2:45 PM
Updated: 1st Mar 2011 at 9:35 PM
Here it is, the Palais Garnier (Paris Opera House) as it looked back in 1870s, and in that time, it was called Opera Populaire. And in that time, Phantom (Erik) and Christine lived there.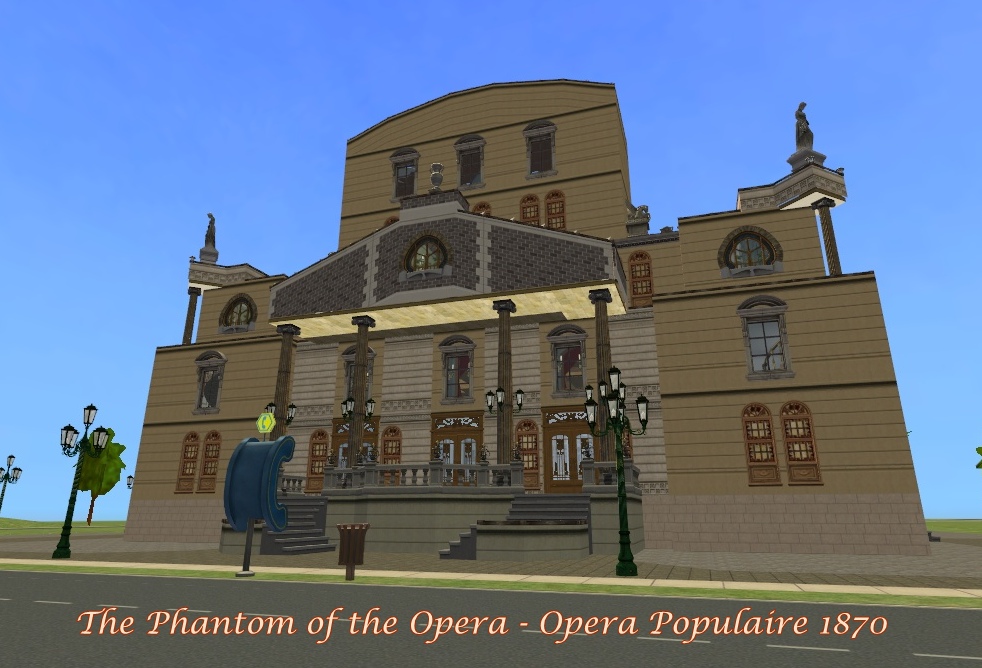 This is actually the main Paris Opera House as it's seen in movies, musicals, and books about Phantom of the Opera. It's also based on it's original look of 19th century, which was different from today's look of Palais Garnier.
However, the main pictures that I used for inspiration when building this were pictures from 2004 movie, and descriptions from the book by Gaston Leroux. I have also used some pictures taken from the scenes of the original musical, so I combined all three (movie, book and the musical) into one

On the other side, if you don't like or don't now about Phantom (but I recommend you to learn something about him

), you can still use this lot as an opera house in your neighborhood.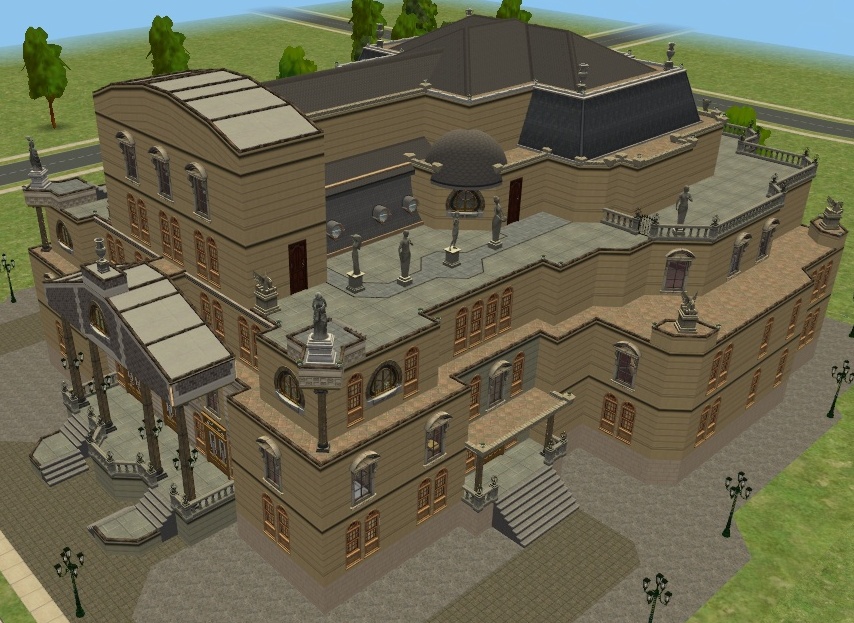 But, since that 'Phantom of the Opera' is my favorite movie of all time, I was more based on the scenes from the movie which stars Gerard Butler and Emmy Rossum, and I'm very happy with the result, I hope that you will be too

I have made an opera house earlier, but it was based on Palais Garnier, and if you prefer today's look, you can download it here:
http://www.modthesims.info/d/388129
Also, there is a big difference between this one and the old one: now the lot itself is not over sized; it requires less eps; it's simpler and more playable; Phantom's lair is located in dungeon level only (there is another way to enter it, not just through the Christine's mirror); auditorium is larger (76 seats + box 5); the stage is nicer and simpler; there was even now a place for back stage; rooftop is now accessible and it's decorated with marble statues... well, the rest of it I let you to discover and compare it with the other lot.
The auditorium, grand foyer, grand staircases, the stage and grand chandelier: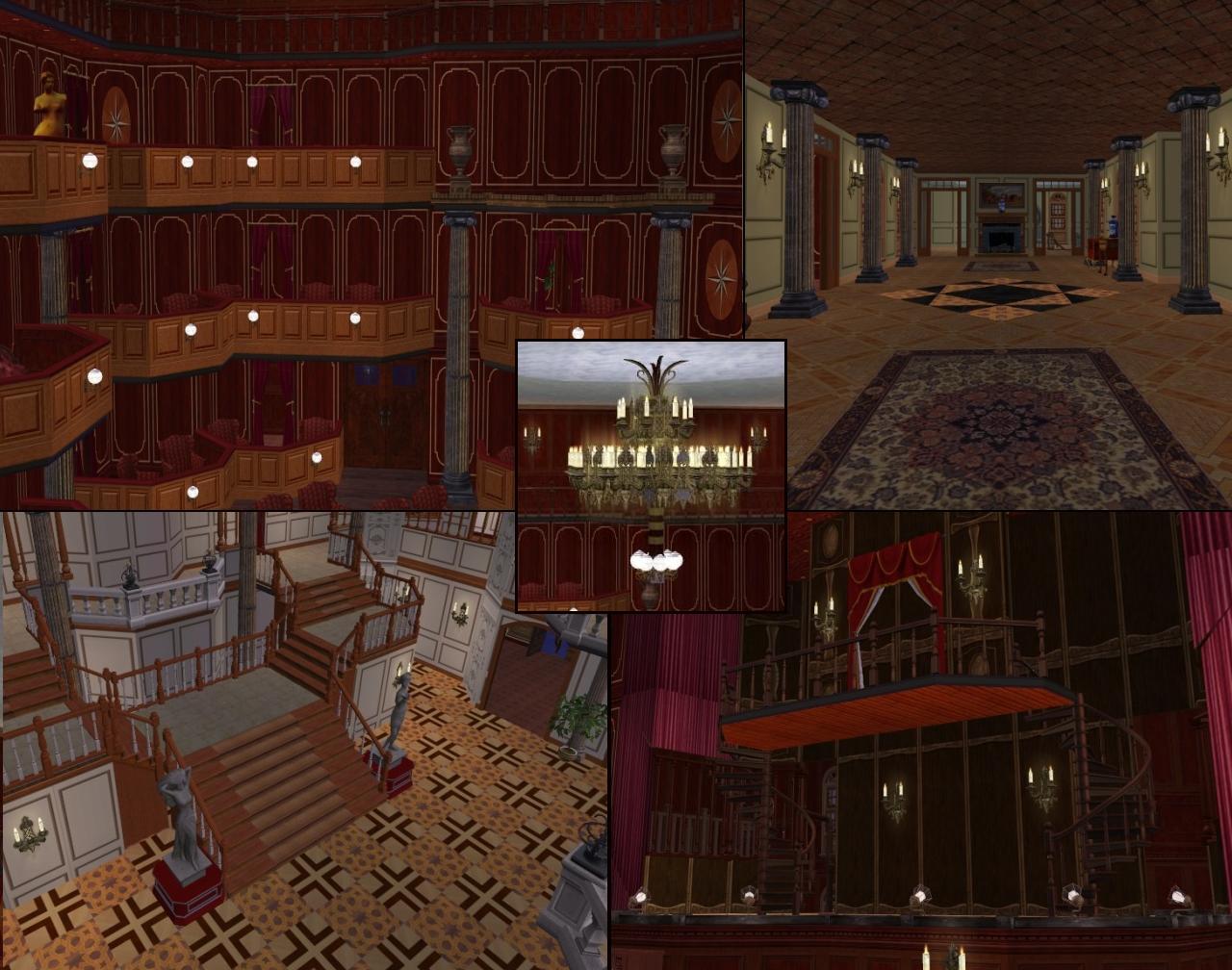 Phantom's beautiful, mysterious, dark dungeon compared with Christine's cozy, elegant, floral dressing room: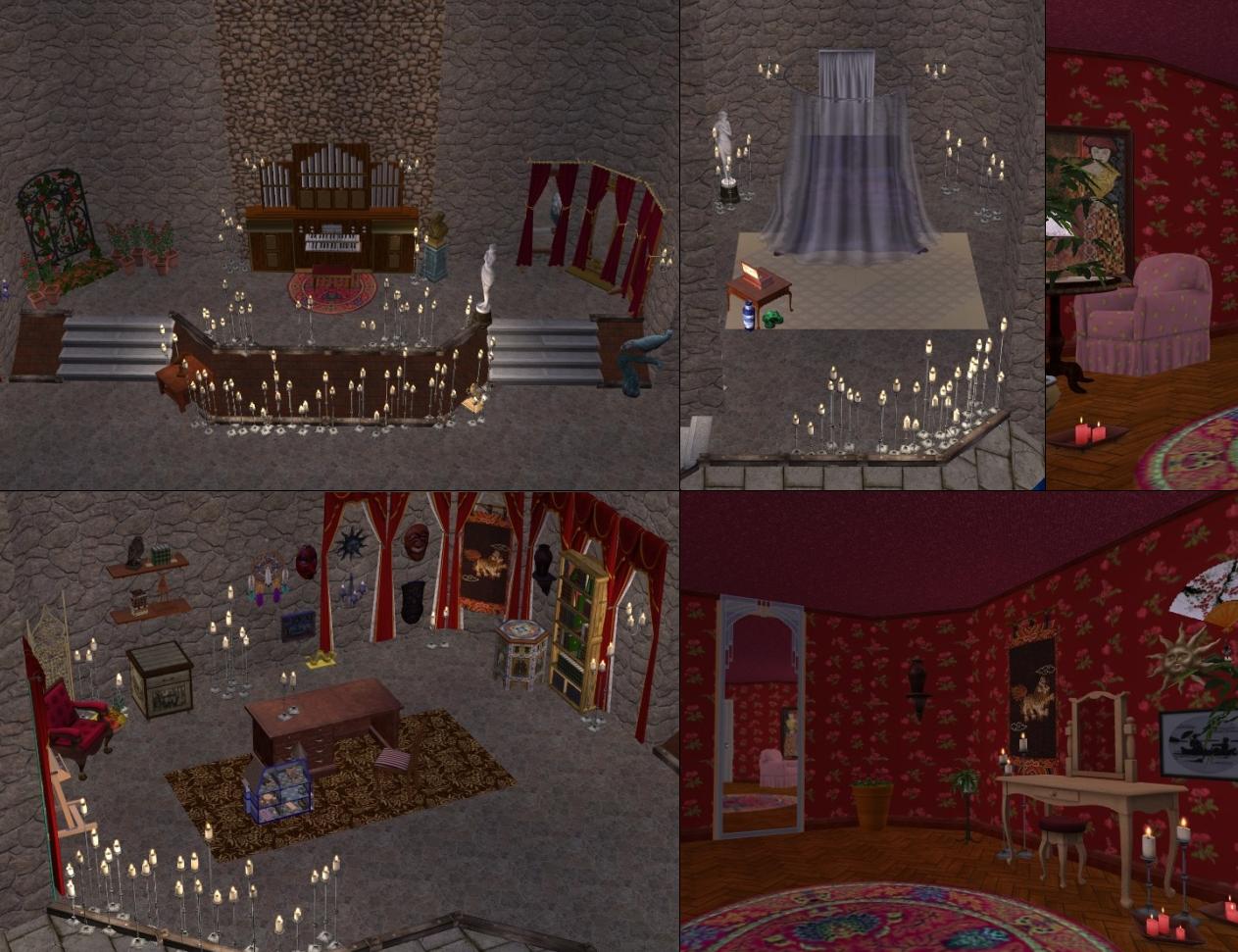 Lot itself is big, but it's not over sized so I think that it doesn't need a powerful computer to run. And my University and Freetime CDs both broke, so I couldn't add those gorgeous candles or medieval stuff from University, neither I could add violin or ballet stand from Freetime game

But, with the nice collection of custom content, and a bit of creativity, I made it

Also, when you place this lot once in your hood, and you decide to move it to somewhere else, it will leave a big hole in the ground. Don't worry, just place one large empty lot over it, and then bulldoze the empty lot, and both the lot and the hole will disappear, and your ground will be flat again

Lot requires: all eps (no Uni and Freetime), no sps (except Mansion & Garden) and some cc, for which I think that it was necessary

Feel the power of Phantom & Christine's voices once again, and be a part of the darkest romance of all time

Lot Size:
5x5
Lot Price:
0
Custom Content by Me:
- Water chamber floor
Custom Content Included:
- Candid Candlestick 3 by
buggybooz
- Candid Candlestick 5 by
buggybooz
- Candid Candlestick for table or floor by
buggybooz
- Candid candleholder by
buggybooz
- Rose velvet bed - bedroom 5 by
Jasmine
- Elven Floor Lamp by
Lethe_s
- Red coins Music box by
Lethe_s
- Colonial Fireplace without chimney by
mia86
- Pipe Organ instrument by
feeEssen
- White round canopy - bedroom 6 by
Delphine
- Graveyard Grimm Statue by
TheJim07
- Gally de Orleans statue by
TheJim07
- Alexia Full of Hair statue by
TheJim07
- Gloria statue by
TheJim07
- Phillippe of Aznac statue by
TheJim07
- Dark wood recolor of Elven Floor Lamp by
tiggerypum
Packs Needed






+
1 SPs
For a full list of packs with names, see the Packs Needed popup.
Other Information
Number of bedrooms
:
– Not Applicable : For Commercial Lots
Custom Content Included
:
– Build and Buy Mode Content : Furniture, decorations, etc.
Furnishings
:
– Fully Furnished : Lot is completely decked out in furnishings
Special Flags
:
– Not Applicable
Packs Needed
| | Base Game |
| --- | --- |
| | Sims 2 |
| | Expansion Pack |
| --- | --- |
| | Nightlife |
| | Open for Business |
| | Pets |
| | Seasons |
| | Bon Voyage |
| | Apartment Life |
| | Stuff Pack |
| --- | --- |
| | Mansion and Garden |
My Magnificent Profile
You can't upload my creations anywhere!

You may use my lots in your videos, stories, pictures...

It's forbidden to claim my work as your own!

I do NOT take requests!

Respect these rules!


Other things that I like: red roses, black horses (I adore them!), birds (the best animals on planet), art, music, Moon, night, forests, old castles, mystery... and Phantom of the Opera

Adventure - Romance - Love - Knowledge - Magic - Inspiration - Passion - Art - Music - Nature