Sims

>

>

Big eyes and blue hair/All the boys look like they're girls/DESU DESU YO
DBZ: Piccolo
MTS has all free content, all the time. Find out how YOU can help to keep it running.
Tell me how...
16,653

Downloads
314

Thanks Thanks
67

Favourited
123,975

Views
Featured Upload! This is a featured upload! It showcases the best talent and creativity available on MTS and in the community.


Uploaded: 28th Mar 2011 at 11:12 AM
Updated: 6th Jan 2012 at 9:53 AM - change alternate link for myos muffler

UPDATE 1/6/12
The Myos Muffler can also be downloaded at All About Style, link is in the download section of this post and down below.



UPDATE 4/1/11
It has come to my attention that the shoulder weights did not appear and that the turban doesn't stay on all the time; I have fixed these errors plus some others I haven't caught before, the new shoulderweights mesh and turban recolour and other fixes are in the new
Diekatze Meshes 2
.rar file I have uploaded. If it is not there yet, just wait till the cache refreshes. I have tested these and they should work now. If there are anymore errors that pop up, please let me know by PM. For the future downloaders, I recommend installing the Piccolo sim first and then put the content of Diekatze's Meshes 2 in the downloads folder in order for some of the fixes to work. Thank you




UPDATE 4/10/11
Not reeeeeally a necessary update but I just wanted to let those who are reading this thread know is that now I have a
FAR
better skin available for your Piccolo and it can be found
HERE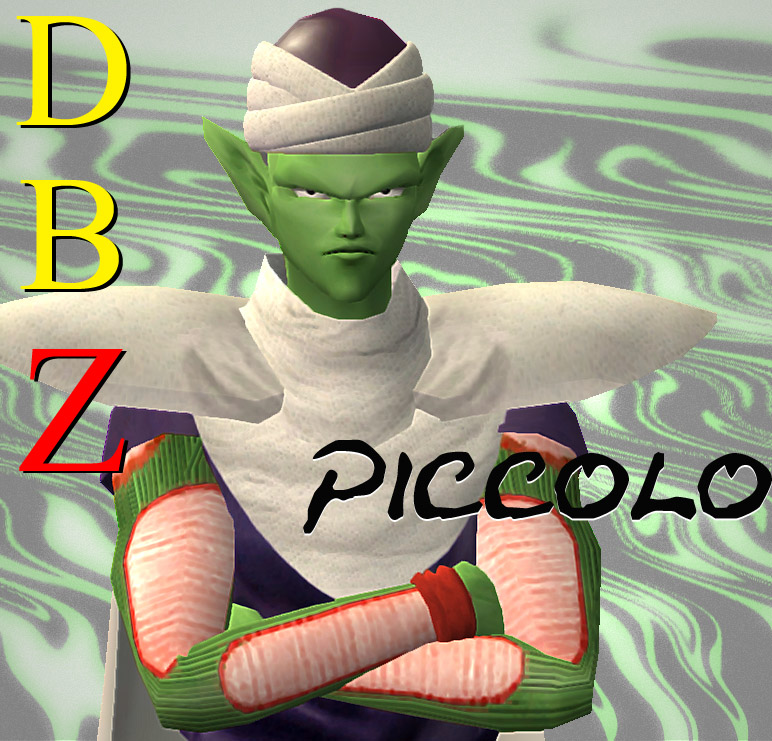 Finally! Piccolo the badass green alien can now be apart of your neighborhood today! Hooray!
In case you didn't know Piccolo is from the Dragonball Z and he is a Namekian (species). He is the son of King Piccolo from Dragonball, so technically he is "Piccolo Jr", but still refers to himself as just Piccolo. As should be.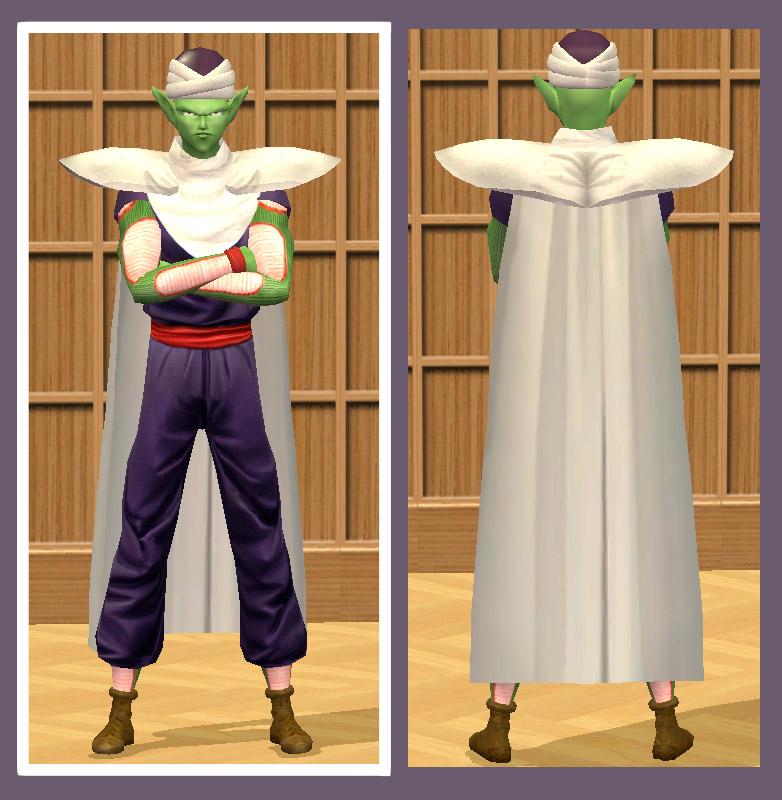 I personally thought I never would get this far with Piccolo, every mesh seemed to have a major problem, the textures would be awful and had to redo them, files would be corrupted or the game would crash, but I somehow made it through amidst the chaos.
Now, there's allotta things I need to mention in this thread, I hope I don't forget anything...

Custom Meshes by Me
Used Milkshape to make all my custom meshes and they all are recolourable (and I am quite sure they are all base game)
Piccolo Tunic Mesh
I have included Piccolo Tunic (although I just realized it's called a gi but I'm not going back to change the name on everything) mesh for both Adult Male and Elder Male. They can be worn for any occasion except as Underwear. I used the arms and chest of [Marvine, Beoboxboy] SynapticSim's Lean Body Builder V2. I also tried shaping the legs similar to the contours of the Lean Body Builder as well. I know the pants aren't as "baggy" as they should be, but if I were to make them too wide they would clip into everything. They slightly clip as, but only when the legs cross each other like resting on the bed or they would clip a little into the couch. But no major clips or issues that would seriously hinder gameplay. There is no preg morph or becomes fat while wearing this outfit.
Poly Count:
Faces: 2300
Vertices: 1860
Turban Mesh
I think this is my favorite mesh that I have made from scratch by far. He is wearing the turban mesh by default. This turban is an accessory mesh, not hair, so short cropped hair can be worn underneath if desired. It can be worn everywhere, anytime, even swimming and sleeping. That way he won't take it off and Oh no! He has no antennas! It can be worn with other accessories. Can only be worn by YAM, AM, and EM.
Poly Count:
Faces: 1003
Vertices: 1021
Namek Antennas Mesh
Included with the upload, You can have Piccolo alternately wear antennas if you don't want him wearing the turban all the time. Use the mirror to change accessories, you can make him wear both if you want but he would look rather silly. The antennas can be worn at all times, even swimming and sleeping. They can be worn with other accessories. This mesh can be worn by both male and female adults and elders (young adults implied). I do have teen, children, and toddler versions available but I shall upload them in another thread later.
Poly Count:
Faces: 811
Vertices: 568
Shoulder Weights
These shoulderweights (or shoulderpads, whatever ya want to call 'em) are to be worn with the scarf and cape. Without the scarf they are hovering above his shoulders, so they are only really meant to be worn along with the scarf and cape combo. You can't wear them swimming or sleep with them on - would you really want to sleep with these on do you? So he will take them off when he goes diving into the pool and whatnot. They can be worn with other accessories. They are attached to the movement of his clavicles (or collarbones) so if his shoulders aren't moving but his arms are, the arms may sometimes clip into the shoulderpads or anytime the arms perform radical motion. But otherwise no major glitches that hinder gameplay. They are available only for YAM, AM, and EM.
Poly Count:
Faces: 571
Vertices: 1070
Wrist Cuffs
Originially I was going to use generalzoi's bunched cuffs, but they had an odd glitch which I couldn't fix so basically being inspired by her bunched cuffs I managed to make these. Like the shoulderweights they do come off while swimming or sleeping, but they can be worn with other accessories. They are only available for YAM, AM, and EM.
Poly Counts:
Faces: 547
Vertices: 640
Face
I used Milkshape to edit his face so that he can have those ridges over his eyes and pointy-ish nose (and remove those darn maxis eyelashes!). The ears originally came from GnatGoSplat's Zelda sim and was converted for male sims by pentabet, so now his ears will always match the skin color. Ah yes, and the best part is that his face and ears are genetic! Yes, that means his offspring can inherit his erm, handsome features. On a side note his skin and eyes are geneticized as well. I remade each Face Template for both genders and all ages so that this can work. They are default replacements for the CAS Face ArchCpol, which I do not think you will be missing. Oh, and I should probably put GnatGoSplat's advise here,
in order to see the face and ears correctly, the Sims graphic setting under "Object Quality" should be set to "High"

Other Details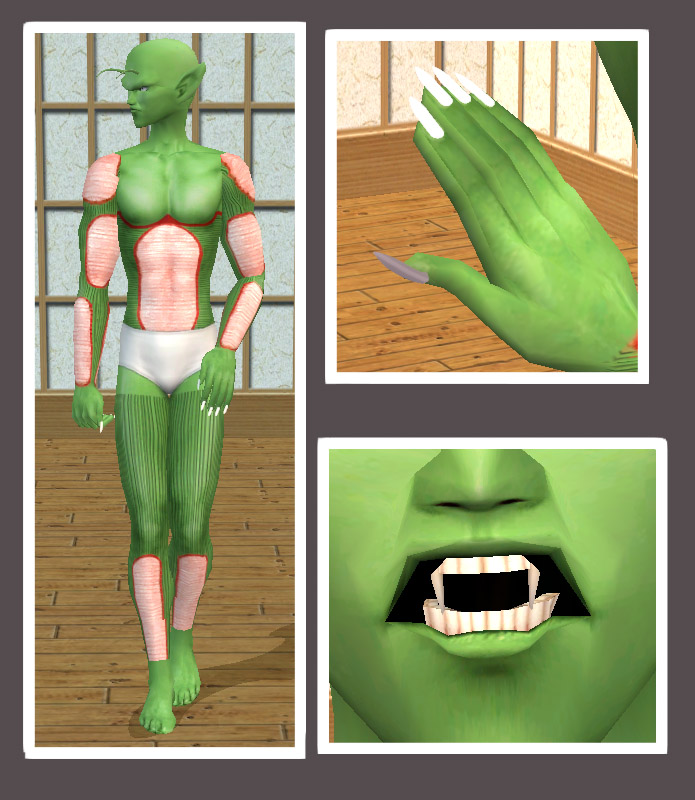 In this slightly fanservice-y pic I just want to be able to show other details you wouldn't be able to see in other pics. The skin is modified version of Ren/Louis' self-make up skin, all I did was added the details and modified the eye area. I tried my best to be accurate about the skin, unfortunately the "pillowy" muscle things were not going to work as they didn't look so great when lacking the 3d aspect, so I compromised with pinkish muscle-like texture. The extra details can only be seen on Teen though Elder males, children and females are only green. The body shape used in the pic is [Mavine&Beoboxboy] SynapticSim's LBBv2, also when Piccolo is in the shower his body will turn into this bodyshape.
I adjusted the alpha of generalzoi's Vampire Fangs to make them shorter. RAWR! Also adjusted the alpha of shadylady482's long nails to make them pointy.

Meshes Included with the Upload
-
generalzoi's
Vampire Fangs for All
I have included because I have actually fixed them, they should not flash blue anymore

Meshes Ya Need
-
SynapticSim's
and generalzoi's Bodybuilder Cape mesh which can be downloaded
HERE
-MyoS's Muffler mesh which can be found
HERE
although for some reason it always goes to one of MyoS's hairs, so you also would need to click on "Accessory" under "Sims 2" on the side menu in order to get to where the Muffler mesh is
-As of
1/6/12
the downloads doesn't seem to be working at the moment for the Muffler, so an alternate place to download it would be
HERE
at All About Style under "accessories" for Sims 2, then click "other"; download any scarf which states "mesh by SAU included"
-
shadylady482's
Long Nails mesh which can be found
HERE
-crayonarefun's Showerproof Skintone linked to LBB mesh can be found
HERE
-This is not necessary but just a side note, if you want Piccolo to keep his bodyshape in any clothes he is wearing then you can go either
HERE
or
HERE

Due Credits
-The
Lean BodyBuilder V.2
of which I used the arm and chest in the my Piccolo Tunic mesh is by [Marvine&Beoboxboy] SynapticSim and the
LBB showerproof skin
was created by
crayonsarefun
-
GnatGoSplat
originally molded the pointy ears and
pentabet
made them available for males.
-Piccolo skin is modified
Ren/Louis'
skin
; Natural Green lips also uses her skin's lips as base/alpha

Custom Content by Me:
- Piccolo sim
- realsmall Black Eye5 ~ Edited with The Wardrobe Wrangler
- natural green lips
- White Long Nails ~ Alpha edit
- Shoulderweights by Diekatze
- White Scarfwrap ~ Recolour
- White Cape ~ Recolour
- Shorter Fangs ~ Alpha edit
- Turban by Diekatze
- Wrist Cuffs by Diekatze
- Piccolo Skin ~ Edited with The Wardrobe Wrangler ~ Recolour/Edit
- Piccolo Tunic by Diekatze
- Piccolo Tunic Mesh
- Namek Antennas by Diekatze
- Elder Piccolo Tunic by Diekatze
- AFArchCpol CAS Face default Replacement
- AMArchCpol CAS Face default Replacement
- CuArchCpol CAS Face default Replacement
- EFArchCpol CAS Face default Replacement
- EMArchCpol CAS Face default Replacement
- PuArchCpol CAS Face default Replacement
- TFArchCpol CAS Face default Replacement
- TMArchCpol CAS Face default Replacement
- Turban Mesh
- Shoulderweights Mesh
- Namek Antennas Mesh
- EM Piccolo Tunic Mesh
- Wrist Cuffs Mesh

Custom Content Included:
- [FIXED] Vampire Fangs for Everyone by
generalzoi @ MTS

Additional Credits:
- Squinge at InSiminator for Hula Hack
- decorgal21572 at MTS for Custom Modeling Poses Overlay Hack
- eletrodj at MTS for Cup of Poses
- Scorpicus, HystericalParoxysm, tiggerypum, Mr. Pixel for all of their awesome tutorials which helped make these meshes possible
- All those responsible for the creation and plug-ins for Milkshape and
SimPE
- fakepeeps7 and doorknob for trying to help me with my Shoulderpads turned Shoulderweights accessory
- All those who commented and made critique on my Creator's Feedback thread - Thank you so very much!
- I also want to thank Figs who made critique offline, witnessed the step by step process, tested my namekian antennas to make sure they worked correctly, listened to my rants about every little thing going wrong with my meshes, and for inspiring me in the first place to create sims. I hope you enjoy him


Policy
~ Do not upload to the Exchange
~ Do not upload to any paysite. Do not upload to other simsites without my permission
~ Meshes.... not that I think anyone would really use them for anything but you can recolour and/or modify them to your leisure as long as you link and credit me
Messages and Important Stuff
June 23, 2013 I think I may be returning to sims 2 this summer, however, I'm just going to play what I want and not focus too much on creating content. If I do make anymore custom content I'll most likely upload them either on my tumblr or GoS.
I have to delete the first 2 sims, Frieza and Cooler, from here because they are such low quality and I just can't look at them anymore. But I'll leave a link to where you can get them if you really want them. If you really want them go
HERE
----------------------------------------------------------------------------------------------------------------------------------------------------------------------------------------------
Just to answer the most common question I receive,
-Long story short, I am currently not taking requests

-Also, if you are having trouble getting the sims to appear, first check the link under the download files in the download tabs and see if that solves your problem
-If you are still having trouble with the sims then PM me, but make sure it is something you absolutely cannot figure out on your own
=+POLICY+=
~No Exchange
~Do not upload Sims to other web/simsites without my permission
~But Absolutely No Paysite for any of my work
~I certainly would love to hear what you have done with my work, but it is not required
~Do whatever ya want with my meshes unless otherwise specified in the post, just credit and link ;)