Sims 3

>

Sims

>

>

Get your celebs here/Lots of Angelina sims/And not a lot else
Ellie Goulding
18,523

Downloads
670

Thanks Thanks
164

Favourited
199,852

Views
Featured Upload! This is a featured upload! It showcases the best talent and creativity available on MTS and in the community.

Personal Picked Upload!
This is a personal favourite of the creator!

Uploaded: 26th Jul 2011 at 4:18 PM
Updated: 15th Aug 2011 at 10:43 PM by dutch_1991
Finally, my nearly 6-month project has come to an end.

(Read: I will make more Ellie stuff, but I'll take a short (read: very short) break first)
While trying my best to suppress any urge to tell you the horribly lengthy story of how Ellie Goulding and her music came to inspire me, my art, and my everyday activities, and my online activities, and other activities, let me tell you one thing: I am so totally NOT obsessed. Nope.
Moving right along.
As you well know, I have been spamming the download section the past week with a lot of Ellie G-related items (and a lot of people were like 'Who the hell is Ellie?!'). This is because they are all part of my grand Ellie Goulding pack that I have poured my heart and soul and effort and precious sleeptime into. All out of pure inspiration andddddokay yeah, no life story. Sorry, I sidetrack. Anyway. The purpose of this pack is simple: I feel the need to make her known to more people, and since the TS3 community is the only place where my (virtual) voice can be heard, you guys became my target audience. Download this pack/sim or not, if you have the time and the
slightest
bit of interest, do go and search for her music on YouTube or Google or wherever and give it a listen. I'd like to say more, but that's about enough since I'm already ranting and it's boring as shit.

Here's what the upload is actually about:
Name
: Ellie Goulding
Age
: Young Adult
Biography
:
Elena Jane Goulding was born on 30 December 1986 in Hereford, England. She grew up in Powys, Wales, and later moved to London. In 2009 Goulding emerged as a blogosphere favorite. Her early tracks such as "Starry Eyed" received mainstream media appraisal for their refreshing and catchy tunes, as well as the unique mix of electro and folk music elements. Goulding's lyrics are refreshingly direct as she chronicles the highs and lows of love in her airy, gossamer voice. With her music, Goulding won the Critics' Choice Award at the 2010 BRIT Awards and has recently made her debut in the US. She is also a keen runner and strives to maintain a fit physique, as well as inspire the masses to take up a healthy lifestyle.
Favorite Food
: Cookies
Favorite Music
: Electronica
Favorite Color
: Irish Green
Astrological Sign
: Sagittarius
Traits
: Athletic, Easily Impressed, Friendly, Loves the Outdoors, Virtuoso
More pretty mugshots: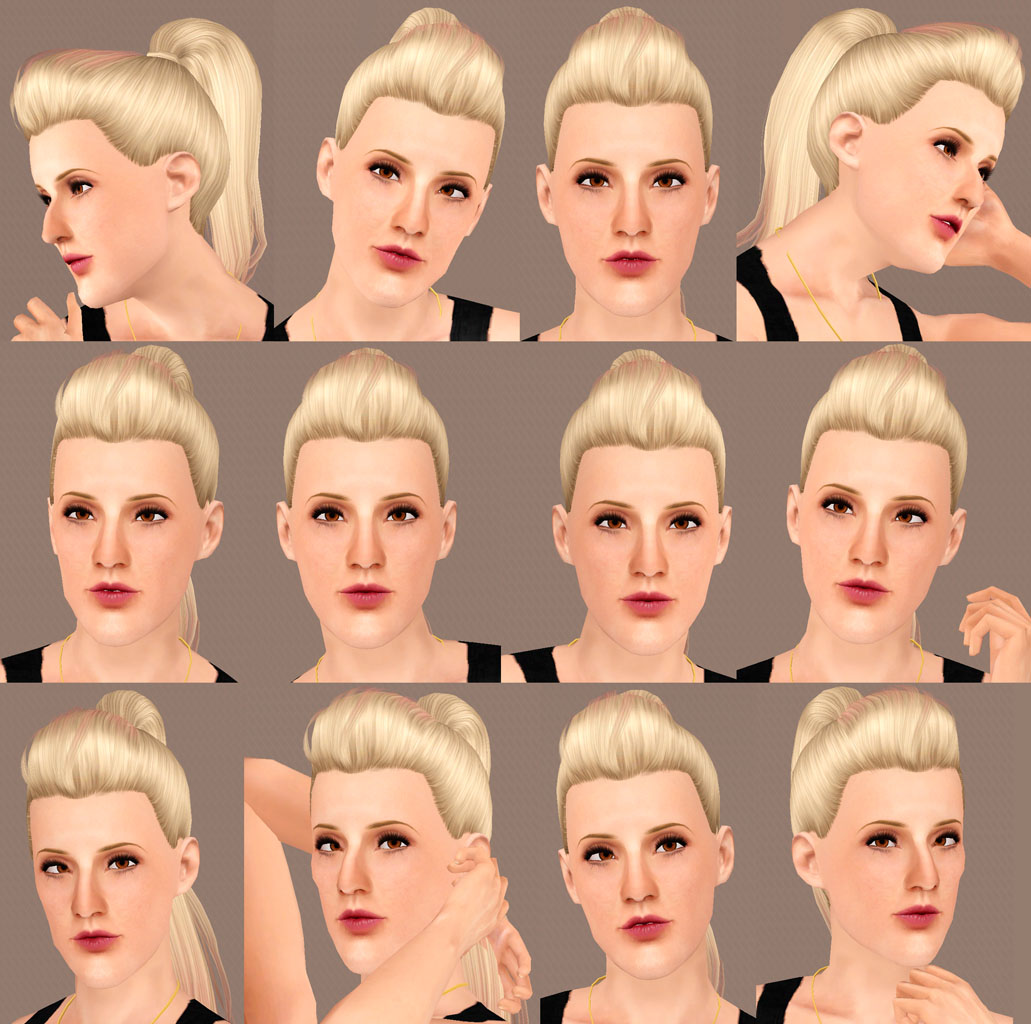 Outfits: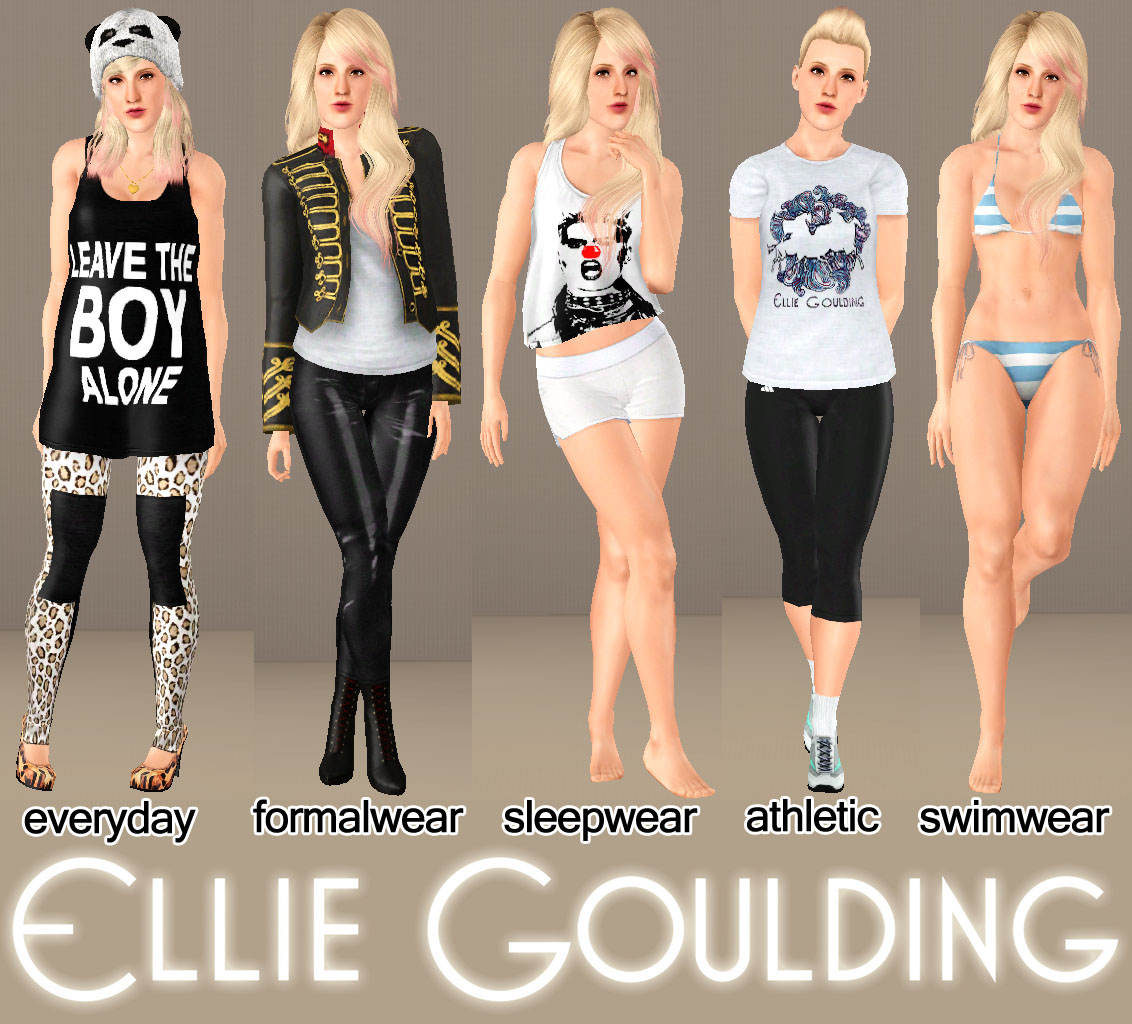 As you can see, most of the items she wears are stuff made by me in the other packs. Specifically:
-
The Ellie Essentials
-
Panda Hat hairstyle
-
The Ellie Tights
-
Get Your Red Noses On
-
Ellie on the Wall
*Other items not made by me are listed in the Additional Credits section below, and are also required, so please make sure you get them too.


EXTREMELY important:
Please read carefully. Due to the site's upload policy, I had to pack the sim
without
any non-default skintone and custom hairstyles.
Meaning, default EA skin and hair are packed with the sim
. Hence, she will initially look like this in Create-a-Sim:

Still her, only a little less glamorous. Therefore, in order to have her look exactly as she does in my other screenshots, you need to
download
the hairstyles and one of the two skintones listed in the Additional Credits section below,
look for them in CAS
and
apply
them to the Sim accordingly. (if you choose to download the default replacement skintone, then there's no need to apply it. The game will do that for you). Sounds like lots of work, I know, but it's not that complicated. And anything for the perfect sim, hey?

**Her face was sculpted with the use of slider multipliers. Therefore, please do not attempt to change her face without having a certain sort of multiplier, or it will become incredibly borked and all the pretty will be gone! (Twallan's MasterController and Pescado's AwesomeMod provide this feature, so you could do a Google search for either of those)
And that's it! :D
Additional Credits:
Facial slider hack (if you intend to fix her face)
:
Bella3lek4's Facial Sliders
Skin
: **choose EITHER default replacement OR non-default replacement version(which you'll need to manually apply to the sim in CAS)**
Busty non-default Strawberry skin by M.Calero at Garden of Shadows
Eyebrows
:
Shady's Eyebrows converted by daluved1 (SMOOTH version. But just download both anyway)
Eyelashes
:
aarin's LASHED ~ Lower Lashes Eyeliner
Lipstick
:
Fugly Lipgloss of Doom by kittehbomb
Everyday necklace
:
I Give You My Heart ~ Heart Pendant *UPDATED 02/09/2011* by Anubis360
Everyday shoes
:
Leopard shoes by RustyNail
Formal, Sleepwear, Swimwear hair
:
Peggy FREE hair #000530
Formal pants
:
Rocky pants at Imaginarium of Green
Athletic hair
:
Nouk's Out of Fashion Ponytail ~ Converted for Teen-to-Elder
Athletic pants
:
Adidas inspired fitted capris at Lorandia Sims 3