>

Custom careers - more choice for your working Sim!
TS3 Bot Arena Career for TS4
MTS has all free content, all the time. Find out how YOU can help to keep it running.
Tell me how...
11,100

Downloads
114

Thanks Thanks
23

Favourited
16,927

Views

Uploaded: 9th Aug 2019 at 5:35 PM
Updated: 2nd Aug 2022 at 8:55 PM - update 1.89-1.90
Edit 08/02/2022: Updated for patch 1.89-1.90, please redownload!
Edit 03/03/2021: Updated for patch 1.68 and compatible with 1.71, fixed an issue, please redownload!
Edit 06/17/2020: Updated for patch 1.63, fixed an issue, please redownload!
Edit 05/18/2020: Reupdated for patch 1.62, fixed an issue, please redownload!
Hi everyone! Today I bring you a new career that I've been working on for a while! If you played the Sims 3 it might sound familiar because it is the Bot Arena career from the Sims 3 Into the Future Expansion Pack for the Sims 4. I haven't seen anyone do these careers from that expansion pack yet and I've been waiting impatiently for them, so I ended up deciding to make my own. And now I am sharing with you all. Made with patch 1.53 and Island Living (but not required).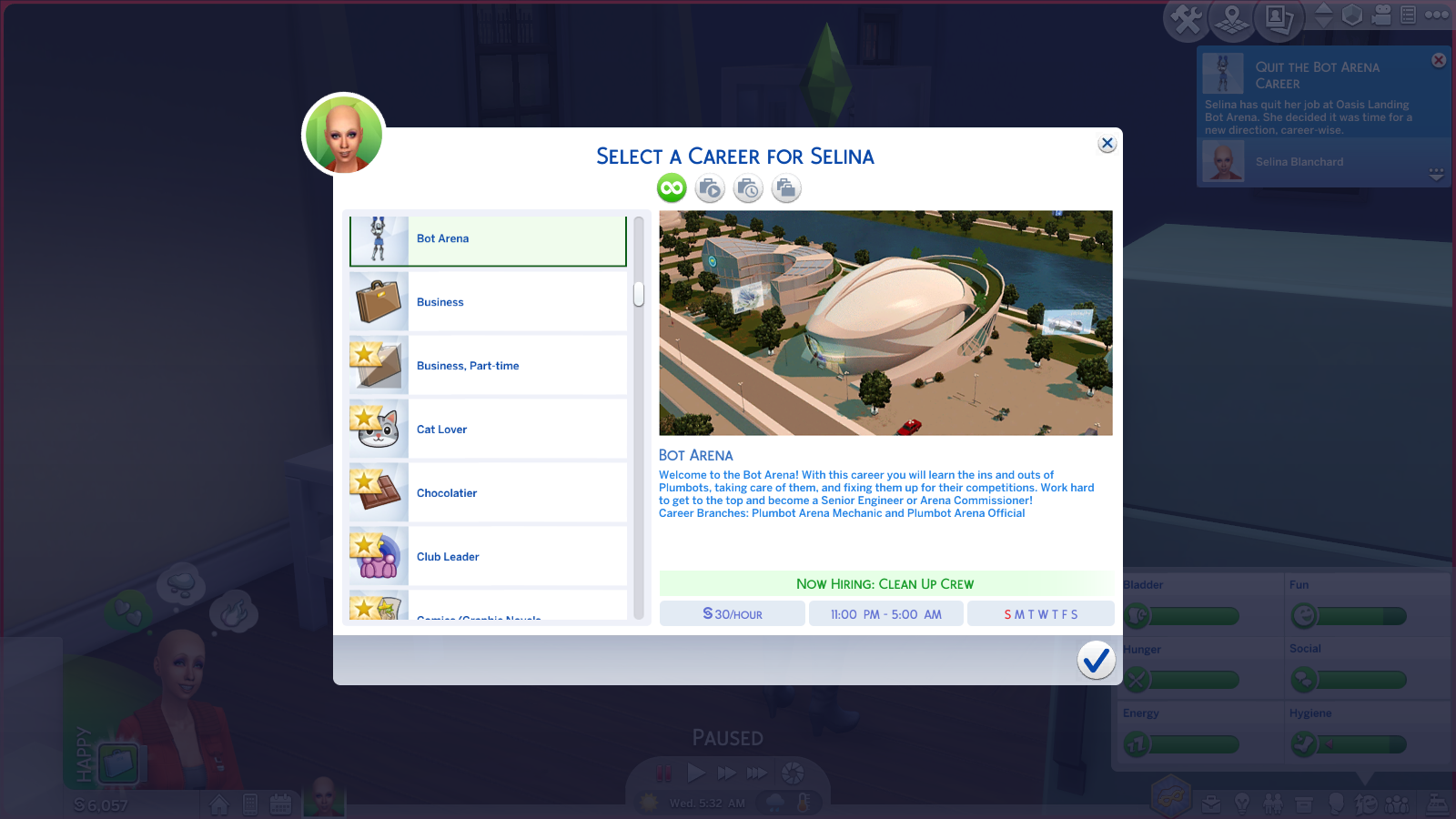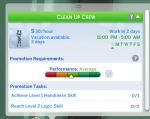 This career has 5 levels initially, then 2 branches with 5 levels each. You will be honing different skills, including Handiness, Logic, and Charisma, since there is no bot building skill. The branches are Plumbot Arena Mechanic and Plumbot Arena Official. Everything has been taken exactly from the Sims 3 Bot Arena career information.
More information about the different levels, branches, more pictures (each branch uses the same images as the first time you start does), pay, and days work is can be found under the spoiler.


The 10 levels and 2 branches include:

Main Track

Welcome to the Bot Arena! With this career you will learn the ins and outs of Plumbots, taking care of them, and fixing them up for their competitions. Work hard to get to the top and become a Senior Engineer or Arena Commissioner!

1) Clean Up Crew at Mon-Sat, $30/hr

-The Bot Arena is a magical place, where dreams can be built or flattened. You?re just on the Clean Up Crew right now, but prove your worth and the sky's the limit!

2) Scrap Organizer at Mon, Tues, Thurs, Fri, Sun, $33/hr

-Your talent for sweeping up spare bolts caught the supervisor's eye. You have been promoted to Scrap Organizer, in case anyone needs a spare part.

3) Sensor Buffer at Mon, Tues, Wed, Fri, Sat, $38/hr

-Having earned some respect, you are trusted to handle actual competing Plumbots! As a Sensor Buffer, you will be handling the simplest of parts.

4) Safety Inspector at Tues, Wed, Thurs, Fri, Sun, $54/hr

-After working long hours, you can finally drop the buffing rag. As a Safety Inspector, you?ll ensure all those fine machines are treated humanely.

5) Bot Technician at Mon, Wed, Thurs, Fri, Sun, $86/hr

-Your knowledge of Plumbot systems earned you a promotion to Bot Technician, along with a shiny new Plumbot-themed Holo Sprite!

----------------------------------------------------------------------

Track 1 Branch: Plumbot Arena Mechanic

As a Plumbot Arena Mechanic, you will be focusing on fixing up Plumbots before competitions.

1) Arena Pit Crew Member at Tues-Sat, $167/hr

-As a certified Arena Pit Crew Member, you are one of many Sims maintaining a competitive Plumbot. You're qualified to perform Professional Tune Ups!

2) Pro Team Probie at Tues, Wed, Fri, Sat, $217/hr

-Many Arena Plumbots compete, but only a few are truly elite. You have been hired for a prestigious Bot team: you're a Pro Team Probie!

3) Team Mechanic at Tues, Wed, Fri, Sat, $350/hr

-You have proven your worth on a professional Bot team. Those coveted mechanical skills earned you a promotion to Team Mechanic.

4) Crew Chief at Mon, Tues, Fri, Sat, $400/hr

-Leadership is necessary for success, even amongst dedicated professionals. You have been promoted to Crew Chief, responsible for the whole maintenance crew!

5) Senior Engineer at Thurs, Fri, Sat. $750/hr

-Legends aren't born; they're built, like the best Plumbots. As the new Senior Engineer, you have a long list of responsibilities, including Overseeing Competition Production. Show 'em how it's done!

----------------------------------------------------------------------

Track 2 Branch: Plumbot Arena Official

As an Plumbot Arena Official, you will focus on the more, business side of the competitions.

1) Flag Dropper at Tues-Sat, $167/hr

-You're still learning about Arena management, but for now you've been given a job as a Flag Dropper. Promotional work on the side is expected.

2) Competition Judge at Mon, Tues, Fri, Sat, $217/hr

-After dropping the flag to start many Bot contests, you are promoted to Competition Judge. Finally, you?ll get to handle the ends of competitions instead!

3) Arena Announcer at Mon, Wed, Fri, Sat, $350/hr

-Who really cares about those Sims scuttling around the Arena, yelling and waving flags? You would much rather have your newest position: Arena Announcer!

4) Plumbot Promoter at Tues, Thurs, Fri, Sat, $400/hr

-Plumbots may be machines, but they still need representation! As management?s newest Plumbot Promoter, you stand out without needing to don exorbitant hair products!

5) Arena Commissioner at Thurs, Fri, Sat, $750/hr

-You have worked everywhere in the Bot Arena industry and seen everything. As Arena Commissioner, your biggest duty is the scouting of fresh Bot prospects.

----------------------------------------------------------------------

That's the end of the career! You earn PTO throughout the work week. Days off and pay are directly from the Into the Future EP.

----------------------------------------------------------------------

More pictures in game (also check out all the pictures up top):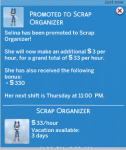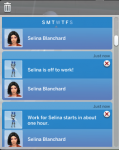 Que The Cool Stuff
Sims 2:
Please don't upload my recolors on paysites!
I no longer take requests as I am no longer creating for the Sims 2.
Sims 3:
All my mods are updated for Pets/patch 1.26.
I no longer take requests for mods.
If you'd like to update my mods, that I haven't updated yet, feel free to. Just give me credit, okay? That's all I ask.
Some of my mods are updated for patch 1.67/1.68/1.69
. If you'd like to download them, check out
my Sims 3 mods here
. There are hair retextures, more new mods and default replacements to be found on my tumblr as well. Just go to
My Downloads
and take a look.
I now have Sims over at The Sims Resource. So come check them out! Claudiasharon at TSR And they are free!
Sims 4:
I am now modding the Sims 4.
I now take requests
here
! Please do not reupload my mods or update them without my permission. Most of my mods can now be found on my tumblr.
Check my Mod Compatibility Page
for details. :-). The rest can be found here at Mod The Sims. I also do hair retextures, clothing, traits and Sims over on
my tumblr
. Check it out!