Sims 4

>

>

Trees, Flowers, Shrubs
Harvestable Blueberry Plant
155,604

Downloads
1,910

Thanks Thanks
321

Favourited
158,326

Views

Uploaded: 17th Apr 2016 at 9:42 PM
Updated: 23rd Jul 2021 at 6:38 PM

Info about all my harvestables
Update 22.07.2021
- Updated for Cottage Living
- Enabled for Village Shoppe and Grocery Order by
this mod
Update 11.03.2021
Fixed name of Blueberry
Update 21.09.2020
Dutch Translations - Yuna_Vs
French Translations - Candyman
Spanish Translations - Geosims
Made compatible with Eco Pack ( Support for Fizzy Juicing - Will require additional Custom Fizzy Juices Mod)
Update - 15.12.2019
- Updated for University cafeteria recipe and dorm chests
- Updated for the latest Patch (12/12/2019 – PC: 1.59.73.1020 / Mac: 1.59.73.1220)
Update - 16.10.2019
- Updated for conservationist career and Spell casting
- Russian translations by leoobarse
Update - 17th April 2019 Patch
--- Updated to Patch :UPDATE: 4/16/2019 — PC 1.51.75.1020 / Mac 1.51.75.1220
Update 12th January 2019
- Corrected Blueberry Object definition to make it compatible with recipes and preserves
Update - July 18 : Updated growing season
- Growing season : Summer and Fall
- Can be planted in freezing temps
- Blueberry can be found in the catalogue now without cheats

If the translations have all reverted back to English, i will add the translations later! i had to redo the harvestables and some translations may have been lot

Update 23rd June
--- Fixed the issue of blueberry turning into blackberry
Update - 21st June 2018 : Season Patch
--- Updated to Seasons Patch ( PC 1.44.77.1020 / Mac 1.44.77.1220)
Update - 9, Nov, 2017 : Pets Patch
--- Updated to Pets Patch (PC - 1.36.99.1020 / Mac 1.36.99.1220)

Update (20.01.2017):

--- Updated with Brazilian Portuguese translation (Thanks Akin_)


Update (20.01.2017) - Updated as the previous file was throwing a script error due to incomplete merging



Update (20.01.2017)



--- Updated for Patch 1.26.96.1010 (Toddler patch) [

Remove the old files as the packages has been renamed and would not replace]

--- Toddler compatible (aka toddlers can eat the harvestable, play with the plant)



--- Can be sold using City living stands




Update(31/07/16):
-- Now Raspberries can be found under Appliances --> Misc ( no need to turn debug on!)
-- Updated with Translations - Dutch (ElenaInTheSims) , Polish (Piesek64) , Spanish( gato_24)
-- Bugfix- Fixed an error whereby raspberry recipe requirements were not displaying properly

Update-18.4.2016: - Updated with Chinese Traditional (wuccwzt) Translations.
- Fixed grammatical errors and updated the string(Thanks wuccwzt and Menaceman44 )

Mod Description:
Adds a custom Harvestable Blueberry plant to the game.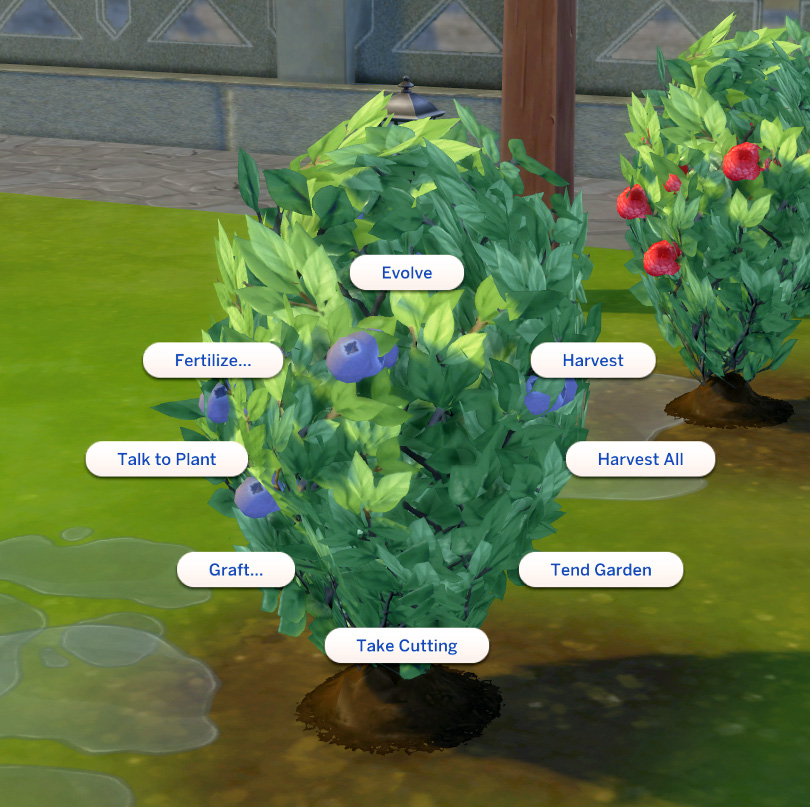 Details:
---The Blueberry plant produces Blueberry which can be harvested
---Blueberries are tagged as a fruit and can be eaten raw.
---Blueberries can be used as a cooking ingredient in any recipe which requires fruit ( Custom Blueberry recipes to come later)
---Can be planted like any other fruit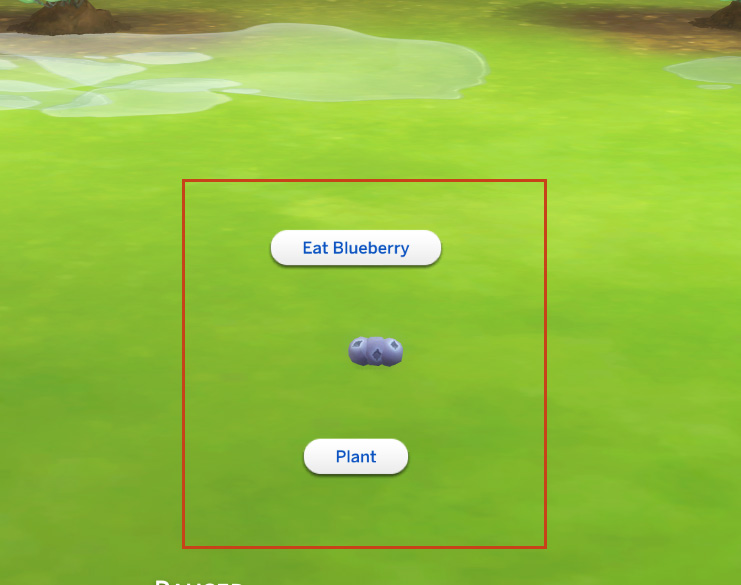 Troubleshooting:
If the Plants do not become harvestable : -
1. Make sure , you are on the latest patch
2. Plant the veggie and not the plant/bush from debug
3. Re-plant if plant takes to long to go into harvestable mode
4. Use
Debug Gardening Interaction made visible by me
to check for harvestables
5. If the harvestable is small then, use the mod
Debug Gardening Interaction made visible by me
to 'Grow plant (+50)' a couple of times to take the plant to fully mature/blossoming stage (Harvestable is small if the plant is not fully mature)
OR
Use
No Tiny Harvestables by LITTLEMSSAM
if you want the harvestables to be the same size always
Requirement :
Base game compatible
Made with Game Version
PC Version 1.16.61.1020 / Mac Version 1.16.61.1220
Conflicts:
Should not conflict with any other mod
Localization:
- Traditional Chinese (wuccwzt)
Credits:
-
plasticbox
-s4pe
-Sims 4 studio
-TSRW
-EA Maxis( for the sims 3 blueberry mesh)
-Blender
-Photoshop
Note
:
I am keeping the custom recipes on hold for a bit in anticipation of the rumoured Restaurant GP/pack(as i am sure all my uploaded as well as wip recipes will require updating).
Next up is Raspberries.
Polygon Counts:
Blueberry Plant:Same as the Base Game Blackberry Bush
Blueberry Fruit: High LOD - 193 vertices/276 polygons , Medium LOD - 128 vertices/177 polygons. (I have modified the sims 3 Blueberry mesh)
Packs Needed
None, this is Sims 4 base game compatible!
Other Information
Style
:
– Not Applicable : None of the above
Maxis Flags
:
– Not Applicable
TOU
My Blog for Latest Downloads
Nectar Making
1.Do not reupload or claim as your own
2. Do not include my meshes without permission. Recolours are fine and welcome
3. Please give credit if you use any of my code
All Sims 4 mods are compatible with latest patch -
11/12/2019 – PC 1.58.63.1010 / Mac 1.58.63.1210
For sims 4 mods please please please read through the main download post before asking whether the mod is compatible with the latest patch.
Most of my new downloads -
My new blogspot
For my Tumblr Exclusive Downloads -
Extra non MTS Downloads
WIP -
For my Sims 4 WIPs , see
these posts on tumblr
and my twitter account linked in the profile