Victorian Toddler New Wardrobe
71,660

Downloads
1,652

Thanks Thanks
140

Favourited
97,506

Views
Picked Upload! This is a picked upload! It showcases some of the best talent and creativity available on MTS and in the community.
Uploaded: 22nd Apr 2008 at 12:54 PM
Updated: 14th Jun 2010 at 12:06 AM by CatOfEvilGenius
Info
I want to participate in the Victorian London challenge and as I'm busy learning Bodyshop meshing and texturing, I think some new meshes and textures for Victorian toddlers would be a good idea.
I can't promise it is historically accurate but it sure looks cute.
To start from the bottom, I'm sure Victorian toddlers wouldn't wear Pampers Diapers so I made a texture on the basegame naked toddlerbody that is supposed to look like a piece of cloth knotted on the side and a diapercover texture on the basegame diapermesh. As I've read that toddlers would wear bloomers pantaloons I made a new mesh for that = PUbloomers.
To sleep in for the girls, I made a toddlerversion of the girls mesh "cfbodynightie" from the Family Fun Stuff pack = PUbodyNightie and for the boys a pantsversion = PUnightiePuffPants. For both boys and girls is the puffypants pajamas with shortsleeves, but as I made a pink texture this texture is for girls only = PUshortsleevesPuffyPants.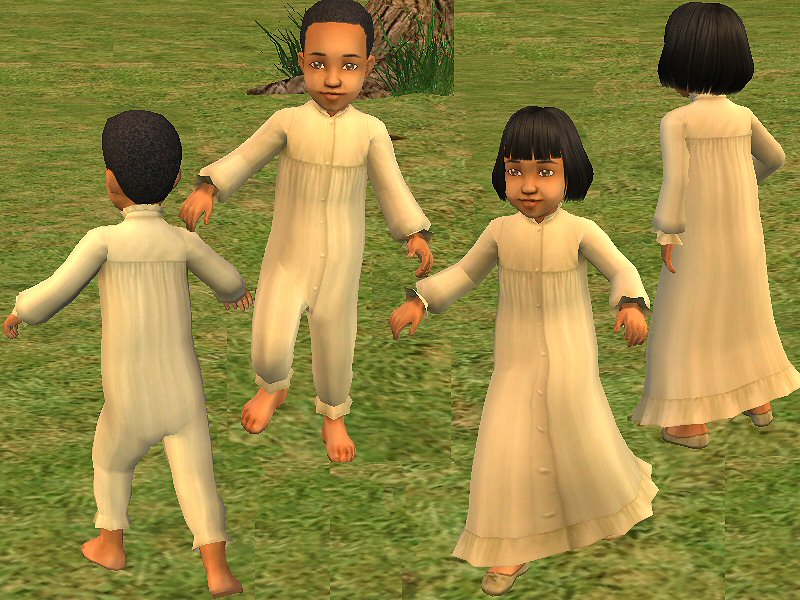 For Everyday/Casual there is a long sleeves version from the Free Time mesh "pfbodydresssailor", for boys with pants = PUsailorLMpuffPantsShoes, and for girls with a bow on the back and different shoes = PFdressSailorBowLM. I made an extra texture for this one with an apron. Boys usual were dressed in skirts too in the Victorian time but I wanted my boys to look like boys.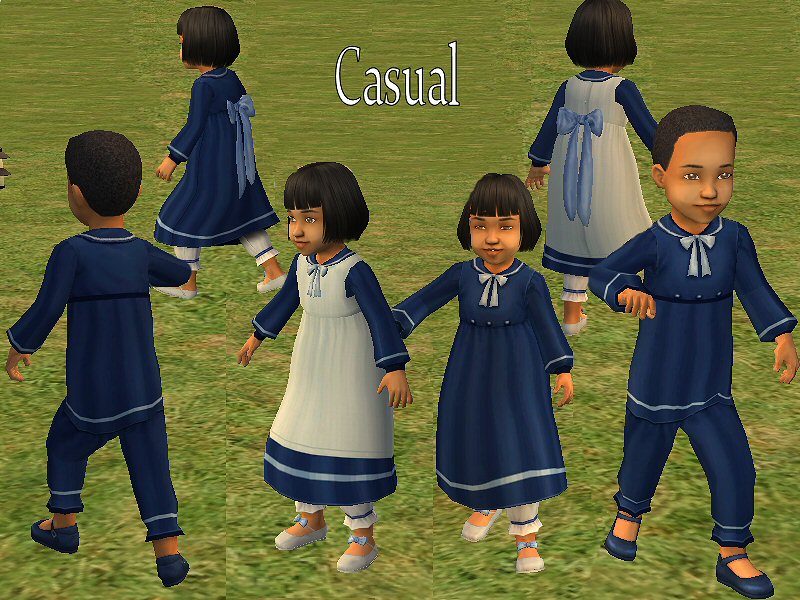 A coat is much needed in winter so I made a new long toddlercoat mesh from the Free Time toddlermesh "pfbodydresssailor" and the Seasons mesh "pubodyturtleneckscarf"= PFsailorCoatScarf.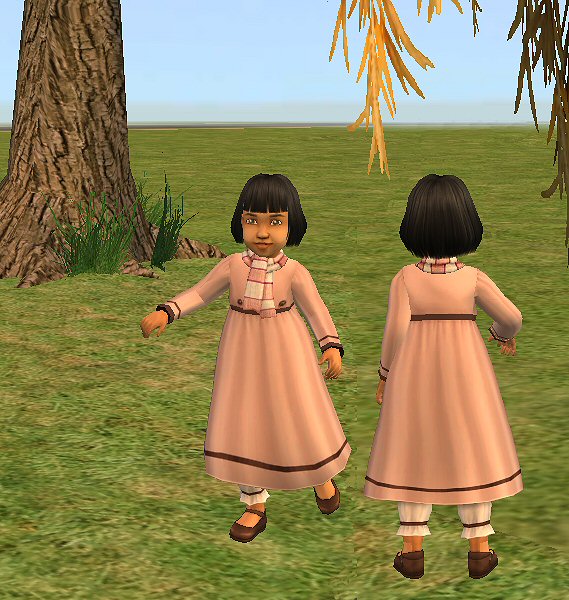 My old PC gave up after almost 3 years of extensive use and I had to buy a new one. It took a lot of time to get the game and all the nessecairy programs working properly again. So I didn't have time to make more textures for the new meshes or make nice sharp clean Alpha textures as the reaction and movement of my new ergonomic mouse is uhm.... irritating.
All new meshes come with one EAmaxis texture and an UV-map. As always, do with my creations whatever you want, just keep my work free.
A big thank you for all the kind people that made the tools and tutorials I used to make these meshes. Every time I only have to do a little search, ask a question or, with the new tools, do a few clicks to perform a change in a mesh, I have a deep warm feeling of gratitude.
Polygon Counts:
Mesh-Coc-PFdressSailorBowLM Poly/Facecount=2546 Vertexcount=2101
Mesh-Coc-PFsailorCoatScarf Poly/Facecount=1938 Vertexcount=1607
Mesh-Coc-PUbloomers Poly/Facecount=1584 Vertexcount=1143
Mesh-Coc-PUnightiePuffPants Poly/Facecount=1852 Vertexcount=1413
Mesh-Coc-PUbodyNightie Poly/Facecount=1908 Vertexcount=1388
Mesh-Coc-PUsailorLMpuffPantsShoes Poly/Facecount=1924 Vertexcount=1589
Mesh-Coc-PUshortsleevesPuffyPants Poly/Facecount=1846 Vertexcount=1362
Custom Content by Me:
- PUdiapercover2
- PU-undieLap2
- PFsailorBowApronDblue
- PFsailorBowLMdbl
- Mesh-Coc-PFdressSailorBowLM
- PFsailorCoatScarf
- Mesh-Coc-PFsailorCoatScarf
- PUsailLMpuffshoe
- Mesh-Coc-PUsailorLMpuffPantsShoes
- PUbloomers
- Mesh-Coc-PUbloomers
- PUbodyNightie1
- Mesh-Coc-PUbodynightie
- PUkmPuffPantsFeet
- Mesh-Coc-PUshortsleevesPuffPants
- PUnightPuffPant1
- Mesh-Coc-PUnightiePuffPants
Packs Needed
None, this is Sims 2 base game compatible!
Other Information
Clothing Type
:
– Everyday
– Sleepwear
– Outerwear
Clothing Style
:
– Historial : Historically accurate
Outfit Type
:
– Full Outfit
About Me
I share my creations in the hope that you will have fun with them too.