Sims

>

>

Big eyes and blue hair/All the boys look like they're girls/DESU DESU YO
~*Eclipse [Ace Attorney Sims] Phoenix Wright + Miles Edgeworth*~*UPDATED*
MTS has all free content, all the time. Find out how YOU can help to keep it running.
Tell me how...
35,077

Downloads
1,826

Thanks Thanks
266

Favourited
185,046

Views
Picked Upload! This is a picked upload! It showcases some of the best talent and creativity available on MTS and in the community.

Uploaded: 13th Jun 2008 at 6:10 AM
Updated: 1st Aug 2008 at 7:36 AM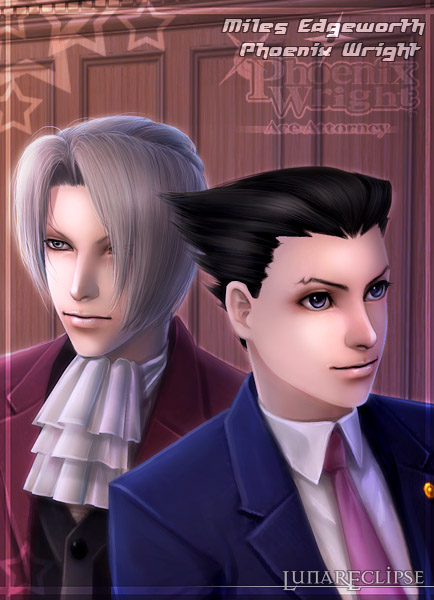 *********************
Okay, again. I do my disappearing act. I played the entire Ace Attorney Saga on my DS during my march hiatus. This made me realize just why these games are so popular. So much fun. :D
Anyways, due to the obsession at the time I needed to sim these two. They were done at least a month ago but I was playing "World of Warcraft" and lost track of life. Luckily I have a short attention span and I'm bored of it now.. or at least for the time being. :D
Anyways, for those who don't already know, this is defence Attorney Phoenix Wright from the ever so popular DS game and Prosecutor Miles Edgeworth.. who I <3 like a million other people.
As usual, here is more in-depth info.. so read On!
*********************
New Facial Structures + Genetics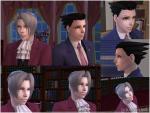 Yes, back to the MS3D facial adjustments used on all my sims!
The 3D models for both faces were imported into MS3D after undergoing as much as humanly possible in bodyshop. Using some of my older templates these two were not as time consuming as my previous Dilandau sim was. O.o
Also, the genetics were programed for toddler to elder. So babies will get all the new pretty genetics. XD
Want to try all this excessive work for yourself?
Read HystericalParoxysm's wonderful post here:
How to 3D Edit Faces (Yes, Really!)
I will link this tut in all my posts because of awesome. So yup. :P
All genetics and make-up textures are mine.
*********************
Hair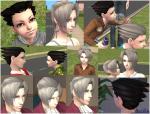 Oh.. two all new hair styles. :O
The features on the hair are as follows:
Phoenix Wright's Hair - Ace Attorney
-Animated slightly on the spikes. :P
-All ages (Male Only)
-Genetically correct
-Colour binned
Miles Edgeworth's Hair - The Prosecutor
-Fully Animated.
-All ages + Genders
-Genetically correct
-Colour binned (Binned as "brown" although his hair is warm grey).
I did not make a female version for Wright's hair. Mainly because it's so insane I can't really see any sims aside from him actually using it.
For the female version of Edgeworth's hair, you'll need to grab the extra last
rar
file!
But the mesh itself is bundled with the Edgeworth sim.
I don't know if I'll be doing any recolours yet. Feel free to create your own recolours if you like. Just credit me and don't upload to any paysites, yadda yadda...
The hair meshes and textures are my own. Textures digitally painted via photoshop. No photoskinning or ref.
*********************
Outfit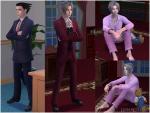 Nothing super Special. The mesh files are made with maxis meshes, although the pants were taken from seperate mesh files and extra polys had to be added to connect properly. Also the shoulders were broadened slightly to match better the character designs, as the maxis suits were too thin in the shoulders to copy the characters effectively. Edgeworth's cravat IS fully modeled and 3D. :D
Textures are a mix of my own + maxis for the outfits.
I did some pink PJs for Edgeworth. Because I just thought that would be cute. But they are just mainly a pink recolour and a very slight texture edit of the traditional maxis PJs, so no mesh required.
Outfit Features:
-Footsteps fixed
-Includes Fatmoprphs
-All parts hold Bumpmaps.
*********************
Comparitive
Some Actual Official pictures of the characters. Because I'm sure some people want to compare.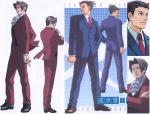 *********************
Download Instructions:
All mesh files are included in the respective rars for each character.
Double click the sims2pack to install, then put all remaining files into your downloads folder!
For the female hair if you want it, download the additional hair package. You still need the mesh in the
rar
with Edgeworth however.
Both characters SHOULD work in base game! I made all files originally from base game package files only. Hopefully there are no issues. I have OFB installed, but nothing prior.
*********************
POLY COUNT
Phoenix Wright's Hair:
Count=2554
Miles Edgeworth's Hair:
Count=3944
Phoenix's Suit:
Count=2240
Edgeworth's Suit:
Count=3100
Lower poly than my usual. So that's good. :D
*********************

UPDATED FILES: 01/08/08

It has come to my attention, after getting a new videocard, that the bumpmapping on the outfits is messed up! It is not seen on older cards, but is ugly with newer ones!
It is recommended that you replace all outfit files with the new versions I uploaded below! This should fix the mapping.
If you are downloading Phoenix or Miles for the first time, download and install them first, then override the old outfit files with the updated ones!
*********************
These sims are by Lunar Eclipse but ""Ace Attorney: Phoenix Wright/Gyakuten Saiban"", the characters "Phoenix Wright", "Miles Edgeworth", or any associated affiliates are property of Capcom. All rights reserved.
Lunar Eclipse holds no rights to the listed names or terms.
*********************
Custom Content by Me:
- [Phoenix Wright Sim] ~(D.Eclipse)
- [Phoenix Wright] ~(D.Eclipse)
- [Phoenix Wright] ~(D.Eclipse)
- Layerable Mouth Corner ~(D.Eclipse)
- [Phoenix Wright] ~(D.Eclipse)
- [Phoenix Wright] ~(D.Eclipse)
- [Phoenix Wright] ~(D.Eclipse)
- [Phoenix Wright] ~(D.Eclipse)
- [Ace Attorney] ~(D.Eclipse)
- [Ace Attorney Suit] ~(D.Eclipse)
- [Miles Edgeworth Sim] ~(D.Eclipse)
- [Miles Edgeworth] ~(D.Eclipse)
- [Miles Edgeworth] ~(D.Eclipse)
- [Miles Edgeworth] ~(D.Eclipse)
- [Miles Edgeworth] ~(D.Eclipse)
- [Miles Edgeworth] ~ (D.Eclipse)
- [The Prosecutor] ~(D.Eclipse)
- [Prosecutor Suit] ~(D.Eclipse)
- [The Prosecutor] ~(D.Eclipse)
Lunar Eclipse ~ D.Eclipse ~ Dark Lunaris ~ Dark/Dani Eclipse
I'm back, but not really online too much.

If you've messaged me here, my PMs are disabled. Please read the autoreply for an Email.*hugs*