Ship of Dreams: Maxis & Untuckable T-Shirts for AF
559

Downloads
66

Thanks Thanks
1

Favourited
25,961

Views

Uploaded: 6th Sep 2008 at 12:28 AM
Updated: 29th Nov 2008 at 1:50 AM - Cleaning description
I'm sure most everybody has heard about the ill-fated R.M.S.
Titanic
, the crown jewel of the White Star Line, and when it was created, the largest moving object ever made by mankind.
"Titanic" is also a word in the English dictionary, and this is its definition:
"Of exceptionable size, strength, or power".
Also, the ship
Titanic
is also mentioned in the dictionary, distinguised by the fact that the liner is a proper noun. Here is some basic information about the
Titanic
(from Wikipedia):
1. Tonnage: ~46,000 GRT
2. Displacement: ~52,000 tons
3. Width: 92 ft and 6 inches
4. Length: 882 ft and 9 inches
5. Speed: Maximum 23 knots
Capacity: "3,547 passengers and crew fully loaded." (Wikipedia).
Titanic
was owned and operated by the White Star Line and was a part of the Olympic-class fleet:
Olympic
,
Titanic
, and
Britannic
. The idea of these ships was conceived in 1907 in an attempt to rival Cunard's
Mauretania
and the ill-fated
Lusitania
.
White Star Line was a British company owned by J.P. Morgan's American company, the International Mercantile Marine (I.M.M.). White Star's ships were built exclusively in Belfast, Ireland by Harland & Wolff, and all their names carried the unique distinction of ending in "-ic".
Of the three Olympic-class liners, two of which served New York and Southampton on a weekly schedule, and one of which was a WWI hospital ship, the
Olympic
was the only one that was not sunk.
Britannic
foundered in 1914 after hitting a mine in the Aegean sea.
Titanic hit the iceberg and 11:40 P.M. on April 14th, 1912. Less than 3 hours later, at 2:20 A.M., she slipped beneath the surface of the waves. Dr. Robert Ballard's expedition found the
Titanic
on September 1st, 1985.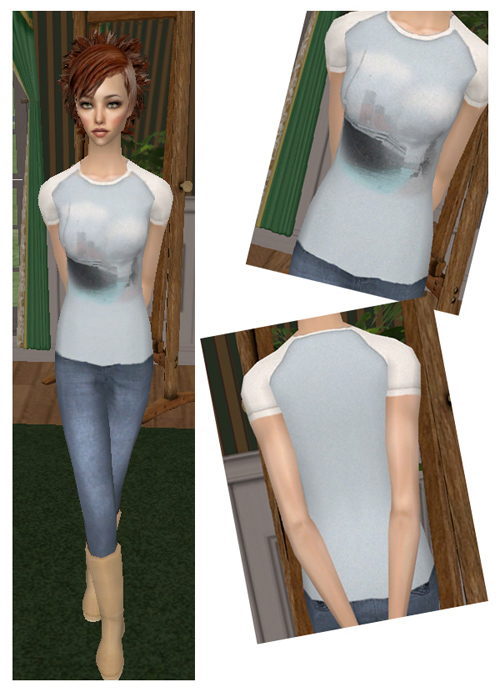 Pictured: Untucked Version
There are two versions of this t-shirt: an untucked and a tucked version. The tucked version is on a Maxis Mesh and is part of my Maxis Mesh Project. The untucked version is a recolor of HystericalParoxysm's mesh, which you can get here:
http://hideki.modthesims2.com/showthread.php?t=228762
I spent time to color in a black and white photo of the Titanic, and the result is a cute baseball-style t-shirt in light blue. The untucked version is especially nice because you can wear it with untucked or tucked bottoms.
There are two files, and I am sure you can easily pick which one you'd like to download. Enjoy, and please check additional credits for model info

EDIT
:
Melical
brought to my attention the Freedom of the Seas (owned by Royal Caribbean), which has more GRT than the Queen Mary 2, which is owned by Cunard/White Star (operates under Cunard) and is the largest ship in the world. However, according to QM2's Wikipedia page:
"She lost the gross tonnage distinction to Royal Caribbean International's 154,407 GT Freedom of the Seas in April 2006, but QM2 remains the largest ocean liner (as opposed to cruise ship) ever built, and her width, length, and waterline breadth are unsurpassed by any other passenger ship."
Therefore, I suppose the ships are, in a sense, tied.
Additional Credits:
Hair by Bipsouille
Packs Needed
None, this is Sims 2 base game compatible!
Other Information
Clothing Type
:
– Everyday
Clothing Style
:
– No Style : None of the below styles
Other Type
:
– Untuckables
Maxis Flags
:
– Not Applicable
Tags
#Titanic, #Tee, #Baseball Tee, #T-Shirt, #Blue, #Two, #Untuckable, #Dawn, #Maxis Mesh, #Default Mesh, #No Mesh, #Mesh Free
About Me
Hey there, just a little info.
My name is Kate. I also go by "Greymanticore" in the Sims community, as well as "Sunshine-Faire".
I ran a website with the Wicked Nouk Family by the name of Sunshine Faire, but then decided to open a LiveJournal account for personal reasons.
Greymanticore @ LiveJournal
You can find more of my work up at my LiveJournal, as well as at GoS (My username is Sunshine Faire, but I go by Greymanticore).
If there is anything wrong with my files, please send me a PM or comment on the file's thread. I will try my best to correct the issue. All my files are compressed using the Compressorizer and most, if not all, AF clothes are also available for YAF.
I am in the process of uploading some of the old Sunshine Faire files... I have them, but I need to take previews because I lost the old ones. :rolleyes: