>

Custom careers - more choice for your working Sim!
Everyday Housewife "Career"
MTS has all free content, all the time. Find out how YOU can help to keep it running.
Tell me how...
13,820

Downloads
702

Thanks Thanks
61

Favourited
88,247

Views
Personal Picked Upload!
This is a personal favourite of the creator!

Uploaded: 1st Sep 2010 at 12:06 PM
Updated: 6th Sep 2010 at 7:58 PM


UPDATE 9/6/2010: German translation added. All credit goes to newsjunkie for adding the German strings!
Feel free to comment; I check all comments on this download many times a day. Also, if I change anything in the career, I'll update this thread and I'll put **Redownload on the title. So I'm basically saying that I'm supporting this career to the best of my ability!
Can I haz cookie now?
First off, the important details:
-EP Compatible/Ready
-Has its own GUID/Group ID (This means it will not overwrite any careers)
-----
Some Notes:
-This career works for BOTH female and male ADULT Sims.
-This career does not really pay your Sim any money; in fact, it takes away money due to life costs and purchases. This is to make the 'career' more realistic; in real life, you don't get paid to buy sweet breads or go to the spa, you PAY for that! Only at level 10 that your Sim actually gets paid money.
-It's recommended your Sim has a bookcase! :D
-I made this in
SimPE
and later enhanced the career greatly using Bidou's Career Editor.
-This was made off of Emma_Barrett's career template, so many thanks to her!
Please note that the weird shadow/glow effect on the icon has been fixed. Not entirely, but so that it isn't as noticeable. The icon looks more "normal," in other words, but not completely. So the snapshots/pics show that the icon looks weird. This, like I just said, has been fixed as much as I could fix it.
-----------
If you have any questions, problems, find a typo, or something about the career isn't functioning as it should, please comment or PM me to notify me. I check MTS several times a day.
-----------
Please note the following CAREER DESCRIPTIONS are for the adult females. I just changed a few words in the male version so that it didn't sound too feminine. For example, I changed housewife to househusband. Other than that, it's the same descriptions.
1. Take-out Abuser
You're still not too comfortable cooking for yourself and your spouse, so you go out to pick up some take-out food. In the long run it may not be very healthy, but at least it's tasty! (And not burnt!)
2. Grocery Shopping
You're now shopping for groceries! You use these groceries to cook for you and your spouse. Shopping is easier than you thought… well, when you know what an asparagus looks like!
3. Baby-sitting
Apparently another fellow housewife asked you if you could babysit her two toddlers for a while. Since it came with pay, you said yes! Luckily for you, these two toddlers aren't that bad… you quickly figured out how to take care of these types of little tots!
4. Frugal Shopper
You're now clipping those coupons from the newspapers to save more money on groceries. You're also able to find some darn good deals on fruits, veggies, and meats. Keep this up and you may become the best grocery shopper in town! Erm… not that there's a competition, of course.
5. Baby Shower Shopping
Because Mrs. Simpson was happy with how you handled her toddlers, you know more about what toddlers and babies like, from toys to decorations to food. Well, now that one of your neighbors are hosting a baby shower next week, it's time to start shopping for baby shower gifts! At least it's more fun than grocery shopping!
6. Laundromat Rookie
You've started going to the local Laundromat for your laundry needs; you still need to find out how these machines work, though. At least now you know that using bleach on colorful polos is NOT a good idea!
7. Bakery Buyer
Every now and then a person can treat themselves, right? Well, it's time to indulge yourself with sweet bread and muffins! You go to the local small bakery and buy muffins and other sweet breads.
8. Laundromat Expert
You've finally figured out how to work the laundry machines and which machines work better than others. Until you get your own laundry machine (or at least a nice one), this place will have to do. Who knew laundry could be so easy!
9. Salon Freak
Ever since you discovered the Spa/Salon down the street, you've been going there getting facials, massages, and more! It really does help you wind down and enjoy the pleasures of life. If only life was a spa! The treatments add up to fairly expensive costs, though, so maybe it'd be best to look out for those discounts and coupons you've been hearing so much about!
10. Supreme Housewife
You're now a not-so-desperate housewife! Congratulations! You now know how to work out life the easy and simple way and know how to save money. Not only that, you're now earning money from your cash-back rewards and some other complicated stuff you signed up for! Who knew being a frugal yet awesome housewife could be so much easier than they say?
--------
NOTE: This originally was posted only on Joninmobile's Sims 2/3 site,
TheNinthWaveSims
, but I finally decided to upload it here.
--------
PICTURES
Please click to enlarge.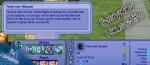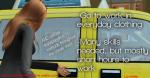 Hair Credits
The female shown in the thumbnail has a CC hairstyle. You can get it
here
; press Ctrl+F and type in
hair
. The first result is the hair in the thumbnail.
The original site where you can get the hair is
here,
but it's pay.
Translation Credits
German translation:
newsjunkie
Additional Credits:
SimPE
Bidou's Career Editor
MTS
TheNinthWaveSims
Emma_Barrett
MTS Career Creators!
Paint.NET (used to make the icon and pictures.)
Retired N00b
I no longer create content for The Sims 2, therefore my content is no longer supported/updated. I also do not remember how I made most of my work (I stopped creating game content a long time ago), so please do not depend on me to provide accurate answers to your messaged questions.
http://i746.photobucket.com/albums/...ster/policy.png
--------------
No Requests, period.
----------
Quote:
Some people say they do this so that when they put the house up for download, the people that download it can decorate according to their own tastes. However usually, the real reason is that they could not be bothered to decorate it. Make the effort to do so.
People will appreciate a nicely decorated house, but more importantly, you need to decorate it so that you can see that the size of each room is not too big, and not too small, and that each room of the house has a purpose.
-Mikeinside on Making Houses
I own all Sims 2 expansion packs, plus Teen Stuff, Ikea, and M&G. I'm only a casual player now, however, so I don't have all of them installed.