Real Paintings!
16,454

Downloads
337

Thanks Thanks
32

Favourited
33,471

Views

Uploaded: 23rd Nov 2010 at 10:12 AM
Updated: 7th Aug 2011 at 4:11 AM - I forgot to add the separate rar of the new paintings!
~ Real Paintings by Lyraonyx ~
Updated 8/06/11
Sorry for the wait! I've had a crazy year :/ But I've finally got Elvis made and added him to the Famous Faces Collection! Thanks for being patient with me!
Updated 2/18/11
I've added three new paintings in a separate rar, and updated the allpaintings.rar file to include these. The separate
rar
file should now be available - I forgot to upload it the first time!

Description:
These are all original drawings or paintings I've made over the years. I edited some of my favorite pictures to fit the easel canvas (that thing is absurdly tall!) and to make things a bit cleaner in game. I had originally just stuck these in my game because I wanted some variety in my custom paintings... and because I'm a bit vain

But I thought that others might like a few of these as well. I've included several different collections based on subject, and an archive that has all of the paintings in one. Feel free to pick and choose as you like.
Collection Contents:
Children Collection:
Puppy Love - a puppy fell asleep on a little boy
Man and Baby - man fell asleep holding his baby girl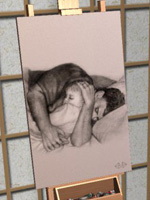 Kids - Two girls holding their infant brother
Stripey Girl - A teen girl in a striped shirt
Expecting - a mother-to-be investigating the baby belly
Famous Faces Collection:
Pearl Girl - My version of Vermeer's "Girl with a Pearl Earring"
Marilyn - A drawing of Marilyn Monroe in a pinkish hue
Brandy - A graphite drawing of the famous singer/actress
Audrey - Black & white profile of Audrey Hepburn
Salma - Black & white portrait of Salma Hayek
Russell - Rough sketch of Russell Crowe
Living Scenery Collection:
Phoenix Dancer - a watercolor of a ballet dancer in a phoenix costume I dreamed up.
Pining for a Lake - a landscape of pines by a lake
Still Life - a watercolor complete with plant, books, basket of pine cones, and other random objects.
Lovely Ladies Collection:
Gran and Grapes - Granny got busted sneaking some grapes off the vine.
Long Hair Lady - Me, actually. A graphite drawing.
Sad Day - An imaginary woman with a sad expression. I got bored with happy faces xD!
Bright Side: A watercolor of a woman's face in intense colors.
Fan Lady - A beautiful lady holding an intricate Japanese fan.
Asian Lady - An eastern beauty. Digital painting
Random Collection:
Water Fairy - A watercolor of what I imagine a water fairy might look like.
Melancholy Man - a highly detailed drawing of a man resting on his arms.
Man in Hat - a watercolor of a man wearing an old-fashioned hat.
Lady Back - a back view of a woman in a teal hue. Her bottom has been cropped away to protect innocent eyes.
Fly Me Away - a colored pencil drawing of an angel escaping a bird cage. This was made for a woman that had just left an abusive husband. I was trying to give her a little encouragement.
How to use:
These images are for custom paintings. When you use the easel, select "paint custom painting" and you should get a dialog box showing these new images, assuming you have installed them to the correct directory. They should line up with the canvas using either the fill or crop option.
Usage policy:
Please do not claim the credit of these pictures as your own. These represent several years of hard work for me. You may use these in stories or uploads, but please provide me with the credit and link back to the original thread. You can recolor as you wish, but if the original still shows through please provide me with the credit of it. I have included my "signature" (more of an artistic logo
using the intials of my maiden name) in all the pictures. It should be large enough to be visible, but hopefully not large enough to be annoying.
Installation:
DO NOT PLACE THESE IN THE DOWNLOADS FOLDER! It shouldn't hurt your computer or game if you put them there by mistake, but you won't be able to access your paintings. These go in the paintings directory in your EA games folder, typically found under My Documents\EA Games\The Sims 2\Paintings.
This is what one of the paintings looks like in the process of being created.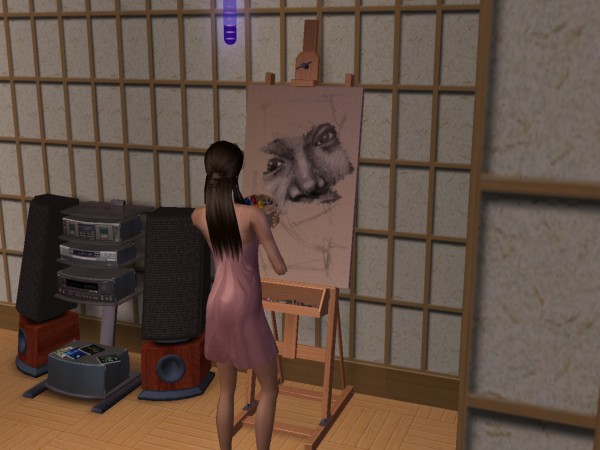 I hope you enjoy! If you want to see more of my work, check out my
Facebook Page
.
Additional Credits:
All of these paintings are completely original works of art, but I did get reference from "Anatomy for Artists" and the internet. I'm afraid I don't know the source for all of my drawings anymore, but if you see something and wish to be credited, let me know
Packs Needed
| | Base Game |
| --- | --- |
| | Sims 2 |
| | Expansion Pack |
| --- | --- |
| | Seasons |
Lyra's Stuff
Hello peeps!

I have been pondering making something for the Sims 2 for a long time... but I just now got around to it. Yes, I am the biggest procrastinator on the planet :)

I am a pokey little Christian in a teeny weeny little town that enjoys playing the Sims. I am an artist by trade and a musician by hobby, though that may change after I go back to finish my bachelor's degree this year.

Feel free to play with, tinker with, poke, prod, set ablaze - whatever you want - to my creations. I only ask that if you use my stuff, please don't upload to paysites or the exchange, and please do link back to me for credit. In the event that I've used a mesh by someone else, please adhere to their policies as well.