~ CoolSims #86 ~ Goddess ~
79,084

Downloads
1,228

Thanks Thanks
243

Favourited
169,350

Views

Uploaded: 24th Sep 2011 at 11:29 PM
~ CoolSims #86 ~ Goddess ~
~~!!!WARNING!!!~~
This hair mesh may not be suitable for low-end computers and low-end graphics users.This hair mesh has a very high polygon count of just over 16,500 polygons so I advise caution and careful consideration about downloading this hair for your game. If you have a computer running your games on lower pc specs with a lower end graphic card it may (or may not!) cause graphic issues, lagging and other problems. Due to the high polygon count I would also advise gamers not to give more than one female sim this hair on any lot!
Thanks so much for the permission to recolour these Anto, again I find your hair meshes the most fun to get a recolour just perfect with.
The mesh file does NOT come with this download. You can download the mesh file free from Anto's CoolSims website here:
http://www.coolsims.net/?show=items&items=hair86
Back again with some more recolours from my favourite mesh creator, Anto at CoolSims. After a few attempts at this one with various textures in various sizes I finally settled on this glossy, bouncy NuRey v7 look to Anto's classic #86 female hair. Just like my NuRey v3 recolour set, the v7 set features all the same recolours so collectors can enjoy the same hair genetics for their sim females of all ages. Designed with Selina Gomez in mind, Anto crafted a beautiful curly hair that I just couldn't resist recolouring/retexturing.
Again, thanks so much Anto for your kind permission to recolour your beautiful hairs.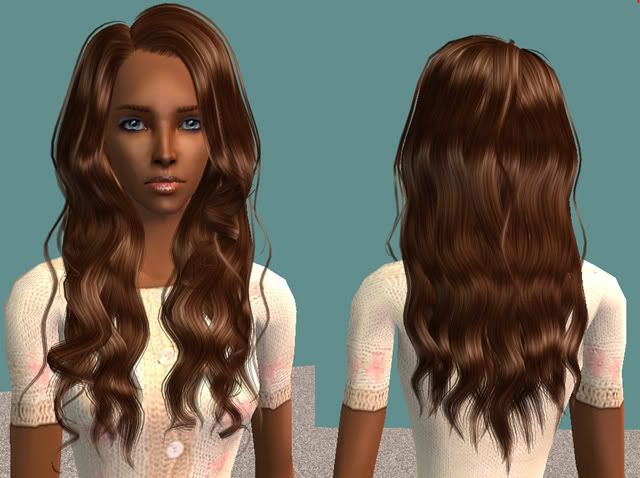 Naturals:
Black -
Licorice, Olive, Cola, Treacle
Brown -
Chocolate, Caramel, Cinnamon, Mocha
Blonde -
Honey, Lemon, Vanilla, Coffee
Red -
Berry, Apricot, Peach, Plum
Thanks so much to CatOfEvilGenius for creating the new hair binning tool I have used to bin all of these recolours. All the recolours in this set are colour binned/familied for your female sims of all ages with your greys linked to the blondes.
PLEASE NOTE:
All recolours are **decustomized**. You will find each hair colour correctly colour-binned into your BASE GAME hair colours, no stars on the thumbnails just like base game hairs. These recolours will NOT replace any existing Maxis base game hair and the recolours will NOT replace Anto's Coolsims recolours if you have them (you will end up with both sets). All recolours are compatible with ALL expansion packs including the base game.
All sims modelling the hair-styles in these pictures are in clothing that can be downloaded free at:
http://www.lianasims2.net/
and
http://www.annamariasims2.com/
**All of the cosmetics and genetics used in these pictures are NOT included with the hair recolours, you must visit the artist pages to download them.** - Please see credits below for links.
All recolours are in one
WinRAR
folder for your convenience. Please don't forget to say "thanks".

~Enjoy!~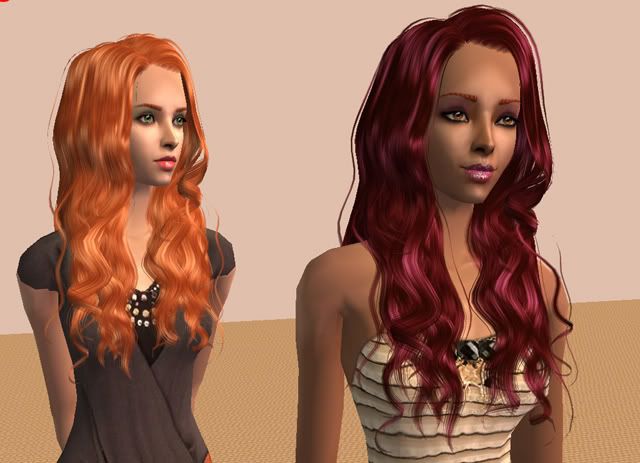 Additional Credits:
Credit for the hair mesh used in this recolour set belongs to Anto at
www.coolsims.net
. I am NOT the creator of this hair mesh - I am merely the texture/colourist of this recolour set. For further information about Anto CoolSims creations, visit his policy page here:
http://www.coolsims.net/?show=policy
Credit and thanks belong to these awesome MTS artists for the use of their skintones, eyes and makeup in these pictures:
-Shady - - Sparkling Eyes - (Default Replacements)
http://www.modthesims.info/download.php?t=306892
astiees - Naturally Idealized Skins
http://www.modthesims.info/d/367002
Thanks and credit also belong to CatOfEvilGenius here at MTS -
http://www.modthesims.info/member.php?u=685127
for the hair binning tool -
http://www.modthesims.info/download.php?t=434016
All of these textures and recolours are copyright to me. NO uploading to anywhere else online as your own work, please link back to this page and let me know if you wish to use these in your creations. Free for use in your games, pictures, galleries.
Packs Needed
None, this is Sims 2 base game compatible!
Other Information
Hair Style
:
– Shiny/Realistic
– Natural Colours
Maxis Flags
:
– Not Applicable
Age
:
– Toddler
– Child
– Teen
– Young Adult
– Adult
– Elder
Śądí Şĭмś 2 Ćŗėąŧϊοήś
I AM NOT A MESH CREATOR... PLEASE STOP SENDING ME REQUESTS TO MAKE OR FIX YOUR WORK.

IF YOU DO NOT KNOW WHAT YOU'RE DOING, GO TO THE FORUMS.

Please do *NOT* ask me to make conversions for or create for Sims 3. Thanks.

MY DOWNLOADS POLICY/TERMS OF USE AGREEMENT:

* Use my creations freely in your games
* Recommend my creations to friends to download
* Use my creations in your Sims movies and/or neighbourhood stories

*** DO NOT!!! ~ Upload my work anywhere else as your own or take credit for my creations. ***

Pretty simple really... enjoy the free stuff - as it was intended to be a gift - and respect the hard work that went into it.

* * * D E C U S T O M I Z E !!! * * *

Remember ~ look for my sims 2 hair recolours in your BASE GAME hair area.

E N J O Y :)