Sims 3

>

Sims

>

>

Get your celebs here/Lots of Angelina sims/And not a lot else
Olivia Wilde
6,537

Downloads
103

Thanks Thanks
12

Favourited
27,588

Views

Uploaded: 14th Nov 2011 at 7:03 PM
Olivia Wilde has appeared in the films The Girl Next Door, Alpha Dog, Conversations with Other Women and Turistas.
She became known for her role on The O.C. as Alex Kelly, although she originally auditioned for the role of Marissa Cooper.
She has also appeared in the Dashboard Confessional music video for "Stolen", and the French Kicks music video for "So Far We Are". She was strongly considered to play Bond girl Vesper Lynd in the 21st Bond film Casino Royale but Eva Green eventually won the role. In 2008, Wilde was honored alongside Jesse Eisenberg with the Vail Film Festival Rising Star Award.
In 2009 Wilde was ranked No.1 on Maxim magazine's Hot 100.It was an honor which was included as an inside joke during the House episode "The Tyrant", where House, upon hearing about Foreman's recent firing of Wilde's character, sarcastically teased, "My condolences. Although, it's not like she's the hottest woman in the world." She was also ranked No.95 on the FHM 100 Sexiest Women of 2006.[5] She was one of the key models in Abercrombie & Fitch's "Rising Stars" campaign in summer of 2004.
In 2007, Wilde was a part of the ensemble cast of the short-lived NBC mid-season drama The Black Donnellys. Her character, Jenny Reilly, was the lone principal female character in the series following the lives of an Irish-American family tied to organized crime in New York City. Also in 2007, Wilde appeared in the play Beauty on the Vine, a political thriller, playing three different characters.
Wilde joined the cast of the Fox medical drama House starring Hugh Laurie in September 2007, playing a secretive young intern Dr. Remy Hadley, nicknamed Thirteen, who was handpicked by Dr. Gregory House out of a number of applicants to join his team. Wilde told Star magazine how she sometimes takes cues from her character even when she's not working, saying, "I'm now convinced that I'm a doctor. I mean, if someone says they have a pain, I'm like, 'Well, that's your spleen.'"
The New York Observer has described Wilde as having a "throaty voice" and the "wide, teal-eyed charisma of Hollywood in the days of yore". She has cited Meryl Streep, Sigourney Weaver, Frances McDormand, Catherine Keener and Robin Wright Penn as acting inspirations.
She won the 2006 US Comedy Arts Festival Film Discovery Jury Award for Best Actress for Bickford Shmeckler's Cool Ideas (2006) and in 2008 at the Teen Choice Awards she was nominated for the Teen Choice Award for Choice TV Breakout Star Female for House, M.D. and won the Rising Star Award at the Vail Film Festival.
On October 7, 2008, Wilde appeared in a video on funnyordie.com showing how much she enjoys registering early for the 2008 Presidential election, "Olivia Wilde Does It Early".[8] Wilde appeared alongside Jack Black and Michael Cera in the 2009 comedy Year One.
Wilde at 2010 San Diego Comic-Con InternationalShe played Quorra in Disney's Tron: Legacy, which opened on December 17, 2010. In the December 2010/January 2011 issue of Details[9] Wilde was quoted as saying she freaked out the first time she saw her costume for the movie, "I saw the boobs on the suit and I said, 'Oh hell no. I'm doing kicks and backflips in this thing?'" In January 2011, it was announced that Wilde was cast alongside Chris Pine in the upcoming film Welcome to People.
Wilde played Ella Swenson in the thriller Cowboys & Aliens. Her character works with Jake Lonergan, (Daniel Craig), and Woodrow Dolarhyde, (Harrison Ford), to save their town from evil aliens. Wilde played Sabrina McArdle in the movie The Change-Up. Her character is the girlfriend of Mitch Planko, who was played by Ryan Reynolds. In August 2011, it was announced Wilde will be leaving House to pursue her film career.
I will leave her character traits, ambition and likes/dislikes up to you.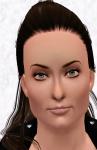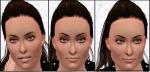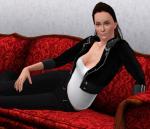 I have packaged her with EA hair and a default skin.
GENETICS
Default Faceskin by Ephemera:
HERE
Contacts by Precious Sims:
HERE
Shady brows converted by Daluved1:
HERE
Free Peggy hair:
HERE

MAKE UP
Candied Apple eyeshadow by Arfmoo:
HERE
Eyelashes by Aarin:
HERE
"Poppy" Lipstick with teeth by Arisuka:
HERE
Blush: EA base game

CLOTHES
Jacket and t-shirt
HERE
Pants by Lorandiasims:
HERE
SLIDERS
Custom sliders are vital to download if you want to tweak this sim or to make your own celebrity sims.
Ahmed's facial sliders:
HERE
Head shape slider by Johna:
HERE
Heiret's under chin slider:
HERE
Septum slider by aWT:
HERE
Bloomsbase Lazy Eye slider:
HERE
- gives the sim a slight squint.
Upper Lip Tip width slider by aWT:
HERE
- This allows you to enlarge or minimise the area of the upper lip just below the nose.
Upper Lip outer curve slider by aWT:
HERE
This slider allows you to minimise the outer corners of the upper lip.
Crossed Eyes Slider by BloomsBase:
HERE
This slider allows you to move the position of the eyeball. It works with default and contact lenses.
Eyeball slider by aWT:
HERE
This slider allows you to enlarge or minimise the iris and the pupil - an awesome slider.
MODS
If you haven't already, download one of the mods which allows you to increase the number of slider slots in CAS and also allows you to increase the slider range. I use:
Moreawesomethanyou by Pescado:
HERE
The range of the sliders is set to max 5.
Additional Credits:
Thank you to Monca, Freedom55, Esmarelda, Malfoya, SimmyRN,the Merrye Makers, Jedi Waffle, TVRdesigns from the Creators Feedback Forum. Hysterical Paroxysm for advice and Leesester for advice and who helped me big time with the lip sliders. I am most grateful to you all for taking the time to help.
Packs Needed
None, this is Sims 3 base game compatible!