Sims 2

>

>

Custom careers - more choice for your working Sim!
Fantasy Artist - Adult Career
MTS has all free content, all the time. Find out how YOU can help to keep it running.
Tell me how...
5,245

Downloads
249

Thanks Thanks
14

Favourited
20,738

Views
Uploaded: 3rd Jul 2012 at 12:05 AM
I wasn't really crazy about the Maxis Artist career for my fantasy artist Sim, so I made a new one that goes along a little better. I tried to keep it a little more realistic, basing it partly on a few of my own real-life experiences, and partly on those of my old art school teacher (mostly the latter). The rest is just plain made-up, but still fairly realistic. There are no unique job uniforms, as all the artists I've known go to work in everyday clothes.

The levels are:

Art School Graduate - $60 - M, T, W, Th, F
You've just graduated from a local art school and scrape around for any odd job you can get. This usually means painting pets for friends and family. Not much money in it, but you might get lucky and pick up a good connection somewhere.

Logo Designer - $110 - M, T, W, Th, F
A friend's relative's company needs a new logo and they've hired you to put something together. Word gets around and soon others are coming to you for their logo needs. The pay's still pretty meager, but you're learning better business sense on a smaller, more familiar scale.

Corporate Artist - $235 - M, T, Th, F, Sa
Though you now have a fairly steady flow of work, painting sunsets and city skylines for company ads isn't really that exciting. Maybe it's time you revisited that old idea you had for a new comic book series?

Indie Comic Book Artist - $370 - M, T, W, Th, F
After a few rough starts, you've finally found a company that will publish your comic book. Now it's time to get your name out there! Start hitting all the ComiCons you can; you never know who might be looking for the next big thing.

Children's Book Illustrator - $409 - T, W, Th, F
Your unique style has garnered the attention of a local children's book author, and he asks you to illustrate his next book. Word gets out and soon every children's author wants you! Sure, you'd rather be painting powerful warriors or fierce dragons than anthropomorphic cartoon farm animals, but at least the pay is pretty good.

Concept Artist - $522 - T, W, Th, F
Whether it's that new movie, video game, or action figure, it all starts with some conceptual designs. You're working for Maxis Black now, a design firm specializing in concept art. The art you're producing is more in your comfort zone, but you still have to get up and go to an office everyday. Keep striving and one day you'll be able to call yourself "Boss".

Freelance Artist - $650 - M, W, Th, F
You're in business for yourself now. You still have to take commissions and follow other people's guidelines, but you also have a lot more freedom. Keep putting your own, original work out there wherever you can and maybe you can finally make that breakout you've been craving.

Established Fantasy Artist - $1,100 - M, T, Th
Artistically, you're at the peak of your career. People all over the country know your style and your signature, and your creativity is no longer bound by other people's ideas. You let your imagination run wild as you create all sorts of fantastic places and images.

World-Renown Fantasy Artist - $1,936 - M, T, F
Your hard work has paid off and now your paintings are known all over the world! The constant flow of royalty checks gives you more time to dabble in other artistic avenues. Though you still appear at conventions and take the occasional commission, most of your work is done from home.

Art School Signature - $2,763 - T, W, Th
You're back at your old alma mater, but you're now passing on your methods to the next generation of budding artists. Though you enjoy cashing your hefty paycheck and seeing your name advertised all over the school, you find the most satisfaction comes from helping young artists achieve their dreams.
The skills you'll need to advance are: Creativity (duh!), Logic, Charisma, and a little bit of Mechanical
This career is complete with all ten chance cards. The Sim I used to test this career, Bob Test the Test Pirate, has kindly agreed to share a screenshot of one of the cards, and of the career tab on the UI: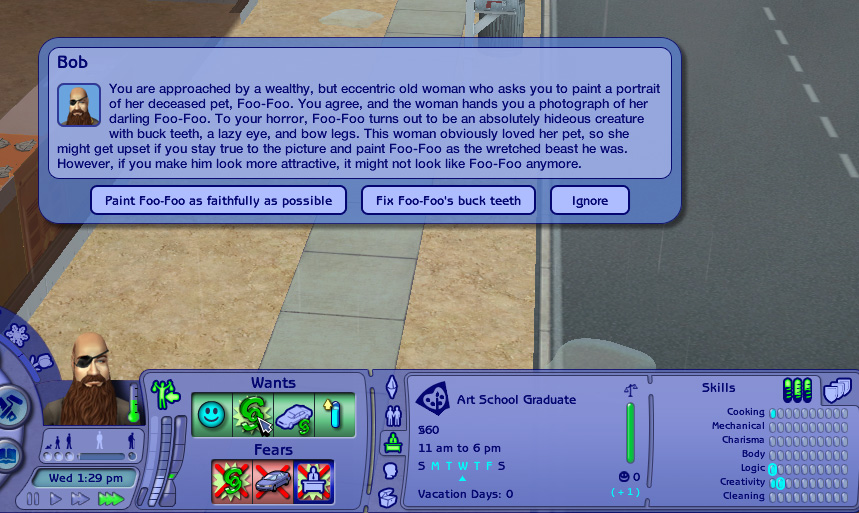 (Who says it can't be realistic
and
a little humorous?

)
This career has been extensively tested and has been checked for spelling (but I'm only human, so if you find a typo, let me know

). It also has its own GUID.

There was this odd little bug with some of the later chance card rewards. Starting at level 7, the monetary rewards that I entered into
SimPE
were multiplied by 1000 in-game. So a $1,500 reward became $1,500,000! Obviously, this was not exactly what I was going for, so I had to modify the numbers a bit. For instance, a value of 1 gave me $1,000. Close enough. All the previous level rewards were their correct amount. I'm not sure if it's like that just in my game or not, so if anybody happens to get a $1 or $2 reward after level 7, let me know. Otherwise, this little bug has been remedied and the career is working properly.
Thanks to:
Emma_Barrett for her tutorial and career template:
http://www.modthesims.info/showthread.php?t=170590
and SuperFly for his career GUID tutorial:
http://www.modthesims.info/showthread.php?t=147886
Additional Credits:
SimPE
Photoshop
About Me
Policy: Do whatever you like, it's not like I can really stop you. If, for some crazy reason, you do re-upload my stuff elsewhere, I'd prefer you didn't claim it as your own. A little credit would be nice. :)