Art Nouveaulicious End Table
11,055

Downloads
713

Thanks Thanks
98

Favourited
30,464

Views

Uploaded: 8th Aug 2012 at 3:44 PM
Updated: 9th Aug 2012 at 7:46 PM
The Art Nouveaulicious End Table was my favorite piece of furniture from the Sims 2 Store, and so I just had to have it for my Sims 3 game. Here's a picture of the original table: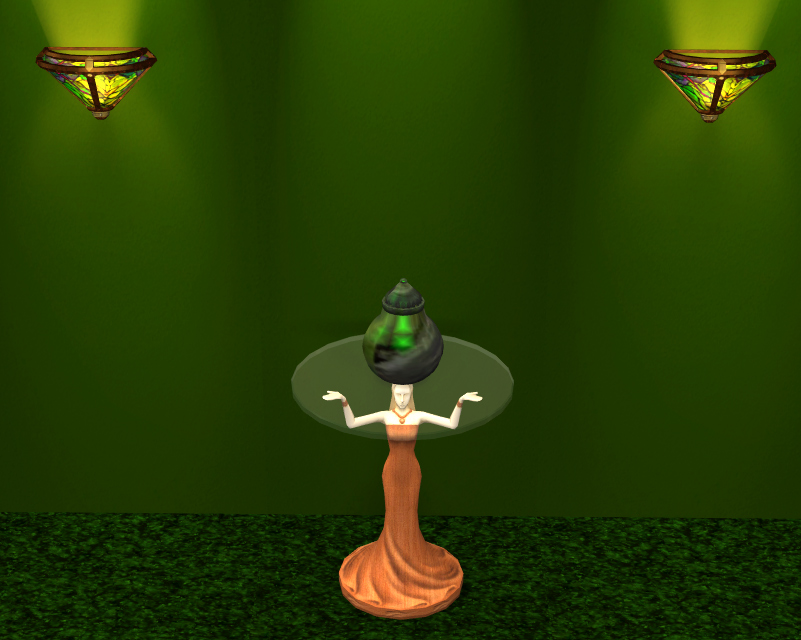 This new iteration of the table has three recolorable channels.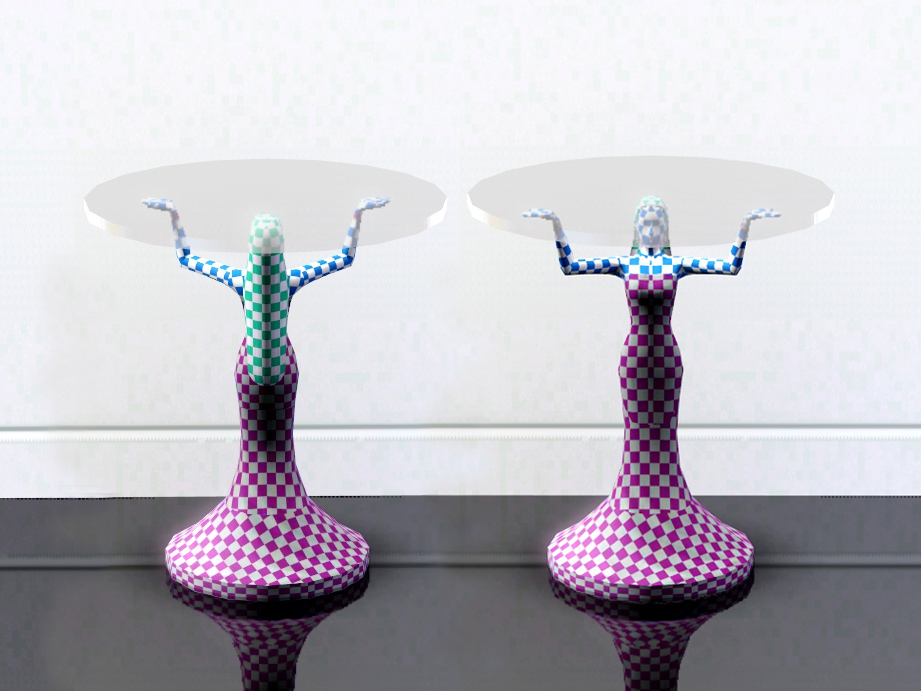 A small difference exists between the two tables: The elegant lady holding up the glass has lost her necklace. The necklace simply didn't translate well without using an overlay, which would not have been recolorable. So, I just eliminated it.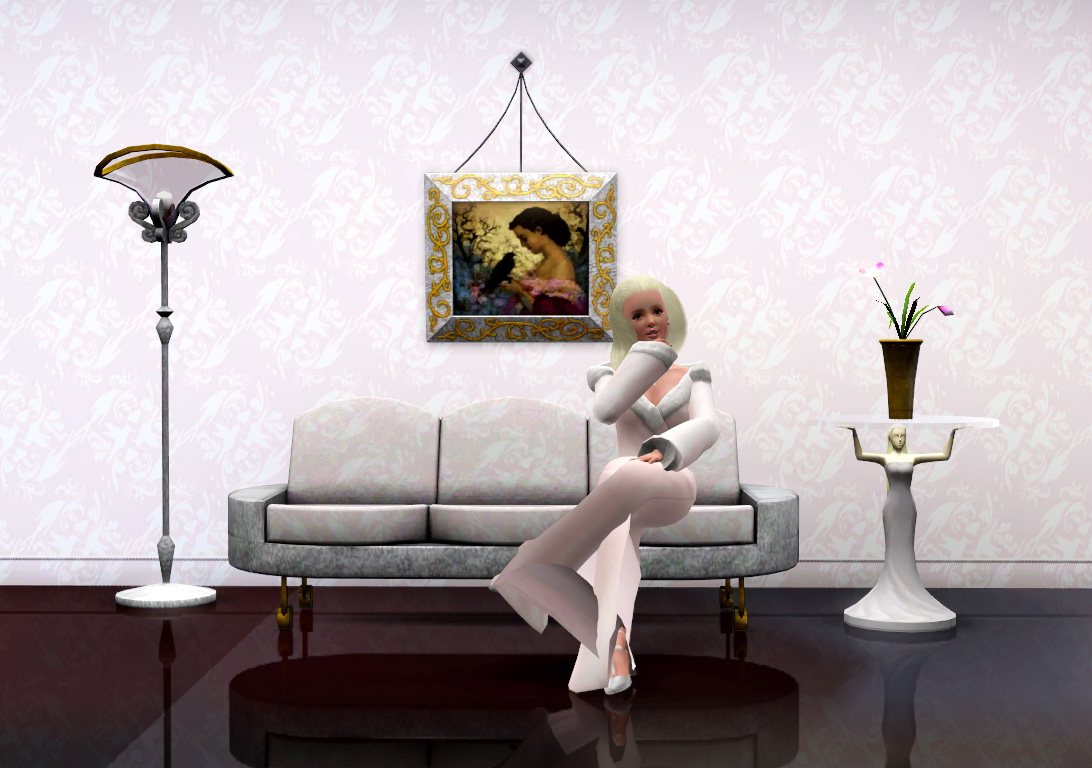 I've created four presets, but of course you can change the hair, skin, and dress to any color or pattern that flies your kite.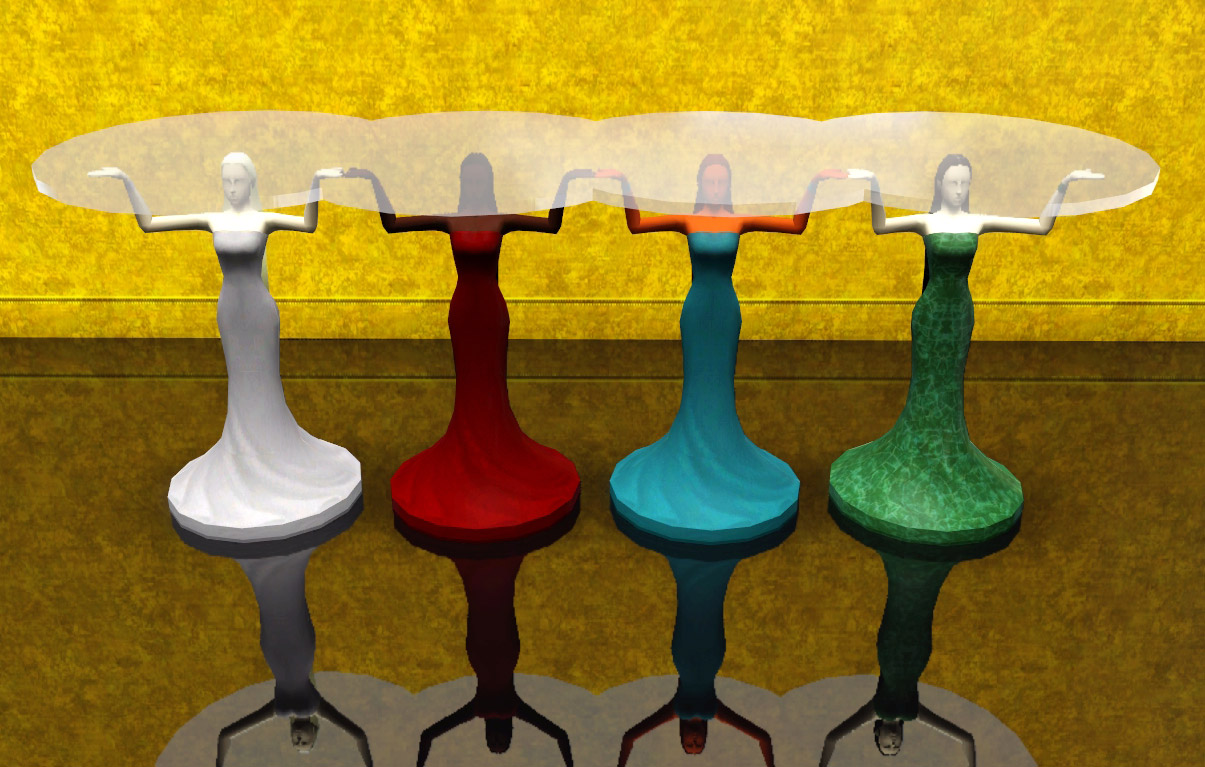 No expansion or stuff packs are needed. Both meshes were play tested on a base game fully patched to 1.36, and on a game full of expansions and stuff packs using 1.36. They might work on other levels, but there are no guarantees.
I love thanks and comments, so swing by and say something

. Also, please, report any problems in this thread, and I'll use the cattle prod on Tintinabulation, my drooling toadie, until he fixes them.
Technical and Other Relevant Information
Slots: 9
Channels: 3
Environment Score: 1
Cost: 180
Buy Catalog Location: Function -> Surfaces -> End Tables
Tools used: Milkshape, SimPE, S3PE, TSRW, Sims3Pack Multi Installer, Photoshop CS6, a pot of strong coffee, Pose Player
CC Credits: Blush and eyeshadow by Lady Frontbum. Eyeliner by emmzx. Lipstick by Elexis. Mirror Rugs by Morphead. Pose by CloudWalkerNZ. All are available here at MTS. Sofa is from the Lord Milton Roundbottom Non-Polygonal Parlour Set by me, available here:
http://www.modthesims.info/download.php?t=482436
. The wallpaper and sofa fabric is from the Till the Summer pattern collection, by me, available here:
http://www.modthesims.info/download.php?t=481486
.
Caution:
Large round glass hats are not usually recommended due to the possibility of breakage. Wear a glass hat only if you are a table leg.
Polygon Counts:
Original Table
Polys: 1538
Vertices: 1223
Converted Table
High Polys: 1416
High Vertices: 1003
Low Polys: 404
Low Vertices: 431
Additional Credits:
Thanks to Delphy, Inge & Peter Jones, Wes Howe for MS plugins, Numenor, Cmomoney
Packs Needed
None, this is Sims 3 base game compatible!
Other Information
Style
:
– Antique : Antique or Historical
– Retro
– Modern
Room
:
– Living : Living Room
– Bedroom
Maxis Flags
:
– Not Applicable
Visit my site @ http://www.kithri.jimdo.com/ for more stuff not available here at MTS!
Creative Policy:
Sims 2 Meshes--May be recolored, please give credit, no permission needed. Do not bundle mesh with recolors, link to mesh here at MTS. Meshes may not be altered without permission.

Sims 3 Meshes--Meshes may not be altered without permission. May use in uploads, but never to pay sites or to the Exchange; do not bundle with upload, link to mesh here at MTS. And please give me credit. :)

Patterns--Do not upload to pay sites or to the Exchange; otherwise, you may use in other uploads. Okay to bundle them into your package, no permission need. Just credit me, please.

This work is licensed under a Creative Commons Attribution-NonCommercial-NoDerivs 3.0 Unported License. See http://creativecommons.org/licenses/by-nc-nd/3.0/ for legal information.