MTS has all free content, all the time. Find out how YOU can help to keep it running.
Tell me how...


Textiles Career
493
Thanks
Thanks
46
Favourited
This career needs a little explaining. It starts back 4 years ago when we found a box of journals belonging to my Great Great Grandmother. She had kept a journal every year for 25 years starting from when she got her first apprenticeship in Scotland at the age of *14 in 1891, until she was about 39 and stopped doing Seamstress work full time due to arthritis. *If you think 14 is young for an apprenticeship, my Great Great Grandmother was actually 2 years older than most of the other apprentices at the time. Her father felt she was too small to apprentice sooner.
I have been trying to salvage these old journals, they are fragile and fading. I finished scanning all of them into my computer a few months ago. While scanning them I couldn't help read what she went through in the textile industry as a young woman and later as a young mother in Scotland. Then after moving to America in her late 20's she continued at the skill she knew best and did Pattern-making and Seamstress work in New York, Missouri and finally in Utah where she stayed.
The job descriptions are as she called and spelled them and in the order she went through herself:
Apprentice - Lapper & Baler are the first 3 levels. You can see the In-Game descriptions and appearance in the picture.
*They are also the Teen/Elder version of the career. Picture Below
Finisher - Weaver & Litster are levels 4 through 6. You can see the In-Game descriptions and appearance in the picture.
Cutter - Patternmaker & Seamstress/Tailor are levels 5 through 9. You can see the In-Game descriptions and appearance in the picture.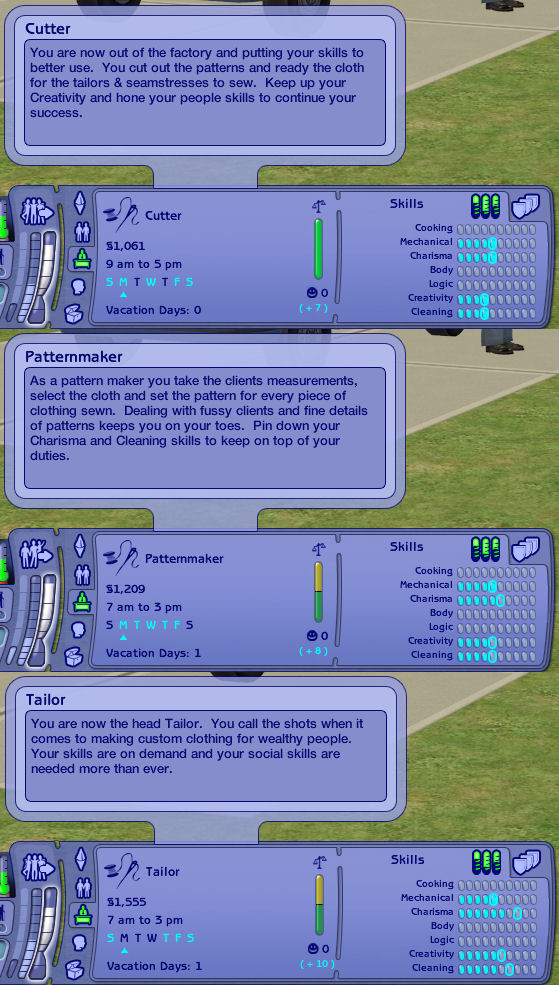 Cutter & Patternmaker are the first 2 levels that have any sort of uniform. I would have loved to create authentic, period uniforms for this career but I wanted to keep it CC free and Base Game compatible. Of course in my Great Great Grandmothers time she never would have worn trousers (as she would have called them), but I think the NPC salesperson uniform is fine for Sims. Seamstress & Tailor wear the Cheap Suit. Screenshots of both are below.
The final level is Haberdasher. This was a point of both reverence and humor for my Great Great Grandmother. Females almost never became a Haberdasher, most of the time a clever Seamstress could become a Haberdasher's wife. Haberdashers were the owners of the millinery and tailors shops, in a form of landlord for the property plus had the ability to hire and fire any person on the premises... for any reason. It was not an easy industry and competition was fierce. The wealthy liked their clothing custom tailored and fitted, they disdained "ready-made" clothing. Haberdashers became quite rich if their Tailors & Seamstresses were good.
So my in game shots of Haberdasher has them wearing Power Suits and riding in the Limo. It seemed appropriate.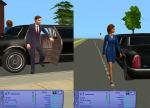 I will not spoil the Chance Cards other than to say that most of them came from real-life situations described in the journals. I kept them as true to her experiences as possible. Of course I had to come up with both good & bad consequences which took a little brain crunching!
The Teen/Elder version of the career is a separate package, but it will properly transition when a teen becomes an adult.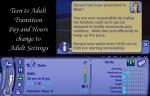 Additional Credits:
I want to thank SuperFly, Emma_Barrett for their tutorials. The Feedback Forum for pointing me in the right direction. And
SimPE
& Bidou's Career Editor.
24 Comments / Replies (
Who?
)