Sims 2

>

>

Pixel dollhouses/For sims to live their lives in/Nice houses for sims
Gamespire
790

Downloads
53

Thanks Thanks
14

Favourited
10,329

Views

Uploaded: 16th Aug 2013 at 4:31 PM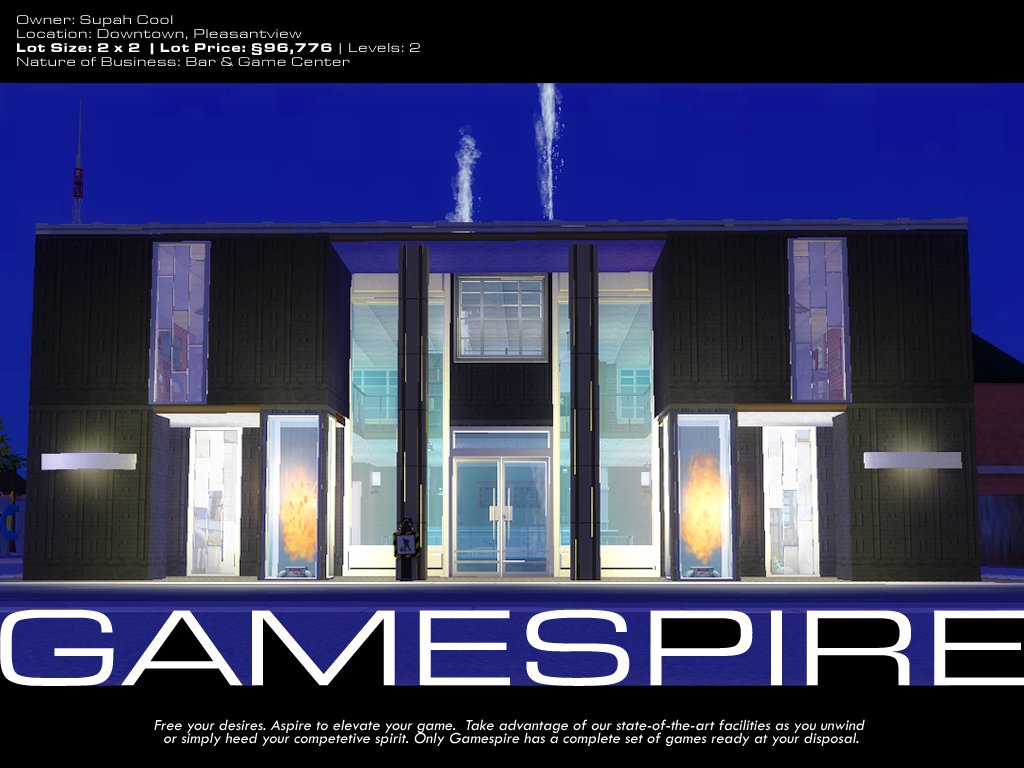 A metro-styled complete game center (or game lounge if you prefer) on a 2x2 lot for your Downtown hood, or any neighborhood that you prefer for that matter. I went for a slick, monochromatic design with lots of vertical rectangles (oooh! vertical rectagles!). I sacrificed landscaping to maximize the space, giving it spacious floor layouts since Sims are a bit dumb when it comes to getting around.
Games Included:
2 Arcade Machines
3 Pinball Machines
3 PCs
1 Electro Dance Sphere
1 Maxis Game Simulator & a big LED TV.
1 table game each (chess, poker, mahjong, Don't Wake the Llama)
1 pool table
1 dart board
1 karaoke machine
1 Myshuno Party Game
Ok so I left some stuff like the bowling alley. Not so complete after all. Cut me some slack, that thing is pretty darn long!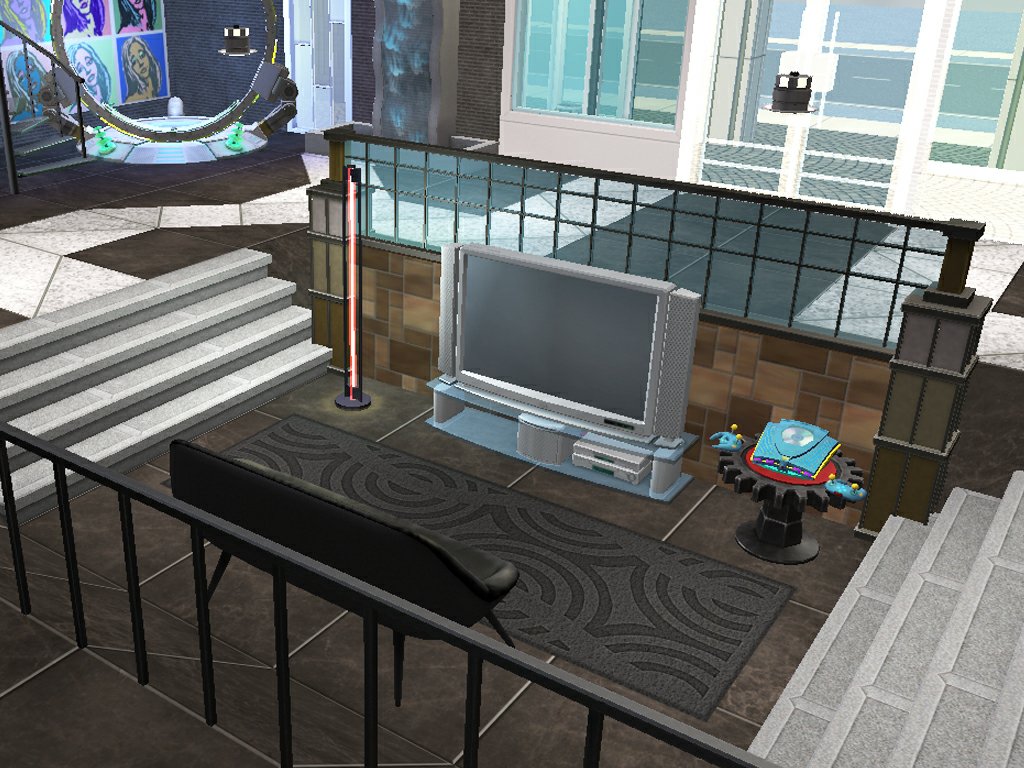 Floor Details
Wanna see me ramble? Press that spoiler button.

Outdoor
Not much landscaping outdoors. Normally I like trees and plants as much as the next guy but it doesn't seem realistic forcing flower beds on the sidewalk. Also it's part of the challenge: Minimal vegetation, get that cold metro look. There is, however, jetfires in glass cases. Oh yeah! And it looks pretty cool at night. Aaaaaand, a huge fountain on the roof. Why on Earth would I do that? Because it looks way cool, that's why. Besides, the lot looks like a small black box on neighborhood view. The fountain lets you recognize it a lot better.

1st Level
The 1st floor retains that slick "cyber" feel that the facade has. Here's where the newbies come in. The loud-mouthed frat boys who wants the quick, cheap thrills of a video game. Naturally here's where the electronic games are found, a bar if anyone gets thirsty (although in my experience, not many Sims use the bar) & two bathrooms in case their drinks starts going down. There's a weird pattern on the floor that I wanted to look like a space invader, in which a failed miserably. I put the game console with the big LED TV in the middle. In a real-life setting, this is where tournaments are held, shown on a wide screen with everyone leaning over the railings. Arcade and pinball machines spaced to allow spectators. And uh, what else... LOOK! OUTSIDE!! JETFIRES!!!

2nd Level
While the 1st floor is for boys, the 2nd floor is for gentlemen, and true patrons of Gamespire. The 2nd level has that old bricktown feel to it and it's a lot cozier. All sports-related wallhangings I could find adorn the walls. The games here are more old school, games that will test your wits and will (save the Myshuno). A karaoke machine for trolls who wants to disrupt other customers and a booth for the troll's friends. Sorry, killing trolls in Gamespire is not allowed. The wall-mounted TV behind the karaoke was a late addition. I had this idea of someone singing while the TV was playing, kind of like having the music video shown behind you. Never tested this though. One drawback is the booth doesn't reach the TV, so Sims watching would stand aroundthe stage. Come to think of it, that's a good thing. It'll make the singer feel good by having people standing around looking at his direction.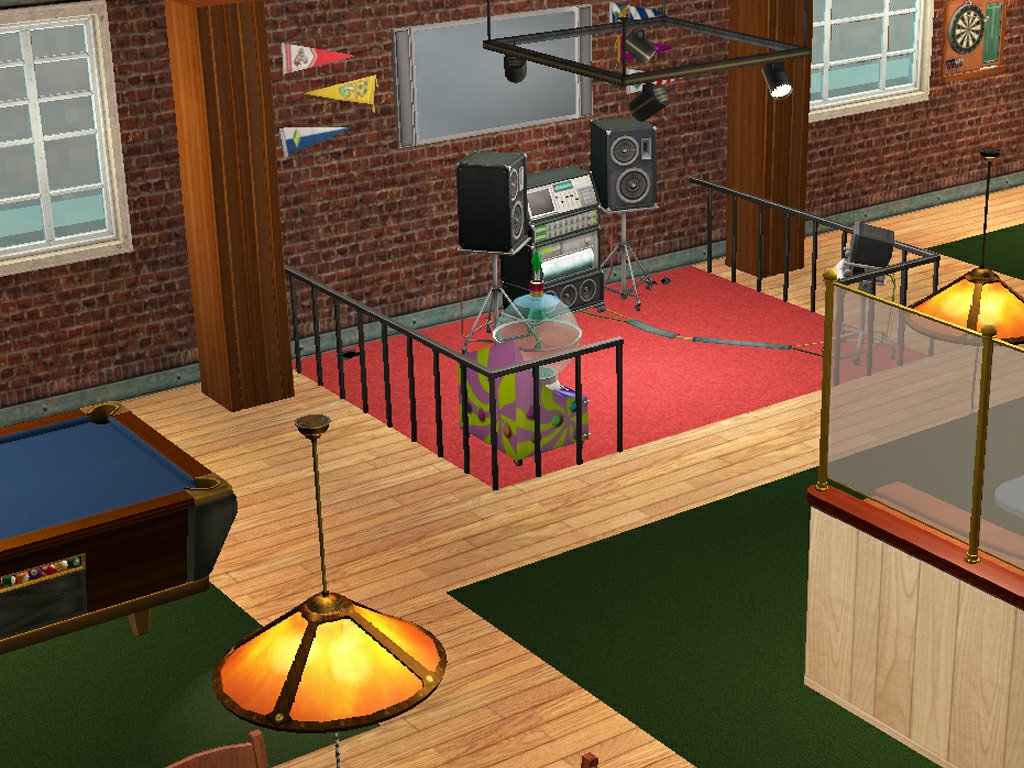 The business runs on an Electrono Ticket Machine which I included as well as the Open/Closed sign. Some bathroom fixtures might need cleaning. Yeah, you guessed it: I've been playing this lot for ages before I decided to upload it. How's that for playtesting?
Well, that's that. Hope you like it.
Custom Contents
None.
Distribution Rules
DO NOT UPLOAD TO ANY PAY SITES. It's shared for free and that's how it'll be. Other than that you can do pretty much anything with it.
Nature of Business:
Game Center
Minimum Staff Required:
2
Levels:
2
Playtested:
Yes.
Lot Size:
2x2
Lot Price:
§96,776
Packs Needed








+
9 SPs
For a full list of packs with names, see the Packs Needed popup.
Other Information
Number of bedrooms
:
– Not Applicable : For Commercial Lots
Custom Content Included
:
– None : No Custom Content included
Furnishings
:
– Fully Furnished : Lot is completely decked out in furnishings
Special Flags
:
– Not Applicable
Packs Needed
| | Base Game |
| --- | --- |
| | Sims 2 |
| | Expansion Pack |
| --- | --- |
| | University |
| | Nightlife |
| | Open for Business |
| | Pets |
| | Seasons |
| | Bon Voyage |
| | Free Time |
| | Apartment Life |
| | Stuff Pack |
| --- | --- |
| | Happy Holiday |
| | Family Fun |
| | Glamour Life |
| | Celebration |
| | H&M Fashion |
| | Teen Style |
| | Kitchen & Bath |
| | Ikea Home |
| | Mansion and Garden |