Two Rival Fortune Sims: Rigoberta Weissblitz and Tanisha Hollister
836

Downloads
35

Thanks Thanks
5

Favourited
7,669

Views

Uploaded: 7th Dec 2013 at 1:30 PM
Updated: 9th Jan 2014 at 2:19 PM - I don't know how and why, but for some reason, the link to HystericalParoxysm's skin was removed from this list...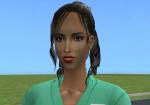 Rigoberta Weissblitz (yes, her last name is literally moonshine)
Aspiration: Fortune
Star Sign: Capricorn
Sex: Adult Female

Smart, shy and serious, Rigoberta is the kind of person who thinks about whether the next thing she does or says will ruin her financial health. Because Rigoberta's biological father left her mother before Rigoberta was born, Rigoberta's feet are planted firmly on the ground, because she knows that Prince Charming isn't going to "rescue" her and take her to live with him on his floating diamond-brick castle. By working and saving since the tender age of 13, Rigoberta had not only built up a resume and gained valuable work skills, she had also saved up enough money to get an education, so she could ensure herself a better life in the future. Rigoberta currently works as a Nurse.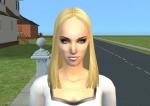 Tanisha Hollister
Aspiration: Fortune
Star Sign: Scorpio
Sex: Adult Female

Stubborn, egotistic and "traditional", Tanisha thinks it absurd that she, a woman, is still in the workplace, rather than provided for by a husband and in the home. When she is not grinding away, she loves to play tennis, volleyball and swim at the pool. When she isn't enjoying athletic recreational activities, she's nagging, prodding and trying to coax her boyfriend, Mason, into the idea of marriage. An idea that mortifies Mason, who is (unbeknownst to his girlfriend) the local rich and handsome womanizer. So much for the Disney prince! Tanisha's "work" consists of menial office work and answering phone calls, for which she is paid just a simoleon above minimum wage.
Why do they hate each other? Because Mason used to "date" Rigoberta, until she caught him WooHooing with Tanisha while delivering roses to his door. Tanisha was stupid enough to believe Mason's story that Rigoberta was "just a bitter ex", along with most of his lies about how he is like this *crossed fingers* with important people like Malcolm Landgraab IV and the legendary Tristan Legend.
At some point, it stopped being about Mason and resolved itself in the form of both women convincing themselves that the other was uglier and more pathetic than themself.
Custom Content Required:
For Rigoberta:
Simple Life's Sims 2 Facial Shadow and Highlight
teru_k's
Simple Skin Soft Edition #5
Mouseyblue's Real Eyes
GOS Link
lidiqnata's
Loose Curls Regency Hairstyle
Bruno's
Venom Lips
Bruno's
Unisex Eyeshadow
Anva's
Groomed & Styled Brows
Anva's
Lashes for Males
For Tanisha:
Simple Life's Sims 2 Facial Shadow and Highlight
HystericalParoxsym's
Idolatry of Flesh
(the palest skintone)
Mouseyblue's Real Eyes
GOS Link
Bruno's
Venom Lips
Bruno's
Unisex Eyeshadow
Anva's
Groomed & Styled Brows
Anva's
Soft Female Eyelashes
Custom Content by Me:
- Female Latina Adult Sim
- Female White Adult Sim
Additional Credits:
Angelique and Dragonflysparkles, for getting me "out of the Face 1 zone" and helping me make realistic sims. All the people who created the custom content needed for the two sims, my sims would be boring without you.

Maxis for bodyshop/CAS and finally, MTS for making this all possible.
I made some stuff here that you may or may not need. Enjoy!
Update: Officially declaring hiatus, sorry I didn't declare it sooner. As I said before, the only time you'll see me here is if I need to redownload/newly download mods or upload my own. (Although the latter I probably won't be doing for a while, if ever.) So if you have questions or requests about any of my mods and if I don't immediately get back to you, check my last login date; I was probably gone awhile.
New Policy: I'm not somebody who obsesses over credit or copyright anymore, so you can do whatever you want with my stuff. If something I made brings another person joy or fulfilled someone's demand, then I'm happy.