Sims

>

>

Other pixel dolls/Ones not based on anyone/Random people here.
Professor Snape
MTS has all free content, all the time. Find out how YOU can help to keep it running.
Tell me how...

Created by Mischief Managed View Policy / About Me View Downloads Home Tumblr
Uploaded 4th Apr 2021 at 9:31 PM · Updated 31st May 2021 at 6:26 PM by Mischief Managed
From The Book series Harry Potter; Severus Snape was Hogwarts harsh' and foul Potions master, but During his childhood he became best friends with Lily Evans, the two were accepted into Hogwarts where he was sorted into Slytherin, while there he developed a fierce rivalry with James Potter and his group of friends the Marauders, he was often the subject of their bullying. Soon after graduating he found himself joining in with Voldemort's death eaters, however after his defeat he took a deal to become Hogwarts potion master, not that it was a position he enjoyed. When Voldemort returned in 1995 Severus fought against him this time fighting along side the Order of the Phoenix. He was known for cold and sarcastic to the point of cruel, with high expectations. He was an extraordinarily Wizard in Dark Arts, Potions, Charms, Defense Against the Dark Arts, Transfiguration, But also in other advanced abilities such as Wandless and nonverbal magic as well as Occlumency and Legilimency which was incredibly rare. He also had the capability for new spells and potions, as well as improving existing ones while still in his teens.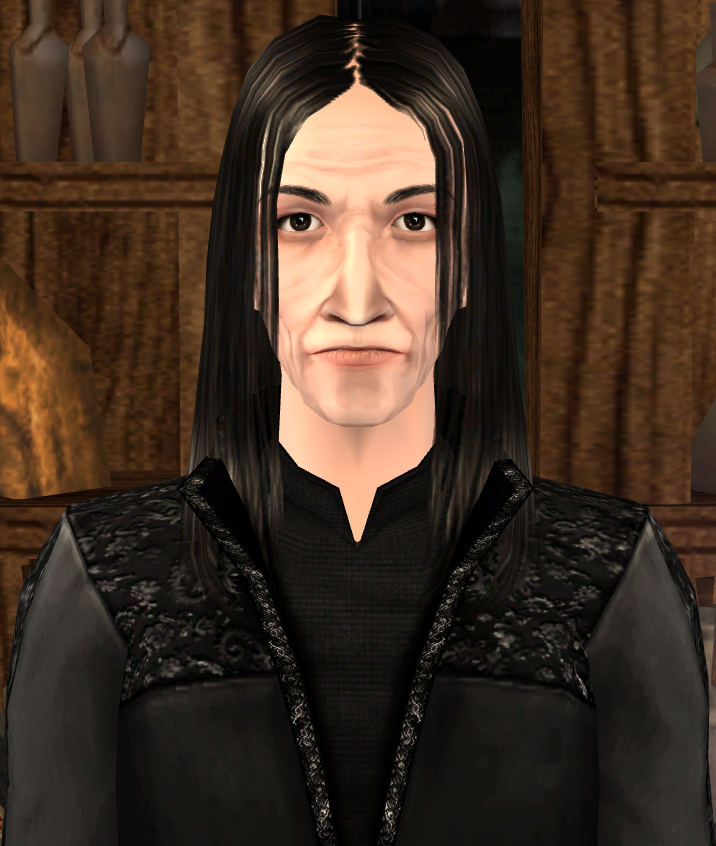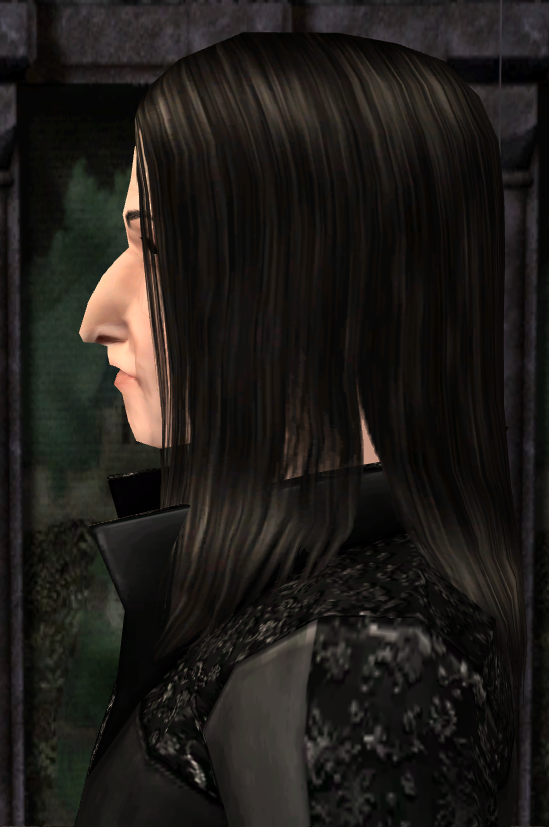 This sim is packaged with default skin, other custom content shown
Sliders used in the making of this sim
5 Extra Sliders for Sims 2 By Digi
"More Sliders, Yay!" by Crisps&Kerosene
Custom sliders for eyes and lower jaw sims 2 by Hexanticle
Line of Jaw Height and Middle of Lower jaw height by Hxanticle
Late to the Party Sliders Part 1 by Lifa
10 New Custom Sliders by Memento/Rami
Facial Asymmetry Sliders by Memento/Rami
No Eyelash slider by Memento/Rami
Eyelid shapers by Memento/Rami
Even More sliders by Memento/Rami
Eight Sliders by Memento/Rami
20 Sliders by Nopke
24 Sliders by Nopke
Two new simple Custom Sliders for the Nose by Uranium-Z
Custom Content by Me:
Severus Snape sim
CC Required but not included
Bumper Brows (Mouseyblue's Pow set 04) by Poppet
Multi-wearable Maxis wrinkles for all ages by Berg
Golden Wings Blush v2 cream by Lilith
Ecuador 3 Nosemask (Pale Dust) by Lilith
Perpetual Student (University Male Long Pooklet'd) by Almighty Hat
*
Non default HoneyHoney skin light rose No Freckles by Lilith
Note:
Rensim's site and original links are no longer active, but they are archived at mediafire the facekit with: Nose Button, Nose Sides, Nosebulb , Teeth, Eyebags, Lashes, Eyebags 2, Eyebags 1 is named rs_ts2blushfacekits
And the Anti shine blush is rs_ts2blushCflexAntishine
CC Included
Behind these eyes Blackish Brown by Bruno
Facekit: Nose Button by Rensim
Facekit: Nose Sides by Rensim
Facekit: TeethEyebagsLashes by Rensim
Facekit: Eyebags 2 by Rensim
Facekit: Eyebags 1 by Rensim
Facekit: Nosebulb 2 by Rensim
Facekit: CflexAntishineblush by Rensim
We've got company Natural Lips (Cheers) by Nabila_Ici
De-witchified warlock robe by Yuxi
Direct link, original link inactive
Facial shadow and Highlight: aging mask 22H by Simplelife
Facial shadow and Highlight: Forehead 1 L by Simplelife
Facial shadow and Highlight: Cheek 2 L by Simplelife
Facial shadow and Highlight: Cheek 3 L by Simplelife
Facial shadow and Highlight: Under-eye 3 M by Simplelife
Facial shadow and Highlight: Sidemouth 1 L by Simplelife
Additional Credits:
These Sims have been checked and packaged with Mootilda's Sims2Pack
Clean Installer
V1.6.22
All Around the World Non-Default Face Templates (Europe: British Islander) by isbrealiomcaif
* Subtlety * Default Face Templates by SleepyTabby
Tags: #Severus Snape, #Professor Snape, #Harry Potter
About Me
I suffer from several disorders that affect my ability to non visual instruction.

As for my stuff. Do what you want, just don't claim as your own