Sims 2

>

>

Sets that are based around a particular design mode, texture, time period, and whatever else our greatest modders and recolorists can come up with!
In Memory of Georges Wolinski
1,133

Downloads
88

Thanks Thanks
13

Favourited
15,094

Views


Uploaded: 5th Feb 2015 at 2:54 PM
Updated: 19th Mar 2022 at 12:53 AM
.
In Memory of Georges Wolinski
.
This Mini Theme-Set contains:
- Georges Wolinski himself, as an elder sim
- Some Bodyshop items - greying stubble, a chin mask and more
- 5 cute cartoony paintings
.
Georges Wolinski was a French cartoonist and comics writer. He was killed on January 7, 2015, in a terrorist attack on Charlie Hebdo along with other staff.
.
Georges Wolinski himself, as an elder sim
BASEGAME COMPATIBLE
Because I can revive him here, at least.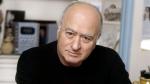 .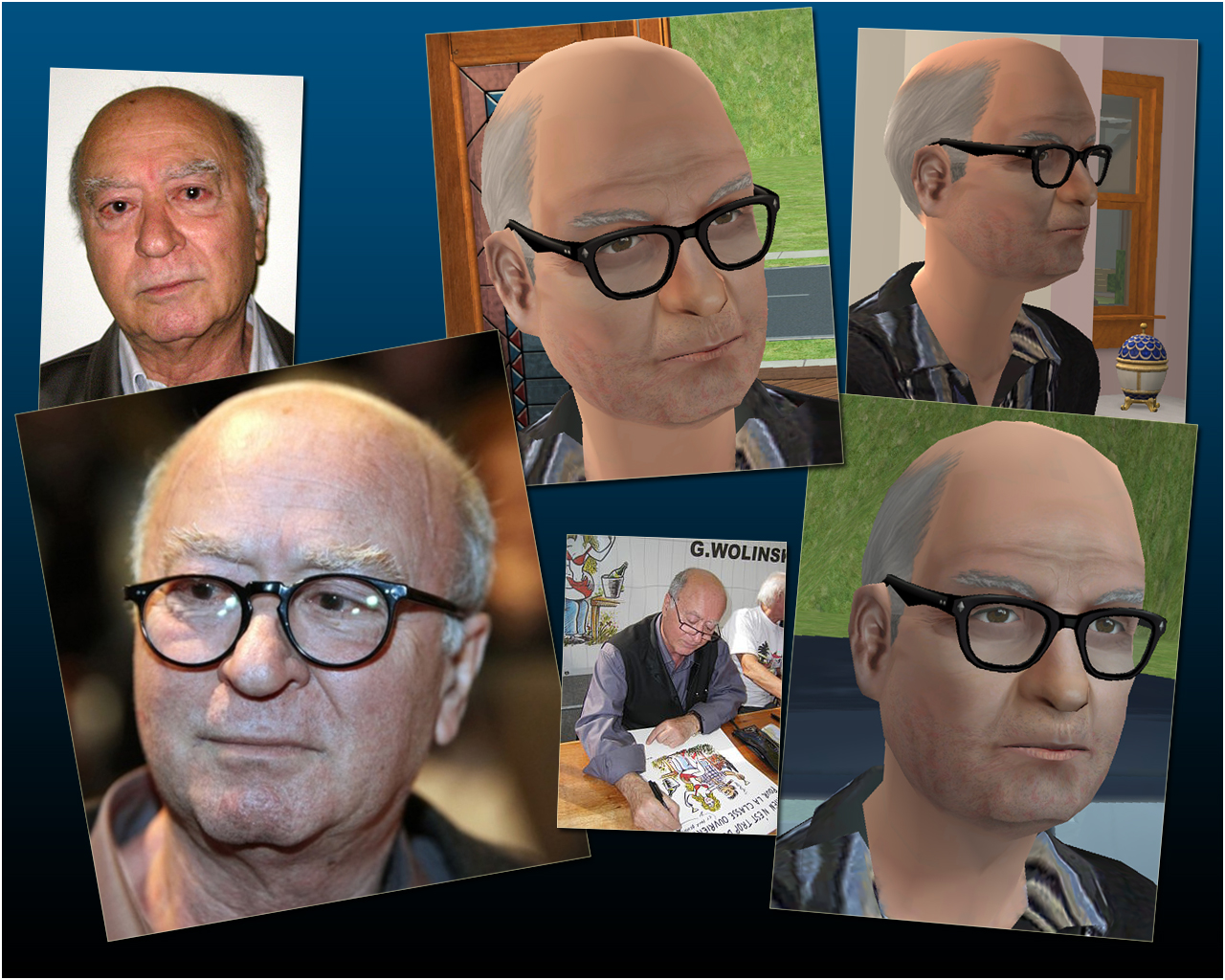 If you decide to not use the glasses, I suggest you remove my pockets-under-eyes
(costume make up) from his face. Glasses sometimes add a shadow around that area, so with glasses it's fine, but without glasses it looks a bit too dark.
Many thanks to the Moderators
Karen Lorraine
and
justJones
, and many more thanks to
CaliBrat
,
marka93
and
Zarathustra
at the Creators Feedback Forum for the help!

.
If you want him to have the Artist University career, or another cartoon-related or art-related custom career that doesn't suck (like most elder careers do), make Wolinski the sim as an adult, get the job while he is an adult, then you can turn him back to elder age if you prefer (I prefer).
.
Everything you see on the sim is included, no mesh or anything else needed,
except maybe for the glasses. Sometimes you pack a sim and accessory meshes just don't follow. From what Google image tells me, Wolinski didn't always wear his glasses, so, it's your call.
.
Bodyshop goodies - For old and semi-old sims only!
BASEGAME COMPATIBLE
.
Because maybe they are usable by other sims?
Look at the pictures below. There's 4 items in that kit:
- His stubble
- His skin condition
- His stubble with the skin condition
- His chin mask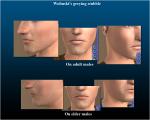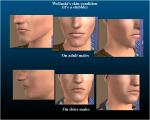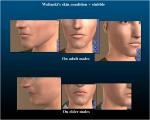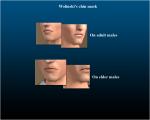 .
All the stuff available only for sim males, adults and elders.
3 first items are in Stubble, the chin mask is in Costume Make up.
All made by me.
.
The 5 Cute Cartoony Paintings
EP REQUIRED: Nightlife
- 4 paintings behind 'Pineapple' - Cartoon art by Georges Wolinski
- 1 painting behind 'Two Dogs and An Olive' - Cartoon art by Cabu (co-worker of Wolinski, and another victim of the events in Paris)
.
It's not much, but you can decorate your sim houses with this! Unfortunately not your real houses...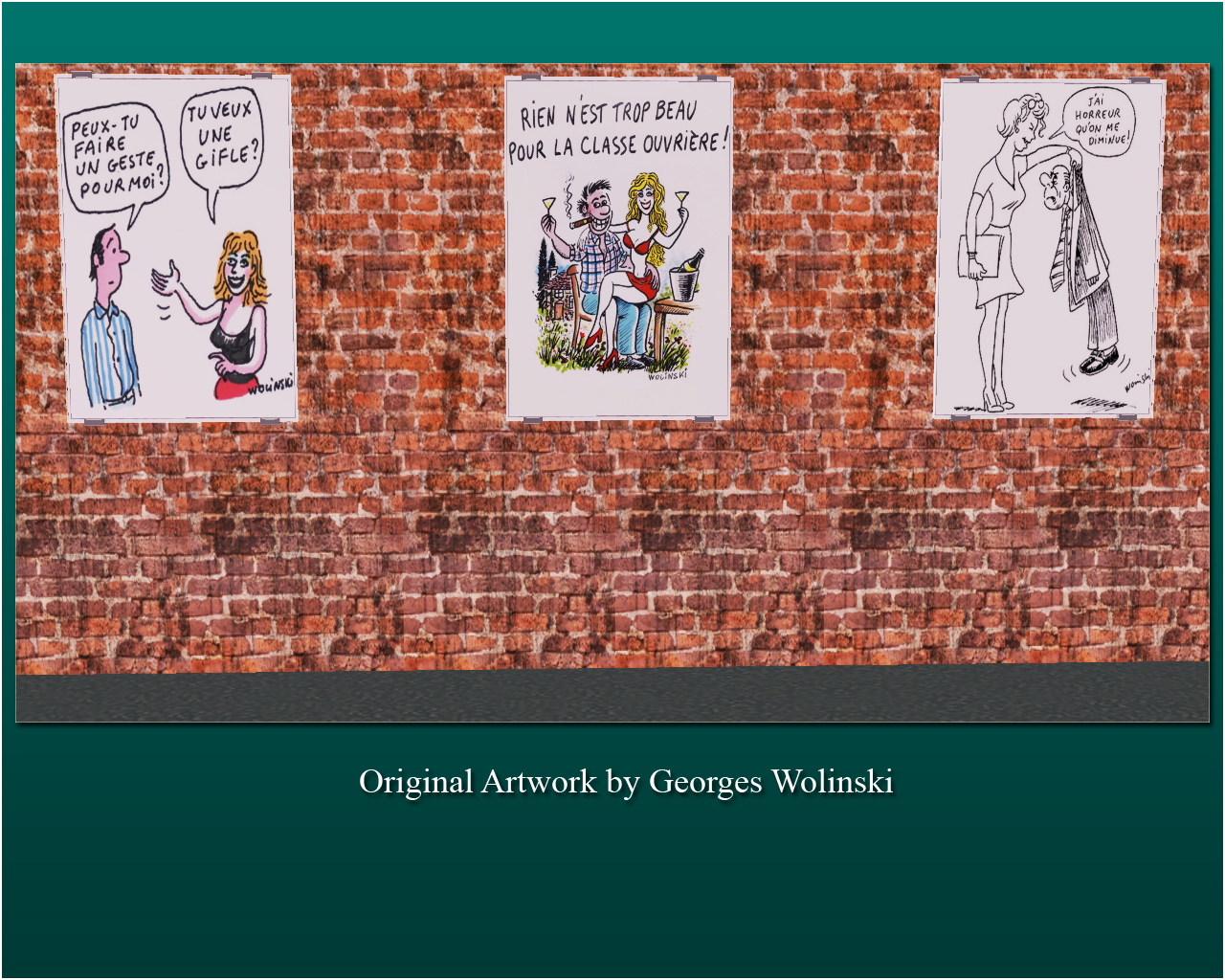 French text on the first one (Gifle) :
Man in the blue and white striped shirt says
Won't you do a little something for me?
Woman responds
What about a slap in the face?
French text on the second one (Ouvriere) :
Title says
There's nothing too good for the working class.
French text on the third one (Diminue) :
Woman holding the little guy says
I hate being belittled!
The woman refers to how Wolinski depicts and treats women in his cartoons. He is... not kind. The little guy in the third painting is Wolinski drawn by himself. He's in many of his own cartoons.

.
This one is by Cabu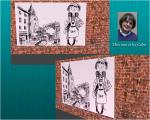 .
One more picture!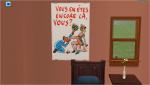 I was not sure about this one since it's a bit kinky. But moderators said yes!

Vous en etes encore la, vous?
means 'Is this where you're still at?', in the sense of someone offering a clear opportunity that another person doesn't take (yet) because they are hesitating or are overly polite.
.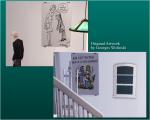 .
.
Enjoy!
.
Packs Needed

For a full list of packs with names, see the Packs Needed popup.
Tags
#Wolinski, #Georges Wolinski, #cartoon art, #food plates, #food, #plates, #plate, #painting, #paintings, #pineapple, #two dogs, #cartoons, #cartoon, #stubble, #skin condition, #chin mask, #elder sim, #default replacements, #tribute, #memory, #French, #France, #Paris, #Cabu, #Char
Packs Needed
| | Base Game |
| --- | --- |
| | Sims 2 |
| | Expansion Pack |
| --- | --- |
| | Nightlife |