>

Mods that replace game resources other than the script core.
Stop Mopping in the Rain
MTS has all free content, all the time. Find out how YOU can help to keep it running.
Tell me how...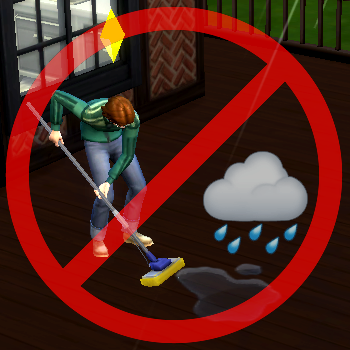 Description
These mods will prevent Sims from autonomously mopping puddles outside or in the rain (depending on which option you choose, see below).
I made this mod because my Sims would mop the porch, even while it was still raining. I don't think I have ever seen my Sims get any negative moodlets from puddles that are outside anyways, and mopping outside just seems weird to me anyways, rain or no, since the puddles evaporate on their own.
Which Do I Download?
I personally recommend option 5, as I feel it's the most realistic version; it completely prevents mopping in the rain, while still allowing Neat Freak and Erratic Sims to mop outside when it's not raining.
ALL OPTIONS: Indoor puddles are unaffected by these mods and will be mopped normally. You can always direct your sims to mop any puddle, as this mod only affects their autonomous behavior.
OPTION 1: Sims will not mop any outdoor puddles
OPTION 2: Sims will not mop any outdoor puddles unless the Sim has either the Neat Freak or Erratic traits
OPTION 3: Sims will not mop any outdoor puddles when it's raining
OPTION 4: Sims will not mop any outdoor puddles when it's raining unless Sim has the Neat Freak or Erratic traits (personally my least favorite option, as I don't think any Sim should ever be mopping in the rain)
OPTION 5: Sims will not mop any outdoor puddles unless it's not raining and the Sim has the Neat Freak or Erratic traits
Conflicts
This mod will conflict with any mod that changes the following XMLs:
E882D22F!00000000!0000000000006A94.Puddle_Mop_Small.InteractionTuning
E882D22F!00000000!000000000000360B.Puddle_Mop.InteractionTuning
E882D22F!00000000!0000000000006A95.Puddle_Mop_Large.InteractionTuning
E882D22F!00000000!0000000000006A9A.Puddle_Mop_Energized_Small.InteractionTuning
E882D22F!00000000!000000000000360C.Puddle_Mop_Energized.InteractionTuning
E882D22F!00000000!0000000000006A9B.Puddle_Mop_Energized_Large.InteractionTuning
Reposting
You may repost any of my mods to other sites as long as I'm given credit
Made with
Sims 4 Studio
Type: No Autonomy Fixed