>

Pixel dollhouses/For sims to live their lives in/Nice houses for sims
The Stepford Project V: Final Mansion by D.D.I.
MTS has all free content, all the time. Find out how YOU can help to keep it running.
Tell me how...

Created by Deluxe Designers Inc. View Policy / About Me View Downloads Home
Uploaded 3rd Mar 2008 at 6:47 AM · Updated 24th Nov 2008 at 2:39 PM by Deluxe Designers Inc. : MTS2 Requested Update
THE STEPFORD PROJECT: PART 5 - Stepford Manor!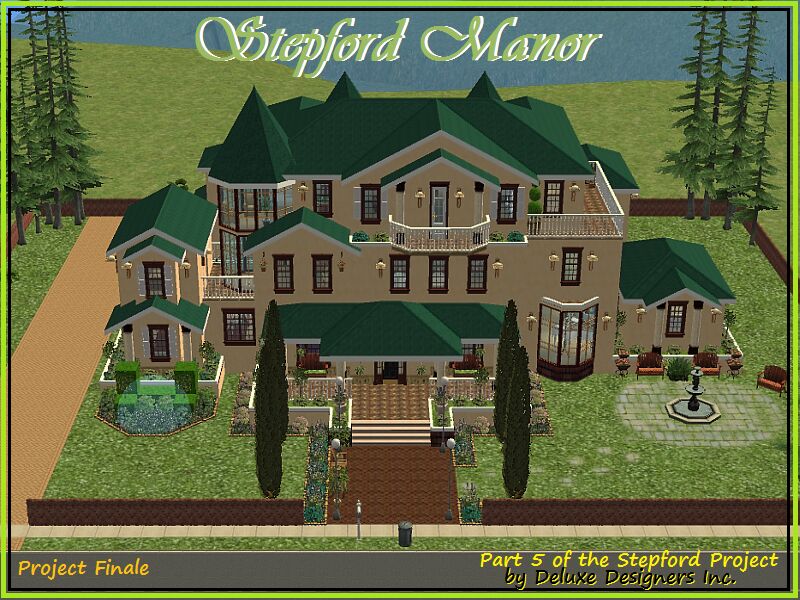 Added August 1, 2008: No Custom Content Version (UNFURNISHED)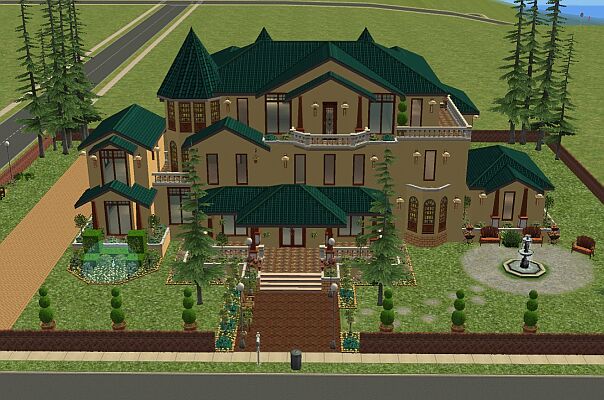 The authentic look of the orginal design has been maintained as much as possible by using Maxis content. However, there are subtle differences in the overall appeal. Do enjoy the download. This house is among the favorites in this collection!

--------------------------------------------------


GENERAL INFORMATION ABOUT THE COLLECTION
The Stepford Project is a small collaborative project by Deluxe Designers Inc. (StephSim and Deluxe Designs). We wanted to bring your wealthy Sims a truly "exclusive" neighborhood to play in. What better place than Stepford, Connecticut. This project is based on the 2004 version of the American movie "The Stepford Wives". The movie basically tells a tale of how men bring their significant others to the seemingly "perfect" Stepford community to help them improve who they are. The cast includes Nicole Kidman, Matthew Broderick, Glenn Close, Christopher Walken, Bette Midler, John Lovitz, Faith Hill and many others. The Stepford Project revolves around this fictitious neighborhood and all of it's splendor. We will present the lots in parts.

Note:
This is Part 5 and is the final Stepford lot. This lot is truly a collaborative effort between Deluxe Designs and StephSim! We took the best of ourselves and created this fabulous mansion. If you download no other lot in the Stepford Collection, this lot is a must have!

Stepford Manor is indeed a mansion that mesmerizes! It is unique in design and the builders, Deluxe Designers Inc., took inspiration from the family who first lived there, the Ambercromby family. Apparently, the final vacation the Ambercromby family took led them to the ends of Europe. They went from Ireland to England to Italy, France and finally Spain. The manse has a distinctively Mediterrannean feel to it. The bold roof color and the calming Tuscan Stucco blend in pure perfection. Please do come in and take a look around. This could be the house of your Sim dreams!

--------------------------------------------------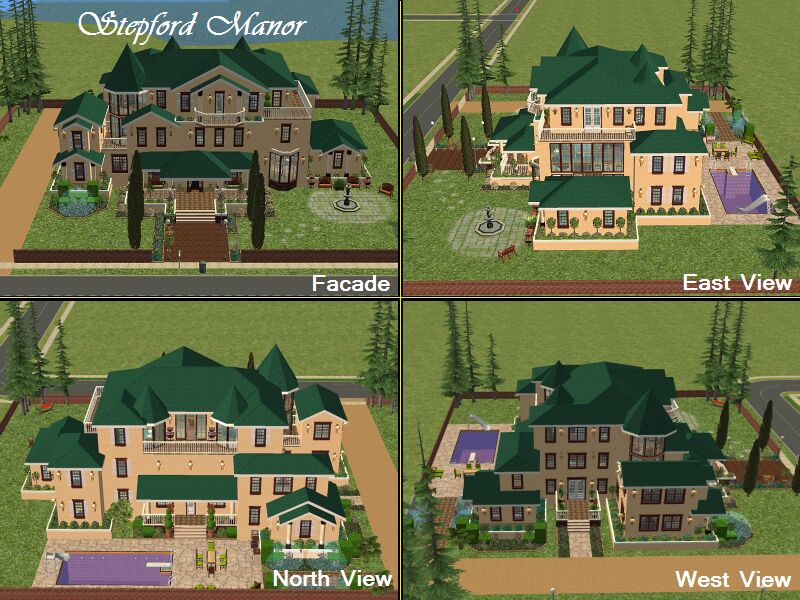 LOT INFORMATION
There are 2 downloads for the Stepford Manor, 1 FURNISHED and 1 UNFURNISHED. This grand home is the final lot in a very classic series of wonderful Stepford homes.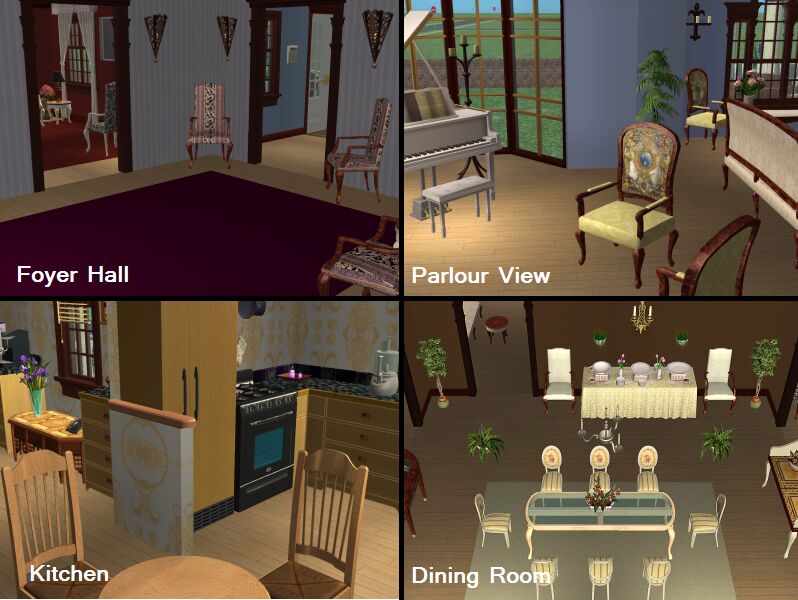 Stepford Manor:
RESIDENTIAL LOT / 5 x 4 Lot / UNFURNISHED §187,250 / FURNISHED §425,362 / 3 Story/ Extended Driveway with Side Entry to the Main House / Foyer / 3 Bedrooms (1 a Master Suite leading to a 2nd Private Kitchen) / 4 Bathrooms / Kitchen / Dining Room / Office / Hallways/ 3 Spacious Stair Landings / Living Room or Parlour / 3rd Floor Entertainment Room / T.V. Room / Swimming Pool / 2 Story Guest House or Pool House / Gardens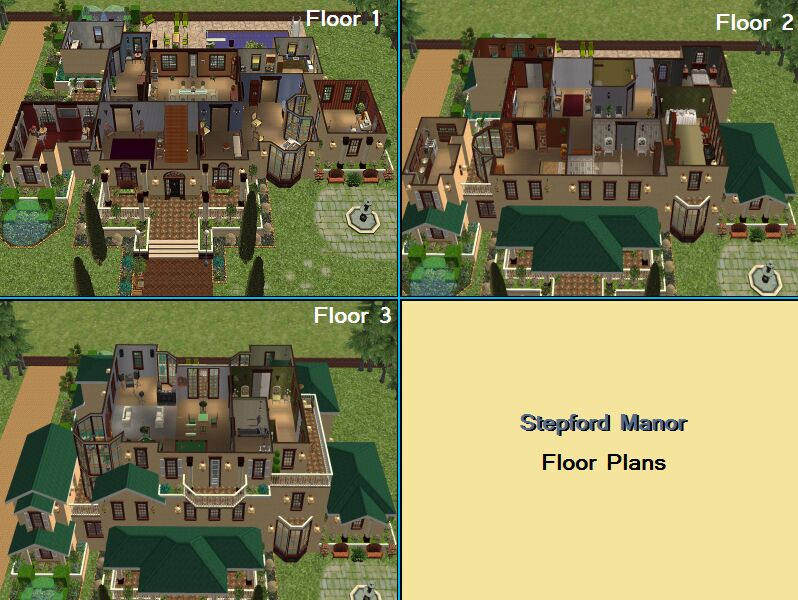 Other Information:

THANK YOU!
Thank you to the following artists for helping to bring this Sim lot to life: Simnuts101, Ailias, Xrax, rebecah, Mzcynnamon, Phoenix_Phaerie and Macarossi. Be sure to browse the links at the end of the post for other fabulous downloads by each artist!



CUSTOM CONTENT
These lots contain Custom Content. All custom content included are build items (walls, floors, terrains, doors, windows, etc.). Any custom content used has been tested in the game for playability.



Note:
Although the paintings are not included, be sure to download Simnuts101's "Louis XVI Library/Study" collection to get the them. It is sure to add the ambience of wealth to your home:
http://www.modthesims2.com/showthread.php?t=123012

MTS2 PROFILES OF DELUXE DESIGNS INC. :
StephSim: http://hideki.modthesims2.com/member/StephSim
Deluxe Designs: http://hideki.modthesims2.com/member/Deluxe+Designs

Lot Information:
Stepford Manor Price (FURNISHED)
: §425,362
Stepford Manor Price(UNFURNISHED)
: §187,250
Stepford Manor Lot Size:
(BOTH) 5 x 4
Custom Content by Me:
- Atomic Wall 16
- Atomic Wall 22
- Atomic Wall 25
- Blue Paisley
- Blue and Gold Floral Wall
- Blue and White Ornate
- Bold Red Floral Wall
- Cape Cod Blue Texture Wall
- Chintaka Interior Floor 3
- Cream & Tan Floral Wall
- Deep Red Ornate Carpet
- Golden Tin Wall
- HP Brick 8
- Inspired Floor 1
- Lime & Pink Paisley Wall
- Mauve & Brown Floral Wall
- Moss Brick Terrain
- Mustard Striped Wall
- Olive and Brown Floral Wall
- Quidditch Grass Floor 3
- Red & White Toile Wall
- Red Shag Carpet
- Red and Gold Stripes
- Tuscany Mocha (Bottom Wall)
- Tuscany Mocha (Top Wall)
Custom Content Included:
- Ailias Modern Pediment by
Ailias
- Blue Flowers by
macarossi
- Louis XVI Style Library Set by
simnuts101
- Cupresssus Sempevirens by
xrax
- Garden Planter (Hexagonal) by
macarossi
- Gentrific "Flame-O-Rama" Fireplace WITHOUT CHIMNEY by
mia86
- Georgian Add-on Set
phoenix_phaerie
- Georgian Build Set
phoenix_phaerie
- Green Residential Roof by
mzcynnamon
- Irises by
macarossi
- Lavatera by
macarossi
- Longhorn Balustrade in White (More white by Ailias) by
Ailias
- Miltonia by
macarossi
- Minimalist Glass Door by
macarossi
- Orchids by
macarossi
- Petunias by
macarossi
- Primroses and Half Tile by
macarossi
- The Invisible Window by
rebecah
- Yet Another Window by
macarossi
Number of bedrooms: 3 Bedrooms
Custom Content Included: None Build and Buy Mode Content
Furnishings: Unfurnished Fully Furnished

Tags: #The Stepford Project, #Stepford, #Stepford Manor, #mansion, #manse, #wealthy, #rich, #Deluxe Designers Inc., #Deluxe Designs, #stephanie b., #StephSim, #Lauralaima
Deluxe Designers Inc.
Deluxe Designers Inc. is now an archive! :(
UPDATED
: January 2015
This profile page was initially set up for the collaborative efforts of
Deluxe Designs
,
Lauralaima
and
StephSim
.
However, with the emergence of The Sims 3 and real life demands, we decided to amicably part ways.
The final collaborative lots will be shared once they are edited for EP-related changes and prepped for uploading. However, this will take a bit of time due to other Sim commitments. There will be a few more posts, to include collaborative Gwrych lots and a few more Stepford lots.
While the Stepford Project will remain available for download, the full Gwrych Project has changed. There will be 2 Gwrych lots posted here on this account to share and honour Lauralaima's contributions to the original concept.
Initially, Gwrych was also meant to be a few collaborative lots. However, it turned into a bit of obsessive medieval madness on StephSim's part. To see what each creator has been up to, be sure to click on their respective links below!
While DDI projects will be no more, the friendships forged will always be a part of who we are!
Thank You for your patience and understanding!
~*~D.D.I. ~*~
Be sure to check out other creations by Deluxe Designers Inc. Members:
Deluxe Designs
:
http://hideki.modthesims2.com/member/Deluxe+Designs
Lauralaima
:
http://www.modthesims2.com/creator/lauralaima
StephSim
:
http://hideki.modthesims2.com/member/StephSim