Sims 2

>

>

Pixel dollhouses/For sims to live their lives in/Nice houses for sims
The Floridian - A Luxury Starter or a Terrific Retirement Home
1,924

Downloads
97

Thanks Thanks
19

Favourited
17,761

Views

Uploaded: 7th May 2011 at 1:18 PM
Updated: 9th Sep 2021 at 2:50 PM
Updated Aug 11, 2020 - I have updated this property a bit... fixed a few little things - there will be no more stompies in the bathroom.

Got rid of most
ALL
of the CC - there is still 1 piece of CC, and 2 of it's recolors included in the new package. And repackaged this house from my UC/Win 10 machine.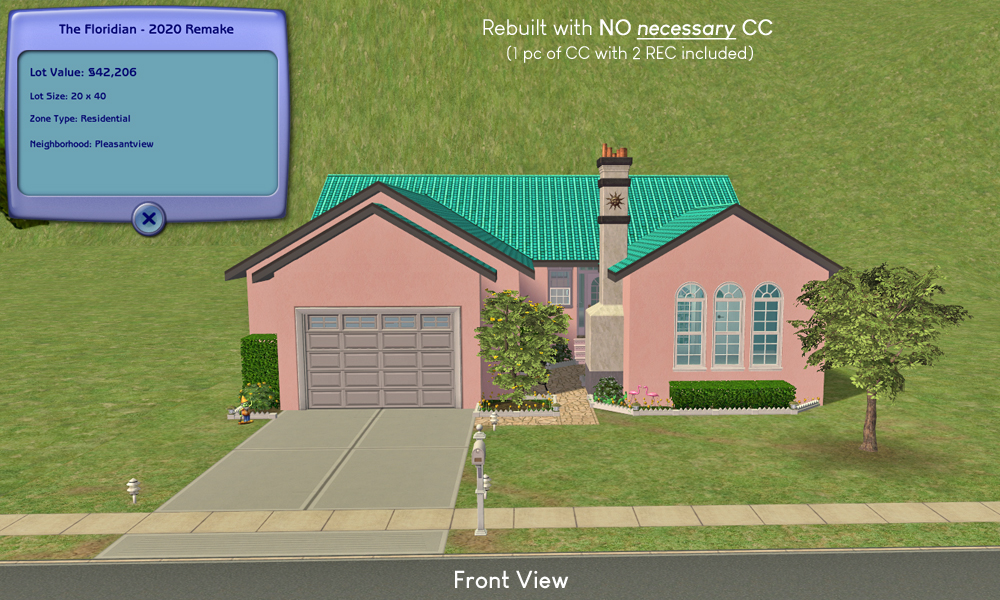 The first few pictures above show the "New" version of the house. The old one is still available if anyone wants it and all of it's CC

*
sigh
*
For the record - I think this is a really cute little house! I'm proud to have created it almost 10 years ago (originally posted May 7, 2011)
Lot Size:
2x3
Lot Price:
42,206
Custom Content by Me:
-
CatherineTCJD_MESH_INsideOverlays-ArchIMP
-
REC - Mold0White01Crown1
-
REC - Mold0White04Kick1
And as usual, I recommend getting/using:
-
Invisible Smoke Alarm
by pfish @ MTS2
-
Invisible Driveway
by Sophie-David @ MTS2
-
Backless Tub/Shower combo & Cheap Shower
by Huge Lunatic (HL) @ MTS2
--- You
may need to have
Numenor's
Unlevel Wall - #90
- I use this wall all the time as it is such a forgiving wall to build with

Click the info button below to see how I suggest installing this wall
NOTE
: If you decide
NOT
to use Numenor's Wall #90, there may be missing wall sections or pieces of the WroughtIron fence in place of walls.

If you don't already have it, go get and install the Scriptorium by Numenor - it makes it super easy to install Modular Stairs, Fireplaces, Custom Walls, Lights/lamp mods (You can read about the what/why/how of it on his post) To sum up - all these items use scripts to work properly in the game - and that means they have an extra .txt file along with the regular .package file. And, you don't just dump it all into your Downloads folder. Once you install the Scriptorium, it will install all the other stuff for you.

Then - go get 90_UnleveledWall also by Numenor. (This wall is amazing!) Numenor cautions on his post that some people have experienced problems with this wall; but, I've used it since he first released it in 2006, and I have NEVER had a problem with it - I've used it through various EP/SP disc installs on XP, Vista, 7, 8, and now on Windows 10 with UC.

Unpack the zip file and find two items:
90_UnleveledWall.txt
90_UnleveledWall.package

In your DL folder, find the Scriptorium shortcut labeled "Scriptorium_Walls-Fences-Arches" and drop the .txt file into it.
(If you open the shortcut, you'll see it's path goes to: C:\Program Files (x86)\Origin Games\The Sims 2 Ultimate Collection\Double Deluxe\Base\TSData\Res\Catalog\Scripts\Scriptorium_Walls-Fences-Arches - if you have the UC)

Numenor advises that you put BOTH the .txt and the .package in the shortcut folder. However, my 90_UnleveledWall.package file is in my documents/Downloads/zHacks folder - always has been, and, like I said, I've never had a problem with it.
The
ORIGINAL UNCHANGED
post/information follows:
________________________________________________________________________________________________________
I have lived many places all around Florida, and this is a pretty typical middle-class suburban home. The design of this house is classified as Southwestern. The 'square box' and open floor plan make it very economical to build. Homes like this are often found in '
developer neighborhoods
' -
what used to be called housing tracts
- and are painted bright colors, such as the Pink/Coral I used. (Other fashionable favorites these days include Lime/Chartreuse, Sunny Yellow, and Turquoise.)
The best feature of this house, I think, is the Guest Suite. Remember, this is Florida - aka
Disney World
- so, who doesn't have constant visitors? Or In-Laws that need a place to spend their twilight years? The suite is accessible through a private entrance across the courtyard. With a little renovation this could become a fabulous Master Suite. Or, it could transform easily into a B&B (home business) or a studio apartment (for college kids) - if you knew how to build that sort of thing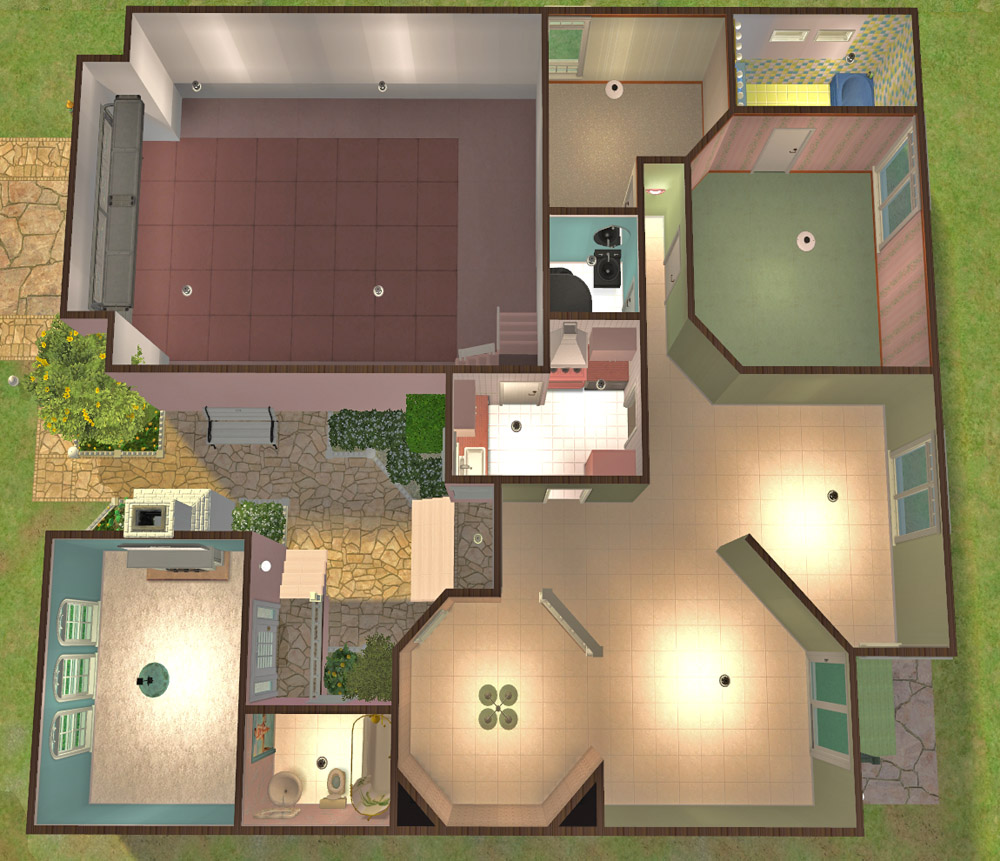 MAIN FEATURES:
Around 1,375 sq ft covered living space - 3 bedroom, 3 bath, living room, kitchen, dining room, family/media room, entryway courtyard, back porch, and single car garage
Around $30,056 simoleons - I say "around" because I have extensively re-organized my build/buy catalogues and, in doing so, re-priced most everything. I don't know if this will effect the cost in your game or not. If it does, maybe your Sims qualify for a huge tax break? Inheritance? Or, it's their turn to win the lottery?
The Guest Suite, which is found across the entry court, features a beautiful fireplace. Pump up the A/C, light the fire, and your Northern guests will feel right at home any time of the year!
Unfurnished - Kitchen appliances, lighting, and bathroom fixtures, carpet, tile, wallpaper, and landscaping included
Alarm systems included (for both fire and burglar)
Natural Gas is available - but the range is currently electric
A Floridian color scheme throughout
Quality Maxis doors and windows
Natural Stone pavers in both courtyard and driveway - helps keep things cool and with water drainage
Mature Landscaping including a native Valencia Orange Tree in the front yard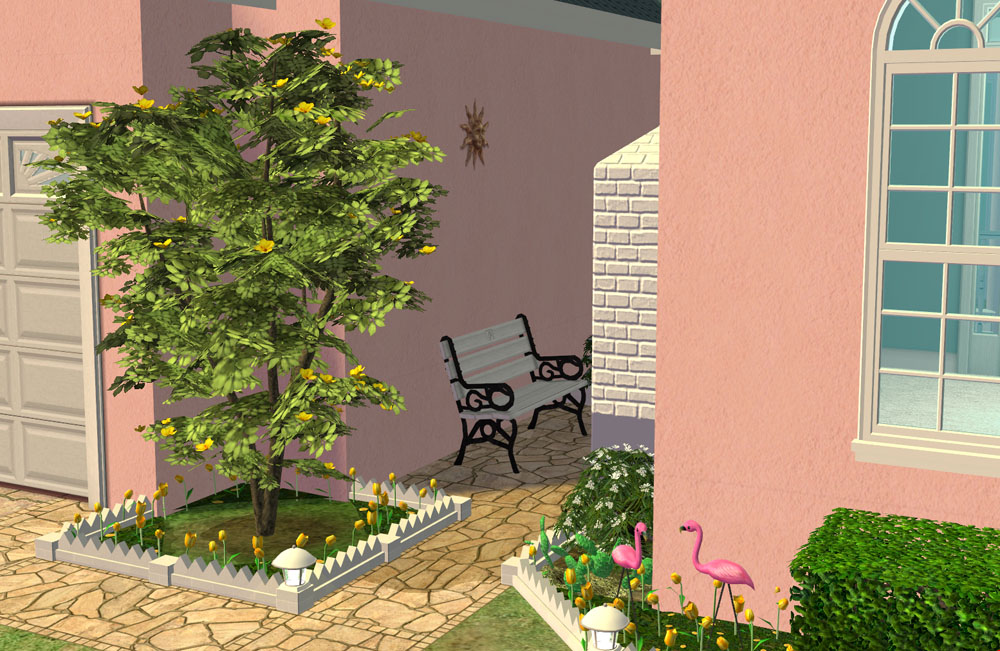 Ya'll come in for a tall glass of tea? Iced and sweet, of course! Welcome to Southern Hospitality!
I really enjoyed putting this home together - I hope you will enjoy it too! Please hit the Thanks button and leave a comment - I love to hear what you think!
Credit&Thanks:
(Specific items are listed out below...)
Amythestfenix
Syera
CrabOfDoom
CTNutmegger
Engelchen
icad
ililas
pfish
JuliMonde
Piggis-Sims
Schafrym
SpeedyMaus
And
Someone
here at MTS2 who recolored the Maxis Value Door in a nice clean white a long, long time ago. If this is you, please let me know so I can give proper credit

Shopping List:
(These are the items that either would NOT jump into the Sims2Pack file properly, or the various creator's TOU's request that you visit their download pages.
(HINT: While visiting their pages, check out all the other goodies and drop them a note of "Thanks!"
Every item listed here is offered free to the community. Thank you stuffeths creators!)
HugeLunatic's
Indestructable Concrete ModularStairs made Recolorable
Menaceman44's
Lunatech Ceiling Light FIX
Numenor's
Deck Stairs
PhsychoSim's
Default Floor Edge
Sophie-David's
Invisible Driveway
Lot Size:
2x3
Lot Price:
30,056
Custom Content by Me:
- 1tileFullPoster(Borders Ed.) - by CatherineTCJD
- 1tileFullPoster(INside Ed.) - by CatherineTCJD
- BorderDiamonds
- Mold0White01Crown1
- Mold0White04Kick1
Custom Content Included:
- Teal Roof: Mitternachts-Ziegel by
Engelchen @ All4Sims
- Concrete stairs to match Maxis's stucco walls.Made by iCad at MTS. by
iCad @ MTS2
- Cement flooring to match Maxis's stucco walls.Made by iCad at MTS. by
iCad @ MTS2
- Concrete flooring to match Maxis's stucco walls.Made by iCad at MTS. by
iCad @ MTS2
- Concrete flooring to match Maxis's stucco walls.Made by iCad at MTS. by
iCad @ MTS2
- chimney recolor by
ililas @ SeaSimsAndSun
- chimney recolor by
ililas @ SeaSimsAndSun
- Invisible Burglar Alarm by
pfish @ MTS2
- Invisible Smoke Alarm by
pfish @ MTS2
- Maxis Door Recol - Aqua Pinup Girl by
JuliMonde @ JuliMondeSims
- garagedoor recol by
Piggis @ piggis-sims
- wallsconce recol by
Schafrym@ N99
- cowboylatern recol by
Speedymaus @ Blacky
- eurosconcelamp recol by
Amythestfenix @ Sims2Artists
- eurosconcelamp recol by
Amythestfenix @ Sims2Artists
- parkbench recol by
Syera @ BogSims
- colonialdoors recol by
CrabOfDoom @ dreamwidth
- Value Upper-Cabinet by
CTNutmegger @ MTS2
- doorvalue recol by
Someone here on MTS2
Additional Credits:
A HUGE Thank You!!!
To all the creators of the fine objects listed above!
And, to the recolorers who's work I used.
To building tool creators - especially Numenor.
And, to the many, many tutorials here on MTS2
THANK YOU!!!
Packs Needed








+
9 SPs
For a full list of packs with names, see the Packs Needed popup.
Other Information
Number of bedrooms
:
– 3 Bedrooms
Custom Content Included
:
– Build content only : only Walls, floors, terrain paint, fences, stairs, windows, doors, etc.
Furnishings
:
– Fixtures Only : Lot is furnished how one would expect a real life unfurnished house or apartment to be
Special Flags
:
– Not Applicable
Packs Needed
| | Base Game |
| --- | --- |
| | Sims 2 |
| | Expansion Pack |
| --- | --- |
| | University |
| | Nightlife |
| | Open for Business |
| | Pets |
| | Seasons |
| | Bon Voyage |
| | Free Time |
| | Apartment Life |
| | Stuff Pack |
| --- | --- |
| | Happy Holiday |
| | Family Fun |
| | Glamour Life |
| | Celebration |
| | H&M Fashion |
| | Teen Style |
| | Kitchen & Bath |
| | Ikea Home |
| | Mansion and Garden |
About Me
I mostly "build" - houses, apartments, recreational, and community lots - but, I also create walls (and murals), floors, terrain paint, and various other recolors. And I've written a few tutorials too. :luff: