Setra, jewel of the sands
487,450

Downloads
2,996

Thanks Thanks
801

Favourited
535,882

Views
Featured Upload! This is a featured upload! It showcases the best talent and creativity available on MTS and in the community.


Uploaded: 21st Feb 2012 at 7:11 AM
Updated: 21st Feb 2013 at 9:17 AM
Many would think Egypt is a place of relics and ancient history, but these days you'll find that there's more than antiquity. A modern paradise has risen from the sands. With the use of state of the art technology and the funding of the richest Sims, Setra was founded. Among the ancient pyramids of old now lies a modern settlement, welcoming all who are drawn to its gleam.
---
Launch trailer
---
---
Earlier trailer
---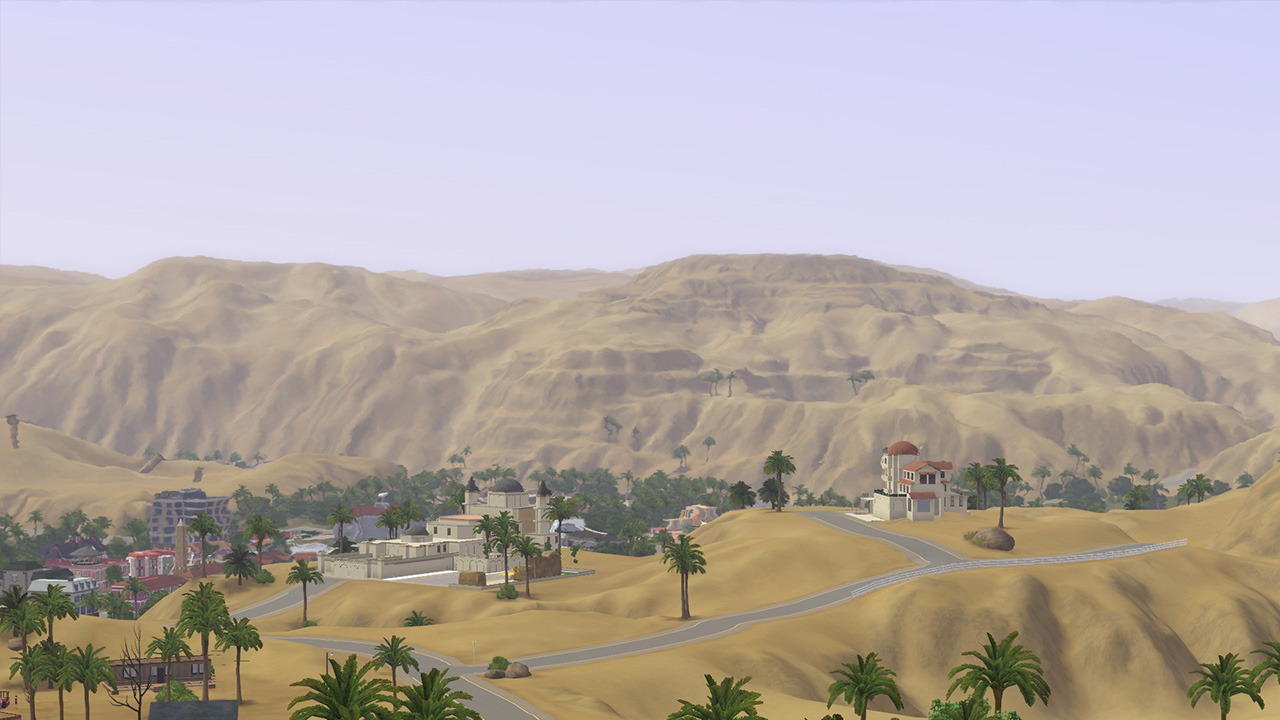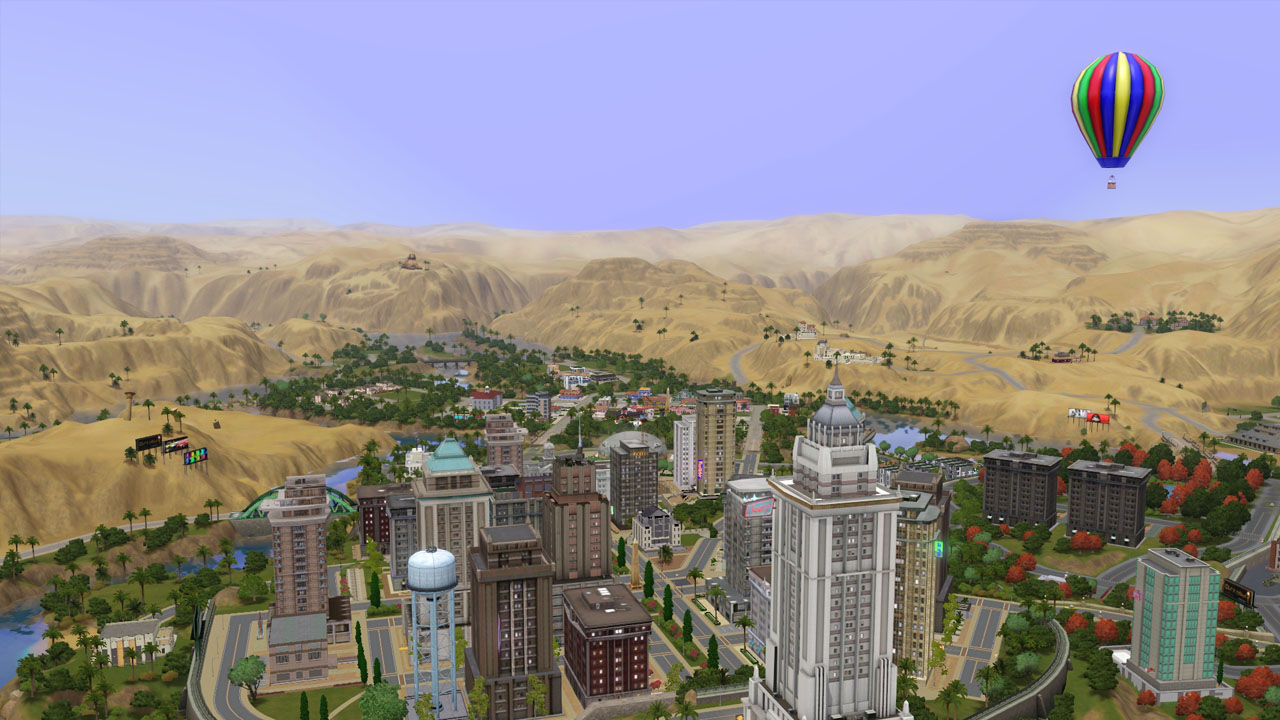 General
A large desert world, Setra combines the features of Late Night with the aspects of suburban life. Exotic and exciting, it should offer something for every simmer out there.
Map Size: Largest (2048x2048)
Map height: Highest
World type: City, like Bridgeport. This means different work times and no wildlife in the form of wild horses/deer/raccoons. You will still see unicorns and strays.
Spawn Points: All basegame spawners + expansion spawners (AMB, LN and PETS), except the World Adventures variants. I decided to keep their location-specific exclusivity.
Game requirements: World Adventures, Ambitions, Late Night, Generations, Pets and game update 1.29 (from 12/14/11).
Performance
Routing: I've tried to include as much terrain in the routable part of the world as possible. Any places that would seem too steep or inaccessible are properly designated as non-routable. I've spent a lot of time perfecting the routing, making sure there are no gaps and glitches. Camera routing is possible throughout the entire world, with the exception of the outer edges of the map.
Number of layers: 15 including the Global Layer.
Number of textures: 16, but no more than 8 per chunk.

Performance has been optimized as much as possible, but because it's a large and complex world it's quite likely that you'll need a decent PC to run it (though fluidly is probably out of the question. The Sims seems to run worse with every expansion and at this point I can't run Setra without some form of lag either). I personally recommend at least 4 GB of RAM memory.

Lots

All lots are made, and fully decorated, especially for this world by yours truly. Each and every lot has a description and in case of residential lots their names specify the number of bed- and bathrooms.
Number of lots: 131

20x20:____ 4R
20x30:____ 11R 6C
20x37:____ 4C
25x20:____ 1R
30x20:____ 17R 1C
30x27:____ 1C
30x30:____ 14R 8C
30x37:____ 1R 1C
30x40:____ 7R
30x52:____ 1C
30x60:____ 1C
30x64:____ 1C
37x25:____ 1C
40x20:____ 1R
40x28:____ 1R
40x30:____ 10R 4C
40x40:____ 3R 7C
40x50:____ 3R 1C
42x27:____ 1R
42x33:____ 1R
44x30:____ 1R
50x40:____ 2R
50x50:____ 3C
60x40:____ 1R
60x50:____ 1C
60x60:____ 3R 1C
64x30:____ 1C
64x40:____ 1C
64x62:____ 1C
64x64:____ 4C


Empty lots: 18
Rabbitholes: All individual ones, no buildings with more than 1 career. 2 places for the cook career: diner and bistro.
Community lots: All basegame, WA, AMB, LN, GN, PETS lots, except for: hangout, academy, Chinese garden, small market, market, junkyard with no visitors, nectary, pet store and landmark tomb.
Nightlife: There's 10 different night life venues in Setra. These include clubs, bars and lounges.
Sims

Setra is fully populated with both sims and pets - all original creations by me. Most sims have careers and skillpoints, some of them have relationships with other sims in town. There's also celebrities and vampires. Each household has a little description to give them a small story.
Number of sims: 92
Number of pets: 24
Custom Content

None! All you need are the required expansion packs. This means there is no custom content, no store content and no stuff pack content.

There are, however, some custom resources attached to the world. These are custom ini files and altered textures. You don't need to do anything special to get these working, they're included in the world file and only apply to Setra.

List of custom resources:

Altered textures.
S3_00B2D882_00000000_1BECF627FACEA897_cityhall_stoneBlock_0x1becf627facea897%%+_IMG
S3_00B2D882_00000000_12D5E3A3FC2C0D40_cityhall_stoneBlock_0x12d5e3a3fc2c0d40%%+_IMG
S3_00B2D882_00000000_78832C27F084A719_CAPRoom_screen_0x78832c27f084a719%%+_IMG
S3_00B2D882_00000000_373614E891EC35DD_cityhall_doorArch_d_0x373614e891ec35dd%%+_IMG
S3_00B2D882_00000000_8375986137300E1B_CASRoomView_d_0x8375986137300e1b%%+_IMG
S3_00B2D882_00000000_C61E627EBFF91A92_moon%%+_IMG
S3_00B2D882_00000000_E2C0EFDD9AB25A16_cityhall_lodOne_d_0xe2c0efdd9ab25a16%%+_IMG
S3_00B2D882_00000000_F01967A0A89728E2_cityhall_brickStrip_0xf01967a0a89728e2%%+_IMG
S3_00B2D882_00000000_F86355D48D611D8E_cityhall_brick_d_0xf86355d48d611d8e%%+_IMG
S3_00B2D882_08000000_CB2373CC9BD2FDCE_bridgeFrance_d_0xcb2373cc9bd2fdce%%+_IMG
S3_00B2D882_18000000_4BD5AE575AB39F31_schoolGreekRevival__0x4bd5ae575ab39f31%%+_IMG
S3_00B2D882_18000000_33BF4503F4583BF0_schoolGreekRevival__0x33bf4503f4583bf0%%+_IMG
S3_00B2D882_18000000_35627D11B4D4599E_seawallLarge_d_0x35627d11b4d4599e%%+_IMG
S3_00B2D882_28000000_5C70FF4E38282831_wallRetainingRoadLa_0x5c70ff4e38282831%%+_IMG
S3_00B2D882_28000000_8B7901400FB7E678_wallRetainingCity02_0x8b7901400fb7e678%%+_IMG
S3_00B2D882_28000000_C4F6C2A933252DD6_wallRetainingCity_d_0xc4f6c2a933252dd6%%+_IMG

Files for initial flyover and heatwave + misc stuff.
S3_1F886EAD_00000000_3EC0CF0CC4A6540F%%+_INI
S3_1F886EAD_00000000_5E20253AF53E517F%%+_INI
S3_1F886EAD_00000000_7886A7F59355762F%%+_INI

File to assign the city status.
S3_296A6258_00000000_0000000000000001%%+UNKN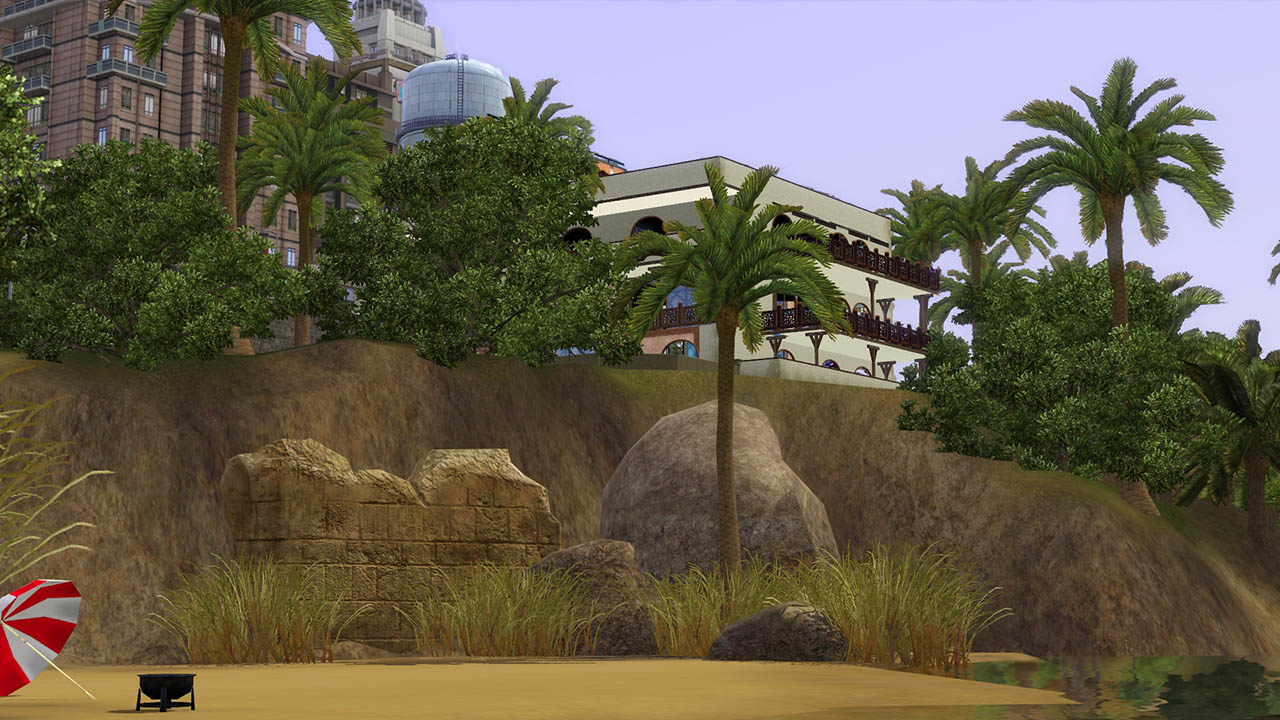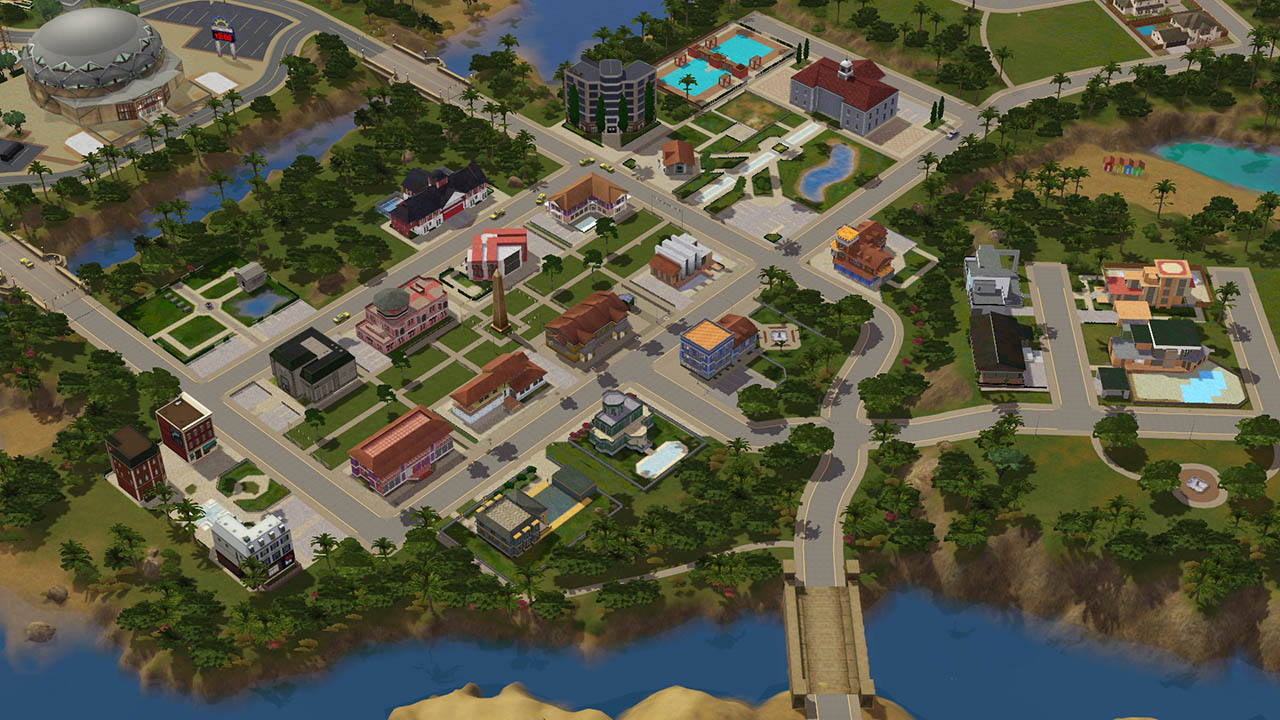 Known issues

The Mendez family seems to be corrupt. They function just fine as a NPC family, but when you try to switch to their household the game gets stuck with no interface and you're forced to quit the Sims. I believe it's because of the horses, which seem to get corrupted by CAW upon saving. A work-around is to either not play them, or to use 'testingcheatsenabled true' and shift-click on the horses + Object>Delete. When you've deleted the horses that way the family should become playable.

Installation instructions:
Thanks to
Armiel
and
Simsample
for this, I borrowed it from their threads.
Make a folder to any location you can easily find - desktop for example
Download all 9 files in this thread and save them to the folder you just created
Right click on the first file and select "Extract here..."
When prompted, browse the next file by finding the folder they are in and selecting the next file asked for
Repeat until all files are extracted
Copy the sims3pack you got and move it to your documents/Electronic arts/Sims 3/Downloads
There, double click on the file and let launcher complete the install process
Play and enjoy!
If extracting won't work, try renaming each file to 1,2,3... etc. If for some reason this doesn't work for you, or you're too lazy to go through this process (Don't lie!) you can also download it through the
exchange
.
Thanks
Thanks to everyone who helped me test the world.
Thanks to
Twallan
for this MasterController, DebugEnabler and Porter mods.
Thanks to
kiwi_tea
for his population tutorial
here
.
Thanks to
Simsample
and the other people in
this
thread for figuring out how to mark a world as a city.
Packs Needed



For a full list of packs with names, see the Packs Needed popup.
Packs Needed
| | Base Game |
| --- | --- |
| | Sims 3 |
| | Expansion Pack |
| --- | --- |
| | World Adventures |
| | Ambitions |
| | Late Night |
| | Generations |
| | Pets |