Sims 3

>

Sims

>

>

Get your celebs here/Lots of Angelina sims/And not a lot else
Kim Delaney - Army Wife 2
2,917

Downloads
109

Thanks Thanks
7

Favourited
21,780

Views

Uploaded: 13th Mar 2012 at 11:04 AM
Updated: 13th Mar 2012 at 2:29 PM
Kim Delaney is an American actress best known for her starring role as Detective Diane Russell on the ABC drama television series, NYPD Blue.[1][2][3] Early in her career, she played the role of Jenny Gardner in the hugely popular ABC daytime television drama, All My Children.[4] She later had leading roles in the TV dramas Philly and CSI: Miami and currently stars on the Lifetime television drama Army Wives.
Delaney first became known for her stint as innocent teenager Jenny Gardner Nelson on the soap opera All My Children, which also was her first job.[4] She played the character from August 1981 to August 1984, earning a Daytime Emmy Award nomination, as well as a loyal fan base; a profile of the actress a decade later noted, "Delaney left the soap in 1984, but fans still remember her as Jenny. 'They come up and will say they've followed everything I've done, and they stopped watching the show after I left, and they're so happy to see me on NYPD Blue, because they love the character."[4]
After leaving the show, Delaney began acting in feature films. In 1985, she appeared with Emilio Estevez in That Was Then... This Is Now, a film version of the S. E. Hinton novel of the same name. In 1986, she played a young nun in the military action movie The Delta Force, starring Chuck Norris. In 1987, Delaney was cast as Amanda Jones in Some Kind of Wonderful opposite Peter Gallagher, but new director Howard Deutch recast both roles with Lea Thompson and Craig Sheffer before filming. In 1987 she also appeared as Jessie in Christmas Comes to Willow Creek. In 1988 Delaney starred in the thriller "The Drifter." In 1994, Delaney appeared in the film The Force.
In 1988, Delaney became a regular on the CBS television series, Tour of Duty. After leaving the show in 1989 to give birth to her and husband Joseph Cortese' son, her character was killed in an explosion just as her All My Children character had died five years earlier. In the years immediately following her departure from her two early television series, her film and TV roles tended to be few and of low quality, both in the opinion of critics and of the actress herself. A 1996 profile article in Entertainment Weekly, on the occasion of her landing a prestigious television role at the end of this period, noted: "Delaney's résumé is spotted with ridiculous roles that range from a nun in the Chuck Norris action movie, The Delta Force, to a possessed nymphomaniac in the soft-core horror film, Temptress. 'There's a lot of things I did to pay the mortgage,' Delaney says resignedly."[9] Roles from this period include her 1992 appearance as Lucky Santangelo in the television miniseries, Lady Boss.
In 1995, Delaney began portraying the role of NYPD Blue Detective Diane Russell. Originally slated for only four episodes, the role became permanent after her character's relationship with Detective Bobby Simone (Jimmy Smits) became a hit with viewers.[9] In this role, she won her first Emmy Award[10] as Best Supporting Actress in a Drama and was also nominated for two other Emmy Awards. After Smits left NYPD Blue, producer Steven Bochco chose Delaney for the lead in the new television series, Philly. Despite critical acclaim, the show lasted only one season.
CBS then courted Delaney to take on the female lead on its new drama television series, CSI: Miami, a spin-off of sorts from the hit CSI: Crime Scene Investigation. She was written off the series during the first season after just ten episodes; Entertainment Weekly suggested that it had been due to a lack of chemistry between Delaney and star David Caruso.[11]
Delaney starred in the 2004 NBC miniseries, 10.5, and its 2006 sequel, 10.5: Apocalypse. The following year, she began a recurring role on The O.C. In 2006, Delaney starred with Steven Weber in an episode of Nightmares and Dreamscapes: From the Stories of Stephen King titled, "You Know They Got a Hell of a Band," about Rock and Roll Heaven. Delaney next appeared twice on Law & Order: Special Victims Unit in early 2007, guest-starring on the episodes "Philadelphia" and "Florida."
Delaney currently plays Claudia Joy Holden on the Lifetime Television series, Army Wives.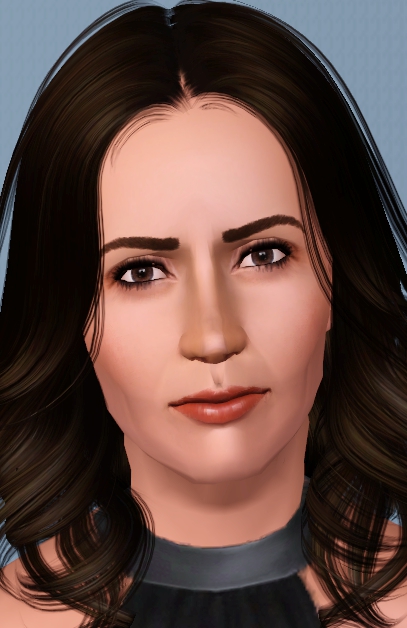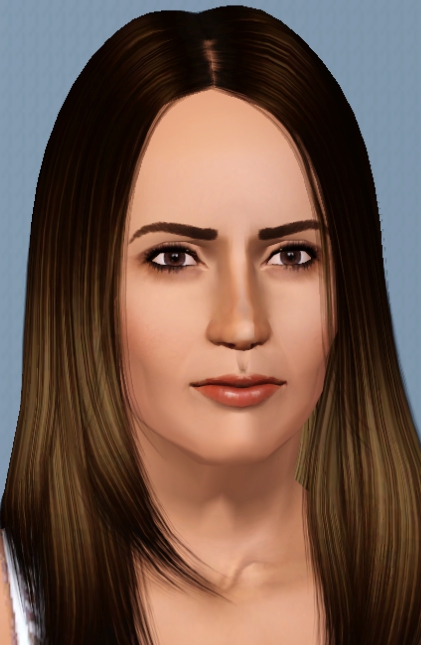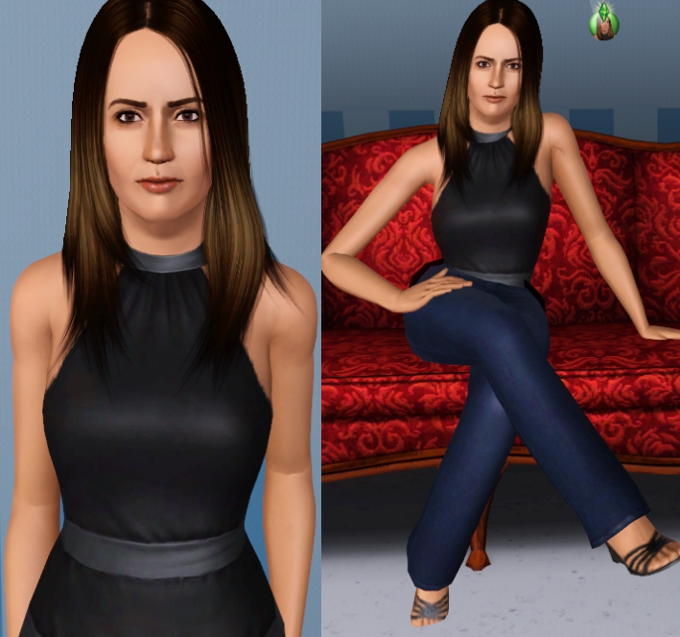 This sim is packaged with default hair and skin. In order for her to show up in your game with the skin and hair listed below, you will have to download using the links.
GENETICS
Default face by Ephemera:
HERE
Lively Eyes by Shady (Contacts):
HERE
Eyebrows by EA
Curly hair by Anto at Coolsims:
HERE
Straight Hair by Savio #11:
HERE

MAKE UP
Lashes by Precious Sims:
HERE
Blush by EA base game
Cotton candy lipstick by Elexis:
HERE

CLOTHES
Casual jeans by EA
Casual top by EA
Sandals by EA
SLIDERS
If you would like to tweak this sim you should download the followng sliders. Please don't try to change features without them as this will cause the sim to distort.
Ahmed's facial sliders:
HERE
Head shape slider by Johna:
HERE
Heiret's under chin slider:
HERE
Crossed Eyes Slider by BloomsBase:
HERE
This slider allows you to move the position of the eyeball. It works with default and contact lenses.
Face Sliders by aWT:
HERE
I also use the indispensable Awesomemod set to 5 for slider flexibility.
Moreawesomethanyou by Pescado:
HERE
Additional Credits:
Thank you to the lovely peeps in
Creator Feedback Forum
for your advice and suggestions.