Sims 2

>

Buy Mode

>

>

Plants, sculptures, wall hangings & paintings, mirrors, curtains, and miscellaneous.
70+ Tiny Fizesize Seasons Wishing Well Recolours
4,293

Downloads
316

Thanks Thanks
31

Favourited
28,094

Views

Uploaded: 17th Jun 2012 at 8:46 PM
Updated: 17th Sep 2012 at 7:55 PM
Title: 70+ Tiny Fizesize Seasons Wishing Well Recolours
Purpose
1) In response to
suzannesugarbaker's
and
HisBeachgirl's
requests, to supply an invisible recolour for the
Seasons
Garden Club Wishing Well's cover, so that only the well's base is visible.
2) To supply a variety of recolours for the Wishing Well's base and cover, ensuring that each recolour is less than 3 kBytes in size. My hope is to provide a low resource option for creators and players of period lots, which tend to be very heavy with custom content.
3) To provide four full-sized wishing well base recolours using
Michelle 111
's special medieval and rustic textures.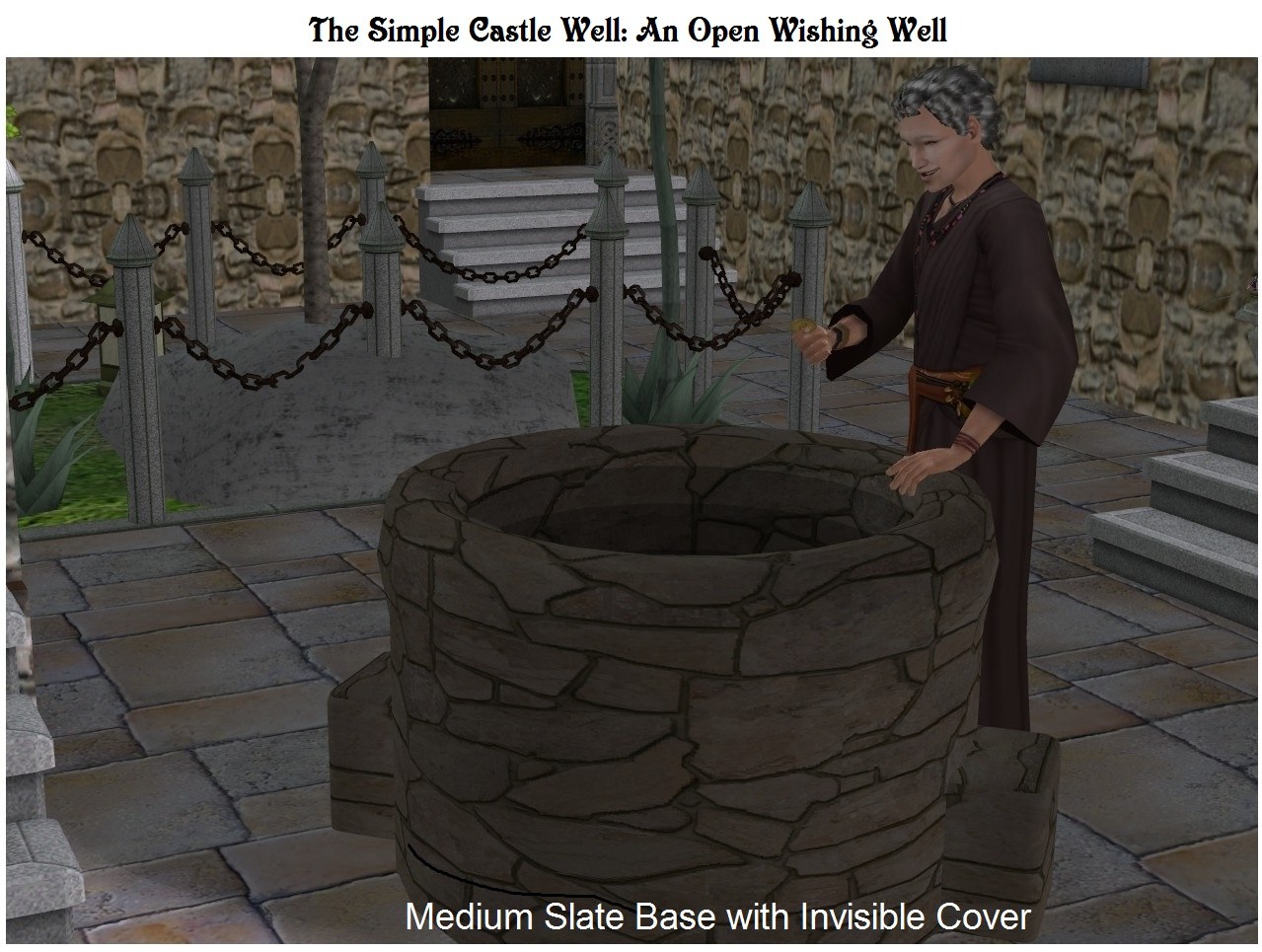 How to Obtain the Wishing Well
The
Seasons
Wishing Well may be earned as a reward from the Garden Club for maintaining a clean and attractive garden. The well is also available via a
cheat here
or a
buyable object here
(found in Decorative/Sculpture at a cost of §2500).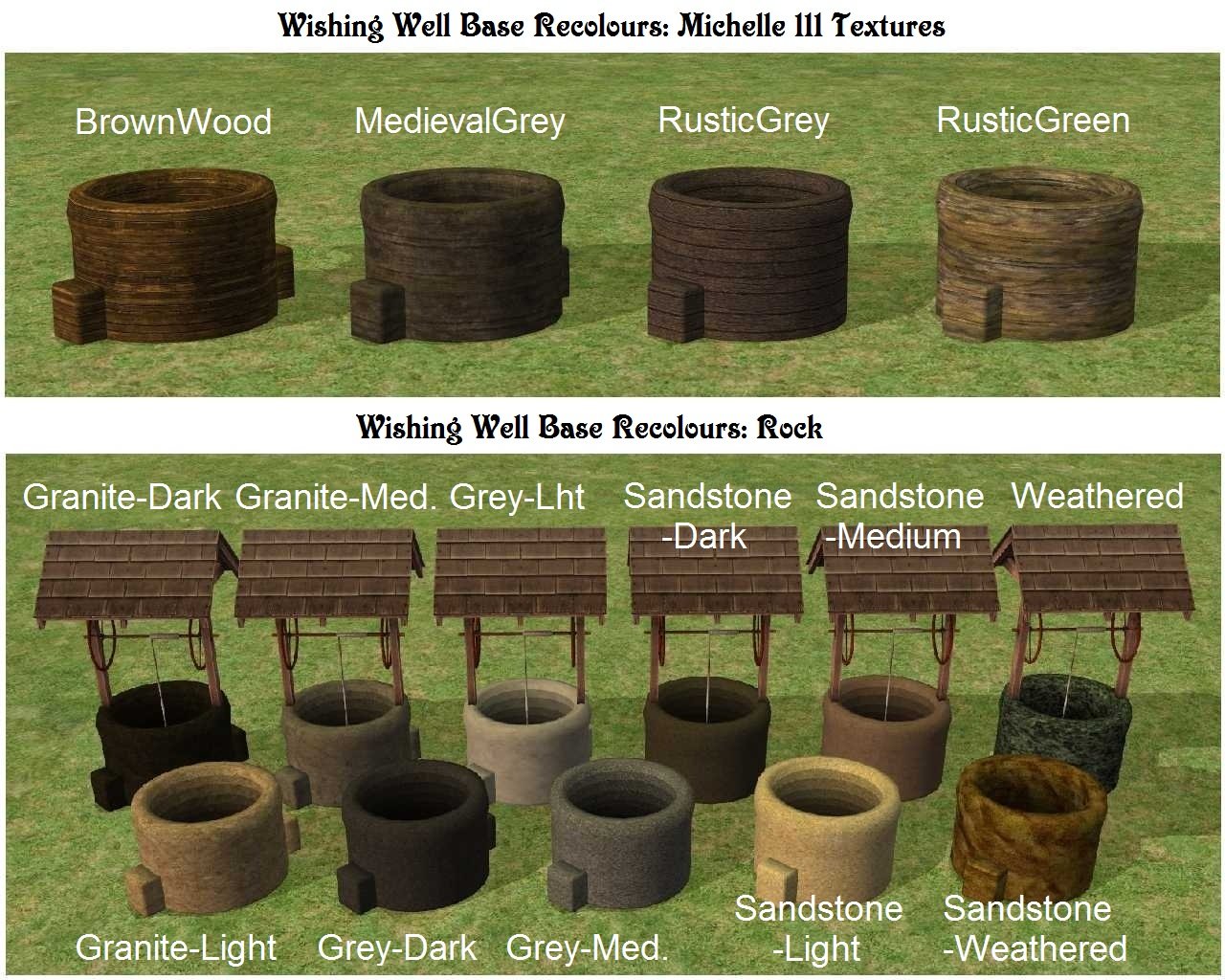 Recolours List

Base Brick Recolours - Blue, Brown, Dark, Green, Grey, Medium, Topped, White

Base Clay Recolours - Dark, Light, Medium, Pot, Red, weathered

Base Concrete Recolours - Black, Dark, Light, Medium, White

Base Marble Recolours - Black, Blue, Green, Grey, Red, White

Base Michelle Recolours - Michelle-BrownWood, Michelle-MedievalGrey, Michelle-RusticGreen, Michelle-RusticGrey

Base Rock Recolours - Granite-Dark, Granite-Light, Granite-Medium, Grey-Dark, Grey-Light, Grey-Medium, Sandstone-Dark, Sandstone-Light, Sandstone-Medium, Sandstone-Weathered, Weathered

Base Slate Recolours - Black, Dark, Light, Medium, White

Base Stone Recolours - Black, Brown, Dark, Green, Medium, Sand

Base Stones Recolour - Red

Base Tile Recolours - Granite-Black, Granite-Brown, Hex-Grey, Moroccan-Blue, Red-Dark, Red-Light, Red-Medium, Square-Brown, Square-Grey

Base Wood Recolours - Ash, Cedar, Ebony, Elm, Green, Mahogany, Oak, Walnut, Weathered

Cover Special Recolour - Invisible

Cover Wood Recolours - Cedar, Ebony, Elm, Green, Mahogany, Oak, Walnut, Weathered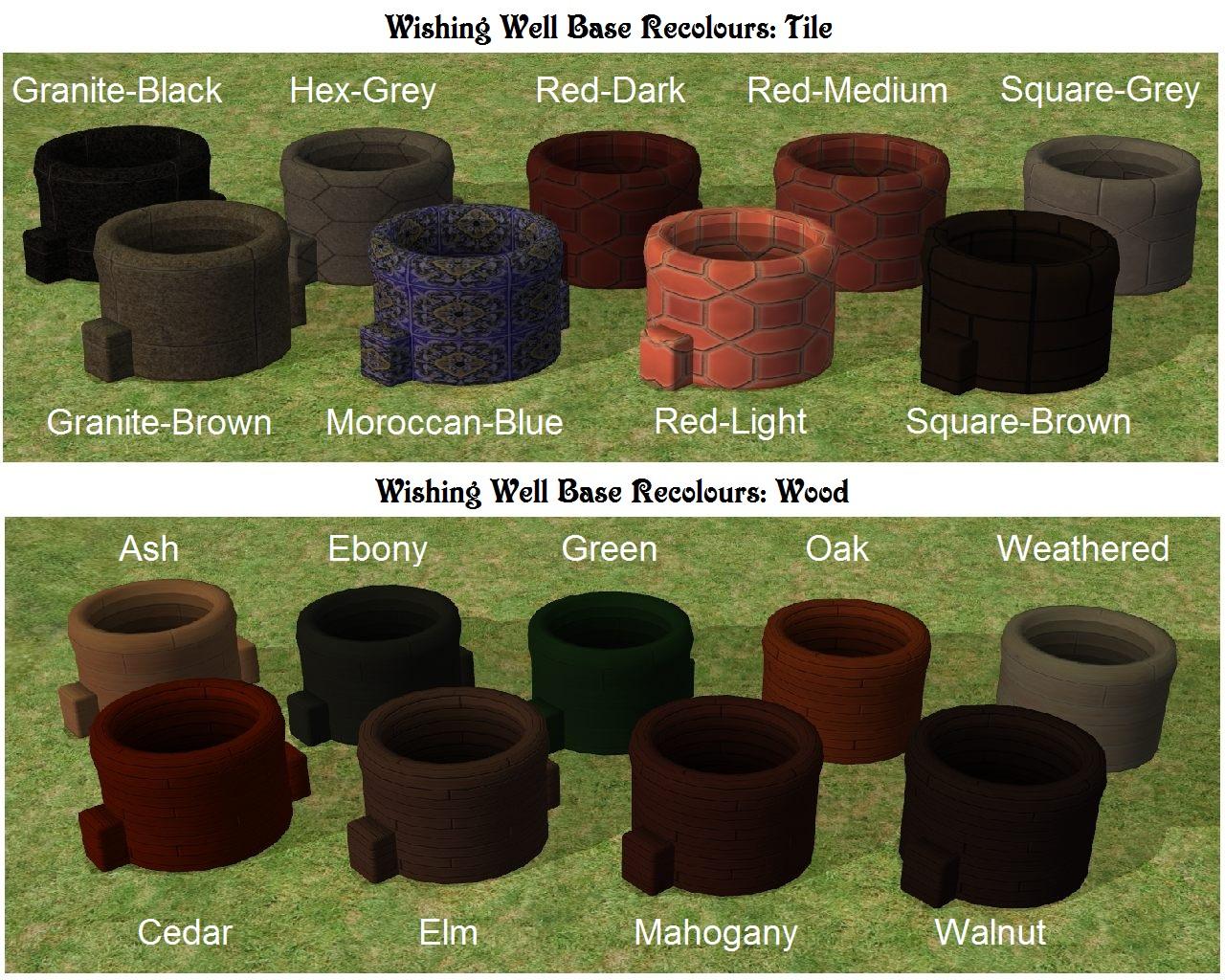 Technical Notes

Tiny Filesize Recolours

Small filesizes tend to reduce computer resource usage in general, allowing a computer to run the Sims 2 somewhat more efficiently as well as saving hard disk space.

Tiny filesize or "textureless" recolours are achieved by avoiding the addition of Texture Image (TXTR) resources to a recolour package. Instead, the recolour creator uses the Material Definition (TXMT) resource's stdMatBaseTextureName property to link the package to a texture that is already in the game. These external textures may be located in either in the object's master package, or in some other completely different location. Simple texture maps - such as those used by the wishing well's base subset - are more adaptable to being used with non-related textures than complex ones.

Interestingly enough, it appears that EA provided an actual library of external textures within the basegame environment - in TSData\Res\Sims3D\Textures.package - which they used as a source to build more complex objects such as counters. Most of these, except for the walls, may be referenced directly by the stdMatBaseTextureName property.

To increase the available recolour possibilities, the TXMT stdMatDiffCoef property can also be used to tint and shade any given texture. This technique is easiest if the source texture is itself predominantly white or light grey. Disadvantages to this procedure are that the whole texture is affected, and that the creator cannot see the results of this tweaking without loading the game.

Additionally, the TXMT stdMatEnvCubeTextureName reference is another method of using textures that are external to the recolour package. And lastly, in some cases the TXMTs can also be eliminated from the package if the Material Override (MMAT) resource's Name field points to a suitable external TXMT. For example, invisible recolours can be easily provided for most objects by simply making the MMAT Name value equal "null", as demonstrated by sdWishingWellSsn_cover_Invisible.package, the invisible well recolour.
Terms of Use
Please note: the four base recolours that use Michelle 111's textures may not be uploaded to pay sites.
You may include the rest of these recolours in any uploaded lots, whether for free or pay. Please include a credit and link to this page. It would be nice if you sent me a PM with a link to your uploaded creation, but this is not necessary.
Credits
Michelle 111
for the use of her Rustic/Medieval Recolours as premium options for the Wishing Wells.
IrfranView
, Microsoft Paint and Photo Editor for graphics evaluation, processing, sizing, and labeling
Numenor's
AnyGameStarter
, for development and testing
SimPE
,
PJSE
, and
CEP
for
Sims 2
object recolours
The screenshots of the Hermit wishing at the well is from "Harlech Castle", and the PlantSim drinking at the well is from "Peasant Hovel 2", both part of StephSim's
Shadows of Gwrych Medieval Neighborhood
.
Packs Needed

For a full list of packs with names, see the Packs Needed popup.
Other Information
Style
:
– Antique : Antique or Historical
– Contemporary
– Fantasy : Fantasy styled things
Maxis Flags
:
– Not Applicable
Packs Needed
| | Base Game |
| --- | --- |
| | Sims 2 |
| | Expansion Pack |
| --- | --- |
| | Seasons |
*** Off-Site Downloads ***