28 Tribal Māori Tā Moko Tattoos
82,864

Downloads
2,357

Thanks Thanks
455

Favourited
216,705

Views
Featured Upload! This is a featured upload! It showcases the best talent and creativity available on MTS and in the community.


Uploaded: 19th Mar 2013 at 10:09 PM
Updated: 13th Jun 2013 at 12:51 AM - changed terminology

History
For the Cultural Diversity Create Competition, I have created 28 Māori Tā Moko. The Māori are the
tribal Indians
indigenous peoples of New Zealand and one of their traditions is to create Tā Moko (tattoos) onto their faces and bodies using uhi (chisels). This tradition is similar to that of Pacific Islanders and other parts of Polynesia.
Unlike modern tattoos punctured into the skin, tā moko is engraved into the skin for rituals, milestones, rank, status, and rites. Tā moko may also be used to appear more attractive to the opposite sex or to tell one's life story.
It is thus important not to copy someone else's tā moko for the latter reason
. Families have been known to use symbols to display their whakapapa (genealogy). Men generally tā moko their entire bodies while women focus on the chin and lips (kauwae) or forehead. Over time, it has become more common for women to tā moko other parts of their bodies as well.
A moko on the face is the ultimate statement of one's declaration of their identity as a Māori.
A typical uhi is made of albatross bone, awheto (fungus), soot, and ngarehu (burnt timbers). The Tohunga (tattooists) were considered sacred and it wasn't until the 20th century when women began becoming Tohunga. Uhi was replaced by the more popular needles later on in the 19th century.
New Zealanders of European descent (the Pākehā ) began drastically changing the Māori culture. By the 1860's, tā moko was only performed on women and eventually the tradition began to disappear. Around the 1990's, tā moko suddenly became more popular and served as a cultural identity for those of Māori descent. The Māori traditions, culture, and language are being revived in today's modern world. Most tā moko are applied with a tattoo machine nowadays, but there are some who use traditional uhi. Tā moko is still seen as sacred, and there is controversy about foreigners marking their bodies with tā moko.
As
Dr. Ngahuia Te Awekotuku
of Māori descent from BBC stresses, "But moko, most of all, is about life. It is about beauty and glamour [sic]...The important reality remains - it is ours. It is about beauty, and desire, about identity and belonging. It is about us, the Māori people. As one venerable elder stated, more than a century ago, "Taia o moko, hei hoa matenga mou" (Inscribe yourself, so you have a friend in death). "

Sims 3 Info
21 of the tattoos I made are ambitions-styled tattoos that can be applied at the tattoo machine. This means they can be used on any age that has tattoos enabled. 3 of the tattoos are face tattoos which is enabled as a blush for young adult and adult female and male sims. 4 of the tattoos are kauwae styled and enabled as lipstick for adult and young adult female sims.
All tattoos have one recoloarble channel
. I made it this way to discourage, in Dr. Ngahuia Te Awekotuku words, "ignorant use of traditional art." It is very offensive to the Māori people to morph it into fashion so I kept it Māori-style for this particular theme. Some Māori demand foreigners wear kirituhi instead of tā moko, but that is another story. I labeled each tattoo so I can more quickly find it so the labels are not 'traditional.' I used Nraas MasterController ExpandedTattoo for increased tattoo placement. The blush and lipstick can be found under Naked, Everyday, Formalwear, Sleepwear, Swimwear, Athletic, and Career. Please see attached images for full pictures of each tattoo. Pictured is Taurus and Jodie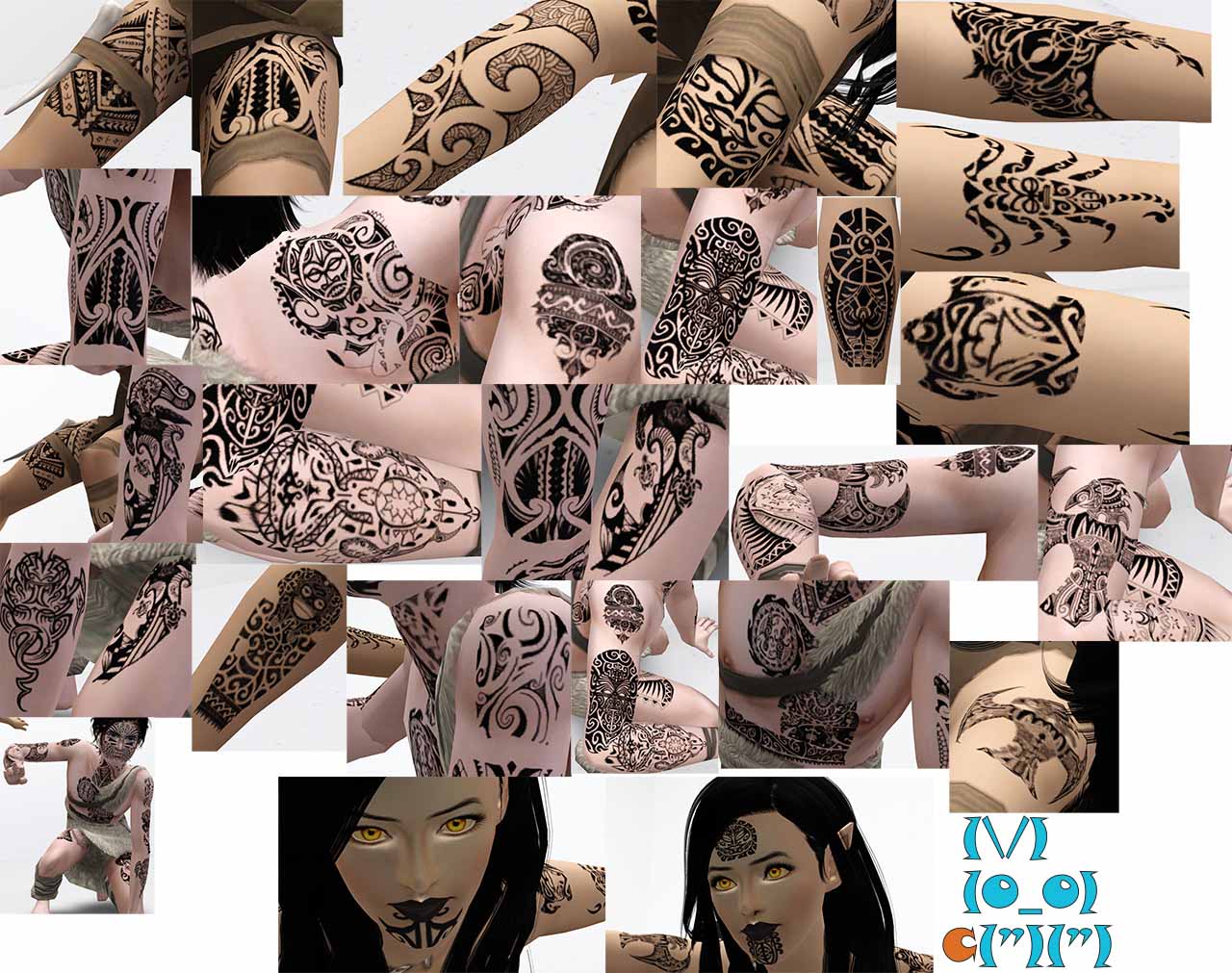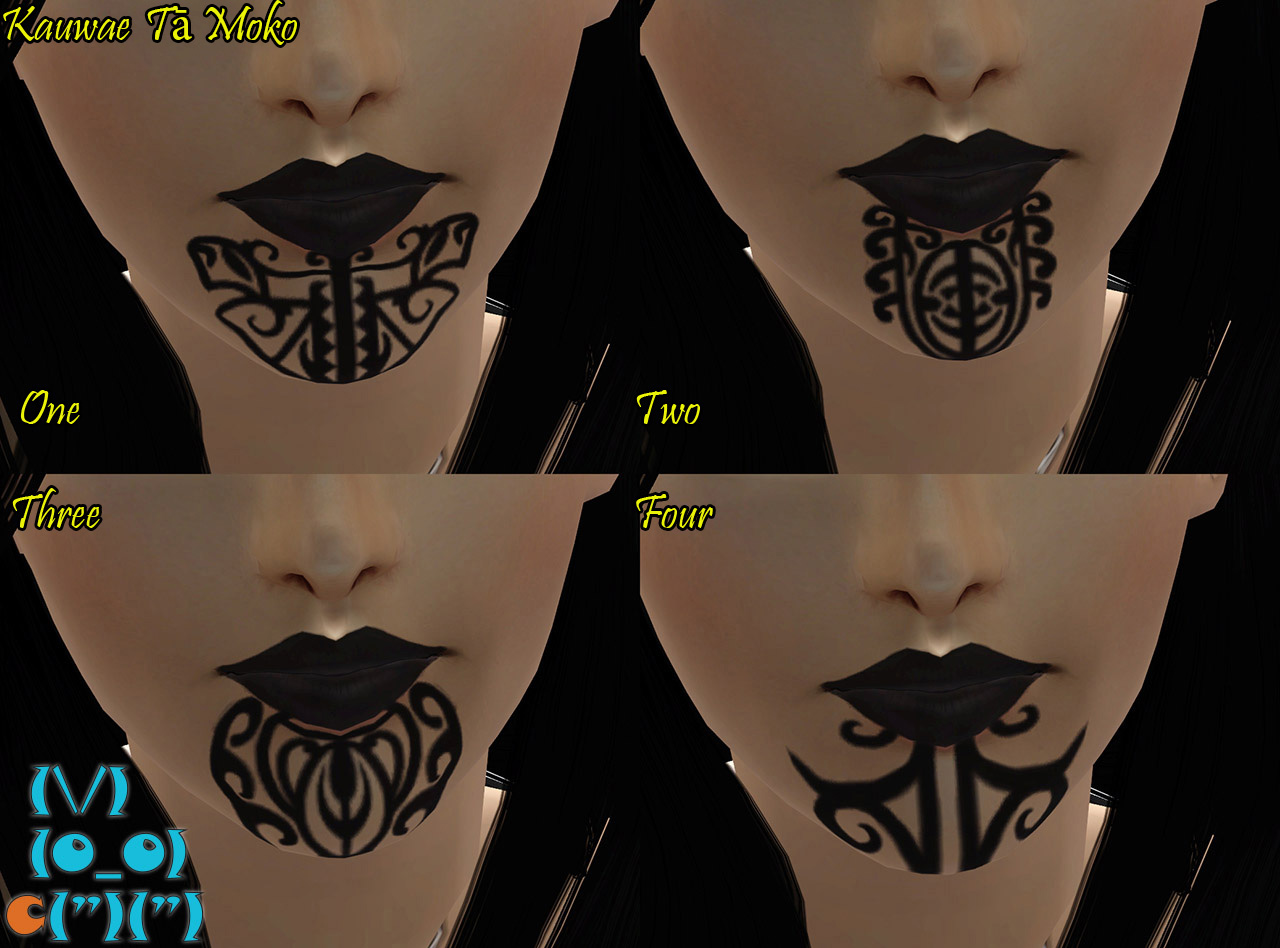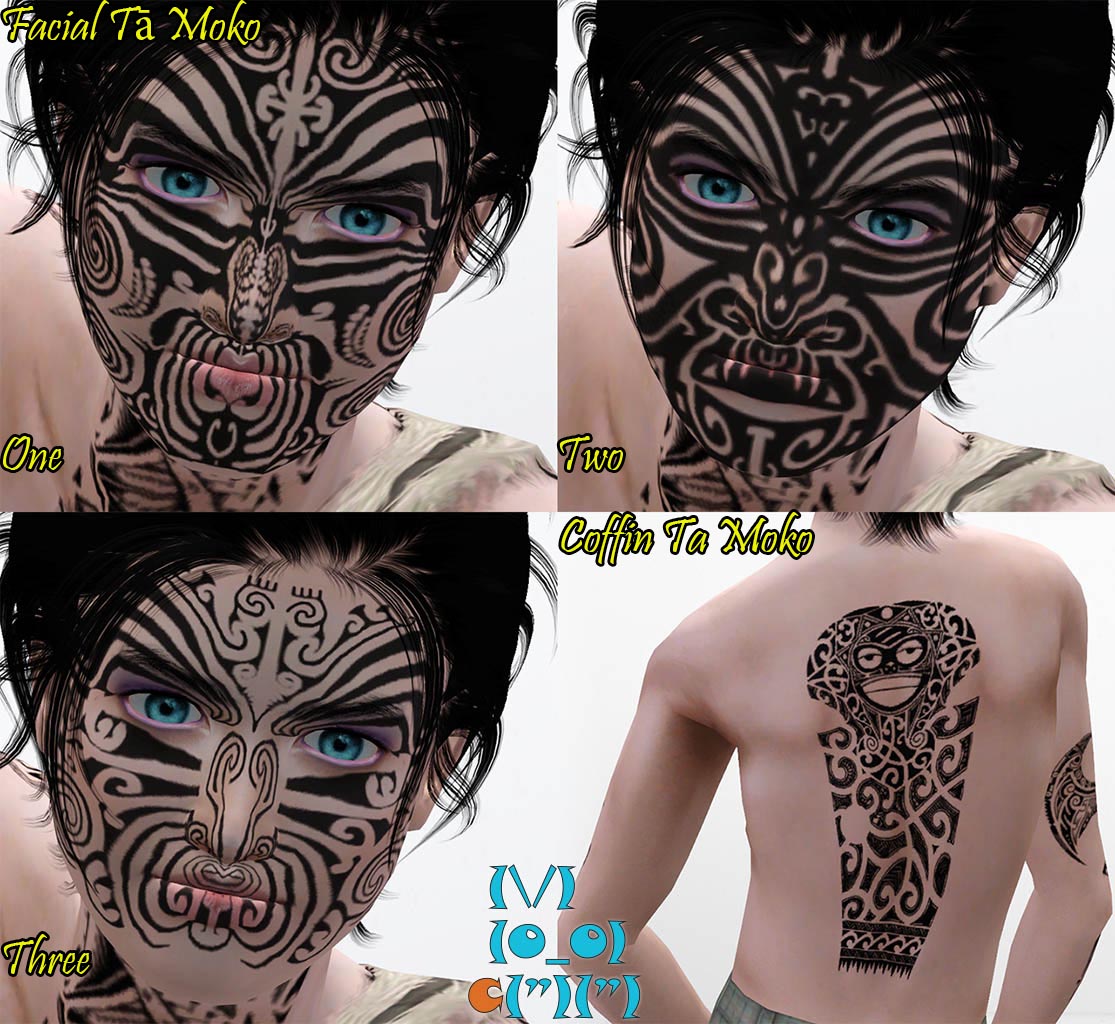 CC Credits
Hair:
Shaine
by NewSea and
Gantz
by Juice from NewSea
Clothing:
All Time Travel Clothing Unlocked
by Shivar
Eyebrows, Skin and Eyes:
Ephemera NV1 / NV2 Asia
Poses:
Fantasy Pose Pack
by traelia
Additional Credits:
MAXON Cinema 4D BodyPaint
Adobe Photoshop
Adobe Illustrator
CTU
by the
CTU
Team
S3PE
Package Editor by Peter and Inge Jones
CmarNYC's XCAS mod and Tattooinator
Nraas MasterController ExpandedTattoo
Wikipedia
Google
About Me
The code is more what you'd call guidelines than actual rules

General Policy:

1. Please do not upload my creations to pay sites such as TSR or the exchange

2. Give proper credit when using my creations

3. Do not upload my creations together with a sim or lot, please link to the download page instead

Don't forget to leave feedback and/or comments and visit my new blog at http://cyclotripz.blogspot.com/

All creations are uploaded first at my blog as well as previews and exclusive items

(\/)
(0_0)
C( )( )