Sims

>

>

Zmobies, they like cheese/They smell like peppermints too/And they eat brians.
SCP-811 (Ae)
MTS has all free content, all the time. Find out how YOU can help to keep it running.
Tell me how...
Created by BulldozerIvan View Policy / About Me View Downloads Home
Uploaded 24th Nov 2014 at 3:12 PM · Updated 17th Aug 2021 at 3:07 AM by BulldozerIvan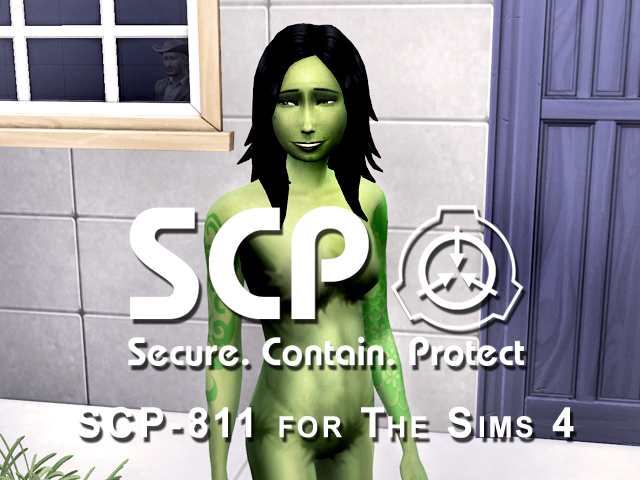 Note
: File is provided as-is. I do not intend to update this file
at this time
on my end for the June 2nd, 2016 patch (which I believe was unnecessary, as it broke more than it "fixed.") If you have trouble running SCP-811 in your game due to the patch, please let me know, and I'll consider patching her. (I see no reason why she shouldn't work, as the new format does allow you to switch off the gender-fluidity mechanics if you don't want them.)
Description
If dockty has kestins, she's ready to answer them as best she can! Add a little extra flavor of weirdness to a Sims 4 neighborhood near you, and set Ae loose on your populace!
The friendly abomination, SCP-811, is only kept in the containment facility she is because in spite her generally friendly nature, her physiology makes her a threat to all human life. Her skin is basically her stomach, with a secondary stomach inside for all the decaying matter. One touch, and she can instantly begin digesting the flesh of anyone who gets too close. Her oily hair defies the conventions of most over-the-counter brands of shampoo. Learn more about this adorable by-product of a scientist's crimes against nature
here.
File details
The
zip
file linked to below contains two parts: the Tray files for putting her in the game as a household, and her custom recolor accessories. She has a
recolored bikini top and bottom
(for modesty), and
recolored arm tattoos to give her swampy skin a little more texture
.
Eyes are default.
Her promo image with the big SCP logo on it portrays her bikini distorted. In the actual creepypasta, she is implied to have some sort of swampy essence giving her privacy, in spite being otherwise nude. Fan art is all over the map on how to interpret this. (Just check DeviantArt....if you dare.) The Sim in this file uses a regular bikini, implied to be made of potent non-bio-degradable material. The tattoos are supposed to be textures of her swamp-like skin, since she is a swamp monster.
What you're really getting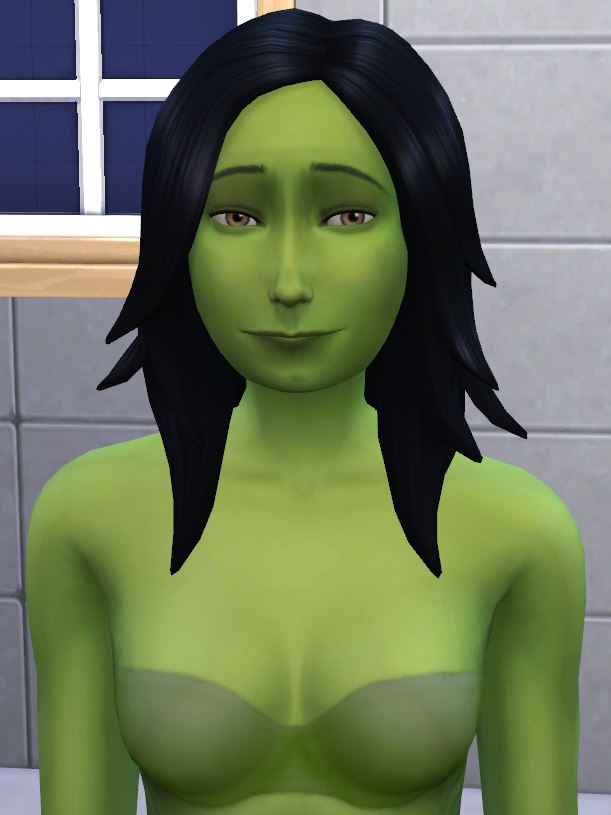 This photo above is the base Sim, with only the Maxis defaults and the modesty bikini recolors. No makeup, no facial details, no tattoos, no serious alterations to the lighting in Photoshop.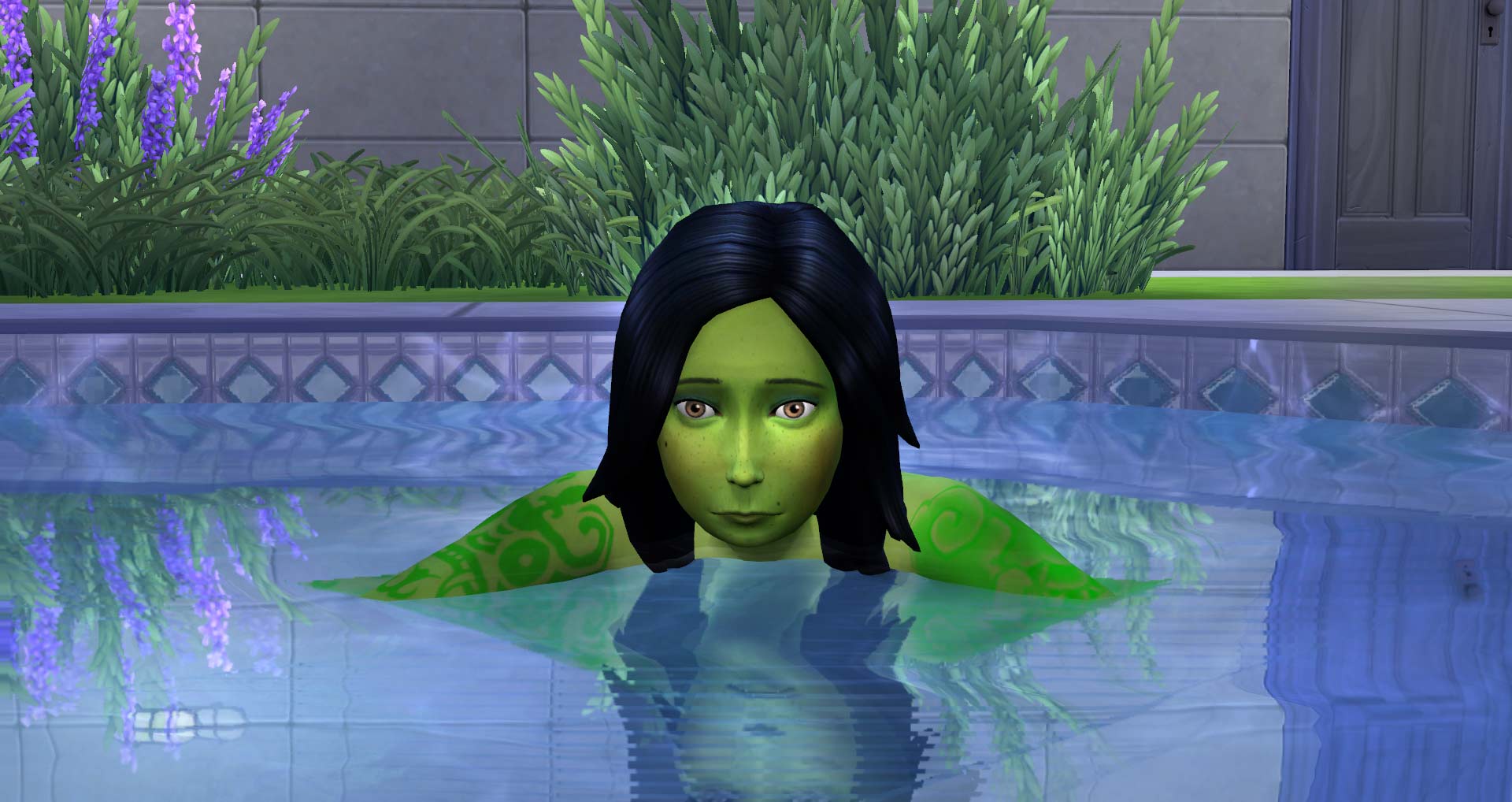 This photo of her swimming is slightly enhanced in lighting; but is otherwise an even closer reflection of what you'll be actually installing.
Skin is the default green skintone from the game.
Tattoos and bikini are included with Sim, and Package files are provided just in case they don't show up properly without.
Physiology / Intelligence
The Sim should have average Sim intelligence for a Young Adult Sim, speaking full Simlish and being unremarkable in any significant way. If you wish to make Ae behave more like her creepypasta self, you'll need to add those effects in yourself. Her language skills will be Sim average, instead of the Tarzan-speak inflection she uses in the main literature.
Installation
To use her accessories, put them in a "Dozerfleet" subfolder inside your "Mods" folder. To install the character herself, put all household files related to her inside your "Tray" folder. She should now open inside your version of the Gallery.
Further reading
SCP-811 article entry at SCP Foundation Wiki
Notes on comparison images
The official wiki entry has no one specific chosen artwork interpretation to use for a comparison picture.
Instead, I've included a copy of one of my images sharing image real estate with the two best fanart depictions I've found on DeviantArt. Since
the character only exists in a creepypasta
, she is still somewhat open to interpretation.
Custom Content by Me:
- Clothing recolors
Additional Credits:
Special thanks to Pig_catapult and the SCP Foundation Wiki for inspiring this creature, as well as
the DeviantArt fan club
for the character, for giving me plenty of fan interpretations to work with.
Tie-in
: If you want to keep her company, I've uploaded
SCP-053
to the Sims 4 Gallery.
Tags: #SCP Foundation, #creepypasta, #monster, #horror, #sci-fi
Storyteller Additional Policy
Storytellers
Fanfics with Dozerfleet characters: If you include any of my original characters in a webcomic or machinima, please include a fanfic disclaimer, and a link to my profile here or to the Dozerfleet Database on Miraheze.

Trademarks and retention of ownership: Do not claim my original characters as your own. If you wish to make a video adaptation of a Dozerfleet-canon story, please include links to the original work's article page on the Dozerfleet Database. Especially good ones may be promoted on the Database, as well as the Facebook page and / or DeviantArt.

Costume repurposing: If you use a Dozerfleet-franchise-specific costume for something other than its originally-intended purposes, please provide credit and a link.

Artist attribution: For most franchises or related characters canon to the Dozerfleet Megaverse, you need only credit my uploads. For Camelorum Adventures™ and related uploads, please also give credit to Chad Patterson (Prodigal-Gamer), Shases, and Irina Anghel (AnirBrokenear) for inspiring the creation of the series and characters. For anything related to Cagegirl, please also credit Adam-00.

Non-Dozerfleet-specific items: Items which are adapted from non-Dozerfleet properties (e.g., Sharknado shirts, Power Rangers 2017 suits, Marvel characters, etc.) need not be credited; though end credits and a link to me are greatly appreciated.

Attribution by link: You may credit my uploads on DevianArt / MediaFire any time. Include links to Mod the Sims only if the upload is also hosted on Mod the Sims. Items not hosted on Mod the Sims should be link-credited to their DeviantArt / MediaFire locations instead. This includes any item rejected on MTS but allowed on DeviantArt and MediaFire. Anything never submitted to MTS in the first place, such as the Cheshire Pig from Camelorum Adventures, should also be credited on DeviantArt / MediaFire.)

Templating: If you use one of my original characters as a genetics template for another character, credit and a link are greatly appreciated but not necessarily required. Consult with me if you are unsure.

Miscellaneous: For any other use in machinomics or machinima, PM me if you have questions. Most other uses should be fair game.
Uploaders / Downloaders
Do not redistribute anything without consulting me first. PM me if you want something I've discontinued.