Buy Mode

>

>

Creativity, knowledge, exercise, and recreation.
So Much to Celebrate! 14 Hanukkah and 7 Kwanzaa Cards for MogHughson's Postal System
MTS has all free content, all the time. Find out how YOU can help to keep it running.
Tell me how...
681

Downloads
44

Thanks Thanks
9

Favourited
6,335

Views

Uploaded: 2nd Jan 2018 at 9:37 PM
Updated: 2nd Jan 2018 at 9:20 PM
One thing I noticed early on in my adventures using MogHughson's amazing
Postal System mod
was that certain categories did not have any available cards! I searched and even posted a WCIF, but apparently there are no additional cards lurking stealthily in hidden corners of the internet, so I decided to make some of my own. It's been a long and sometimes frustrating journey, but I've finally got my first two groups ready. In case anyone's sims celebrate Hanukkah or Kwanzaa, I bring you a few cards they can send each other for those holidays.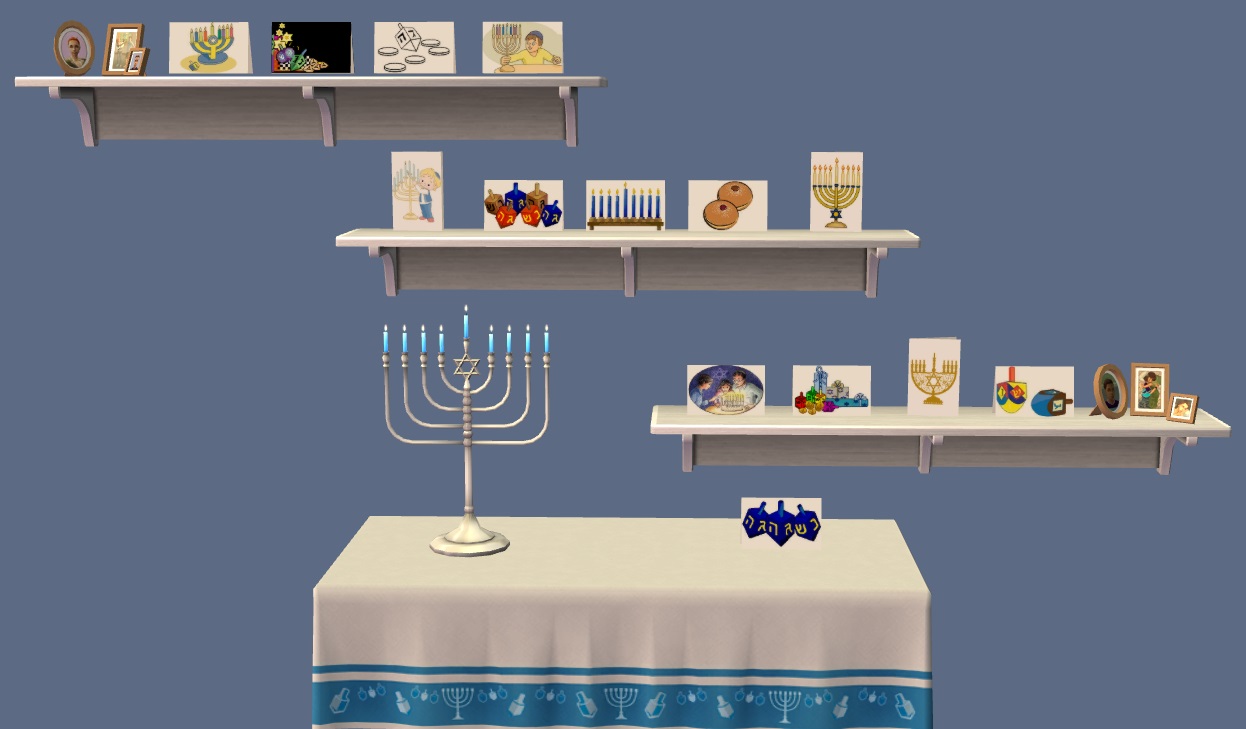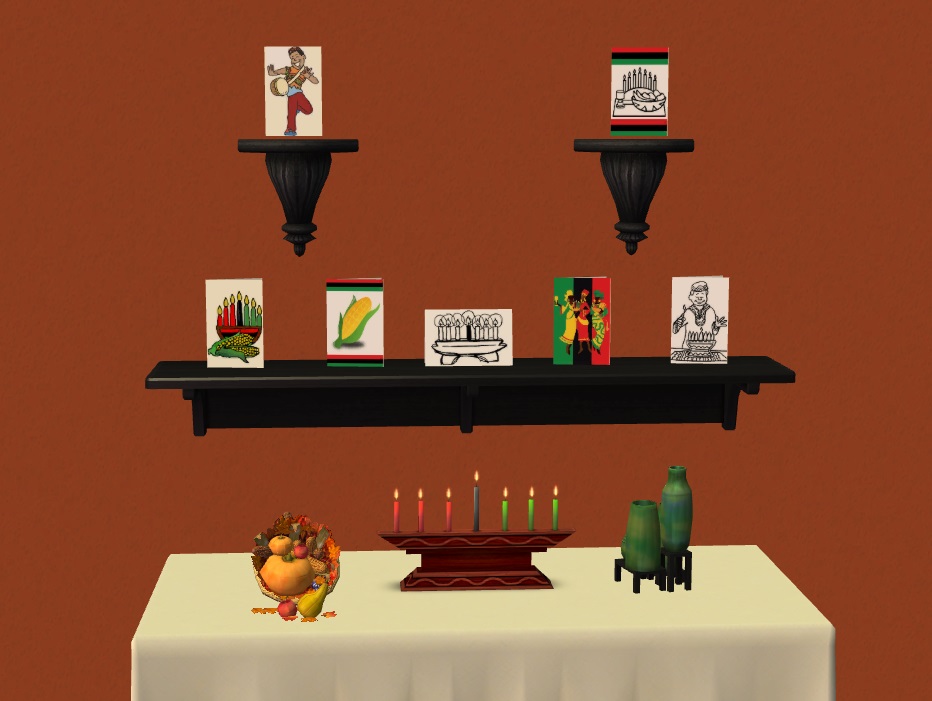 I edited the stamps on Mog's templates to remove the ornaments from the trees, so now they're just simple little evergreen trees. I felt that was more suitable for holidays that are not Christmas.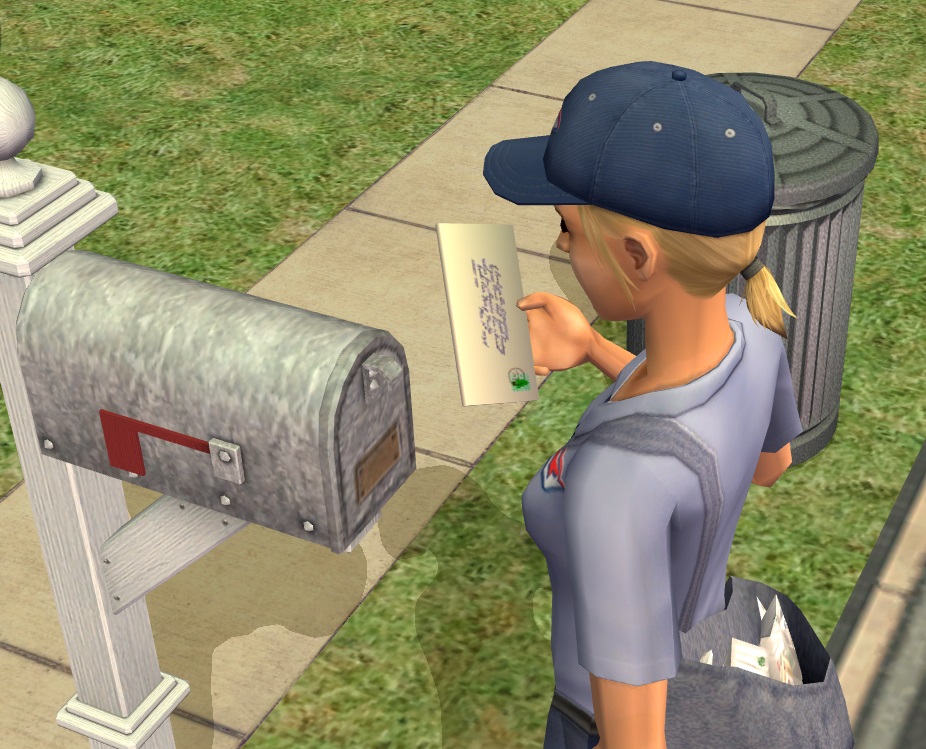 In order to use these cards you will of course need Mog's greeting card rack placed on a lot with a working cash register. The rack costs $500 and can be found in Shopping->Miscellaneous in the community lot catalog and Miscellaneous->Miscellaneous in the residential lot catalog. Once you have the rack set up, you'll need to send your sim to that lot and direct them to buy a box of Hanukkah or Kwanzaa cards then bring that box home and place it on a surface (though the floor does work). Sims also need a desk or table with a chair so they can sit and write. A box of cards cost $30 and each box contains 10 cards, which works out to $3 per card. If your sim has a lot of friends celebrating a given holiday, you might wish to have them purchase multiple boxes while at the store to avoid having to make multiple trips. You can have a sim write several cards at a time, but make sure the sim who wrote the cards is the same one who puts the stack of completed cards in the mailbox! (I learned this the hard way; sims can and will plagiarize each other's cards, given the chance!)
You can find more information on the cards, how to use them, and even how to make your own (and of course download the original mod!) in MogHughson's
thread
.
Clip Art Credits:
Jewish Menorah Hanukkah clip art by mr william mitchelle:
link
Hanukkah clip art by Leslie Crafter:
link
Clip Art Illustration of Two Dreidels by Pamela Perry:
link
Sufganiyah clip art by OpenClipart-Vectors:
link
Hanukkah Clip Art - Gifts, Gelt, and Dreidels by Jan Snow:
link
Hanukkah Clip Art - Gold Menorah by Jan Snow:
link
Boy with Menorah clip art by classroomclipart.com:
link
Chanukah_07 clip art by classroomclipart.com:
link
Menorah clipart by ClipartPanda.com:
link
Blue dreidels clip art by Cliparts Zone:
link
Multicolored dreidels clip art by Cliparts Zone:
link
Dreidels and cookies clip art by Cliparts Zone:
link
Gold Menorah clip art by Cliparts Zone:
link
Boy lighting menorah clip art by unknown
Kwanzaa clip art by Phillip Martin:
link
Corn clip art by Audrey Langlois:
link
Kwanzaa Celebration clip art by Caratti:
link
Kwanzaa Candles 3 colouring page by Christa:
link
Kwanzaa Worksheet by PediaStaff:
link
Kwanzaa Coloring Page by Coloring Pages 4 Kidz:
link
Celebrating Kwanzaa with drums clip art by fg-a.com:
link
The greetings are all cobbled together from existing Hanukkah and Kwanzaa greetings I found by Googling.
hanukkahcard-boywithmenorah1
The Spirit of Hanukkah
May the spirit of Hanukkah keep glowing in your heart, bringing you joy all through the year.

hanukkahcard-boywithmenorah2
For you on Hanukkah
You're a lot like Hanukkah, because you make the world a brighter place!

hanukkahcard-dreidel_gelt
Hanukkah Blessings
May you be showered with peace, joy, and prosperity on Hanukkah and always!

hanukkahcard-dreidel1
Hanukkah Blessings
Hey, it's Hanukkah! May this be a time of closeness, happiness, success, health, peace, and joy for you and yours.

hanukkahcard-dreidel2
This Hanukkah
This Hanukkah, may you be blessed with joy, good health, peace, and all the best things in life!

hanukkahcard-dreidel3
A Time to Share
This is a time to share love, laughter, and happiness with family and friends. Hope your Hanukkah is full of fun.

hanukkahcard-dreidel4
Happy Hanukkah!
May this Hanukkah be an especially happy time. Sending you a warm hug this Hanukkah!

hanukkahcard-family
Festival of Lights
May this festival light up your days and nights, bringing good health, good fortune, love, peace, happiness, and joy to you and yours.

hanukkahcard-gifts
All the Special Things
Wishing you the special things a bright and happy Hanukkah brings! Homes full of light, hearts full of memories, smiles full of joy, families full of love.

hanukkahcard-menorah_dreidel
A Hanukkah Blessing
May this Hanukkah fill your heart and home with special joy and lasting happiness.

hanukkahcard-menorah1
A Bright and Happy Hanukkah
Wishing you a bright and happy Hanukkah. Blessings be with you this festival of lights and always.

hanukkahcard-menorah2
This Hanukkah
As your menorah glows with light,
may all your days be warm and bright.

hanukkahcard-menorah3
Light & Happiness
May this season of beauty and light fill your heart and home with happiness. Happy Hanukkah!

hanukkahcard-sufganiyah
A Beautiful Hanukkah
Hanukkah is a beautiful time to remember the people we call family. Warmest wishes to you and yours this Hanukkah.
kwanzaacard-3women
Warm Wishes for Kwanzaa
Warmly wishing you all the happiness, hope, and harmony of Kwanzaa.

kwanzaacard-corn
Let's Celebrate
Joyous Kwanzaa!
This Kwanzaa I want to celebrate the richness of you.

kwanzaacard-drum
Kwanzaa Joy
Wishing you and yours many moments of joy this Kwanzaa. May a Happy Kwanzaa be followed by a happier year!

kwanzaacard-kinara
Warmest Kwanzaa Wishes
Warmest thoughts and wishes for this Kwanzaa and the coming year.

kwanzaacard-kinara_corn
The Light of Kwanzaa
Let the light of Kwanzaa bring joy to your heart.

kwanzaacard-kinara_display
Well Wishes for Kwanzaa
Well wishes and blessings for a happy and healthy new year.
Joyous Kwanzaa!

kwanzaacard-lightingcandles
The Spirit of Unity
Kwanzaa happiness to you and yours. Light the Kinara today in the spirit of unity.
Additional Credits:
MogHughson for the original postal system mod, the templates, and the helpful instructions!
gdayars for extremely appreciated help with GUIDs!
Michelle for the black wood recolour of the Sculpture Wall Stand.
The creators of SimPE, IrfanView, and MS Paint.
Various wonderful people who have written many helpful tutorials.
My husband who's helped me every step of the way, especially figuring out both
SimPE
and IrfanView.