Five Fall & Halloween Cards for MogHughson's Postal System
1,408

Downloads
84

Thanks Thanks
14

Favourited
10,303

Views

Uploaded: 1st Nov 2016 at 2:48 AM
Updated: 23rd Dec 2016 at 2:26 AM
As you may have figured out by now,
MogHughson's Postal System
is one of my favorite mods and I severely enjoy creating new cards for it. I decided to create a small batch of Fall and Halloween themed cards for the holiday and share them with everyone here! Hope you guys enjoy!


Wait, what?
For those of you not familiar with MogHughson's Postal System, if you download these cards along with her wonderful postal system mod you're able to have your sim "write" and send the cards to your friends and family within the community via your mailbox! You can receive cards, send cards, and even display them in your house. And since all Residential Houses have mailboxes, it's the perfect add on to your Sims game!

( MogHughson's page has plenty more information if you want to look into it further!)

What's Halloween?
The "holiday" originates in Ireland but is also celebrated in the U.S. It is commonly celebrated by children who dress in costume and go "trick or treating" door-to-door to friends and neighbors for candy.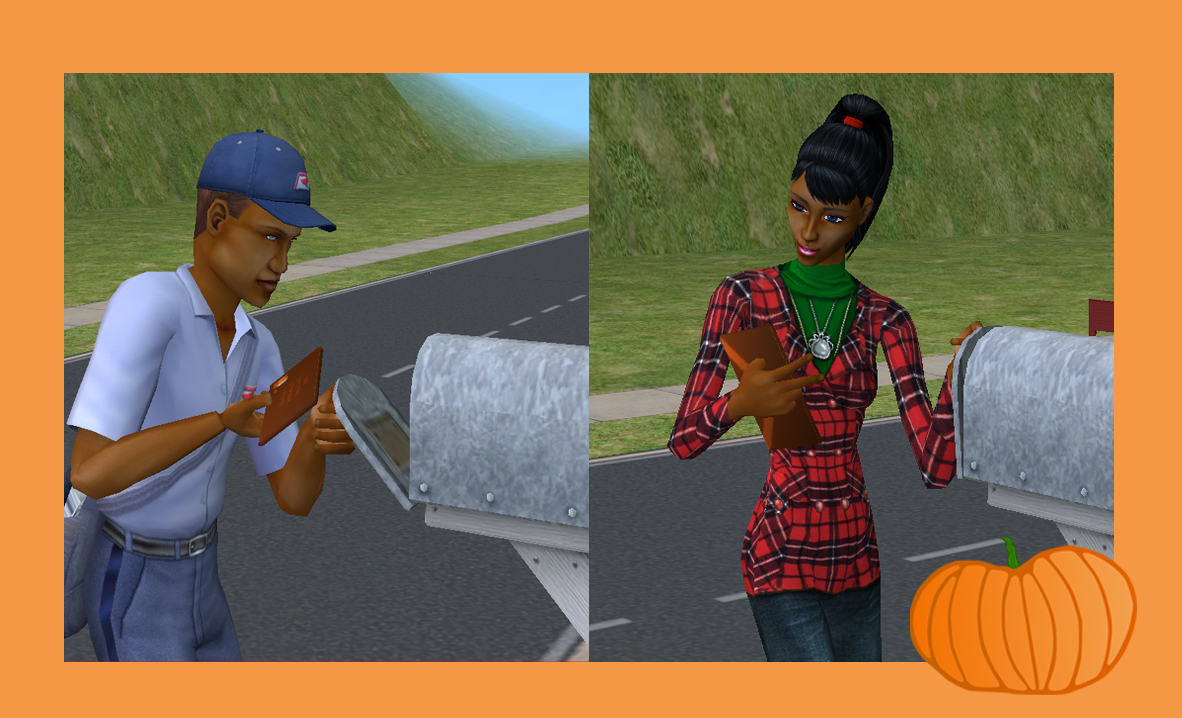 Information About Cards...
Usually when I make cards for MogHughson's Postal System, I create a set of cards for one particular category, AKA for a birthday or a particular holiday. But for these five cards, I have designed them around a Fall and Halloween theme, and so not all of these belong to a particular or the same group. I created cards for the "Friendship" and "Halloween" categories.

(Don't worry I have clearly labeled them below!)
Card Types:
(from left to right)
1)
Witch on a Broomstick Card:
This card belongs in the "Halloween" category.
Titles:
"Have a Spooky Halloween!"
and reads,
" Wishing you a fun and spooky Halloween filled with lots of yummy goodies!"
2)
Fall Leaves Card:
This card belongs in the "Friendship" category.
Titles:
"Happy Fall!"
and reads,
" Hope it's a Fall of sweet surprises for you!"
3)
Single Pumpkin Card:
This card belongs in the "Friendship" category.
Titles:
"Happiness in the Fall"
and reads,
" Here's to hoping you'll find a bounty of happiness and joy this Fall!"
4)
Owl & Plaid Card:
This card belongs in the "Friendship" category.
Titles:
"Wishing you a Happy Fall"
and reads,
" Always remember if you fall, I'll pick you back up. Wishing you a Happy Fall!"
5)
Erie Full Moon Card:
This card belongs in the "Halloween" category.
Titles:
"Stop in for a Spell"
and reads,
" Hope you stop in for a spell...if you dare. Happy Halloween!"
I understand that some people don't celebrate Halloween (I personally don't) or live in a country where it isn't celebrated. So in the file download, I separated the cards into 3 files: ALL Cards, JUST Halloween Cards, and JUST Fall cards. Hope this makes it more convenient for you!

Final Thoughts...
Cards for MogHughson's Postal System are one of my favorite types of custom content to create so let me know what you guys think of these Fall & Halloween themed ones and what kinds of cards you guys are looking for! Feedback is greatly appreciated!
Curious to what I'm working on next? I keep a updated and brief segment on my profile page dedicated to just that.

Additional Credits:
Custom Content Featured in Photos: I just love custom content don't you? For these photos I used...daislia's
pumpkin Mona Lisa painting,
RetailSim's
Spooky Candelabra
and
Halloween End Table,
a black tea box (I have no idea where that is from), and one of Jaedyn's
"3 Chic Winter Outfits."
Design: A big thanks to publicdomainpictures.net, clipartkid.com, clipartlord.com, and wallpaperzone.com for the public domain pictures featured on my work.
Technical: And finally, a huge thanks to SimPE, Adobe Photoshop Elements 13, Nvidia DDS Utilities (SimPE help), FRAPS (screenshot help), Mod The Sims, and MogHughson for her lovely postal system.
I could not have done this without all of their hard work before me!

Packs Needed

For a full list of packs with names, see the Packs Needed popup.
Other Information
Style
:
– Contemporary
– Modern
– Fantasy : Fantasy styled things
Room
:
– Living : Living Room
– Dining : Dining Room
– Bedroom
– Study : Study/Office
Maxis Flags
:
– Not Applicable
Packs Needed
| | Base Game |
| --- | --- |
| | Sims 2 |
| | Expansion Pack |
| --- | --- |
| | Nightlife |
About Me
Policy: Feel free to use whatever recolors of mine you want on MTS. But if you use my work, I'd like credit for it listed in the description etc. Also, if you do end up using my work for something and posting it, let me know :) I'd like to be aware of it and see what kinds of cool things you've created with my work :) On a further note, feel free to use my uploads to go inside of your pictures, uploads, or things like that. But once again, please let me know that you've done so. Thank you so much!

What am I working on now? I've been out of creating practice the last few years but am looking to get back into it. Who knows? [Updated as of 11/27/22]

Love,
Red