>

Mods that contain script replacements or new scripts.
Spend Time in Rabbit Hole
MTS has all free content, all the time. Find out how YOU can help to keep it running.
Tell me how...
375

Downloads
39

Thanks Thanks
11

Favourited
3,978

Views

Uploaded: 30th Jul 2022 at 9:58 AM
Updated: 8th Aug 2022 at 10:27 AM
Warning
This mod has not been thoroughly tested, so please report any bugs in the comments.
Hi!
I always missed being able to send my sims to hang out in the rabbit hole, because by default you can only visit certain buildings and this action only lasts one sim-hour. This mod is designed to fix that situation.
It replaces three EA interactions with custom versions:
Visit a rabbit hole
Visit a rabbit hole together (& with date/pack/group)
Romantic actions while visiting
You must also set the required visit time in hours. Dialog window will appear for each active sim, but if you visit a building with NPCs, they will use the last value you entered or a random value between 1-8 hours.
Here's how it looks: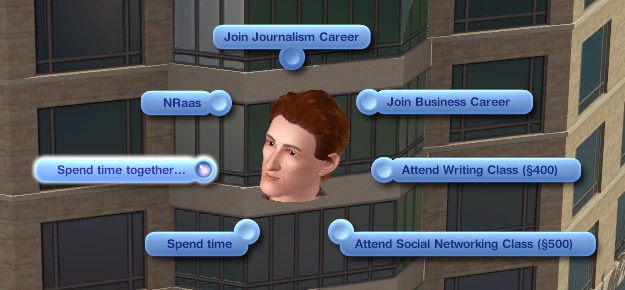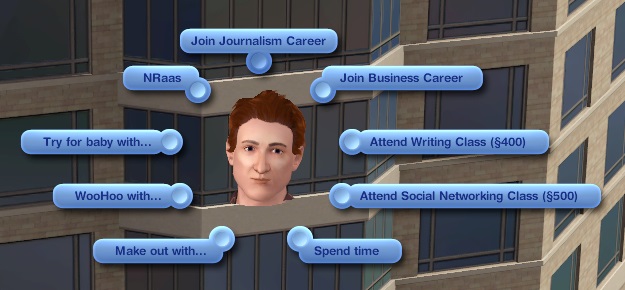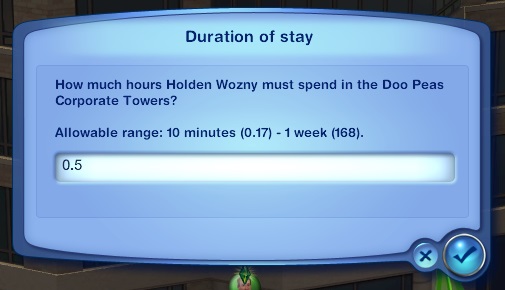 Additional features and tunings
A list of all additional features and tunings is located under the spoiler below. Like my previous mod, this one also has tunings, so that you can customize it for yourself if you know how to edit xml resources. To do this, you need
S3PE
or another similar program.
Motives manager
This thing has three modes of operation (it configured in the tuning kMotivesManagerMode):
0 - manager is disabled;
1 - allows sims to buy food/energy drinks while they are in the building (default mode);
2 - just "freezes" all of the sim's needs until the action ends.

As long as sim spends time in the building, his/her needs decrease at a really low rate. At the same time, if mode 1 is selected, sim can buy food or energy drink with a certain probability. Also sim can slightly increase hygiene level, as if he/she went to the toilet and washed hands.

Other tunings of motives manager (when it works in mode 1):
kMotivesManagerChances - allows you to adjust the chances of a sim buying food (first value) and an energy drink (second value). The frugal and unlucky sims will always have 3/4 of the specified probability;
kPrices - the cost of food for normal sims (first value), vampires (second value) and energy drinks (third value);
kDisablePaymentNotifications - enable this option if you don't want to be notified when a sim has bought food or an energy drink.
Lost Wallet Event
When leaving a building, there is a very low probability (3%) that a sim will find a lost wallet. Will you keep the money or choose to return it to its owner? You can disable this event by switching kDisallowEvents tuning to True.
Note: Evil sims will always take money.

Keep EA visit interactions
By default the mod removes EA visit actions from all rabbit holes in the town, but if for some reason you still need them, then switch the tuning kKeepEAVisitInteractions to True.

Disallow Exit Buffs
Set kDisallowExitBuffs to True if you don't want to get moodlets like "excited" or "bored" after visiting a rabbit hole.
So, you've decided to customize the mod, but have never used S3PE before? No problem, just follow these steps:
Download and extract the archive with the mod.
Install and run S3PE.
Go to menu File > Open and open the previously unpacked mod file.
Find the "Knight.SpendTimeInRabbitHole" resource with _XML format (look at the "tag" column), right click on it and select "Notepad" (the very last menu item).
Notepad will open with the settings file. Change them as you wish. For example, I want to disable notifications when my sim buys food, for this I need to switch the setting kDisablePaymentNotifications from "False" to "True":


Code:

...kDisablePaymentNotifications value = "True"/...

After making changes, close the notepad window and agree to save the file.
Next, S3PE will ask if you want to update the file ("Resource has been updated. Commit changes?"). Click "yes".
In S3PE, go to the File menu again and click Save.
Close S3PE and install the mod as usual (put its file in Mods/Packages). Everything is ready, you're breathtaking!
If you think that you made a mistake when editing the settings - just reinstall the mod and repeat all steps again.

Version history
v1.0.1.2
- Added Traditional Chinese translation. Thanks to
PieceOfCarambola
!
v1.0.1.1
- Added Brazilian Portuguese translation. Thanks to
MisoSimmer
!
v1.0.1
- A bunch of Day One fixes.
v1.0
- Initial release.

Translations
Mod has 21 lines for translation. New translations are welcomed!
Currently mod supports
English
,
Russian
,
Brazilian Portuguese
and
Traditional Chinese
languages.
For other languages, English strings will be shown.
To help with translation - download archive for translators, open text file and translate every line, which is limited by <STR> tags, then send result to comments or to me in pm. Thanks!

Compatibility and conflicts
I tested my mod on game version 1.67, but I think it can work on 1.63+ too.
If you don't have any EP, all functions associated with it just will be skipped.
No conflicts have been discovered yet.
Additional credits
Microsoft Visual Studio 2022 Community edition, dnSpy, S3PE.
Thanks to:
All modders who wrote scripting tutorials, without them this mod would never have appeared.
Each of you who looked at this page, downloaded the mod, reacted or left a comment. It's motivating.