Sims 2

>

>

Pixel dollhouses/For sims to live their lives in/Nice houses for sims
Ordinary Luxury 3 (Minute CC Furnished & Un Maxis Only!!)
368

Downloads
170

Thanks Thanks
12

Favourited
15,921

Views

Uploaded: 13th Feb 2008 at 8:35 AM
Updated: 30th Aug 2008 at 10:26 PM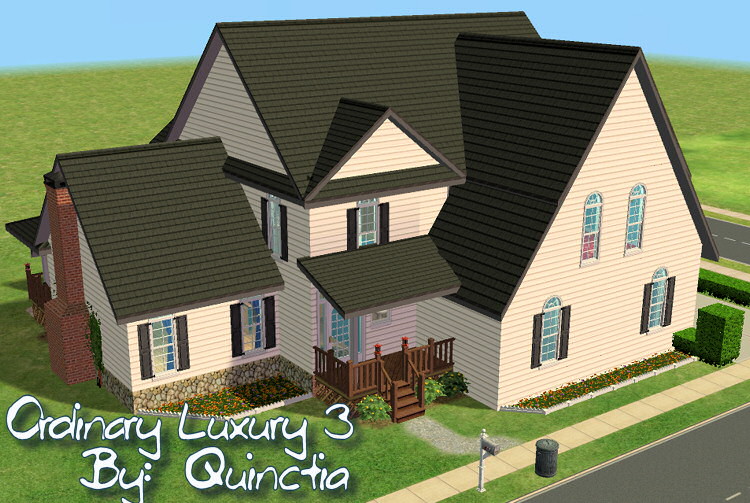 Lots for the everyday sim with upward mobility!
...I love this house. First of all, the only reason there is custom content in the furnished version is for the closet bar and closet doors...so the closets are actually closets. The roofline is clean and interesting, the house is relatively small for the lot size so there is a good amount of yard, and I got to make a sideways garage for the first time!
I built it from
this
houseplan. I tweaked it a little, sims don't need THAT much walk-in closet space (and they could always use another bathroom), but it was fun to build!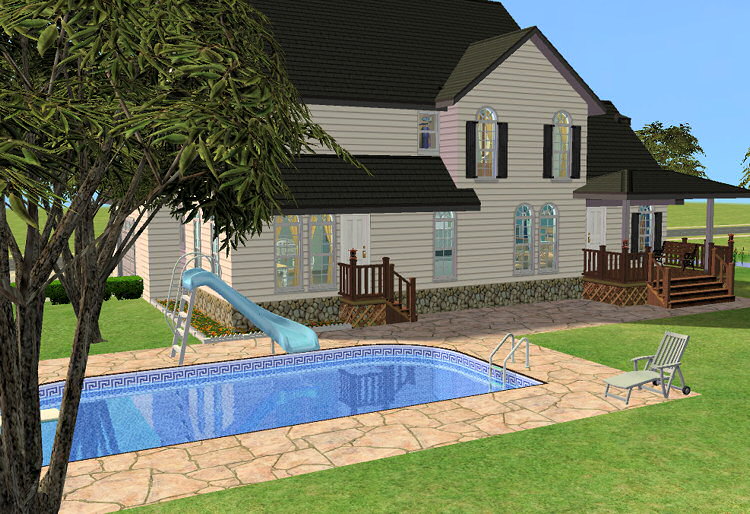 The furnished version did have some objects placed with snapobjectstogrid false on, but I went in and playtested, and I guarantee that the living room (where I messed around with the cheat) is completely navigable by sims!
Specs
:
- Lot Size: 4x3
- Foundation: Yes
- Parking: 2 cars (driveway and side-entrance garage)
- Bedrooms: 4
- Bathrooms: 4 (including large master bath)
- Closets!
- Fireplace in Living
- Pool
- Pond
- Patio
- Plenty of yard space
Furnished Price: 109,484
Unfurnished Price: 42,069
(Furnished lot is ready for immediate move-in. Unfurnished lot has wallcoverings, floors, and most of the landscaping--it notable lacks the pond, pool, and bay trees. Also, I moved the back door one square over in the furnished version to fit the furniture in as seen in the floor plan.)
Floorplan
:
Key:
1. Garage
2. Living Room
3. Kitchen (w/Breakfast Nook)
4. Dining Room
5. Bathroom
6. Bedroom
First Floor: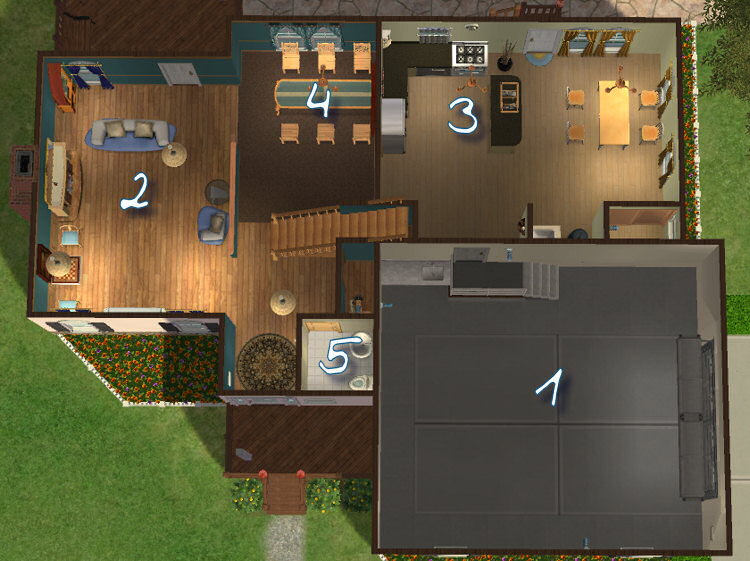 Second Floor: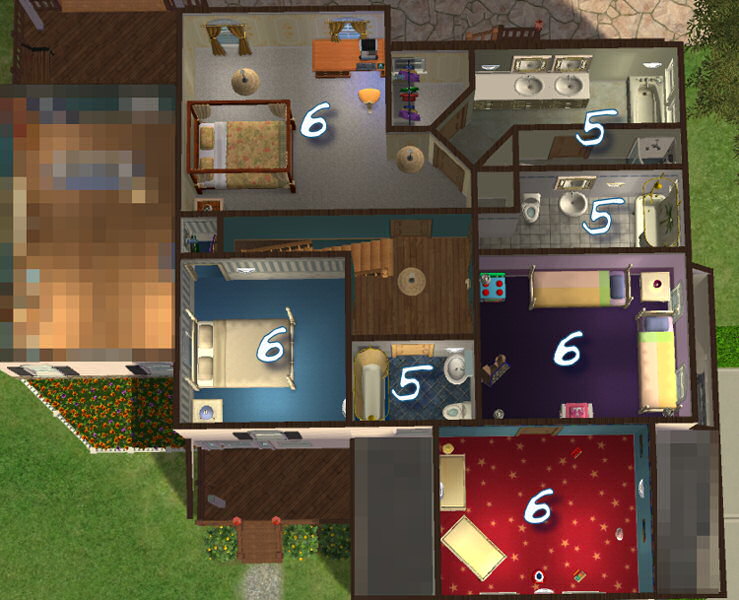 Check out the attached pictures for more shots, including: straight-on shot of the garage, kitchen, living room, and a shot from the entrance into the open-floor plan of the dining and living rooms.
The unfurnished file is
custom content free
!
The CC included in the furnished file is:
- Closet Bar -
IndigoRage
- Sliding Closet Door -
Helena (Pixel Sims)
Since they are only used for the closets and the kitchen pantry, you could most likely remove them with
Clean Installer
without changing the house too much. But why would you want a house with closets if they weren't really closets, right?

Lot Size:
4x3
Lot Price:
109,484 F / 42,069 U
Custom Content Included:
- Sliding Closet Doors (Light Wood) by
Pixel Sims
- Sliding Closet Doors (Mesh) by
Pixel Sims
- Closet Bar by
IndigoRage
Packs Needed



For a full list of packs with names, see the Packs Needed popup.
Other Information
Number of bedrooms
:
– 4 Bedrooms
Custom Content Included
:
– None : No Custom Content included
– Build content only : only Walls, floors, terrain paint, fences, stairs, windows, doors, etc.
Furnishings
:
– Unfurnished : Lot is a basic shell with walls, floors, windows, doors, stairs, and landscaping, but does not contain basic fixtures, plumbing, or furniture.
– Fully Furnished : Lot is completely decked out in furnishings
Special Flags
:
– Not Applicable
Packs Needed
| | Base Game |
| --- | --- |
| | Sims 2 |
| | Expansion Pack |
| --- | --- |
| | University |
| | Nightlife |
| | Seasons |
Policy:
Everything I make is to be file-share friendly. Don't post it on any part of a paysite (don't even THINK about adfly), but otherwise, feel free to do what you want with it. Include it in uploads, toss a file to your friend. Just don't claim it as your own. Easy-peasy.