Sims 2

>

Sims

>

>

Get your celebs here/Lots of Angelina sims/And not a lot else
Kelly Clarkson
3,110

Downloads
177

Thanks Thanks
15

Favourited
27,546

Views

Uploaded: 2nd Aug 2009 at 2:27 AM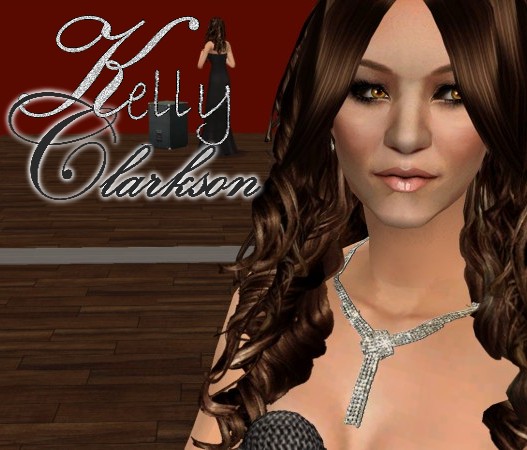 Kelly Clarkson
is one of my all time favorite singers. The first time I ever heard of her was when "
Behind These Hazel Eyes
" hit the radio stations. It seemed like she was the embodiment of a pop star with the consecutive hits off her
sophomore album
of "
Behind These Hazel Eyes
", "
Since U Been Gone
", "
Breakaway
" (also the album name), "
Walk Away
", and "
Because of you
". I just love her music, and of course, it helps that she's beautiful (regardless of how much she weighs). Obviously, I don't know her personally, but from what I've seen and read, she seems like a very nice down to earth person.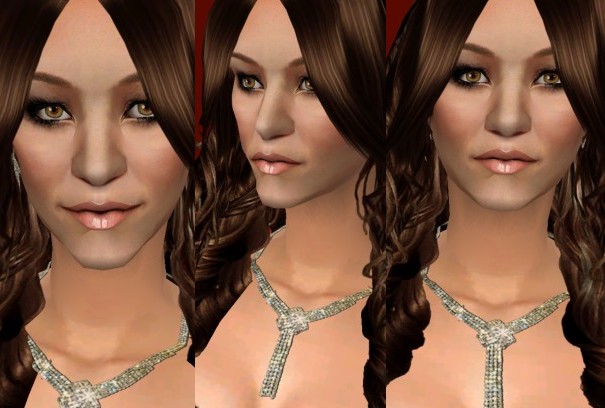 I tried my best to make Kelly in the look I liked the best. I always thought she looked great with longish dark hair, and of course, just a tad thinner than she is now…. I mean, if I was making myself, I would make me thinner too…. LOL I loosely based the dress and the jewelry I used off of her look in her music video for her new single "
Already Gone
". Also, I would just like to note that she did not "steal" the beat for "Already gone" from Beyonce's "Halo". The guy who co-wrote "Already Gone" also wrote "Halo" for Beyonce. She didn't know they shared the same beat track until it was too late, and the record company wouldn't pull the song. Ok, I'll get off my soap box now…. LOL
As far as the sim goes, she is packaged with maxis hair, and a dress that uses a NL mesh…... In this pictures, but not included are the
necklace and earrings, from "All About Style",
and the
hair
by
Agustin
. She is also wearing a layerable mask in the pictures that is not included due to a dead link.
This wont change the way she looks at all
, because I realized as i was trying to replacing it in BS for upload that it wasnt even visible because of her other make-up.The skintone is a slight variation of
HP's
amazing "
Idolatry of Flesh
", however the face is my own photoskin of Kelly Clarkson, and the cleavage is borrowed from
Stefan's
skintone that he uses on his celeb sims. I want to give special thanks to
Agustin
for the hair, and
Bruno
, for the make-up, and
eye's
(which I have recolored to hazel). Agustin's policies allows for the mesh to be re-distributed with a sim pac, but I had trouble getting it to package correctly, so I just put a maxis hair on her instead. If you want the hair Agustin made that is used in the pics,
you have to download
his beautiful Adriana Lima,
and
put it on yourself in BS, or CAS
. The dress is a simple recolor of a maxis NL dress. If you don't have NL, it's no big deal because it won't change the sim at all, but the dress just won't show up for you, so just change her into something else…. As always, please don't steal, and if
you use her for any videos, please let me know, because I think that would be supper cool! LOL Enjoy!
Custom Content by Me:
- Kelly Clarkson Sim
- Hazel Recolor of Eyes by
Bruno
- Eyeliner
- Blush
-
Idolatry of Flesh
Kelly Clarkson Remix
- "Already Gone" Dress Look-A-Like
Custom Content Included:
- Tiikerin Eyeshadow by
Bruno
- Superstar Tan Lipgloss by
Bruno
- Nose Shading by
Simple Life
- Cheek Bone by
Simple Life
- Mouth Corners by
Simple Life
- Laugh Lines by
Simple Life
About Me
My policy is simple. Do whatever you want with my stuff. However please respect me enough to give me credit for any of my work that you use. As long as you give me credit, I don't give a crap what you do with my creations. Go nuts! LOL
Also I DO NOT take requests.