>

From perfectly tweezed eyebrows to bushy beards and moustaches, grow them out or tame them down with these selections.
Facial Hair For Women - Sims 3 Showtime: 3-18-2012
MTS has all free content, all the time. Find out how YOU can help to keep it running.
Tell me how...
3,920

Downloads
207

Thanks Thanks
33

Favourited
63,670

Views
There is an update available for this mod! Last downloaded: , creator last updated:

Created by Chaavik View Policy / About Me View all Downloads
Uploaded 29th Nov 2010 at 5:38 PM · Updated 19th Mar 2012 at 12:58 AM by Chaavik : Adding New Facial Hair And Info For Showtime

Updated For Showtime / Current Patch 1.3x

Showtime introduced one facial style which looks like a thin moustache with a thinner and shorter chinstrap beard. The picture below shows what it looks like: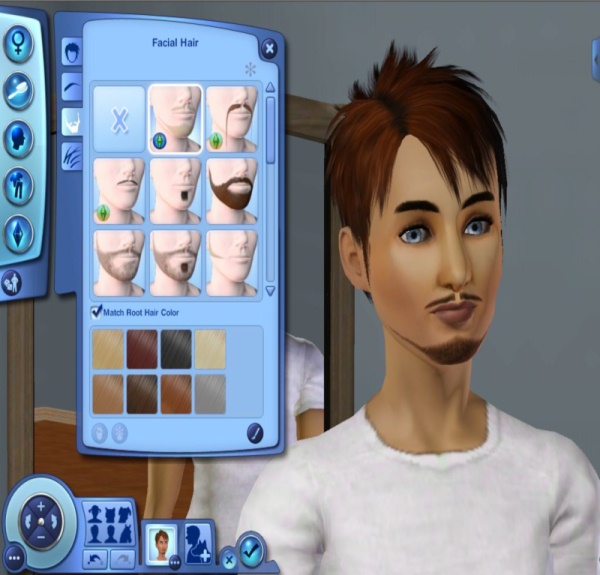 ----------
Sims 3 Pets Information
No new facial hair styles have been introduced with Pets. But the mod is safe to use with Pets. You need either Pescado's Awesome mod or Twallan's Master Controller mod to enable the beard tab for females in CAS.

---------------------------

Has the circus skipped your town because there were no bearded ladies to be hired for their 3-ring shows?
Have the men been sporting their handsome beards, slick mustaches or manly stubbles to the envy of those jealous women who wanted those very same beards, mustaches or stubbles for themselves?
Your female Sims now can strut around town with the best of the male Sims, sporting their facial hair with pride! Teen daughters everywhere can sport their facial hair alongside their fathers, brothers, mothers and grandmothers. Maybe their aunts too!
Unleash your bearded ladies upon their unsuspecting towns today with their very own beautiful facial hair!
DESCRIPTION
:
The mods contain default overrides to enable all of the EA facial styles ranging from thin stubble to thick beard for female Sims. These overrides won't affect the facial styles for male Sims.
They will not affect custom facial hair styles made by other people like necrodog.
AGES ENABLED
:
Female Teen - 3 (Sideburn, soul patch and mustache - same as Male Teen)
Female Young Adult/Adult - all (Same as Male Young Adult/Adult)
Female Elder - all (Same as Male Elder)
* I don't know the names of most facial hair styles. I tried my best! *
None of these facial styles have the custom content icon (white icon with blue folder) so they won't be deleted by accident.
MOD FLAVORS
:
Sims 3
- Contains only the Sims 3 beards, stubbles, sideburns, soul patches
World Adventures
- Has only 2 facial styles like the long mustache
Late Night
- Has only 2 facial styles like the lighter version of the full stubble style
All
- Has all of Sims 3, World Adventures and Late Night facial styles in a single mod
** World Adventures has the greenish-yellow circles with a green plumbob. **
** Late Night has the purple circles with a green plumbob. **
NOTE
:
These facial hair styles are recolorable as shown in the pictures.
I changed the flags in some of the facial hair styles so they won't be randomly used by female townies. Pregnant women should be able to retain their facial hair.
Be cautioned that some of the facial hair styles aren't enabled by EA default for male elders. So I did not enable those facial hair styles for male and female elders.
Also be cautioned that there are no male elder facial hair styles for Late Night by EA default.
There is a
slight
glitch with the full beard and thick goatee (long) because the female face is slightly smaller in the jaw and chin area. It is not noticable unless you really zoom in close. You can adjust the female face to fill out to fit the full beard and thick goatee (long).
INSTALL INSTRUCTIONS
:
Please unzip and place the mod into the following location:
C:\Documents and Settings\****\My Documents\Electronic Arts\The Sims 3\Mods\Packages
(XP)
OTHER PLATFORMS
:
As for Vista and Windows 7, place the mod inside the appropriate location. As for Mac, please place the mod into the appropriate location.
If you have trouble installing the mod, please visit the tech forums for help installing the mod. I won't provide support or troubleshoot your installation, game or video issues. Please use Google, BBS, MTS forums or some other Sims 3 site to get help with game-related issues.
I provide support for only MY mods and not someone else's mods.
CAVEAT EMPTOR
:
The mods will conflict with other mods editing the same files. These mods will draw the textures from EA's textures and files for the facial hair to show up on the faces.
SPECIAL NOTE
:
Make sure to delete your cache files before you fire up Sims 3. Use Delphy's Dashboard to delete the cache files. If you are like me who likes to delete cache files manually, these are the files:
CASPartCache
compositorCache
scriptCache
simCompositorCache
The above files can be found in the following location:
C:\Documents and Settings\****\My Documents\Electronic Arts\The Sims 3
(XP)
Other platforms: Delete them from the location pertaining to your Operating System.
WARNING
:
May or may not require a core mod like
Awesome Mod
to enable the beard UI to display the beards, stubbles, mustaches, sideburns and so on.
SIDE NOTE
:
In Soviet Russia, beard runs you!
Additional Credits:
CTU
- Delphy's Wickedly Awesome Tool
S3PE
- Peter and Inge Jones' Excellent Tool
MTS - Hosting Sims 2 and Sims 3 content
Paint.NET - Featuring my bearded ladies
Various resources (Tutorials, pictures, etc)
About My Policy
Policy:

Do not upload my mods anywhere and everywhere. Contact me to inquire about permission to update or to get help for the mods you get from me. Thanks :)