Concorde Modern Bedroom
MTS has all free content, all the time. Find out how YOU can help to keep it running.
Tell me how...
29,034

Downloads
950

Thanks Thanks
122

Favourited
84,589

Views


Uploaded: 29th Aug 2011 at 8:26 AM
Updated: 19th Oct 2011 at 3:51 PM

IMPORTANT NOTICE
Due to the format change introduced in the 1.26/1.27 patch, PETS EP, these objects ARE NOT compatible with games patched at or above 1.26/1.27, PETS.
Please check back later as objects are updated. Thank You.

As usual I was searching Google- Or was it Bing? No, no it was Google. I was searching Google for something interesting to make. I noticed I haven't made a bedroom set in awhile. And the last one I made people seemed to have hated with a passion lol. So, buckled down and found a beautiful set which literally mesmerized me, materialized itself next to me, screamed, slapped me, then ran through my window and down the street. I ran after it, it was pretty fast for some furniture without wheels, and caught it. I wrestled the spacious bed to the ground and hog tied it. The, quite lovely actually, padded panels tried to triple team me, but I wasn't having none of that. I did a Chuck Norris style roundhouse and sent them flying, instant KO.
It was then me, the adorable dressers, the beautiful armoire and the pleasing mirror. I sent a mean smug look at the mirror and shattered it in its place.
At that moment, the Armoire lunged.
I swiftly dodged it and charged the dressers. The Full Length one hit me with a drawer, sending me reeling to the ground. The armoire's shadow drenched me as it came in for a body slam. I quickly rolled to avoid being crushed by $1900 worth of exquisite wood.
It splintered upon impact. It wasn't getting up anytime soon.
I jumped to me feet staring at both dressers. Curious. Calculating.
The rippling sound of disturbed air permeated my left eardrum. The Full Length dresser went down. I spun around to find out the cause. Fortunate for me I had. I deftly maneuvered out the way of a speeding tranquilizer dart. It hit dead center on the Half Length Dresser.
I didn't stick around to see if it went down. I sprinted full speed away down the street. Unfortunately, my escape was blocked off in the form of plush 3x4 rug. It enveloped me stealing away daylight and air until all was black. . .
* * *
I awoke the next day? in my bed to a splitting headache. My wall and window had been fixed and my computer screen was on, showing me the captivating image of the bedroom furniture that had wrecked so much havoc. Upon closer inspection, I realized it wasn't a picture, but The Sims 3 running. The gorgeous beasts in perfect replication sitting motionless awaiting my command. I minimized the screen to reveal a notepad window. It read:
Quote:
Originally Posted by U.S. Military, Cyber Warfare Division, Section 17, Sub Section 8
Morphead,

Thanks for being such a good sport about the whole "Furniture coming to rampage the city thing". If it wasn't for you this situation could of turned real ugly, real fast. Also, sorry about forcing you to mesh them too. We know not many people take kidnapping and gun point situations well. But you powered through it like you life was on the line. Probably because it was though...

Anyway, thanks again!

- U.S. Military, Cyber Warfare Division, Section 17, Sub Section 8

WTF? Right.
Foolishly, I didn't think anything about the "Cyber Warfare Division" part and closed the window. Another notepad window was under it. It read:
Quote:
Originally Posted by U.S. Military, Cyber Warfare Division, Section 17, Sub Section 8
Gosh, us again.
If your reading this you most likely closed the other window...
If so, your computer will explode in approximately 2 minutes.

SORRY!

If you didn't close the window, then it will explode at exactly 13:00 hours. Your internet and USB ports have been disabled.

Again, SORRY!

But evidence sucks right?

Have an As-Good-As-You-Can Day!

- U.S. Military, Cyber Warfare Division, Section 17, Sub Section 8

WTF!?!?!?
Right.
So, that happened...
* * *
A few days later I received a hard drive in the mail with all my Sims and personal stuff. Thank Goddess! Oddly it included the source of this mayhem, the Concorde Modern Bedroom Set. So I decided to upload it and share with you my experience. Or what I remember of it anyway.
So finally,
The Concorde Modern Bedroom Set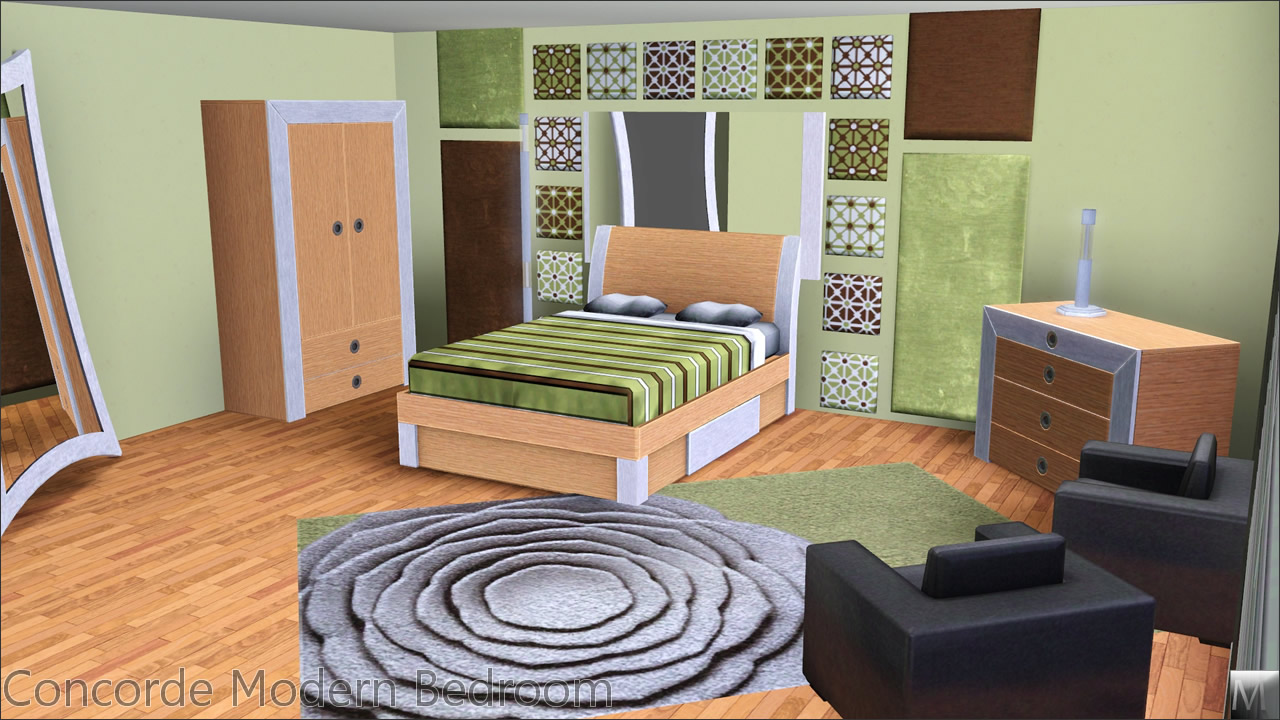 The Finn sleeps here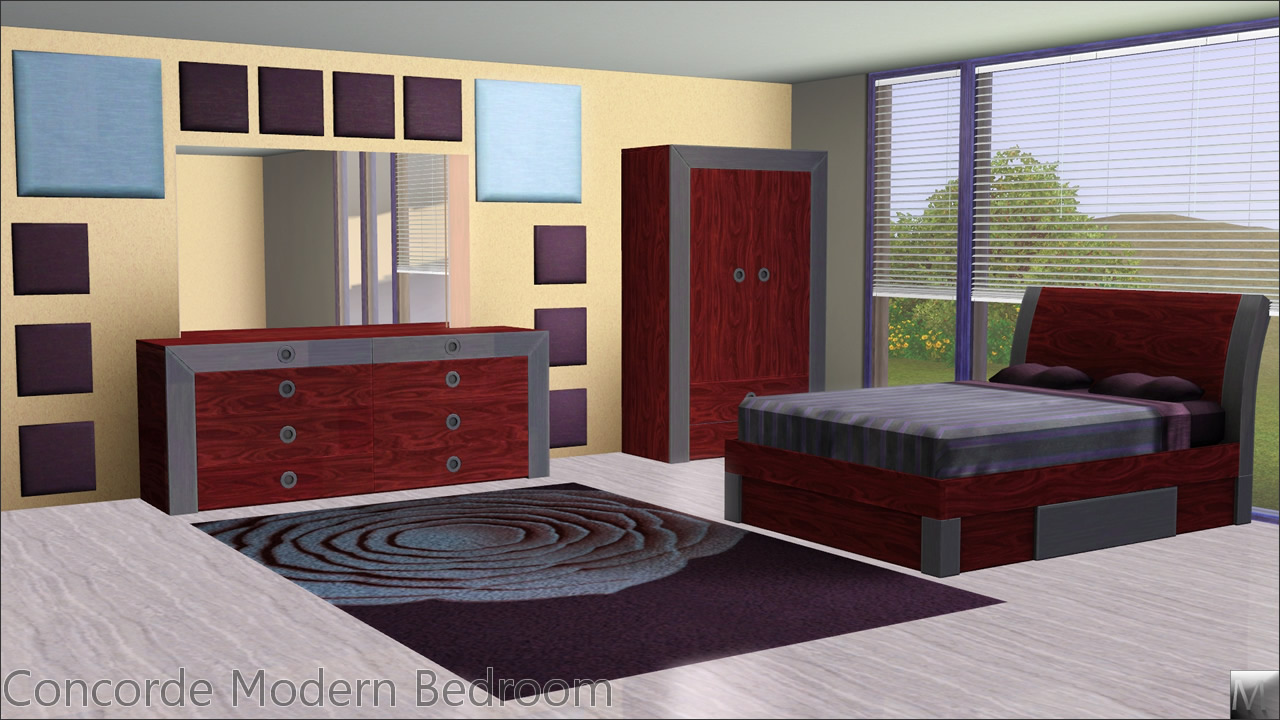 The Provider of Purple graced this room
A beautiful bedroom set to compliment a variety of styles and tastes, The CMB set will have lovers at peak fertility after seeing the grandeur that is Concorde Modern.
The armoire is purely aesthetic.
The 3-tile dresser routes to and opens on the left side.
| File Name | Name | Price | Channels | Polys | Slots | Find |
| --- | --- | --- | --- | --- | --- | --- |
| MED-CCD-COM-01 | Concorde Modern Platform Bed | 2300 | 4 | 1434/1147 | - | Comfort/Beds |
| MED-CCD-DCR-01 | Concorde Modern Armoire | 1900 | 3 | 754/137 | - | Storage/Dressers |
| MED-CCD-DCR-02 | Concorde Modern Padded Pane - Medium | 50 | 1 | 70/52 | - | Decor/Paintings |
| MED-CCD-DCR-03 | Concorde Modern Padded Pane - Large | 100 | 1 | 70/52 | - | Decor/Paintings |
| MED-CCD-DCR-04 | Concorde Modern Padded Pane - Small | 25 | 1 | 70/52 | - | Decor/Paintings |
| MED-CCD-MRR | Concorde Modern Dresser Mirror | 849 | 1 | 54/28 | - | Decor/Mirrors |
| MED-CCD-SUR-01 | Concorde Modern Dresser - Full Length | 1049 | 3 | 1810/540 | 60 | Storage/Dressers |
| MED-CCD-SUR-02 | Concorde Modern Dresser - Half Length | 649 | 3 | 1194/570 | 32 | Storage/Dressers |
| MED-CCD-DCR-RUG | Concorde Modern Rug | 1149 | 3 | 10/- | - | Decor/Rugs |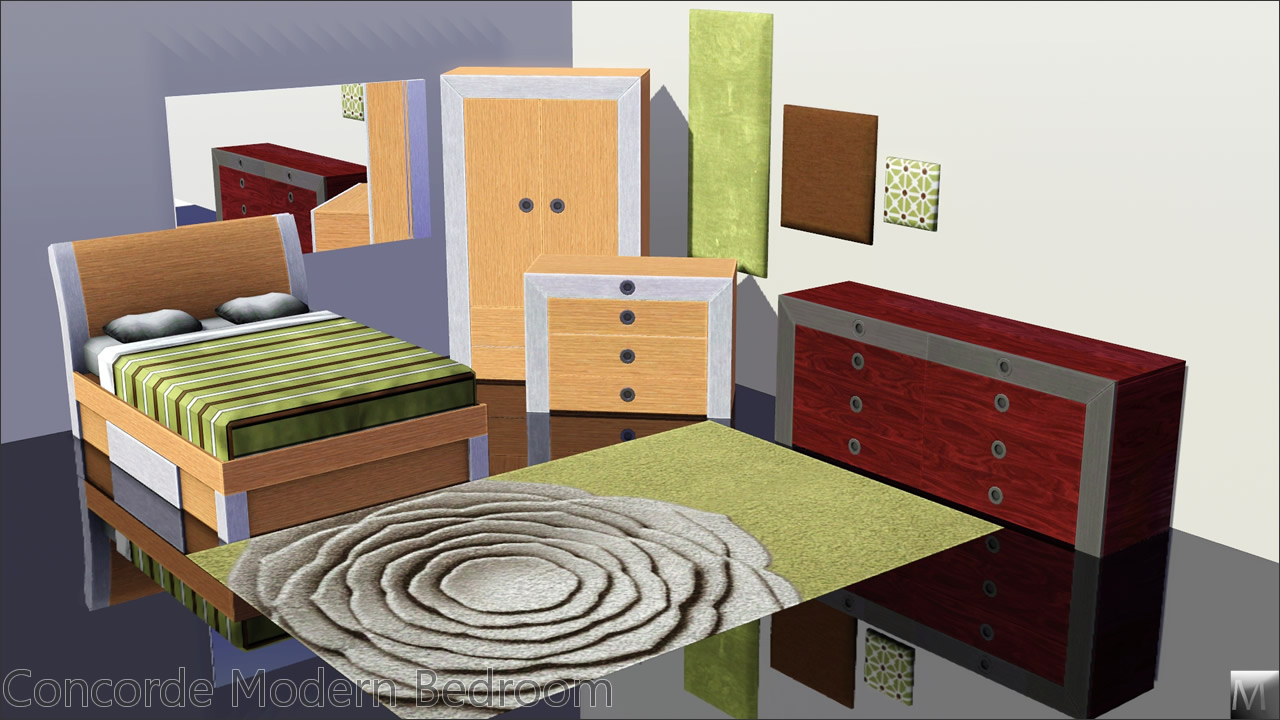 Polygon Counts:
See info box