Sims 2

>

Buy Mode

>

>

Cooking, refrigerators, small appliances, and large appliances
Slots for all Maxis Refrigerators (EP Ready)
28,888

Downloads
653

Thanks Thanks
101

Favourited
36,861

Views

Uploaded: 10th Sep 2012 at 4:49 PM
Updated: 12th Sep 2012 at 6:47 PM
Now your sims can freely clutter the tops of their fridges, as many of us do in real life. This was a little bit more challenging than the other things I've done with added slots, because extra things are needed to be done to make refrigerators compatible with other EPs as well as making the base game ones base game compatible, and the other EP fridges compatible with just base and that EP. The base game fridges do not have extra EP functions, but if you have the EPs the functions will show up. So first of all I would like to thank Lord Darcy for his incredibly insightful
tutorial
(which I found by accident by clicking a link in his signature). Also, many of you have asked about tutorial links for adding slots, so I'll just post them both here. One by
HugeLunatic
and one by
leesester
.
The base game fridges are base game compatible, and also have the extra EP functions such as Make Many (OFB), functionality for leftovers (Seasons), and functionality for hobby unlockables (Freetime). The rest of the fridges also have this extra EP functionality, and also remain compatible with any combination of EPs and SPs or base. The University mini fridge already had a slot in the middle, so I've added 6 slots around it. These are not default replacements, and are all slaved to Maxis. These all have no textures because they are slaved. You should recolor the original fridges in
SimPE
if you want to recolor.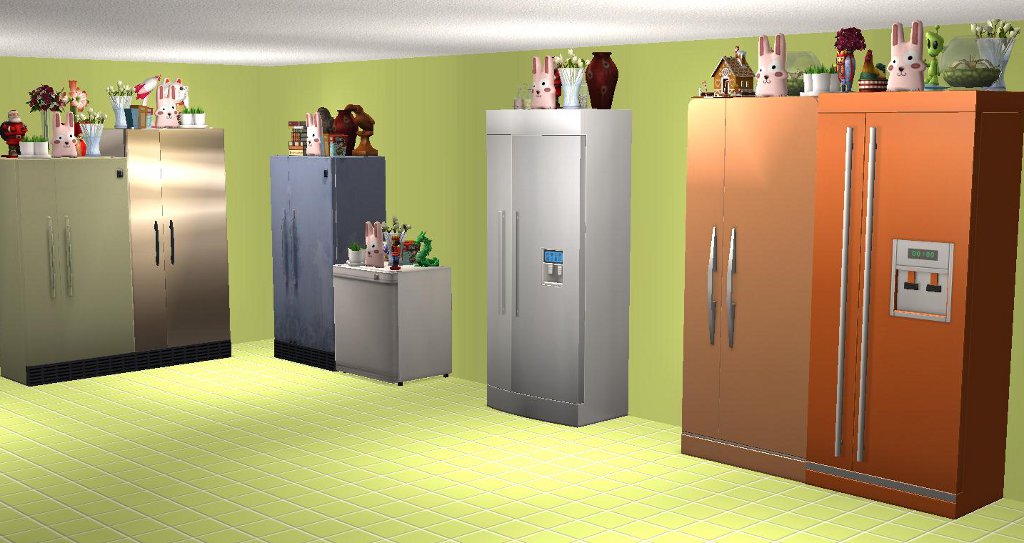 Polygon Counts:
Base Game Cheap - 1,002 (Unchanged from Maxis)
Base Game Expensive - 790 (Unchanged from Maxis)
University Grungy - 1,002 (Unchanged from Maxis)
Freetime - 1,084 (Unchanged from Maxis)
Kitchens Romantic - 872 (Unchanged from Maxis)
Kitchens Modern - 1,070 (Unchanged from Maxis)
Additional Credits:
Lord Darcy for the tutorial on making fridges EP Ready
leesester for the tutorial on slots
Ignorant Bliss for the repository linking object tutorial
Packs Needed
None, this is Sims 2 base game compatible!
Other Information
Style
:
– Retro
– Contemporary
– Modern
– Ultra Modern
Maxis Flags
:
– AddOn : Maxis Add-Ons (like an armchair that matches a Maxis couch)
About Me
Welcome to my profile page. I hope you enjoy my downloads here as much as I enjoy making them and sharing them with you!
My Policy - I think my policy is pretty fair. You can use my creations with sims, or lots. You can recolor my creations as well. You may also clone my objects with extra functionality. There is no need to clone any objects that use standard functionality. You may also edit my meshes. Feel free to convert for other Sims games. I ask that you please let me know if you use any of my creations first and provide me with a link after uploading so that I can see the work you have done! Please give credit, and a link to the original download in your upload. No Paysites, Please
Regarding Requests - I have received many requests here that I feel are unnecessary, or something I think that others would not find very useful. Also I like to share what I can think of myself with my own creativity, and not someone else. I ask that you respect my wishes not to fulfill any requests. The only request I take are for custom Sims 2 majors.
For movie making, picture taking, and storytelling there is no need to provide any credit. You may freely use any of my creations for this purpose.